Step-by-step Guide How to Create a Rule in Gmail
It's estimated that nearly 30 percent of the workday is spent reading and answering electronic mail. As if that wasn't bad enough, we also spend a lot of time organizing the messages we send and receive to prevent our inboxes from becoming cluttered.
While Gmail rules won't read or answer messages for you, they can definitely help you manage your inbox more efficiently, making it easier to achieve and maintain Gmail Inbox Zero. Below you may watch a video guide on how to create a rule in Gmail to filter emails, or just keep reading.
Before we explain everything you need to know about creating a rule in Gmail, we should clarify what email rules in Gmail actually are.
Google mail rules are actually called Gmail filters, and their purpose is to automatically label, archive, delete, star, or forward your messages so that you don't have to do it manually.
How to create a rule in Google Mail
Log in to your Gmail inbox.
Click the Show search options button on the right side of the search box.

Specify your Search criteria and click Search. Your Google mail filter will be applied to all emails that match your criteria.
Verify that your search criteria produce the results you desire.
Click the Show search options button again and choose the Create filter option.
Specify what you want to happen to messages that match your criteria.
Click the Create filter button one last time.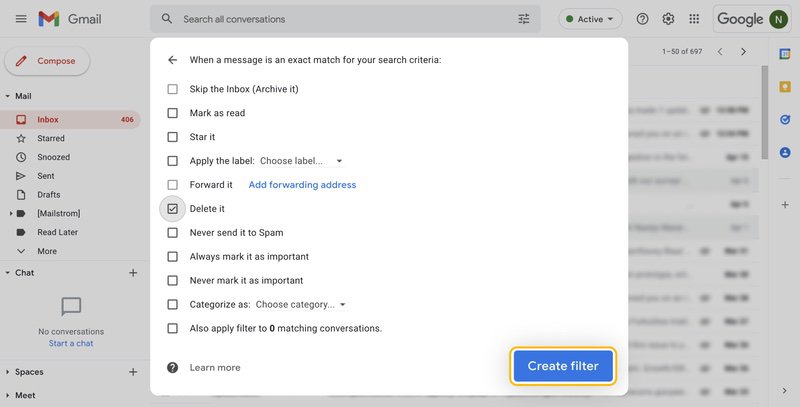 Manage rules for Gmail
Click the Settings gear icon.
Select See all settings.

Switch to the Filters and Blocked Addresses tab.

Choose the filter you want to edit or delete.
Perform the desired action on the selected filter.
As you can see, creating rules in Gmail is a fairly complicated process, so it's no wonder that even users who know how to create rules in Gmail often ignore this useful feature.
The good news is that there are also third-party apps for creating Gmail rules, and they greatly simplify the complicated process, allowing even users who are not tech-savvy to automate their inbox management.
How to Create Rules in Gmail Using Clean Email App
Clean Email is a third-party inbox organizer for Google Mail and other leading mail services, including Yahoo Mail, Microsoft Outlook, AOL, and others.
With this inbox cleaner app, you can apply predefined rules to messages arriving to your inbox without any manual work. The automatic rules are created with the help of a feature called Auto Clean.
This feature comes with rules for cleaning everything from security alerts and payment and financial messages to marketing all social notifications as read, and more.
To enable an predefined rule:
Go to: https://app.clean.email/.
Sign in with your Google mail account.
Choose the Auto Clean feature from the left-hand sidebar.
Pick any predefined rule you want such as 'Archive emails as they become older than 6 months'.
Decide if you want to apply the rule only to future emails or future and existing emails.
Create Your Own Gmail Rule in Clean Email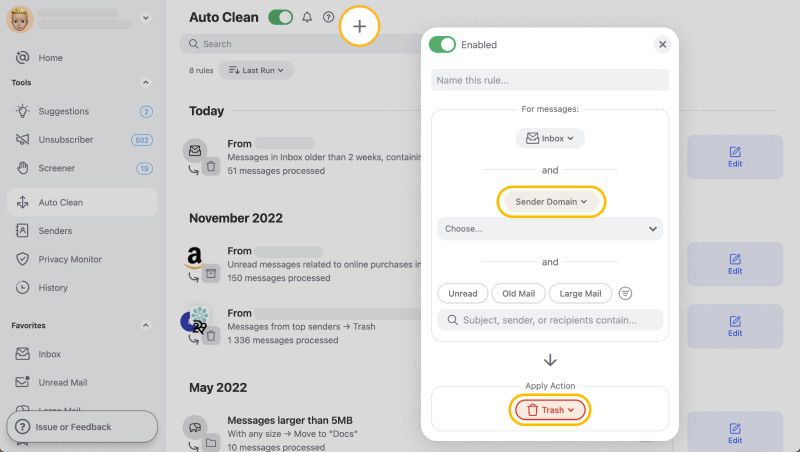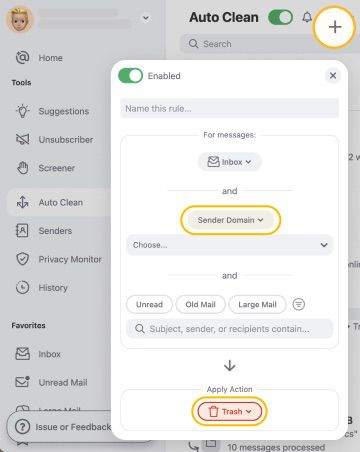 You can also create custom rules. Let's illustrate how to create Gmail rules on an example that shows how straightforward Clean Email makes it to automatically label all emails from a specific sender:
Go to the app's login page and sign in with your Google mail account.
Go to the Inbox folder.
Select any message from the sender whose messages you want to label. All other emails from the same sender will be selected as well.
Click the Label button on the top action bar and choose the desired label (from your labels created in Gmail account). Alternatively, you can create a new label and choose it.
Select to apply the rule to Selected and future similar emails.
Click Label.
It even lets you combine multiple search criteria to perform inbox management tasks that are impossible to perform using native Google Mail inbox rules, such as automatically deleting large messages that are older than a certain amount of time:
Go to the login page and sign in with your Gmail account.
Choose the 'Emails larger than 10 MB' Smart View.
Use the Older than search filter on the top of the screen to narrow down the search results so that only emails that are older than, let's say, 1 month are displayed.
Click the Trash button.
Select to apply the rule to Selected and future similar emails.
Click Trash.
The only thing that this app can't do is create Gmail forward rules. Why? Because Gmail forwarding rules require direct access to Gmail settings, and that's not something the app has.
While potentially limiting, the fact that Clean Email prioritizes your privacy and security is a major advantage, and you can always learn how to set up forwarding rules in Gmail by following the official instructions, which explain how to create a forward rule in Gmail step by step.
Easily Manage Your Gmail Rules in Clean Email
Besides simplifying the creation of Gmail rules, the app also helps with their management.
To see all the rules you've created:
Go to the app's login page and sign in with your Gmail account.
Select Auto Clean.

Switch to the Your Rules tab.
Manage your rules.
There you have it! Learning to manage Mail rules in Clean Email is just as easy as learning to create a rule in Gmail using this handy inbox organizer.
Most Common Rules You can Apply in Gmail
Once you learn how to make rules in Gmail, you will be able to create all kinds of time-saving automations. Here are some examples:
Trash: Move matching emails to the Trash folder so they don't clutter your inbox. Perfect for reclaiming valuable storage space (just don't forget to empty the Trash folder).
Mark as spam: Protect yourself from spam and help improve Gmail's anti-spam filter by marking annoying emails as spam.
Block: Are there some senders who are bothering you with unwanted messages? Block them so they can't bother you ever again.
Archive: Messages you don't want in your inbox but are not ready to delete them either can be moved to the Archive folder.
Star emails in Gmail / unstar: Give important messages the Star label to make them stand out from the rest.
Mark as read/unread: It's a good idea to automatically mark emails you don't read as read because it makes the messages you do actually want to read stand out more.
Move/label: Gmail lets you create an unlimited number of folders (or labels to be exact), and you can move emails to them automatically with Clean Email (learn more about how to automatically move emails to a folder in Gmail).
Having a second email account on Outlook? Learn more about how to create a Sweep rule in Outlook.
---
How To Create Rules In Gmail - FAQs
Is Clean Email safe?
Yes, it is designed from the ground up with security in mind. The app doesn't sell or share user data to any third parties.
How do I automatically move emails to a folder in Gmail?
You can automatically move emails to a folder in Gmail by creating a rule with Clean Email:
1. Log in to the app with your Google mail account.
2. Select any message you want to automatically move (the app will automatically select other emails from the same sender).
3. Click the Move button and select the desired folder.
4. Select to apply the rule to 'Selected and future similar emails' and click Move.
Does Gmail have rules like Outlook?
Yes, Gmail does have rules like Outlook, but Google calls them email filters. You can create email filters in Google Mail using native features or with the help of a third-party inbox organizer like Clean Email.
What does an email filter or rule do?
That depends entirely on you! Once you learn how to set up an email filter, you can automate any email management task you want.