What Are the Outlook Rules?
Using Outlook rules means you can create a clean and organised inbox without having to do any manual work. Rules are automatic filters that are created once and will run automatically for as long as you wish.
The benefit of having a tidy mailbox means you have more time to focus on important tasks, and you will reduce your email stress!
You can create rules using Outlook or use Clean Email's handy Auto Clean feature. When using Clean Email, you can also access its other features to further optimise your mailbox. Check our short video about how to create email rules in Outlook and continue to read further.
How to Create a Rule in Outlook Desktop App
To Create a Rule in Outlook on Desktop via Existing Message:
Right-click on an existing message and click Rules → Create Rules.

Choose a condition from the list, and the action you want to happen for these messages.
For example, you can create a rule to send specific messages to a certain folder. Choose Subject includes condition and type in the keywords.

Then Select an action "Move to", choose or create a new folder.

Click Save. This message will now appear in the new folder and other messages.
How to Create a Rule in Outlook on the Web
You can quickly create a rule for incoming messages using the Outlook web version. One rule you can create is to move messages from a specific sender to their own folder, here is how:
Right-click on a message from a certain sender. Now select Advanced Actions then Create Rule.

Choose the folder you want the messages to automatically move to and click OK.

Select OK again and be sure to click Run this rule now in Inbox to apply the rule to existing messages.

To perform more actions than just moving messages from senders, click More Options. A rules settings menu will appear.
Every rule you create needs a name, conditions, and actions. You can add multiple actions, conditions, and exemptions to your rules.
Click the Stop processing more rules if you don't want any others to perform at the same time.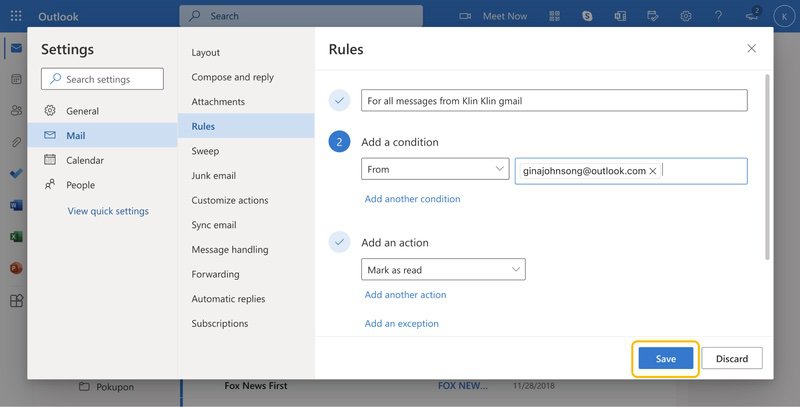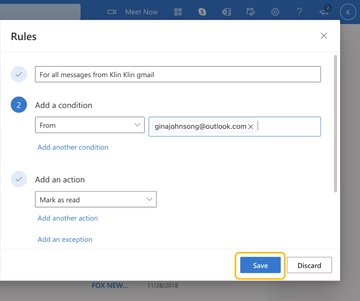 Finally, click Save, or Discard to cancel the rule.
Common Outlook Rules
Here are some common Outlook Rules you can create to improve your mailbox organisation.
Mark as Spam:
Automatically mark specific emails as spam to clear your mailbox.
Archive:
Send messages to the archive if you do not want to read them, but also don't want to delete them just yet.
Trash:
Send some emails straight to the trash to help declutter your mailbox.
Flag:
Automatically add a flag to quickly recognise important messages.
Send to a folder:
Move emails to a specific folder, for example, you may have created a folder for personal emails.
How to Create Outlook Rules Using Clean Email App
You can create rules using the Clean Email App Auto Clean tool.
Here are predefined rules you can choose from to organise your mailbox:
Mark as Read All Social Notifications.
All social media notifications will be automatically marked as read to reduce your notifications.
Archive emails as they become older than 6 months.
Archive emails older than 6 months to clean up your mailbox.
Payment and financial messages.
All messages related to finance will be moved into their own folder.
Move to "Read Later" certain emails from your inbox.
Create a rule for specific emails to send them to your "read later" folder.
How to create an Outlook rule in Clean Email from scratch
If you don't want to use a predefined rule, you can always create your own rule from scratch. Here is how:
Click any View from the left-hand sidebar or choose the Inbox or All mail folder. Select an email or emails you want to create a rule for.

Now choose an action, for example, "Trash" found in the action bar.

Click the Selected and future similar emails button to create an Auto Clean rule. This ensures future and existing messages are automatically sorted.

Now click Create advanced Auto Clean rule to change any criteria.
Next, choose Move to Trash and click the Create Rule button.
Finally, your rule has been created, and your mailbox will be automatically organised!
You can view Your Rules by clicking the Auto Clean tab. Here you can create new rules, edit rules, pause, or remove them.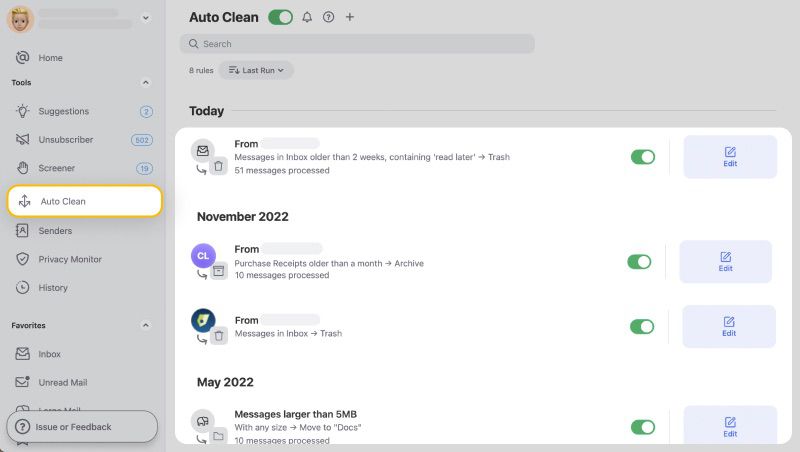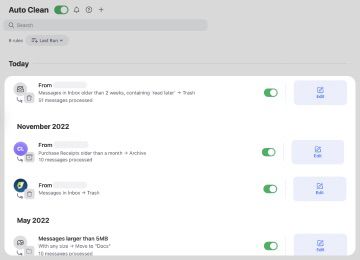 Conclusion
To conclude, Outlook does allow you to create rules to organise your mailbox, however, the process is rather lengthy, and not as straightforward as Clean Email.
If you want to quickly organise your mail, create automated rules, and get on with your day, the Clean Email is the one for you!
---
Create a Rule in Outlook - FAQs
How to automatically organize my emails?
Automatically organise your emails by creating rules with Clean Email's Auto Clean feature. As soon as a message hits your inbox, it will be sorted depending on the criteria you have chosen.
How to Edit Outlook Rules on the Web
1. Select Settings at the top of the page, then click View All Outlook Settings.
2. Select Mail, then Rules.
3. Click the pencil icon next to the rule you want to edit, and make the changes.
4. Finally, click Save.
How to Run Outlook Rules on Web on Existing Messages
Inbox rules run by default after you have created the rule, to run on an existing message, follow these steps.
1. Select Settings at the top of the page, then click View All Outlook Settings.
2. Select Mail, then Rules.
3. Click the arrow next to a rule you want to run.
What is the limit for how many rules you can have in Outlook?
Yes, each rule takes up space within Outlook. You are given 256KB of space for rules. If you reach this limit, you won't be able to create anymore.