What Are Outlook Sweep Rules?
It seems that the more emails our inboxes can fit, the messier they become. That's why the providers of leading email services are implementing all kinds of useful email organization features, and the Outlook email Sweep tool is a prime example.
By learning how to Sweep emails in the Outlook web app, your ability to keep your inbox nicely organized is guaranteed to increase significantly.
💡 Note: Outlook Sweep rules can be created only from the Outlook web app. The good news is that the rules you create from the web app will keep your inbox clean regardless of which email client you use to read your messages.
Outlook Sweep rules are basically smart mail filters that you can create with a few simple clicks to apply the same action to multiple emails. Depending on which Sweep rule you use, you can even perform the same action automatically at regular intervals to automate your mail management.
Many Outlook users are not aware that the feature even exists because Microsoft doesn't advertise it all that much. In fact, the feature becomes visible only when an email message is selected.
However, learning how to delete unwanted messages using rules is something all Outlook users should do because this often overlooked feature is a real time-saver, and mastering it is easy, especially if you follow our detailed step-by-step instructions.
Are Outlook Sweep Rules the Same Thing as Email Filters?
You can think of Sweep rules in Outlook as special email filters. In fact, both Sweep rules and Outlook email filters (referred to rather confusingly as Rules in Outlook) have their own mail settings page where you can manage them.
The biggest practical difference between rules and filters is the fact that rules run once per 24 hours, whereas filters run as soon as a matching email message arrives.
How to Sweep Emails in Outlook?
Learning how to create a Sweep rule in Outlook is straightforward. Let's explain the process with an example:
Log in to Outlook.com.
Select the Inbox folder if it isn't selected already.
Open an email message.
Click the Sweep button on the top menu bar. If you don't see the button and think that Outlook Sweep rules are not working, then it's very likely that you don't have any message selected.

Pick one of the four pre-configured actions and specify where you want to move the sender's messages.

Click OK to confirm.
Here are the four pre-configured actions you can choose from:
Move all messages from the inbox folder: Using this action, you can instantly organize all messages from the same sender. Do you, for example, have many newsletters from an online store that you no longer visit? Then don't hesitate to delete them in one go.
Move all messages from the inbox folder and any future messages: Just like the previous pre-configured action, this action is a great time-saver because it can save you from manually organizing individual messages from the same sender. What's more, it can also automatically organize all future emails. If you like to place, let's say, all social media notifications inside a corresponding folder, then this is the action to pick.
Always keep the latest message and move the rest from the inbox folder: Do you often receive promotional offers that expire after some time? Using this pre-configured action, you can automatically move all offers from the same store but the latest one from your inbox to prevent it from becoming cluttered.
Always move messages older than 10 days from the inbox folder: We use this pre-configured action to automatically organize payment notifications and other emails that lose relevance with time. You can also use it to organize work-related letters, newsletters, and so on.
As you can see, there are many good reasons to set up Sweep rules for your mail. Even though the Sweep feature currently offers only four pre-configured actions, you can achieve a lot with them—you just need to be creative.
Create a New Folder for Sweep
When you move or delete unwanted emails in Outlook using the Sweep rules, you can choose where you want to place the matching messages.
By default, the available folders include Archive, Deleted Items, Junk Email, and others, but you can also create a new folder for sweep:
Log in to Outlook.com.
Select the Inbox folder if it isn't selected already.
Open an email message.
Click the Sweep button on the top menu bar.

Click the Move to dropdown menu.
Choose the New folder option.

Name the new folder.
Hit Enter on your keyboard.
You can now select the newly created folder and use it for inbox and Sweep rules.
Creating Sweep Rules in Outlook With Clean Email App
Now that you know how Office 365 and Outlook users can create Sweep rules from the Outlook web app, it's time for us to take a look at a third-party alternative that takes the convenience and capabilities of the Sweep tool to the next level.
We're talking about an inbox organizer called Clean Email, one of the best privacy-oriented inbox organizers available today.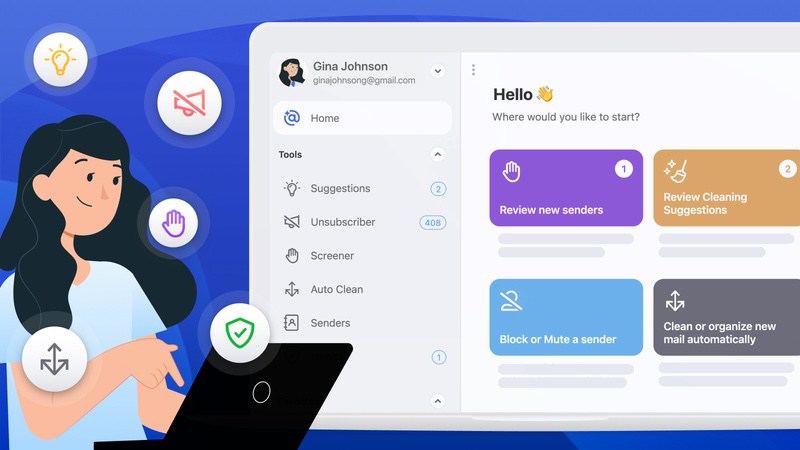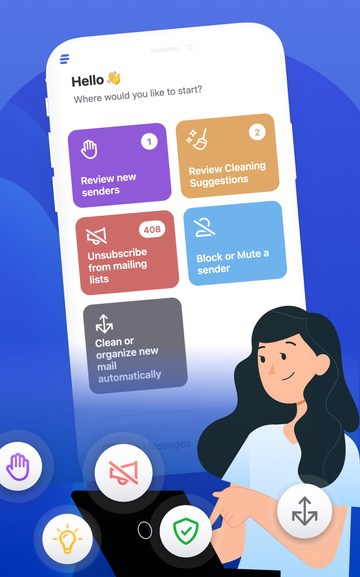 Just like the Sweep tool in Outlook, Clean Email lets you apply actions to multiple emails in one go, but the emails don't have to be only from the same sender and the actions you can apply are not limited to a tiny pre-configured selection.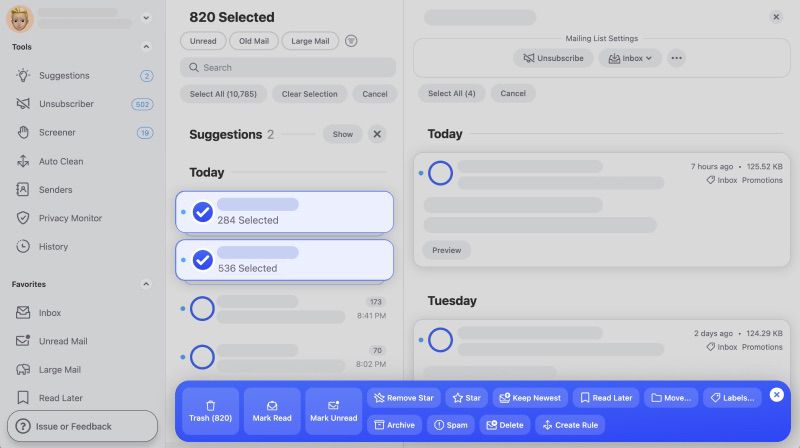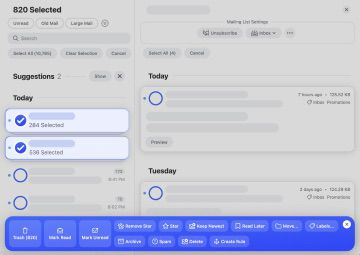 To illustrate how powerful and easy-to-use Clean Email is, we're going to create a Sweep rule to automatically label all existing and future GDPR and privacy policy updates:
Go to: https://app.clean.email/.
Sign in with your Outlook account.
Select the GDPR & Privacy Policy Smart View from the left pane.

Click the Select all option to select all matching emails.
Click the Label button and click the New Label option.
Pick a suitable name for the new label and click Create.
Choose to apply the newly created label to all Selected and future similar emails and confirm.
In less than a minute, we've managed to create a new label and use it to organize emails from several different senders. What's more, Clean Email will automatically apply the same rule to all future matching emails, making GDPR and privacy policy updates stand out.
Clean Email's capabilities stem from features like Auto Clean and Smart Views. The former lets you automatically apply any action to new or changed emails in your inbox without any manual work, while the latter provides predefined filters to display all similar emails with a single click.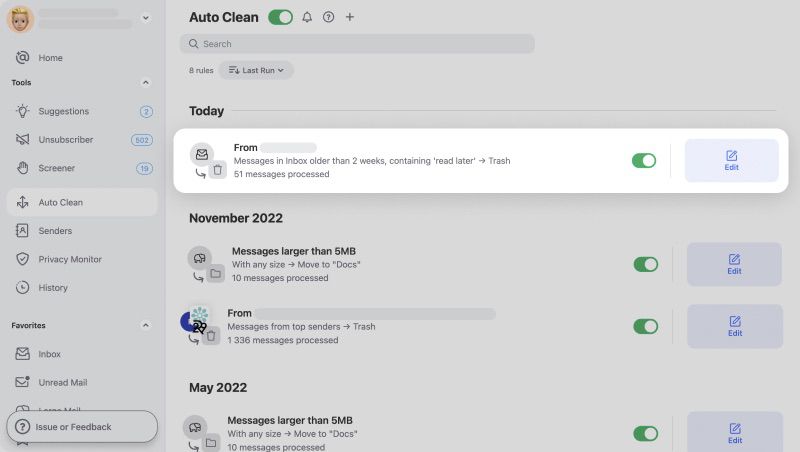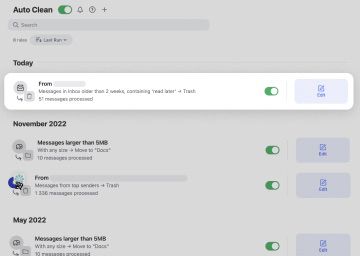 In addition to these, Clean Email also comes with a feature called Unsubscriber, which you can use to prevent unwanted subscriptions (even those that don't contain an unsubscribe link) from polluting your inbox, and much more.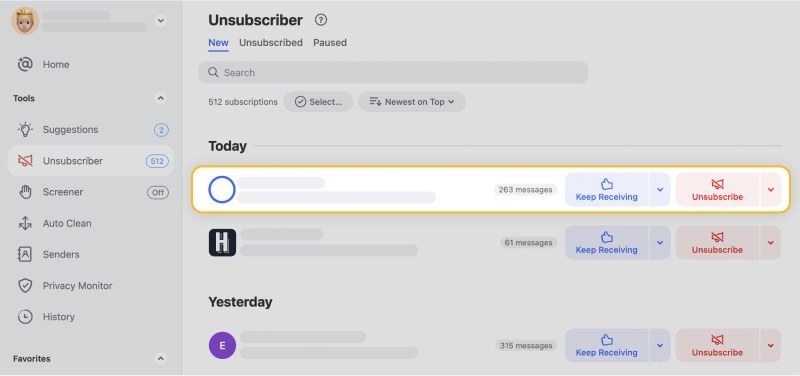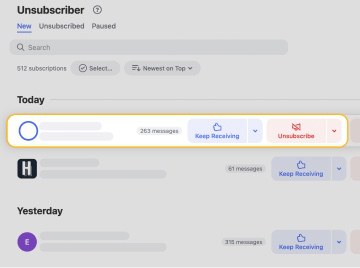 Clean Email works not only with Outlook but also with all other major mail services, and you can try it for free right now. The inbox organizer is privacy- and security-focused, so you don't have to worry about providing it with access to your Outlook inbox—your personal information is always kept safe.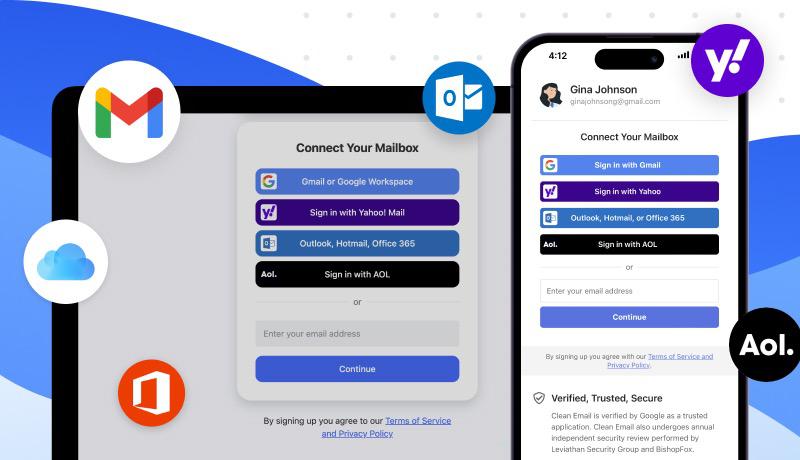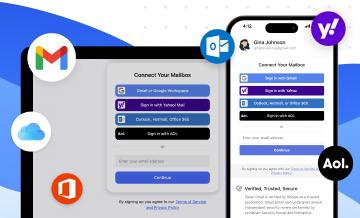 Follow our other guides on how to optimize Outlook inbox, how to automatically delete emails in Outlook, and how to create rules in Gmail.
---
How to Create a Sweep Rule in Outlook - FAQs
How often does an Outlook Sweep run?
It runs just once per day. Regular Outlook inbox rules, on the other hand, run as soon as an message arrives in your inbox.
How do I remove a Sweep rule in Outlook?
To remove a Sweep rule in Outlook:
1. Log in to Outlook.com and click the Settings gear icon.
2. Click the View all Outlook settings option at the bottom.
3. Go to Mail → Sweep.
4. Enable/disable or delete any rule you want.
Why are Hotmail Sweep rules not working?
If your Hotmail Sweep rules are not working, then you should go to Settings → Mail → Sweep and check if they are enabled. If not, you can enable them with a simple click.