What Is a Custom Email Address and Why You Need It?
A custom email address uses a specific domain name instead of a generic one. For example, contact@landscapingpros.com is a custom email address, whereas landscapingpros@gmail.com is a generic free business email address.
With a custom email address, you can decide exactly what goes before and after the @ symbol. With a generic email address, you can only decide what goes before the @ symbol, and your options are limited because you can only register an address that hasn't been already registered.
Custom email addresses are typically used by businesses and individuals with a web presence because they make them look more professional, are easier to remember, promote their brand, and add instant credibility.
However, you can create your own unique email address even if you don't have a website, and we explain how in the next chapter.
How to Get a Free Custom Email Address?
To get a free custom email address, all you have to do is choose a domain name and sign up for web hosting. Most web hosting providers offer email hosting for free, so there are no additional expenses to worry about.
Web hosting services cost anywhere from just a couple of dollars a month to hundreds. If you're just starting to establish an online presence, you definitely don't need an expensive web hosting service with enterprise-class features.
With Bluehost, for example, you can get fast and reliable web hosting for as little as $2.75 a month, and the price even includes a free domain name for the first year of service. Even with the least expensive Bluehost plan, you can have up to 5 email accounts with 100 MB of email storage per account. Bluehost explains how to create a custom email address here, but we've put together a quick summary for you:
Log into your Bluehost Control Panel.
Click on the Email & Office tab from the side-menu on the left-hand side of the screen.
In the "Add Email Account" section, complete your custom email address and enter your email password.
Click the "Create Account" button.
In just a few seconds, Bluehost will create your custom email address.
That's how to get a custom email address with Bluehost. The process is very similar to most other email providers, but some let you choose from more top-level domains, such as .com, .org, and .net, than others. But when it comes to custom email addresses, the .com top-level domain is by far the best option because it's associated with global commerce and professionals.
How to Get a Custom Email Address with Gmail
There are many reasons why Gmail has more than 1.5 billion active users. To start with, Gmail is incredibly easy to use and has a ton of great features. You can't really compare it with the email software provided by most web hosting services because the difference is night and day.
While email software provided by most web hosting services still looks and functions as if it were made in the 90s, Gmail has undertaken several major design and user experience overhauls and feature updates. Some of its most beloved features include self-destructing emails, offline support, hover-activated trash and snooze, smart replies, email nudges, intelligent search, the ability to undo sent emails, and many others.
Gmail also integrates with countless third-party services, including Clean Email, an easy-to-use bulk email organizer that makes it much easier to accomplish and maintain Inbox Zero, which is described as a rigorous approach to email management aimed at keeping the inbox empty—or almost empty—at all times.
To get a custom email address Gmail users must complete the following steps:
Get a custom domain name. Web hosting services like Bluehost include a free custom domain name with all plans, but you can also purchase a custom domain name without web hosting if you don't plan on having a website.
Visit G Suite and click the "Get started" button.
You will be asked to provide some basic information about you to create your account and start your 14-day free trial.
Once the free trial is over, you can purchase either the Basic plan, which includes 30 GB of storage and costs $5 a month, or you can go with the Business plan, which comes with unlimited storage and costs $10 a month.
After that, you will be asked to choose a domain name. Select "Yes, I have one I can use" if you've already purchased a domain name. If you don't have a domain name yet, Google can help you register one.
Next, follow the provided instructions to verify the ownership of your domain name.
Finally, select a username that you want to use as your professional email address and don't forget to use a strong password to protect your account.
As you can see, it doesn't take much effort to get a custom Gmail email, and it looks far more professional than sleepydave87@gmail.com and other similar email addresses that have no place in the corporate world.
How to Get a Custom Email Address with Zoho
Zoho is an Indian web-based online office suite aimed at small and medium-sized businesses. It offers everything businesses need to run their day-to-day operations, including word processing, spreadsheets, presentations, databases, note-taking, wikis, web conferencing, customer relationship management, and email applications.
To get a custom email domain with Zoho:
Visit the Zoho Mail pricing page and pick a plan.
On the next page, select the option to buy a new domain name and enter the desired domain name. Click Add to proceed.
Enter your registration details and click Proceed. Make sure to agree to Zoho's Terms of Service and Privacy Policy.
Review your contact details and click Sign Up.
Log in to your Zoho Mail.
If you've selected the free plan, your personalized email address will be limited to 5 users in an organization, and each user will have 5 GB of email storage space. When a 6th person joins in, you will need to purchase one of the two premium plans: Mail Lite or Mail Premium.
Mail Lite costs €0,9 per user per month, and it includes 5 GB of email storage and support for domain aliases, email routing, email and folder sharing, offline access, email recall, Exchange ActiveSync, and other useful features.
Mail Premium costs €3,6 per user per month, and it includes 50 GB of email storage, support for large file attachments, email backup and restoration, white labeling, and more.
How to Get a Custom Email Address in Office 365
A custom Gmail domain isn't your only option for getting a customized email address from a large and established company. Microsoft makes it possible for users to create a custom email address associated with Outlook.com.
To get a custom email address from Microsoft:
Sign in to https://outlook.live.com/.
Click the diamond icon on the toolbar to open the premium dashboard.
Select the Get started option and follow the instructions.
Keep in mind that you can get a custom email domain only if you're a Microsoft 365 Family or Microsoft 365 Personal subscriber. If you don't already own a custom email domain, Microsoft lets you easily purchase one from GoDaddy for $5 to $25 per year (Microsoft doesn't offer free custom email addresses). Domains from other providers are not supported at the moment.
How to Set Up a Custom Email Address with ProtonMail
ProtonMail is a security- and privacy-oriented email service with servers located in Switzerland, which means that all emails stored on them are protected by strict Swiss privacy laws. ProtonMail automatically secures all messages coming to/leaving its servers with end-to-end encryption, making it impossible for any unauthorized third parties to read its users' emails.
Since 2016, ProtonMail has been supporting custom domains for paid accounts, and setting one up is a relatively straightforward process:
Log in to your ProtonMail email account.
Go to Settings -> Domains.
Click the Add custom domain button and follow the setup wizard.
You will be asked to change your domain's DNS records, which you can do through your domain name registrar. If you're not familiar with the process, make sure to read this detailed guide by ProtonMail, which does a great job of explaining everything you need to know about it.
Use Clean Email to Get the Most Out of Your Custom Email Address
We've already mentioned that Clean Email is an easy-to-use bulk email organizer, but we have yet to explain how exactly it can help you get the most out of your custom email address.
Instead of managing emails one by one, Clean Email organizes your inbox into easy-to-review bundles, allowing you to manage entire bundles of emails with a simple click. A single bundle of emails can contain thousands of emails, so the productivity-boosting benefits of Clean Email should be obvious.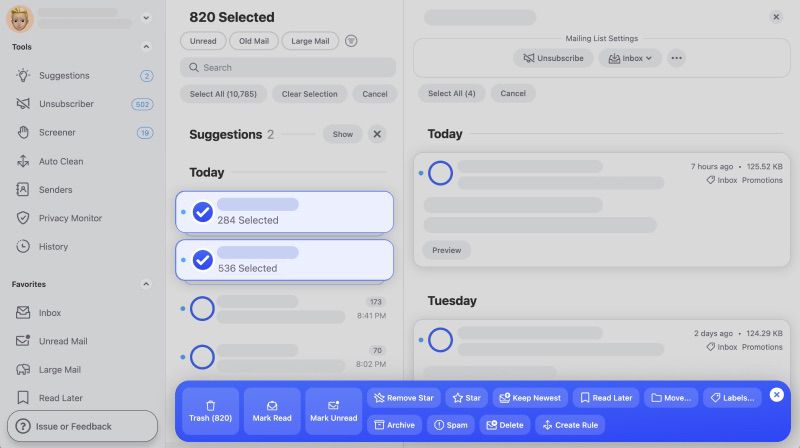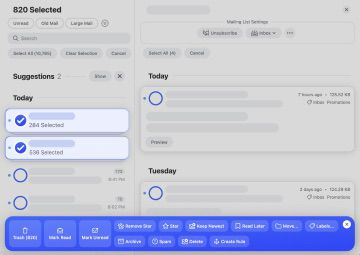 Besides bulk email organization, Clean Email can also intelligently unsubscribe you from mass email lists, making sure that unwanted newsletters and subscriptions don't prevent you from focusing on emails that are truly important.
Other noteworthy features of Clean Email include its ability to automatically apply selected actions to new emails as soon as they arrive and its ability to block unwanted senders. Clean Email works with all IMAP email service providers, including Gmail, Outlook, Yahoo, and others.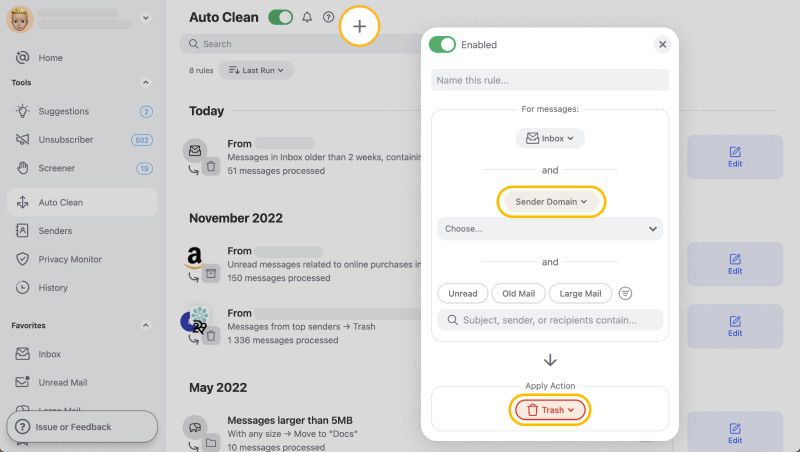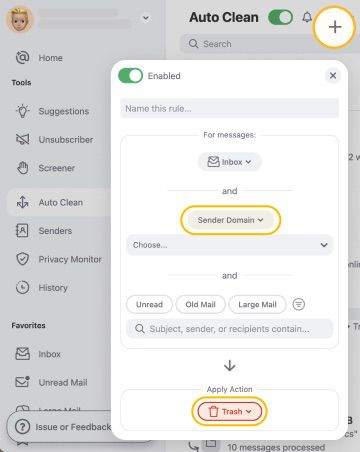 Conclusion
A custom email address is a must-have for all professionals who want to do business online. In this article, we explained how to get a custom email address and use it with Gmail. We also talked about Clean Email and how it makes email organization much easier.