Cleaning More Messages for Free
In addition to the standard 1000 messages you can clean for free, Clean Email provides an option to clean more messages without purchasing a Premium subscription: You can clean an additional 100 messages per week for free by enabling Cleanup Reminders.
With Cleanup Reminders, Clean Email sends notifications to you via email or on your phone to remind you to clean up your mailbox.
Enabling Cleanup Reminders
There are two ways you can access Cleanup Reminders settings:
Accessing Cleanup Reminders using the navigation menu shortcut
Accessing Cleanup Reminders using the Notifications page
Accessing Cleanup Reminders Using the Navigation Menu Shortcut
To enable and configure Cleanup Reminders via the navigation menu shortcut, click Enable in the Cleanup Reminders section of the left-hand navigation pane.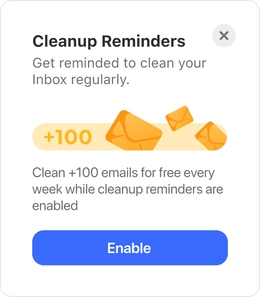 Accessing Cleanup Reminders Using the Notifications Page
To access Cleanup Reminders settings via the Notifications page, click your email address at the top left-hand corner of the page to open the account menu, and then click Notifications.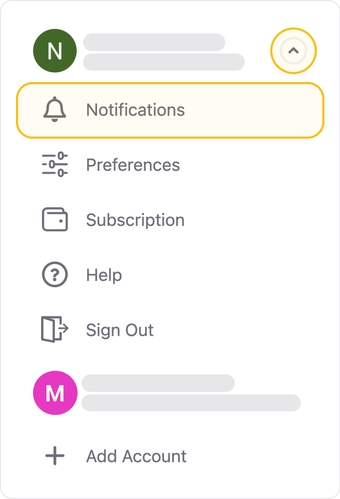 The Cleanup Reminders section is at the top of the Notifications page.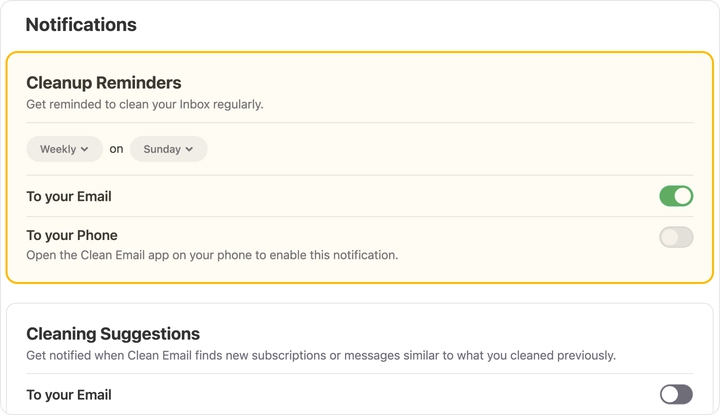 Configuring Cleanup Reminders
Regardless of whether you access Cleanup Reminders settings via the navigation menu shortcut or the Notifications page, you can choose whether you want to receive cleanup reminders daily, weekly, or monthly.
If you choose weekly, you can select the day of the week that we will send reminders.
If you choose monthly we will send the reminder on the first day of each month.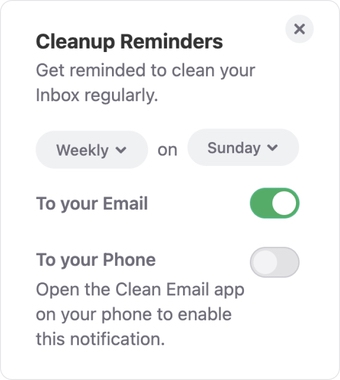 The remaining options will vary slightly depending on how you are currently accessing Clean Email.
If you are using a web browser to view Clean Email on your computer, the To your Email option will be selected by default. You can click the toggle to turn it off, and cleanup reminders will be disabled.
If you prefer to receive cleanup reminders on your phone rather than via email, please open the Clean Email app on your phone and select the option labeled To your Phone.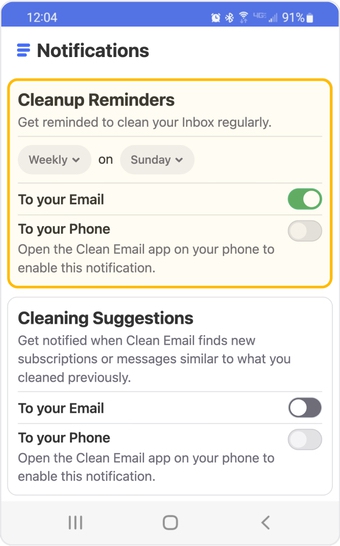 Free Trials and Premium Subscriptions
To clean even more messages, or if you want to use our advanced features, you will need to upgrade to a Premium subscription. When you upgrade to Premium, you can clean unlimited email messages. Upgrading also unlocks powerful Premium features to help keep your mailbox clean automatically.
You can also start a free fourteen-day trial of our Premium service with access to advanced features, unlimited cleaning, and 25 unsubscribe actions.
For more information, check out our article Free Trial and Premium Subscriptions.
Do you have more questions?
Please contact us and we will be happy to help.