Free Trial and Premium Subscriptions
Free Accounts
Clean Email offers a free account that lets you clean up to 1,000 email messages at no cost to you. This includes cleaning actions such as moving messages, deleting messages, sending messages to the trash, applying labels, starring and unstarring messages, and more. You can increase the number of messages that you can clean for free by enabling cleanup reminders. For more information, please see Cleaning More Messages for Free.
Free accounts do not have access to premium features such as the Screener, Sender and Mailing List Settings, and Auto Clean. However, you can start a temporary trial of our premium features for free. After the trial ends, if you do not upgrade to premium, your free account will no longer have access to the premium features.
Trying All Clean Email Features for Free
You can try our premium features for free, with no credit card! By starting a free trial of our Premium subscription, you can get 14 days of free access to all of our Premium features, plus 25 unsubscribe actions. You can sign up for a free trial by clicking the Try for Free button anywhere the Upgrade option appears.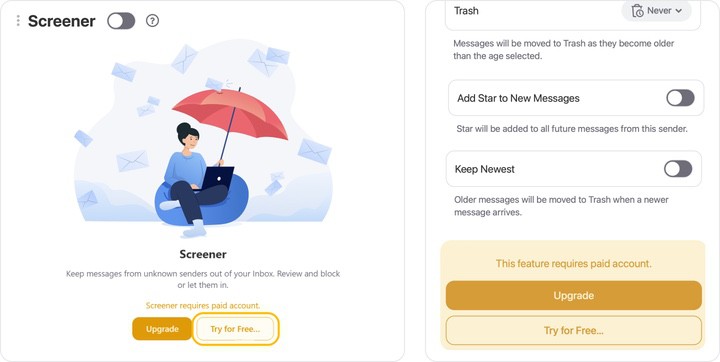 Then, click Start your Free Trial in the dialog that appears.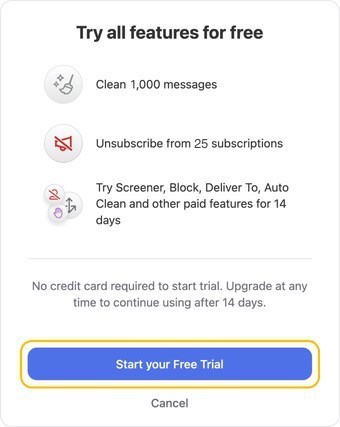 After your free trial expires, or if your subscription ends, your account reverts to a free account, with its limitations as described in Free Accounts, above.
Features Only Available with Premium Subscriptions
By upgrading to Premium–or starting your free trial–you can unlock the following features:
Optionally separate and hold all messages from addresses that have never emailed you before, so you can review the messages and decide to allow or block the senders.
Quickly and easily configure almost any automated cleaning actions for all messages coming from a particular sender. For example:
Block: Automatically move unwanted messages from a specific sender to the trash without them ever landing in your inbox.
Mute: Automatically mark incoming messages from a specific sender or mailing list as read without moving them to the trash.
Deliver to Folder: Choose a specific folder where all messages from a sender or mailing list will be delivered instead of your Inbox.
Trash After: Automatically delete messages from a sender or mailing list when the messages reach a certain age.
Keep Newest: Automatically delete all but the newest message in one or more groups of messages.
Permanently or temporarily unsubscribe from a mailing list using the Unsubscriber. Even if the mailing list does not respect your unsubscribe request, Clean Email will still move their messages to the trash automatically.
Advanced users can create complex rules to target very specific messages and apply almost any cleaning action to them automatically, as they arrive in your mailbox.
How to Upgrade to Premium
To upgrade to premium, click the Upgrade button in the left-hand navigation pane.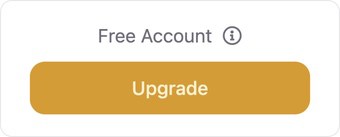 Alternatively, you can also click your email address at the top left-hand corner of the page and then click Subscription from the account menu.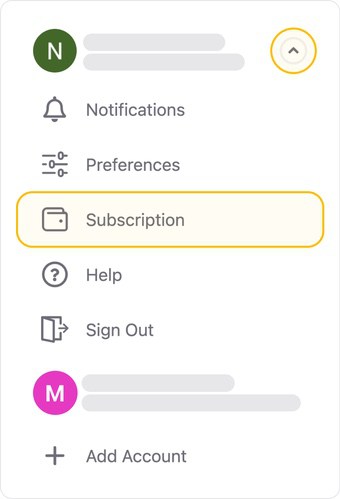 Then, on the Subscription page, click Upgrade.

The upgrade dialog appears.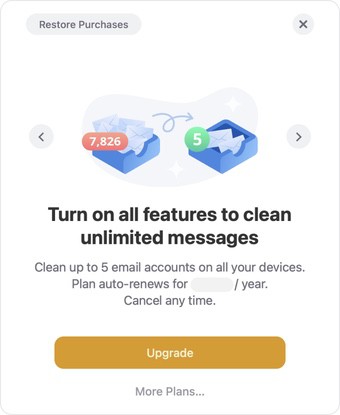 To upgrade to the default plan with five email accounts, click Upgrade again.
Or, if you want to see other plan options, click More Plans…. The plan selection dialog appears.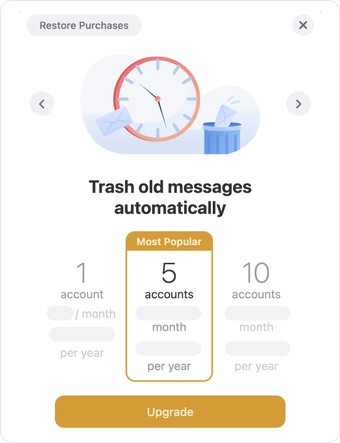 In this dialog, you can click to select the plan option you prefer, and then click Upgrade to proceed.
Depending on the place where you purchase a subscription, you might see different payment options and processes, but the prices are the same everywhere.
📌 Note: Upgrading to premium takes effect immediately, and you will be charged immediately. If you upgrade while your free trial is still active, the free trial ends when you complete the upgrade.
📌 Note: In case you have purchased an upgrade to premium, but your account has not been upgraded, click the Restore Purchases button on the Subscription page.

The process of restoring purchases depends on where you purchased the subscription. You may be asked to provide additional information such as your order ID during the process.
Do you have more questions?
Please contact us and we will be happy to help.