How to Gift Paid Accounts to Others
If you want to gift a paid Clean Email account to another person, you can do so without having to purchase a separate subscription.
Gift accounts behave as standalone main accounts and will work as long as the subscription that they were sent from is active.
Click the account menu at the top left-hand corner of the page, and then click Subscription.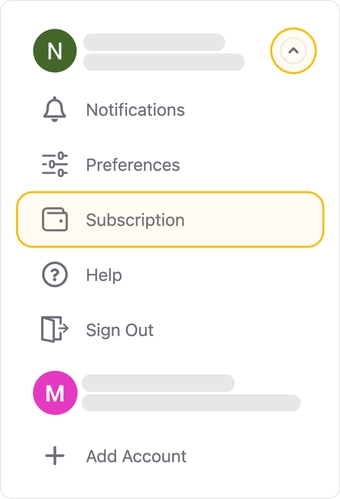 The second section of the page provides information about your current plan, including how many email accounts you can currently use with Clean Email and how many remaining or additional accounts you have available.

For example, if you have a five-account plan and you've added john.doe@gmail.com and john.doe2@gmail.com, that means you have two email accounts in use with your Clean Email subscription. The Subscription page in Clean Email will show that you have three accounts remaining available.
You can choose to gift one of your remaining available subscriptions to another user without having to buy a separate subscription plan. To do so, click Give a paid account as a gift. A confirmation dialog appears.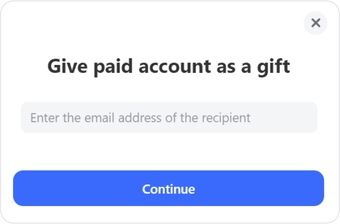 Enter the email address of the recipient and then click Continue. The number of accounts remaining displayed on the page is reduced by one.
Clean Email sends a message to the recipient's address to tell the user that your email address has gifted the user with a paid Clean Email account.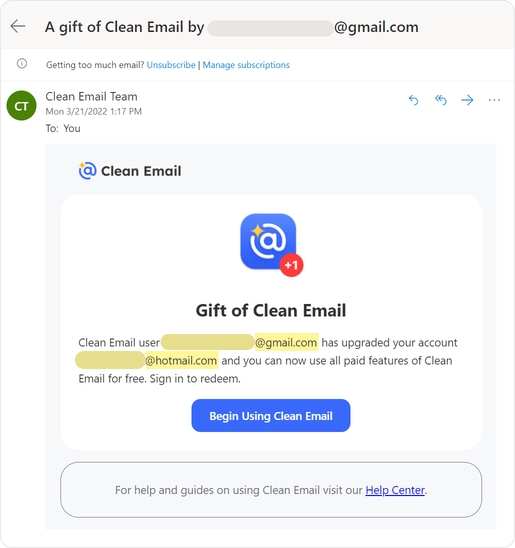 The recipient's account will be marked paid after they log in, without any extra charge.
📌 Note: In case you accidentally send a gift account to the wrong email address, please contact support for assistance.
📌 Note: If your subscription is deactivated, any gift accounts you have sent will have their Premium status deactivated as well, and will revert to free accounts.
Do you have more questions?
Please contact us and we will be happy to help.