Account Settings Overview
The account settings menu lets you see and control your Clean Email account, including preferences and subscription information.
To access account settings, click your name and email address at the top left-hand corner of the page.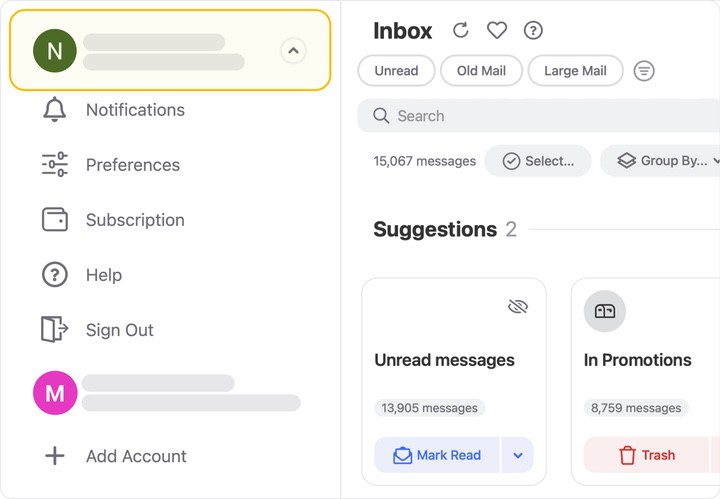 From this menu, you can access the following features:
Notifications - Control which notification messages Clean Email sends you, and when the notifications are sent.
Preferences - Control your various account settings, including aliases, pinned messages, and contact groups.
Subscription - Control your Clean Email subscription from this page. Please

see below

for more information.
Help - Click here to access Clean Email's help resources.
Sign Out - Click here if you want to sign out Clean Email.
+ Add Account - Click this option when you want to clean another account with Clean Email.
Subscription Settings
The Subscription page displays information and options regarding your Clean Email subscription.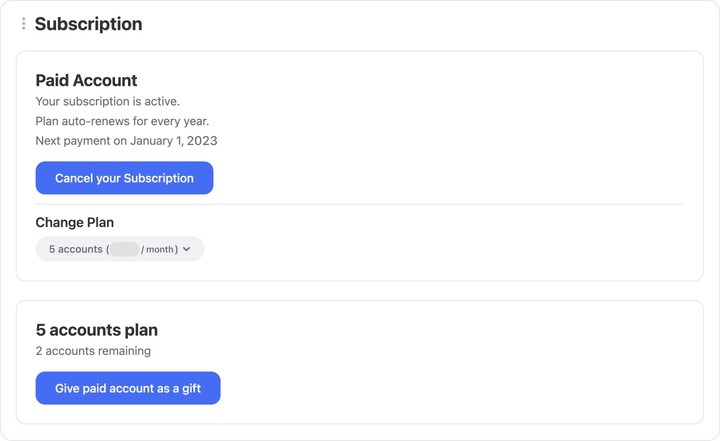 Canceling Your Subscription or Changing Your Plan
If you have a paid account, you can click Cancel your subscription to cancel the subscription and prevent further automatic rebills. For more information, please see Canceling Your Subscription.
You can also click the Change Plan drop-down and select a different billing frequency or change the number of email accounts you can use with Clean Email.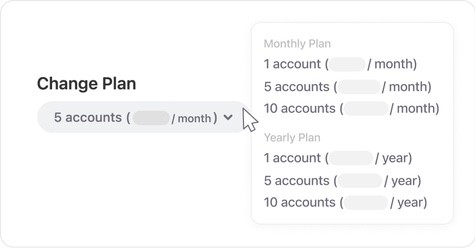 When you choose a different plan option, a dialog appears to confirm your choice.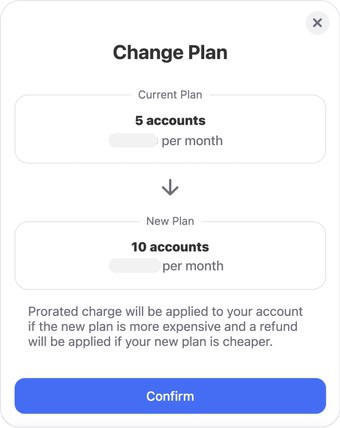 Review the New Plan information, and then click Confirm to confirm the change. A transaction will be processed immediately on your payment account:
If you have chosen a more expensive plan, a prorated charge for the additional accounts will appear on your payment account.
If you have chosen a less expensive plan, a prorated refund will appear on your payment account.
📌 Note: You cannot choose a plan with a smaller number of accounts than you currently have in use.
Current Plan Information
The second section of the page provides information about your current plan, including how many email accounts you can currently use with Clean Email and how many remaining or additional accounts you have available.

For example, if you have a five-account plan and you've added email1@gmail.com and email2@gmail.com, that means you have two email accounts in use with your Clean Email subscription. The Subscription page in Clean Email will show that you have three accounts remaining available.
You can choose to gift one of your remaining available subscriptions to another user without having to buy a separate subscription plan. For more information, please see How to Gift Paid Accounts to Others.
Do you have more questions?
Please contact us and we will be happy to help.