Available Smart Folders
This article provides an overview of what types of messages you can expect to find in each of Clean Email's Smart Folders.
Smart Folders appear in their own section of the sidebar menu. Not all Smart Folders will appear for every email address.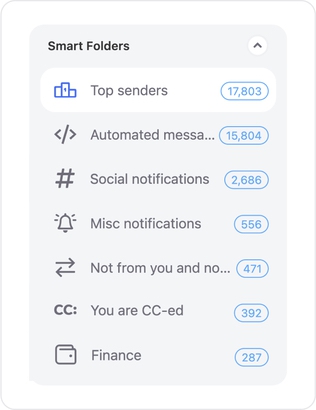 For information on working with Smart Folders, please see Folders and Smart Folders.
The following are descriptions of the contents of each Smart Folder, in alphabetical order:
Automated messages: Messages that have been sent via automated systems (e.g., newsletters and other subscriptions)
Creative Tools: Messages regarding creative tools such as Canva or Figma
Dating apps: Messages related to dating apps (e.g., eharmony, match.com)
Entertainment: Messages related to tickets, events, and reservations
Food Delivery: Messages regarding food delivery apps such as InstaCart, HelloFresh, or DoorDash
Finance and insurance: Messages related to finance and insurance (e.g., banking, payment services, insurance companies, investments and crypto)
Gaming: Messages related to gaming, such as Xbox Live, Steam, or PlayStation Network
GDPR: Messages related to privacy (e.g., privacy notices and updates to privacy policies)
Job Search: Messages regarding job search sites such as ZipRecruiter or Monster
Languages and Education: Messages regarding language learning apps such as Babel or Rosetta Stone
Mail and courier services: Messages related to mail and courier services (e.g., FedEx, UPS, DHL)
Malformed Senders: Messages with invalid or incorrectly formed sender addresses
Marked as deleted: Messages that are marked as deleted which have not yet been deleted
Messages from "no reply": Messages for which the sender address begins with "no-reply" or variations of that string
Messages to yourself: Messages sent from your email address to your email address or your email aliases (as configured via Account | Preferences | Aliases)
Messages with a future date: Messages with a date in the future, a technique commonly used by spammers
Misc notifications: Messages that include the string "notification" in the sender address
Music, TV, and Books: Messages related to music, TV, or books (e.g., from Spotify, YouTube, or Apple Books)
Newspapers and Magazines: Messages related to newspapers and magazines
Not from you and not to you: Messages for which neither the sender address nor the "to" address is your address
Online shopping: Messages from online shopping sites, such as Amazon or eBay
Productivity tools: Messages related to productivity tools (e.g., Asana, Jira, Grammarly)
Replied: Messages to which you have sent replies (not available in Gmail or Outlook)
Reviews and recommendations: Messages related to online reviews and recommendations (e.g., yelp, TrustPilot)
Real Estate: Messages regarding real estate apps such as Zillow or Trulia
Ride Sharing: Messages regarding ride sharing services such as Uber or Lyft
Seasonal sales: Messages relating to seasonal retail promotions (e.g., Black Friday ads)
Social notifications: Notification messages related to social media (e.g., Facebook, LinkedIn, YouTube)
Top senders: This Smart Folder automatically sorts message groups based on the senders who have sent you the most messages. Message groups from the senders who have sent the most messages appear at the top of the page.
Travel: Travel-related messages (e.g., from airlines, Airbnb, booking.com)
Undelivered message notifications: Automated bounce messages notifying you that messages you have sent could not be delivered
Wellness and Sport: Messages related to fitness and health such as Peloton or mental health apps
You are CC'd: Messages for which your address is CC'd
Do you have more questions?
Please contact us and we will be happy to help.