Connecting Your Email Account
Clean Email provides powerful tools to streamline your interactions with your email account. Once you have configured its features, Clean Email can even take actions on your behalf.
In order to do these things, Clean Email needs to access your mailbox.
No need to worry – we are very concerned with your security and privacy and will never use this access for anything outside our core features. Our approach to your security and privacy is explained on our homepage and detailed in our privacy policy. You can also find more information about how we safeguard your privacy below.
To get started, enter your email address and click Continue.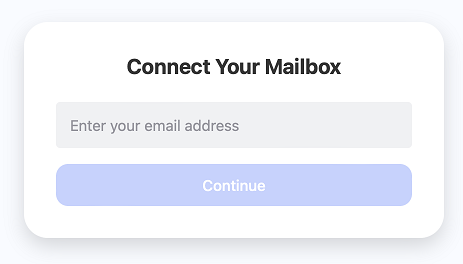 For some email providers, you do not have to enter your password to connect your email account to Clean Email. The following services allow us to access your mailbox based on your currently logged in status, and you can revoke our access if necessary:
Gmail or Google Workspace (GSuite)
Yahoo and other providers powered by Yahoo (like SBCGlobal.net)
Accounts powered by Microsoft email solutions, such as Hotmail, Office 365, or Outlook
AOL
If you use any other type of email account, you will be asked for more information, like an IMAP server address or just a password.
For iCloud and Fastmail, you need to provide us with an "app-specific password", which you can generate within your email account.

Please click here for instructions on generating app-specific passwords in iCloud.

Please click here for instructions on generating app-specific passwords in Fastmail.
For all other IMAP email service providers, enter your email login and password. We will store these securely and use them to access your mailbox.
Here are some important things to remember in order to avoid login and indexing issues:
iCloud users must generate an app-specific password in order to login. Using your main iCloud password will not work.
Clean Email works with any IMAP-enabled mail server. If your server only has POP3 access, unfortunately Clean Email will not be able to access your email. Although most email providers have both a POP3 and an IMAP server, there are cases when access to the IMAP server is disabled by admins for security reasons.
Once connected to your email account, Clean Email will analyze the headers of email messages in your mailbox and create an index. This process is usually quick, but if you have thousands of email messages, it might take some time. It is safe to close Clean Email and let it continue in the background – we will let you know when the analysis is complete and your mailbox is ready for you.
What is an "index"?
To work, Clean Email needs to build an index of your mail – a temporary database that contains certain information about messages in your mailbox. This index is created the first time you log in, and then updated regularly, including every time you log in to Clean Email.
What is being stored?
Clean Email only includes the following in the index:
Email senders
Recipients
Email folders and labels
Date and time messages were received or sent
Message sizes
Information about attachments (their number, type, and size); the attachments themselves are not downloaded or stored
Email subject lines
What is not stored?
Everything else. For example, Clean Email ignores email contents (that is why we do not have any rules that are applied to the message body) and attachments.
Please note that if you click a message in Clean Email to view a preview of the message body, we have to download the message body temporarily in order to show it to you.
Also, if you use the Auto Clean feature to remove unwanted messages, we temporarily download and store the message bodies of the deleted messages. This allows you to review messages that were removed by Auto Clean, in case you cannot find them in your mailbox.
In no case do we ever read or analyze the message bodies for any purpose. We only download them as described above, show them to you upon demand, and potentially cache them in case you want to view them later.
When is my email account data deleted?
If you log out (or simply close your browser) and do not log in for 45 days, Clean Email will automatically delete the index. The index will also be deleted if you remove your account from Clean Email using an account removal feature. You can also contact support and request for your account to be deleted.
Clean Email is fully compliant with email providers' privacy policy requirements.
Companies that provide email accounts significantly limit permitted Application Types that are allowed access to users' accounts. Their primary concern is how private user data is used and handled by third-party apps and how it must be secured.
Clean Email's strict privacy policy is completely aligned with email providers' policies, and is very clear about what we can and cannot do with users' data. Specifically:
⚠️ How Data May Not Be Used: Third-party apps such as Clean Email that access users' email accounts must use the data to provide user-facing features and may not transfer or sell the data for other purposes such as targeted ads, market research, email campaign tracking, and other unrelated purposes.
⚠️ Attention: In Clean Email, humans cannot review email data at all.
⚠️ How Data Must Be Secured: It is critical that third-party apps handling users' email data meet minimum security standards to minimize the risk of data breach. Apps are asked to demonstrate secure data handling with assessments that include: application penetration testing, external network penetration testing, account deletion verification, reviews of incident response plans, vulnerability disclosure programs, and information security policies.
From day one, Clean Email has followed our strict privacy policy. Each year, we pass a multi-step process including verification by email providers and external security assessments.
Google and other email providers allow Clean Email access to user data due to our alignment with their very privacy strict requirements. Clean Email has been verified by Yahoo and AOL as a trusted application, and is also an A+ rated BBB Accredited business.
Historically, it was very common for email cleaning applications to provide their services for free by monetizing data from email messages.
Here at Clean Email, we are committed to your security and privacy. We do not keep, sell, or analyze your data for any purpose beyond our public features. Instead of relying on data from email messages to sustain our business, we have chosen to charge a reasonable fee in exchange for our services.
Do you have more questions?
Please contact us and we will be happy to help.