Differences Between Clean Email Views and Standard Email Clients
Unlike most standard email clients, Clean Email provides many tools and features to help you clean your mailbox and keep it clean.
Here are some of Clean Email's different features that are not included in typical email clients:
Flexible Filters
You can use filters to narrow down the list (e.g., only unread messages or messages older than a certain age). Many more filter options are available by clicking the funnel button.

Messages Are Grouped
Messages are organized into groups. By default, they are grouped by sender, but you can click the Group By drop-down to control how the messages are grouped and quickly clean groups of messages.

📌 Note: Applying any cleaning action to a group will apply it to all messages in the group.
Previewing Message Groups
Click any message group to preview messages.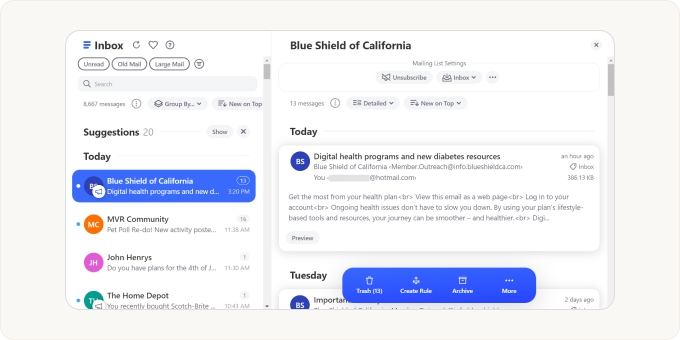 Applying Settings for the Sender of a Group of Messages
When the default Group by option is selected, meaning that messages are grouped by sender, you can click the Settings button for a group to adjust sender settings. This includes blocking, unsubscribing, or controlling the folder to which the sender's messages are delivered.

Quick Access to Sender Settings
You can also click the drop-down next to Settings to see a quick list of commonly used settings.

Moving a Group of Messages to the Trash with a Single Click
Click the Trash button to move a message group to the trash.

Accessing Additional Cleaning Options for a Message Group
You can click the drop-down next to a message group's Trash button for additional cleaning options.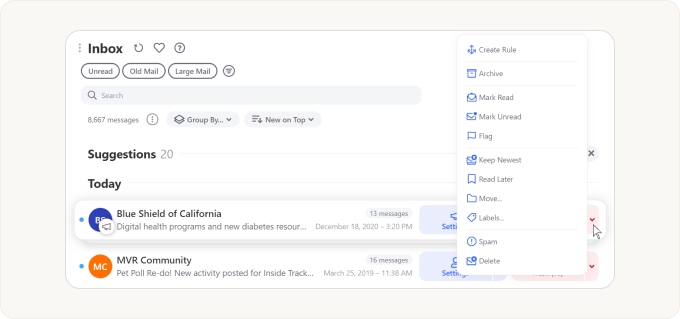 Cleaning Multiple Message Groups At Once
To clean multiple message groups at once, click the sender icon next to each group and then click an action from the action bar at the bottom of the page.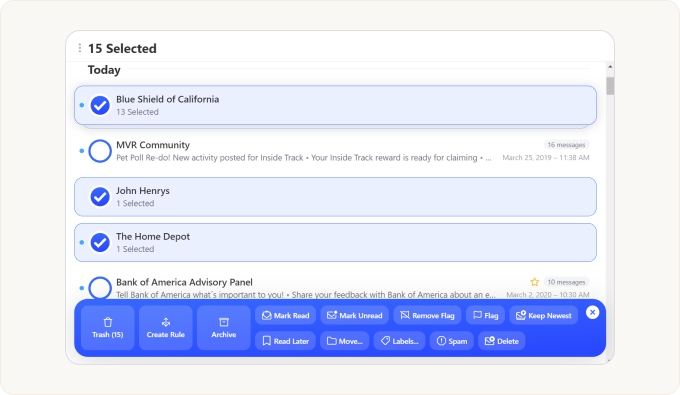 Clean Email Helps You Organize and Read Your Mail
Clean Email is a service focused on helping you read and organize your email, and does not include the option to reply to messages or send new ones.
Clean Email Affects All of Your Mail Apps and Clients
Clean Email works directly with your email service and the results of your cleaning and automated actions are immediately reflected in your other email clients. This makes Clean Email a perfect companion to your established email routine or a primary email client.
📌 Note: For more information on working with Smart Folders, please see our article here.
Do you have more questions?
Please contact us and we will be happy to help.