Does Blocking an Email Address Stop the Sender from Emailing Me?
There is no email application or tool that can prevent a sender from sending messages to your address. Clean Email does not have authorization or permission to act upon the sender's email account-we only have the authorization you have provided to act on the messages in your account.
Just as with postal mail, if someone sends you a letter-or in this case, an email message-it will be delivered. It is up to you to decide what to do with that letter once it arrives in your mailbox.
Likewise, when you block a sender in Clean Email, Clean Email cannot prevent the sender from sending you more messages. Instead, as soon as we get a notification from your mail server that there is a new message from the sender, we move the message to the trash. The goal is to get messages from blocked senders out of your inbox so that you do not have to see them or deal with them.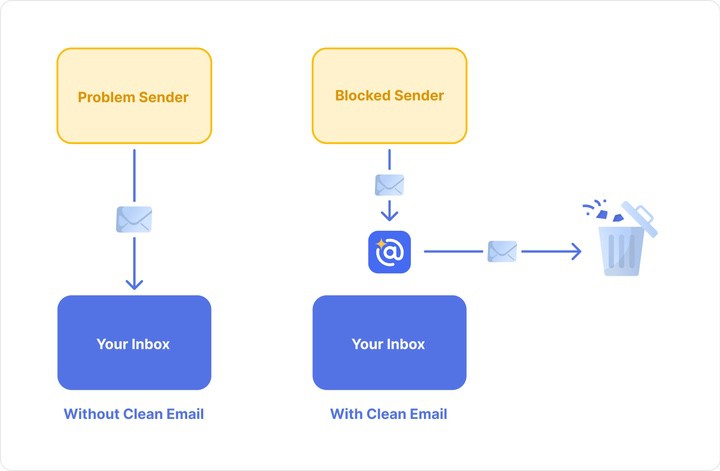 We usually move these messages to the trash within seconds of the messages being delivered. However, very rarely there can be a delay between the new messages being received at your server and your email provider notifying us that new messages have been received. During that brief period (which can range from a few seconds to a few minutes), the sender's messages may appear in your inbox until we are notified about the messages and can remove them for you.
Once the messages from a blocked sender are in the trash, you could still see them if you view the contents of your mail account's trash. Once you empty the trash, the messages are permanently deleted.
For messages that are sent to a mailing list (such as newsletters), the Unsubscribe action appears instead of the Block action. The headers of these messages include unsubscribe instructions that Clean Email can use to request that the sender stop sending you messages (though it is ultimately up to the sender to honor the unsubscribe request and actually stop sending them). Clean Email blocks the sender in addition to sending the unsubscribe request. For more information, please see Unsubscriber.
Do you have more questions?
Please contact us and we will be happy to help.