Apply Actions to Messages of a Specific Size from a While Ago
To apply any action to messages of a specific size from a while ago:
In the left-hand navigation menu, select the Older than… Smart Folder. (The actual folder name depends on your most recent filter setting; the default is "Older than 2 years".)

Control the time frame by clicking the default Older than… filter and selecting the desired time frame from the drop-down.

To filter the list to messages of a specific size, click the default Large Mail filter above the search bar to select the size of messages to which you want to apply an action.

Select the message groups to which you want to apply an action. You can do this by mousing over the sender icon for a group and then clicking the blue circle that replaces the icon; this opens the multi-select mode so that you can select additional groups if needed.

Alternatively, click the multi-select icon and then click the blue selection circle next to each desired message group.

Use the action bar at the bottom of the page to apply the desired action to the select messages.
⚠️ Caution: Please use caution when applying an action to multiple messages at the same time. Some actions are permanent and cannot be undone. It is important to review which messages are selected before taking an action on all of them.
For example:
To move all selected messages to the trash, click Trash.

To archive all selected messages – meaning to remove the Inbox label or move them out of the Inbox folder — click Archive.

To permanently delete all selected messages, click Delete.

To move to the trash all except the single most recent message, click Keep Newest.
When you click a button on the action bar, a dialog appears to confirm that you want to take the action on all selected messages. The number of messages that will be affected is shown.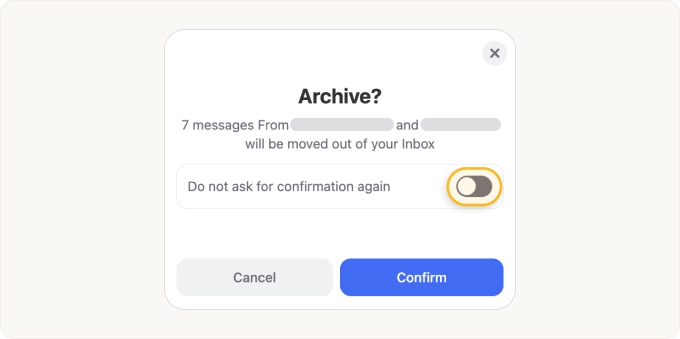 By default, the Do not ask for confirmation againtoggle is disabled, as illustrated above. If you click to enable the toggle, it turns green and the switch moves to the right. You will not be prompted to confirm this specific action when you perform it in the future.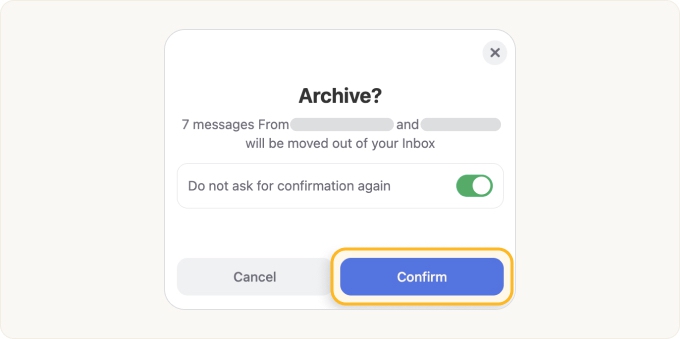 Click Confirm to complete the action.
If you change your mind, click the X at the top right-hand corner of the action bar to close the action bar and unselect all messages.

In case you start a cleaning action by mistake, the Quick Cancel feature can give you a chance to cancel the action before it begins.
For more information, please see Canceling an Accidental Action with Quick Clean.
Do you have more questions?
Please contact us and we will be happy to help.