Favorites
Clean Email provides flexible, customizable tools to help you clean your mailbox and keep it clean.
The Favorites feature lets you customize any Smart Folder with your preferred filters, search terms, sort sequence, and Group By settings, and save all of these configurations together as a favorite.
Saved favorites appear in the Favorites section of the left-hand navigation bar, below the Tools section.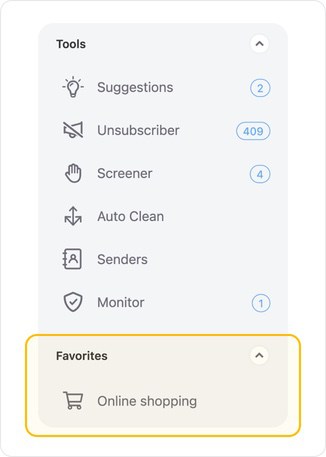 📌 Note: If you remove all favorites, the Favorites section disappears until you add at least one favorite.
Creating a Favorite
To create a favorite:
Click any Smart Folder in the left-hand navigation bar. The folder's default criteria will serve as a starting point for your favorite. For example, the Smart Folder Online Shopping includes messages regarding online shopping from anywhere in your email account.

Optionally, use the search bar to search for a term and narrow down the criteria for messages to be included in your new favorite.

Optionally, click Unread, Old Mail, or Large Mail to set a filter. Or, use the funnel button to access all filter options.

Click the heart icon to the right of the Smart Folder name.

A dialog appears with a text field.

Enter a name for the favorite, and then click Save. The new favorite appears in the Favorites section of the navigation bar.
Removing a Favorite
To remove a favorite:
Select the favorite that you want to remove from the Favorites section in the left-hand navigation bar.

Click the blue heart icon next to the Smart Folder name at the top of the main window, to turn it off.

The favorite is immediately cleared and removed from the Favorites section.
Do you have more questions?
Please contact us and we will be happy to help.