When Is It Time To Block A Sender?
You may receive hundreds of electronic messages per day. However, most of these fall into the spam or junk messages category. With so many messages in your queue, it's hard to quickly assess what's important and what just needs to go into the trash.
Thankfully, most email providers now offer filtering methods to help you put spam where it belongs. Yet some messages can break through the most powerful spam filters… so what do you do then?
If you notice messages from the same address keep ending up in your Hotmail inbox even though you've flagged previous messages as spam, it may be time to learn how to block someone on Hotmail.
How To Block Someone On Hotmail
Most of the time, how to block email on Hotmail works the same way as it does when you block emails on Outlook. However, these step-by-step guides will walk you through how to block emails in Hotmail through webmail, how to block email on Hotmail on iPhone, and how to block Hotmail emails using the Clean Email app.
How To Block Email On Hotmail Using Outlook.com
Since Hotmail is owned by Microsoft, you can access your Hotmail inbox through https://outlook.live.com/. Therefore, these directions will help you block emails for your Hotmail account if you log in through the web.
Go to your Hotmail inbox through Outlook.com.
Select the sender you wish to block. Click More(three dots) at the top action bar.

Then select Block → Block sender. Now all future emails from this user will be blocked from your inbox.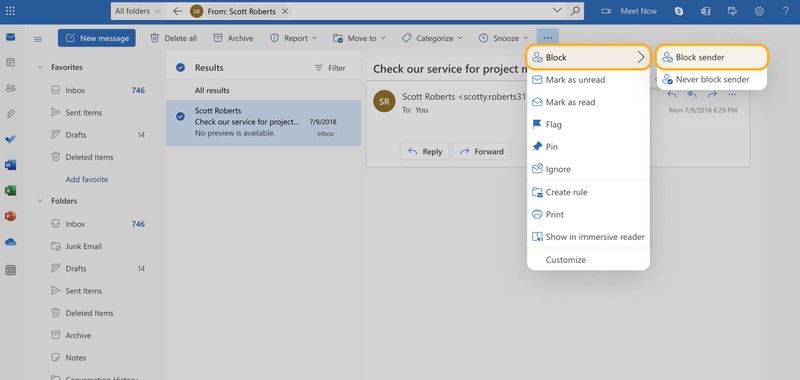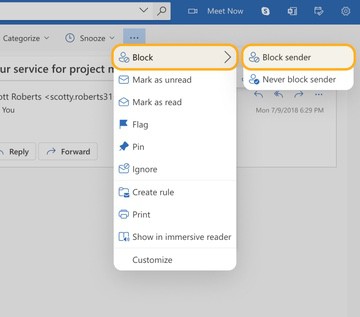 💡 Note: These directions will not work if you are using Apple Mail client for Mac to check your Hotmail account. In that case, you will need to read our guide about how to block emails on Mac.
If you ever need to review the list of blocked email addresses and make edits, you can review your Hotmail block list by following these steps:
Login to your Hotmail account at https://outlook.live.com/.
Click on Settings.
Choose View All Outlook Settings.

Select Mail, then select Junk Email.
You can now see your blocked addresses. Click Remove (trash bin) near the address you'd like to take off the list.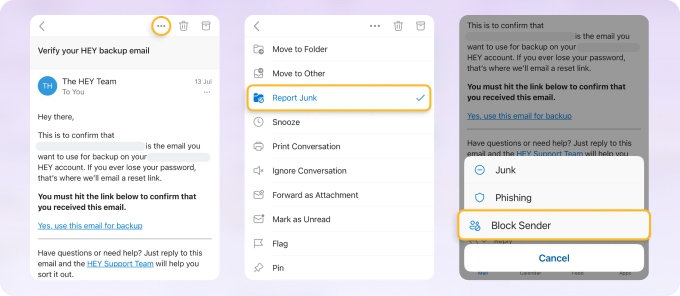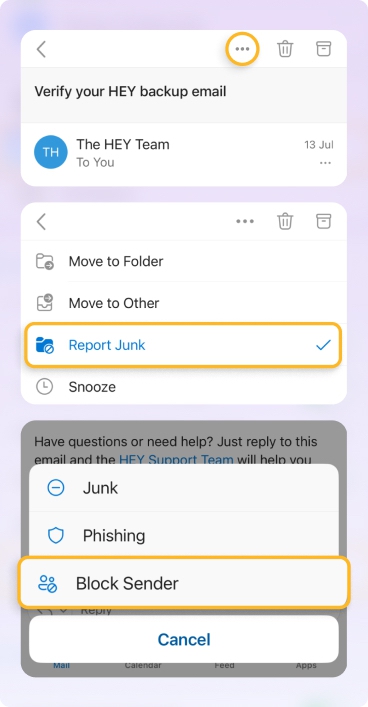 How To Block Emails On Hotmail On Phone
Open the Outlook app on your iOS device.
Tap on a message from a sender you wish to block. This will open the message.
Tap the three dots in the upper right corner of the message.
Choose Report Junk from the menu options. Then choose Block Sender.

Click Block Sender again to confirm. Now all messages from that sender will go straight to your Junk folder.
Unfortunately, the mobile app does not allow you to make changes to your blocked senders' list or even access your Hotmail block list. If you accidentally block an address or want to view your blocked senders' list, you must follow the above-mentioned steps for Outlook.com through your mobile web browser.
Blocking Hotmail Emails Using Clean Email
Although you can absolutely block emails on Hotmail through the help of Outlook, Clean Email makes blocking senders in Hotmail even more straightforward. All you need to do is sign up for the app, then follow these steps.
Launch the app and connect your Hotmail account.
Select Senders from the lefthand menu.
In the center pane, you will see a list of senders for your email. Click to select the sender you wish to block.

You will now see options to Block, Mute, or Create Rule. Select Block from the options.
Confirm the selection.
As you may have noticed, you can only block Hotmail emails from individual senders. However, the app offers a tool to block entire domains. This can be especially helpful for spam messages that may come from multiple senders with the same domain.
To block an entire domain in Clean Email:
Launch the app and click on Auto Clean in the left menu. (Note: You may need to Enable Auto Clean if you haven't used the feature before.)
Click the Plus Sign (+) to create a new Auto Clean rule.

You will now see the Rule Creation dialog box. Click the dropdown for Any sender or recipients and select Sender Domain.

Start typing the domain you wish to block. As you type, the app will generate matching domains.
Select the correct domain. You will see the domain in blue, which means it has been added. You can continue this process to add more domains or move to the next step.
Click Apply Action, then select Trash from the drop-down menu.

From here, you can choose some other settings.
When you are done, click Create Rule to create the Auto Clean rule.
What To Do When Blocking Isn't Enough
Sometimes knowing how to block emails on Hotmail isn't enough to keep spam messages from mixing with your other messages. Sometimes, you may need to flag messages as spam to help train your spam filter to keep these messages out of the primary inbox.
To mark messages as spam, open your Hotmail account at https://outlook.live.com/. Then you can simply select the message you'd like to flag, then choose Report from the top toolbar and click Report junk. Or, as we will mention below, you can also use Clean Email to keep unwanted messages at bay and organize your inbox.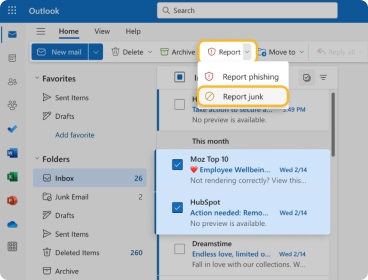 Unblock Your Inbox With Clean Email
Taking the time to block Hotmail emails can help clear out some of the clutter in your mailbox. However, knowing how to block Hotmail email won't be enough to help you reach inbox zero or maintain a well-organized mailbox. This is why mailbox management tools like Clean Email exist — they give you all the tools you need to organize messages, block spam, and help you spend less time checking your email.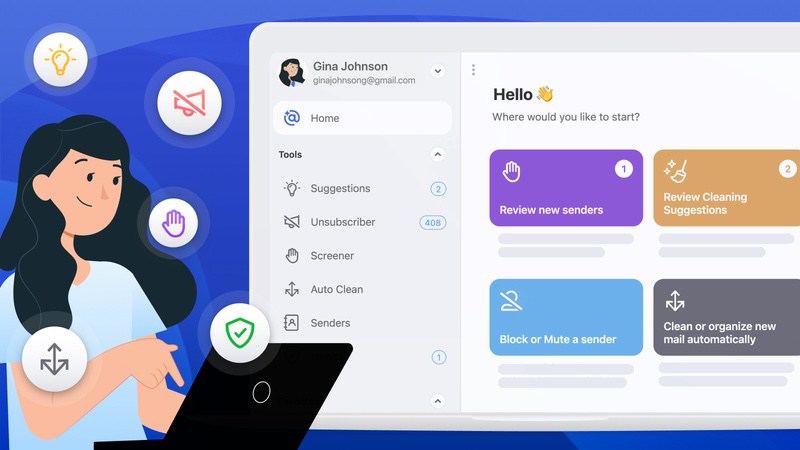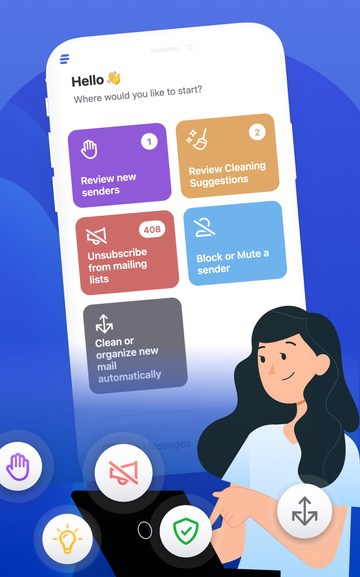 As previously mentioned, the Auto Clean tool can help you block entire domains in just a few clicks. However, the tool actually does much more than that. With Auto Clean, you can establish automated rules that delete unwanted messages after a specified period, move messages that meet certain criteria into dedicated folders, and more. With Auto Clean, you can spend less time moving messages around and reclaim hours of your life.
What's more, tools like Unsubscriber and Sender Settings help you block out unwanted messages without taking the time to manually unsubscribe from each mailing or blocking senders in Hotmail manually. These handy tools help you keep clutter out of your mailbox so you can look through the messages that matter without sifting through junk just to find them.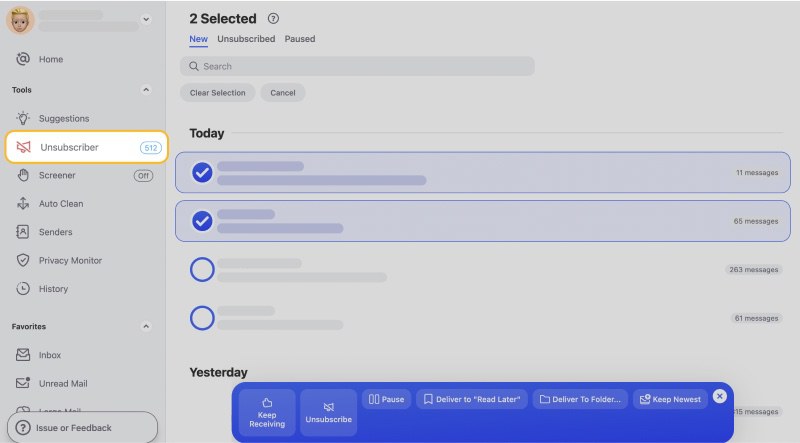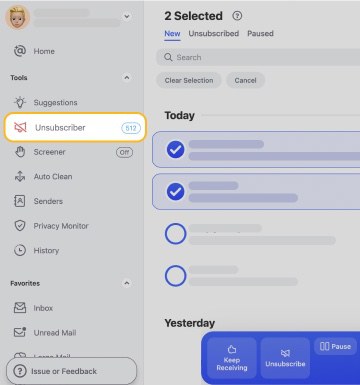 Other tools, like Smart Folders, make it easy to look at emails with similar criteria at the same time (e.g Online shopping emails or Productivity tools). This feature groups messages based on the contents of the messages, how long its been in your inbox, and more. Then, you can look through emails that are similar in one sitting, which makes it easier to quickly browse and make decisions about these emails (e.g. send them to Trash if you no longer need them in your mailbox).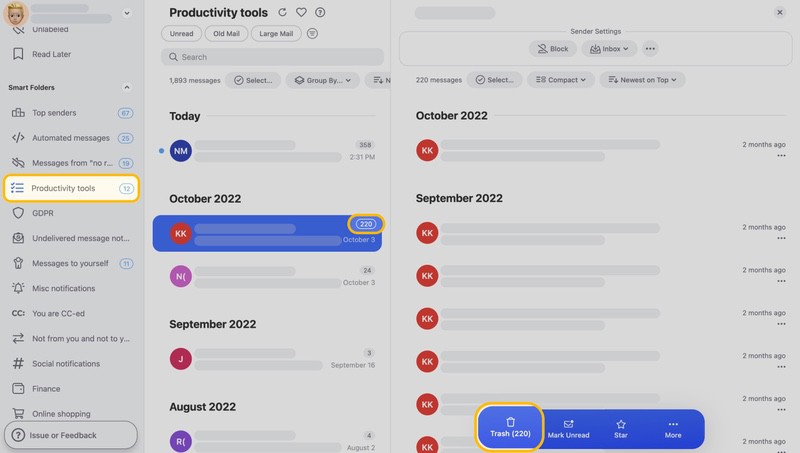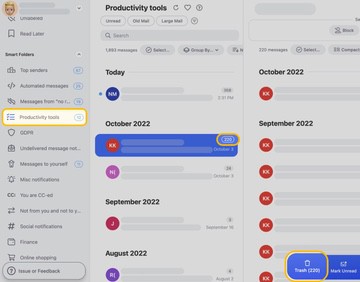 All these tools and others make Clean Email the ultimate mailbox management app for anyone who wants to keep their Hotmail inbox organized and safe. The app is secure to use, we will never collect or sell your data to any third parties.
💡 Note: The app will not work on messages from other providers like Yahoo or Gmail that you choose to open in Hotmail or Outlook. To manage these messages, you will need to sync your Clean Email account with each individual email address separately.
---
How to Block Emails on Hotmail - FAQs
Why can't I block emails in Hotmail?
Within Hotmail, you can add senders to a Safe Senders list, which disables blocking. You may need to go into your Safe Senders list and remove an address if you can't easily block it.
Why is Hotmail blocking my emails?
Like most other email providers, Hotmail has default spam settings to help protect your inbox. If you notice it is blocking too many messages, you can go to Junk → Junk E-mail Options to change these spam settings.
How do I permanently block spam emails on Hotmail?
When you block Hotmail emails, they go into the Junk folder by default. There is no way to prevent them from going there without using an inbox management tool like Clean Email.
Why am I still getting emails from blocked senders Hotmail?
Sometimes a single domain uses several individual email accounts to send messages. You may need to block the domain instead of just a specific sender to stop unwanted messages from entering your inbox.