How to Block an Email Address in Outlook
If you're tired of sifting through spam messages or dealing with emails you didn't ask for, chances are you're probably wishing you knew how to block an email on Outlook. After all, blocking senders you don't want to receive messages from is the easiest way to ensure you don't continue to receive messages.
Unfortunately, learning how to block an email address in Outlook is a little complicated, especially since every version of Outlook (web, desktop, mobile) works a bit differently. That being said, you can follow the steps outlined below to figure out how to block email on Outlook through any version of Outlook or by using Clean Email, our inbox management app.
💡 Note: The directions below will only work for the listed versions of Outlook. If you use Hotmail, you will want to check out our guide on how to block emails on Hotmail instead.
How to Block an Email in Outlook Web
Outlook Web offers two options for blocking email addresses. Microsoft recommends doing it directly through your inbox (Option 1). However, this method isn't available for those who have Outlook web linked to certain email clients, which is why Option 2 may also be useful.
Option 1: Selecting A Message From Your Inbox
Login to your Outlook inbox.
Select a message from the email address you'd like to be blocked. Click More (three dots) at the top toolbar.

Choose Block, then click Block sender.
Option 2: Adding The Address To Your Blocked Senders List
Login to your Outlook inbox.
Go to Settings.
Scroll down to View All Outlook Settings.

On the left, select Mail → Junk Email.
Press +Add under Blocked Senders and Domains.

Enter the address you'd like to block emails from, then press Enter to save.
💡 Note: Regardless of which method you use, you can unblock a blocked address at any time by going to Settings → Mail → Junk Email and hitting the Trash Can icon next to any address you'd no longer like to block emails from.
How to Block an Email in Outlook Desktop Client
If you are using the Outlook desktop client on Windows, you can block emails by following these steps:
Open Outlook desktop app.
Select a message from the email address you'd like to block emails from.
In the top toolbar, click Junk → Block Sender.
To remove a blocked sender from your Blocked Senders list, simply go to Junk → Junk E-mail Options. From here the window will open and you can go the Blocked Senders tab to make edits.

Learn more about how to block emails on Mac from our blog.
How to Block an Email in Outlook Mobile App
If you use the Outlook mobile app, then chances are you will want to know how to block an email address on iPhone or blocking emails on Android. Unfortunately, the Outlook mobile app doesn't support blocking senders directly within the app.
However, you can move items to Spam and later block them from your computer by following these steps:
Open the Outlook mobile app.
Select a message from the email address you'd like to be blocked.
In the bottom toolbar, click the 'Move to' button.
Select the Junk folder.
How to Block an Email Using Clean Email
As you can see, blocking emails in Outlook isn't necessarily an easy task. So, if you can't figure out how to block emails on Outlook Windows or Mac, Clean Email can also help you block all unwanted messages from a specific domain in just a few clicks. Essentially, you will create a rule that blocks all messages from the domain you specify. This will keep out all future messages from this domain.
To block emails from a certain domain using Clean Email:
Launch the app and choose Auto Clean from the left-side panel. Then click Create Rule.
Name the new rule and click Any sender or recipients.

Choose Sender Domain in the drop-down list of available options. In the search box under the Sender Domain, start typing the domain you are looking for and choose it from the items found.

Select the action you'd like to apply to the emails from this domain, e.g. send them to Trash. Press Create Rule.
⚠️ Warning: You need to CLICK an item found in the search results. If you only type the domain manually, all messages from your inbox may be affected.
Alternatively, you can block an individual email in the app, and here is how:
Go to Senders from the left-side panel and choose the sender you'd like to be blocked.
Select the Block email action under Sender Settings.

Turn the toggle on to also move all existing messages from the selected sender to Trash. Click Confirm and you're done!
Flag Messages As Spam
Sometimes you may not want to block a sender completely, but you also may not want the messages to clutter up your inbox. In those instances, it may be worthwhile to simply flag the emails as spam instead of blocking the sender.
Regardless of what Outlook platform you use, you can select the message and then click Move to Junk to clear out the clutter.
Why am I getting unwanted emails in my Outlook inbox?
According to Statista, more than 46% of emails are spam. If you are anything like the rest of us, getting this many unwanted emails is enough to drive you mad. However, the way in which these emails ended up in your inbox is often attributed to multiple factors.
You subscribed to an email chain. This is a common, and super easy way for unwanted messages to show up in your Outlook. Signing up for email communication is especially common when you purchase a product or service on a website; they often hide a little check mark at the bottom of the checkout page that, if unclicked, leads to constant email communication.
You put your email out publicly. If your address somehow happens to end up on a public forum or webpage, internet crawlers are sure to get their hands on it and sell that information to other companies.
A company you subscribed to had a data breach. You would be surprised at how commonly this occurs. When a company's website data is breached, and the company has your information, others are able to access most if not all of that data, including your email address.
You have been a victim of malicious email in the past. It happens to the best of us—you click on a message that has the appearance of good. However, on the inside, the mail is filled with malicious content. Clicking on a message from a malicious sender can often alert them that your inbox is active, thus sending more annoying and dangerous messages into your inbox.
Why you should block emails in Outlook
Blocking emails is a common practice, and should be done for the following reasons:
To remove malicious senders from your inbox. As described above, opening emails from malicious senders often alerts them that your inbox is active. This can lead to all sorts of additional and inconvenient communication from these malicious senders and others.
Extract unnecessary communication from your inbox. Again, there are times when unnecessary communication clutters your inbox. Blocking irrelevant or annoying senders cuts down on the clutter.
Maintain a clean and organized email inbox. Who wants 1,000s of emails floating in their inbox? Blocking unnecessary communication helps you to maintain that dream of inbox zero.
Put A Stop To Inbox Clutter With Clean Email
As mentioned above, this app can help you block someone on Outlook. However, the blocking feature is just one of the many things this app can do to help you clear out the clutter in your inbox.
For example, the Auto Clean feature (which is what you use for blocking emails in Outlook) gives you the ability to set up automation rules for your inbox. It can move messages to dedicated folders, clear out items after a certain amount of time, or delete messages from specific senders automatically.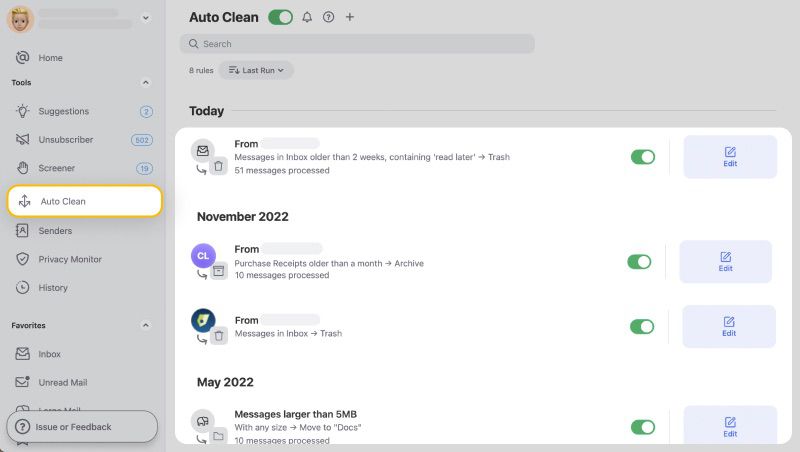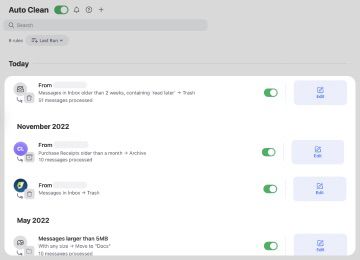 Furthermore, the Unsubscriber feature helps you remove your address from promotional mailings you do not want to receive. You can simply push Unsubscribe or Read Later to move these messages into a dedicated folder.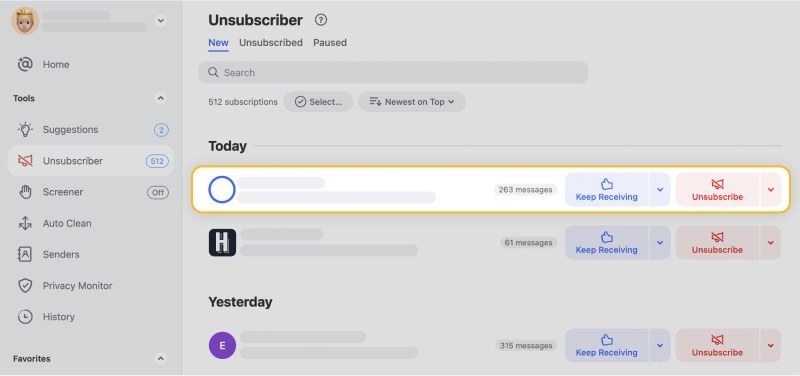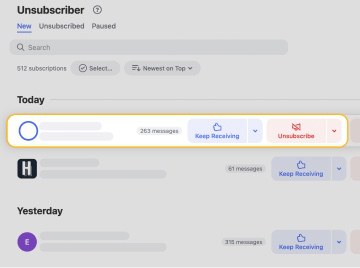 New features like Sender Settings can help you automatically remove messages from a specific sender the moment they come in so they don't clutter your inbox, while the Screener feature places messages from unknown senders in a specific quarantine folder so they don't clutter your inbox.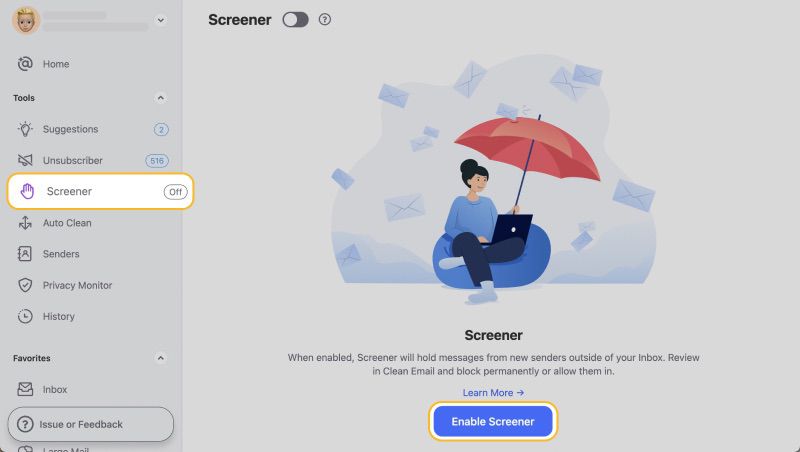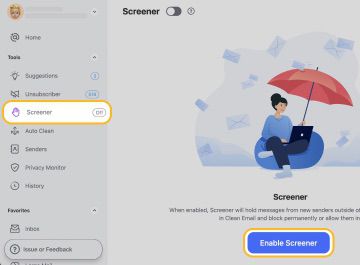 And, of course, the Smart Folders feature makes it easy to see messages that all share specific criteria. This makes it easy to just focus on one type of message or remove unwanted messages that meet the same criteria (e.g. 'Online shopping' which contains shopping-related messages).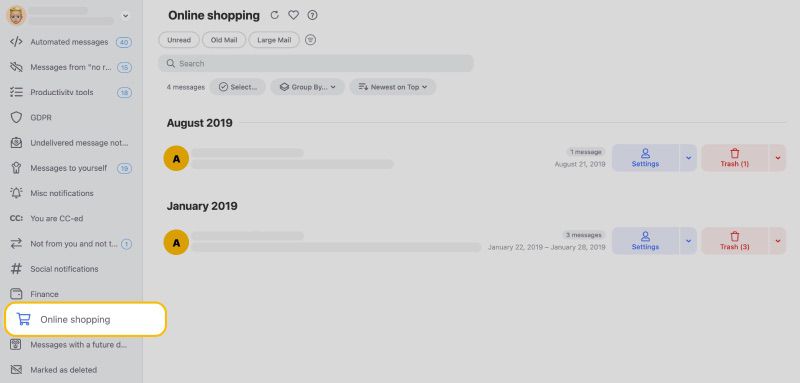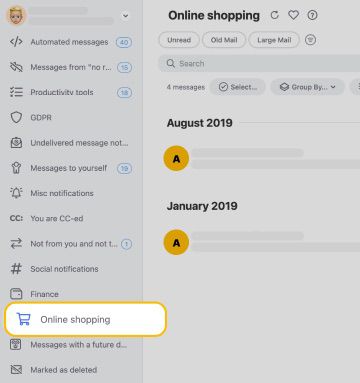 💡 Note: Outlook offers both an email service provider (meaning you use an @outlook.com email address) and an Outlook email client (which links with other mail providers like Gmail, Yahoo, AOL, and more). Because of the way these each work, any actions you perform in Clean Email only translate to the email service provider, which means that they may not show up if you use the Outlook desktop client.
Conclusion
Unfortunately, unwanted email communication makes it into everyone's inbox. However, there are multiple ways to rid your mailbox of irrelevant communication. In addition to all the ways we can do this in Outlook, Clean Email offers comprehensive solutions so you can stop unwanted messages on Outlook.
Learn more about how block someone on Gmail and block emails on Yahoo if you have a second mail account.
---
How to Block Emails on Outlook - FAQs
How do I block emails on Outlook mobile?
Unfortunately, the Outlook mobile app does not provide access to block senders. Alternatively, you can block a sender on the Outlook desktop app or you can send emails to your junk folder from the Outlook mobile app. Doing so will force all future communication from that address into your Junk Email folder.
How do I block multiple emails on Outlook?
As it currently stands, Outlook does not have a feature to block multiple emails at once.
How many emails can I block in Outlook?
Outlook has a maximum of 500 unique email addresses you can block at a time.
How do I permanently block an email in Outlook?
To permanently block an email address in Outlook, you can add your unwelcome sender to the Blocked Senders list. Refer to the instructions in this article to learn how to do this on desktop and on the web. Alternatively, you can block emails from the whole domain using the Clean Email app.
How do I find my blocked senders list in Outlook?
To view your blocked senders list in Outlook web app, follow these steps:
1. Open your inbox and go to "Settings" → "View all Outlook settings."
2. Select the "Mail" option and then select "Junk Email."
3. Your list of blocked senders should appear here.
How do I block unwanted email senders?
You can easily block unwanted email senders in Outlook by selecting Block Sender, or you can use the Clean Email app to remove entire domains.