How to Block Emails on Yahoo
Go to: https://mail.yahoo.com
Log in to your email account.
Click on the settings gear icon on the right.
Select "More Settings" from the pop-up menu.
Choose "Security and Privacy" from the list of categories on the left.
Click the "+ Add" button.
Type the email address you want to block and click the "Save" button.
How to Block Emails on Yahoo Mobile
Open the Yahoo Mail app on your mobile device.
Tap the hamburger menu in the top-left corner.
Choose "Filters" under "Tools".
Click the plus icon in the top-right corner.
Choose a name for the new filter and type the email address you want to block into the "Sender" field.
When you're finished, click the "Done" button.
How to Block Emails on Yahoo Using Clean Email
You can also block emails in Yahoo using Clean Email, an online bulk email organizer with powerful filters and rules to group your emails based on their type.
Go to: https://app.clean.email
Sign in with your Yahoo email address.
Allow Clean Email to access your inbox. Don't worry: Clean Email analyzes only metadata-not the actual content of your Yahoo emails.
Give Clean Email a short while to analyze your emails.
You will be presented with different email bundles, called Smart Views. Choose any Smart View you want.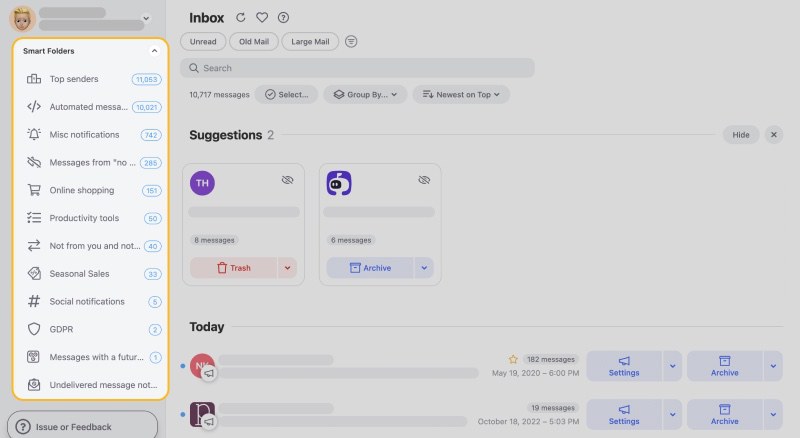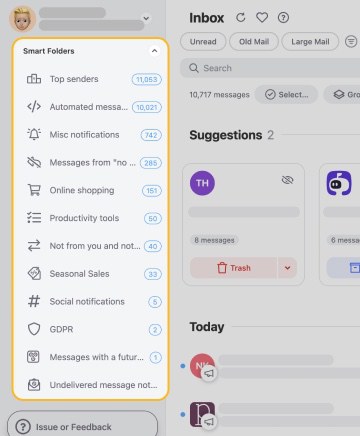 Select a sender and click on the three dots to see all the actions you can apply.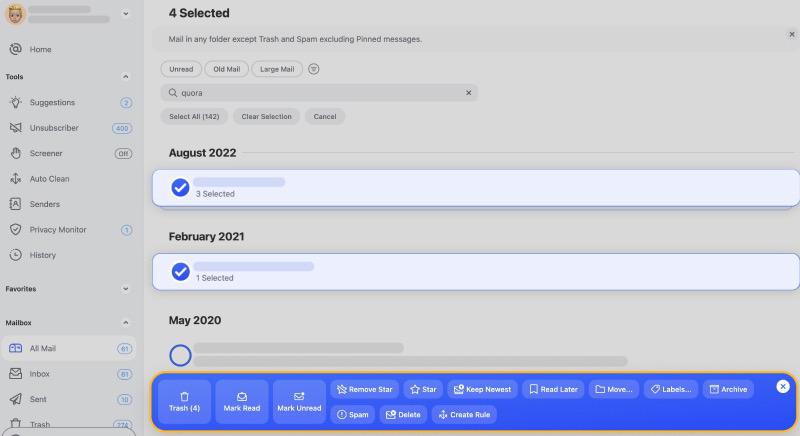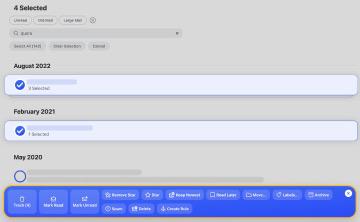 Choose "Block" to automatically move all new and existing emails from the sender to Trash folder.
Besides blocking Yahoo emails, Clean Email allows you to apply any other action to new emails coming to your mailbox without any manual work. You can, for example, automatically star work-related emails, move all social media notifications to a separate folder, or label emails that meet certain criteria accordingly.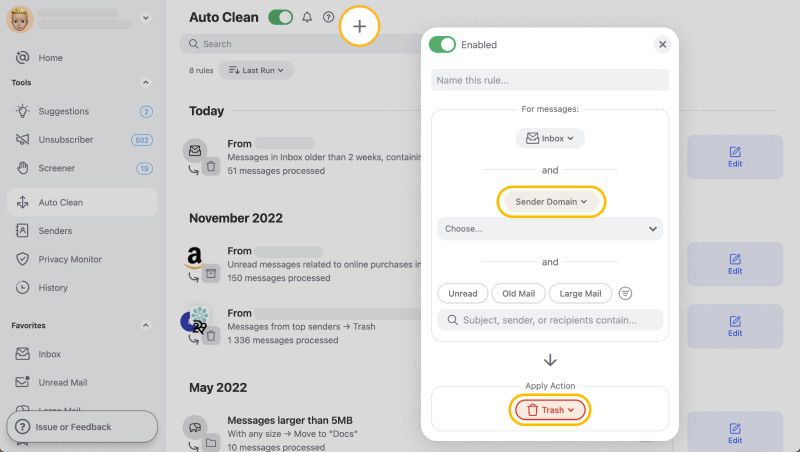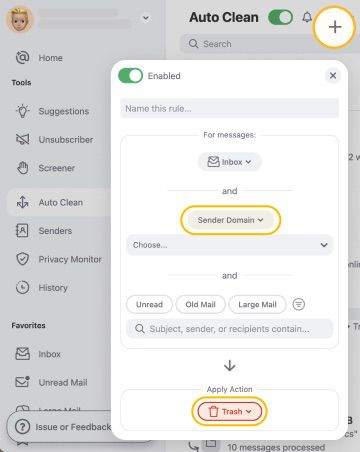 Applying Clean Email's automation features is a matter of a simple click, and you can manage them from the Automation dashboard, which allows you to see all automation rules you have enabled in one place. You can simply click on any active automation rule and pause, disable, or delete it with ease.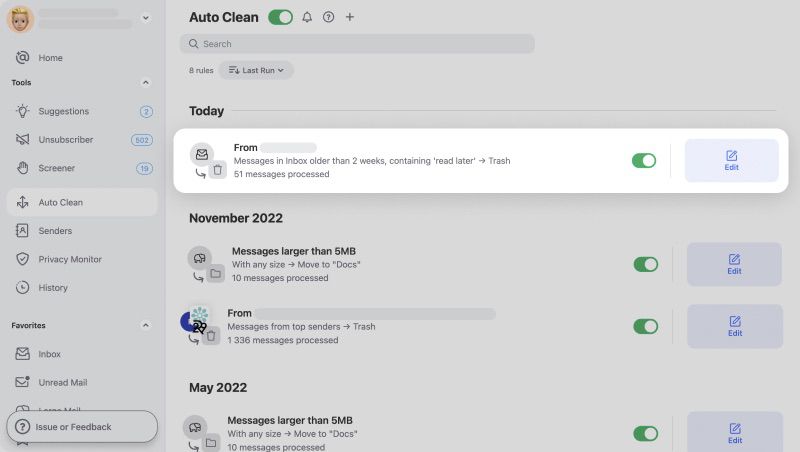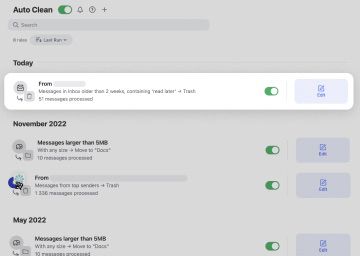 Because Clean Email goes well beyond email blocking, it's far more effective at helping you keep your Yahoo emails organized than Yahoo's own blocking filters. In addition to Yahoo, Clean Email also works with all other secure email providers, including Gmail, Outlook, Fastmail, AOL, and iCloud.
Follow our guide on how to block someone on Gmail or how to block AOL emails.
How to Unblock Yahoo Emails
The users of Yahoo Mail can block up to 1,000 email addresses. If you've been using Yahoo Mail for a long time, the chances are that you have blocked at least one email address by accident without email realizing it. Most people realize this when they notice that emails from a certain sender are just not arriving no matter how many times the sender resends them.
Fortunately, the solution is very simple. Here is how to unblock emails on Yahoo:
Go to: https://mail.yahoo.com
Log in to your email account.
Click on the settings gear icon on the right.
Select "More Settings" from the pop-up menu.
Choose "Security and Privacy" from the list of categories on the left.
Mouse over an email address, then click the Delete icon.
Repeat the last step until to unblock more Yahoo emails.
Blocking Isn't Enough
You should never assume that blocking bad senders can make you 100% safe. While it definitely helps to block all senders whose emails you don't want to receive, spammers are skilled at finding ways into your inbox and convincing you to open their emails. To stay safe when using Yahoo Mail, follow these practices:
Don't click without thinking: Even though Yahoo Mail automatically scans for malware and viruses, you can't expect all malicious emails to be detected. When you receive a seemingly legitimate email with a link or attachment, make sure to think twice before clicking on the link or attachment. You could infect your computer with dangerous malware and lose access to your data.
Keep your personal information to yourself: Sometimes, the main goal of spammers is to trick their victims into disclosing sensitive information to them. To accomplish this goal, they send seemingly innocent emails, often pretending to be a distant relative, colleague from work, or schoolmate. Such emails tend to start with just a few lines of text, but they quickly escalate and start to include links to fake websites that ask you to provide your personal information. If this ever happens to you, simply ask the sender to discuss things over the phone with you, so you can verify his or her identity.
Report malicious emails: Instead of simply blocking all bad senders, you can report such senders directly to Yahoo and let them investigate and take action. Likewise, you should report abusive or threatening emails, as well as emails that contain inappropriate content. Yes, it takes more time to report an email than block the sender, but you can help protect other Yahoo Mail users, who might not be savvy enough to notice themselves.
Benefits of Blocking Yahoo Emails and Using Automation Features
According to recent statistics, spam messages account for nearly 50 percent of email traffic worldwide. It's no wonder that so many people are curious to know how to block emails Yahoo since every other email is unwanted. The massive amount of spam emails that try to reach our inboxes every day costs businesses and individuals alike many hours in lost productivity, and some businesses have even decided to abandon email altogether in favor of team collaboration tools such as Slack and Microsoft Teams.
That's why it's important to be aware of the benefits of blocking unwanted emails in Yahoo and other email services and using smart filters to automatically organize new emails:
Stay away from spam: Spam messages are often used by online criminals to distribute malware or as part of complex phishing schemes whose purpose is to extract valuable information from unsuspecting victims. You're probably familiar with the often laughable email scams of the past-think Nigerien princes and wealthy relatives from Russia. Well, modern phishing attacks are far more sophisticated and targeted. Even fairly experienced users are sometimes unable to tell that they are being phished until it's too late. The best thing to do is to not open any unwanted emails in the first place, and that's something an email cleaner such as Clean Email can help you with thanks to its automation rules.
Save time for what really matters: The average office worker receives around 120 spam emails every single day. The average office worker is also constantly racing to meet deadlines and staying long hours at work. This is simply unacceptable in the day and age of automated email management. An email organizer such as Clean Email can save you hours every week, and you can use it without paying anything.
Never miss an email: You're probably deeply familiar with the horrible feeling of opening an inbox that's full of new emails. There were probably also times when you simply selected all new emails and marked them as read without actually reading them. The chances are that you missed a couple of important emails as a result. Once you learn how to use smart filters to automatically organize new emails, you won't ever have to decide between wasting hours of your time reading unwanted emails and potentially missing out on a few important ones.
Forget manual email management: With Clean Email's automation features, you can create rules or removing, archiving, labeling, and moving emails with a few clicks and free yourself from the burden of manual email management. Just imagine what it would be like to go on a long vacation and let your email to manage itself. Instead of being greeted with hundreds of spam email and newsletters, all you would fine are important emails, correctly labeled and categorized according to your preferences. That's what your email management could look like with Clean Email, and you can get started right away.
Conclusion
In this article, we've presented three ways how to block spam emails on Yahoo and explained why email management is such a big deal these days. If you send and receive emails every day, an email organizer such as Clean Email can help you reach new levels of productivity and accomplish more in less time. Why spend hours every week categorizing emails when you can use a secure online email inbox cleaner to automatically manage your Yahoo emails for you? Clean Email is verified by Google, Yahoo, and AOL as a trusted application, and you can start testing it right now for free.
Learn more about how to block an email on Android or about blocking emails on iPhone in our other posts. If you are a Mac user, check out our guide on how to block emails on Mac.
---
How to Block Emails on Yahoo — FAQs
Can you block someone on Yahoo Mail?
Follow the steps below to block someone on Yahoo Mail.
1. Open a message from the sender you want to block, or select the message in your inbox.
2. Click the more icon and select the "Block Senders" option.
3. If you want to delete all mail communication for the sender, select the delete email option as well.
How do I block bulk emails on Yahoo?
As it currently stands, there is not an easy way to bulk block emails on Yahoo. However, you can use an inbox organizer like Clean Email to stop getting messages from a certain domain or to apply other actions to email bundles.
Why am I still getting emails from blocked senders Yahoo?
Unfortunately, you can still receive emails from blocked senders if the "From:" email address was changed. To stop receiving messages from an email address, you must watch out for forged addresses and block them. Follow the steps below to do this:
1. To find the actual address for a forged email, open up the full header in a message to see if the sender information changed at all.
2. The actual address will be listed in the top "Mailfrom" or "Received" section. Compare this mail address to the address listed in the bottom "Mailfrom" or "Received" line. If the addresses are different, then the email address has been forged.
3. Block the address listed in the top "Mailfrom" or "Received" section.
Why can't I block emails on Yahoo?
Sometimes it takes a little bit of troubleshooting in order to block emails on Yahoo. If you are struggling to block senders in your Yahoo inbox, try blocking the sender through Clean Email.
How do you block emails on Yahoo mobile?
1. Open the Yahoo Mail mobile app and select the hamburger menu in the top-left corner.
2. Choose "Tools" and click "Filters" on the menu that follows.
3. Create a new filter; within the filter, include the email address you would like to block in the "Sender" category. Then click the "Done" button.