How to Block Email in Yahoo on the Web
There are several ways to block emails in Yahoo, ranging from the mail provider's own features to third-party email management solutions like Clean Email.
Here's a step-by-step guide focusing on Yahoo's built-in options:
Go to: https://mail.yahoo.com
Log in to your email account.
Click on the Settings gear icon on the right and select More Settings from the pop-up menu.
Choose Security and privacy from the list of categories on the left.
Click the Add button under the Blocked addresses section. Then, copy the sender's address from the email and paste it into the Address field. Note that opening spam emails can be risky, and this process may be both time-consuming and inconvenient.
Type the email address you want to block and click the Save button.
💡 Note: You can also block entire domains on Yahoo. Free users are limited to blocking up to 3 domains, whereas a Yahoo Mail Plus subscription allows for up to 500 domain blocks. This feature can be accessed via Settings in both the desktop and mobile app versions of Yahoo Mail. However, availability may vary by location. For more comprehensive domain-blocking options across multiple devices and platforms, consider using Clean Email.
Keep in mind that opening a spam email could pose a security risk. To safely handle suspected spam, consider this approach on how to block an email in Yahoo: do it directly from the inbox without opening the message.
Select the unwanted message (you may choose one or multiple senders).
Click the three-dot icon (More options) at the top right of the Inbox window.
Select the Block Senders option.

Choose whether you want to block future emails and/or delete existing ones from the selected sender(s).

Click OK to confirm blocking the sender(s).
How to Block Emails on Yahoo Mobile
The Yahoo Mail mobile app doesn't offer a direct option to block senders. Instead, you can use the web version of Yahoo Mail on your mobile browser or use the Clean Email mobile app we will talk about in the next section.
Meanwhile, you can stop spam in the Yahoo Mail mobile app to prevent it from reaching your inbox. Here is how:
Open the app on your mobile device and select the message you want to stop getting.
Tap the three-dot More icon located in the top right corner of the screen and choose the Mark as spam option.
Messages from this sender will be automatically directed to the Spam folder. However, marking emails as spam may not always work for you. Yahoo's 'Block Sender' feature directs mail from chosen addresses to Trash. Marking an email as spam sends it to the Spam folder and impacts the sender's spam score, but future emails from that sender can still reach your inbox if not deemed spam by Yahoo's standards.
How to Block Email on Yahoo Automatically Using Clean Email
If you're seeking a robust solution that allows you to block individual contacts and entire domains with advanced filters and automation features, whether on a desktop or from your phone, Clean Email is the perfect choice.
This app provides tools that not only enable you to block unwanted senders but also establish automated email management rules and unsubscribe from intrusive newsletters and promotional messages. With these features at your disposal, you can ensure a clutter-free inbox.
Here's how to block on Yahoo using Clean Email:
Go to: https://app.clean.email or download the app for your iOS or Android device, and sign in with your email address.
Go to your Inbox, choose and open the message from the person you want to block.
Click Block under the Sender Settings section in the top right corner.

In the displayed window, choose the option to Move existing messages to Trash if desired, and click Confirm.
All future messages from the sender will be automatically sent to the Trash folder.
Important: If you receive spam emails originating from various addresses but sharing the same domain name, Clean Email can help you block the entire domain.
Here's how to automatically block emails from a specific domain in Yahoo via Clean Email:
Open the app and go to the left-hand menu to find Auto Clean. Click the ✚ icon at the top.

Assign a name to your new rule and click Any sender or recipients.
In the dropdown menu select the Sender Domain option. Enter the domain in the search field and choose it from the displayed results.
Then, choose the Trash action to completely stop messages from this domain.

Click Create Rule to confirm your choice.
The Auto Clean dashboard allows you to see all automation rules you have enabled in one place. You can simply click on any active automation rule and pause, disable, or delete it with ease.
Another excellent solution for easy spam management is to block emails before they even reach your inbox. Sounds too good to be true? With the app's Screener feature, you can effortlessly block spam senders right at the entry point of your inbox.
To activate and use it, follow these steps:
Launch the Clean Email app and go to the Screener tab.
Activate Screener by clicking the toggle switch in the upper left corner or by pressing the Enable Screener button.

Confirm your choice by flipping the I understand switch, then press Continue. Complete by clicking Enable Screener to activate the feature.
The Screener tool automatically filters incoming mail from new contacts, allowing you to either approve or block these senders. Just click the Block button near the new sender and messages from this sender will be directed to your Trash folder in the future.
The app also has an Unsubscriber feature that stops marketing emails and newsletters from ever reaching your inbox. The app identifies these messages so that you can unsubscribe from several subscriptions at one time.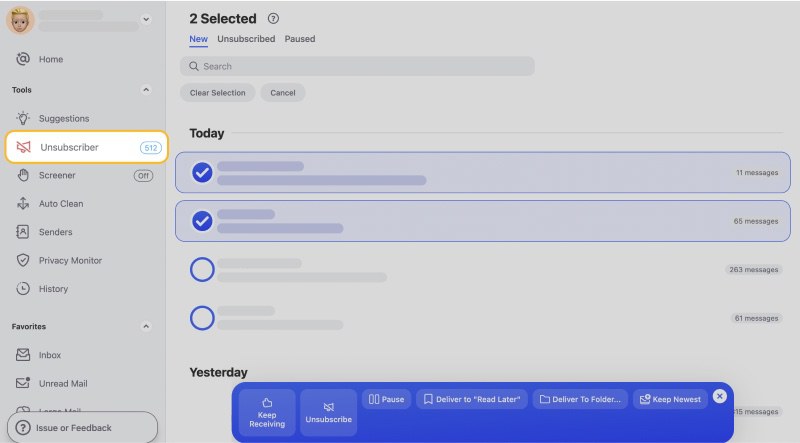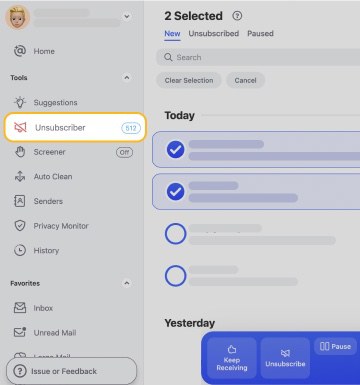 Check out our other post about how to unsubscribe from emails on Yahoo for more details.
Because Clean Email goes well beyond blocking emails on Yahoo, it's far more effective at helping you keep your mail organized than Yahoo's own blocking filters.
How to Unblock Yahoo Emails
Yahoo Mail users can block up to 1,000 email addresses. If you've been using Yahoo Mail for a long time, you might have accidentally blocked an email address without realizing it. Often, people discover this when emails from a certain sender consistently fail to arrive, regardless of how many times they are resent. If this is the case, you may need to learn how to unblock emails on Yahoo:
Go to: https://mail.yahoo.com and log in to your email account.
Click on the Settings gear icon on the right and select More Settings from the pop-up menu.

Choose Security and Privacy from the list of categories on the left.
Mouse over an email address, then click the Delete icon.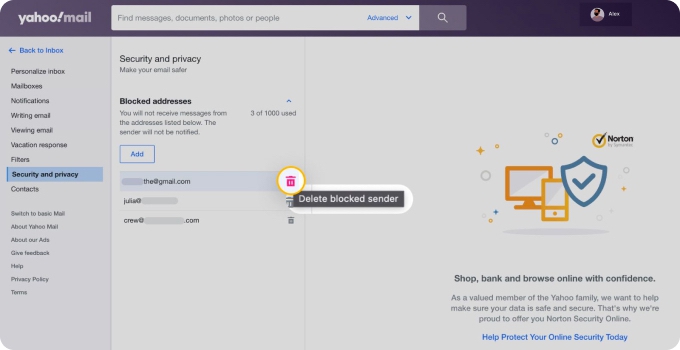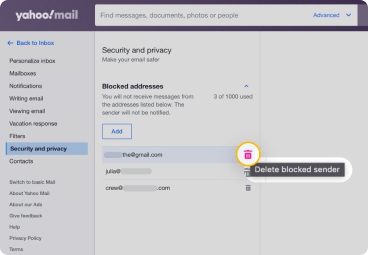 Repeat the last step to unblock more Yahoo email senders.
When Blocking Isn't Enough
You should never assume that blocking bad senders can make you 100% safe. While it definitely helps to block all senders whose emails you don't want to receive, spammers are skilled at finding ways into your inbox and convincing you to open their emails. To stay safe when using Yahoo Mail, follow these practices:
Don't click without thinking: Always be cautious before clicking on any links or downloading attachments, especially from unknown senders. Spammers often disguise malicious links as legitimate offers or urgent messages to trick you into clicking. Use hover-over techniques to preview URLs and ensure they lead to trusted sites.
Keep your personal information to yourself: Never share personal or financial information via email, particularly with unfamiliar contacts. Spammers often engage in phishing scams, where they pretend to be from a reputable organization to gather sensitive data. Always verify the sender's identity and the request's legitimacy before divulging any details.
Report malicious emails: Yahoo Mail has a built-in feature for reporting spam and phishing mail. Use it to flag suspicious messages so that the platform can better identify and filter out similar emails in the future. Reporting not only helps you but also contributes to community safety by improving the email provider's spam detection algorithms.
Benefits of Blocking Yahoo Emails and Using Automation Features
According to recent statistics, spam messages account for nearly 50 percent of email traffic worldwide. It's no wonder so many people are curious about how to block Yahoo emails, as every other email is unwanted.
The massive amount of spam emails that try to reach our inboxes every day costs businesses and individuals alike many hours in lost productivity, and some businesses have even decided to abandon email altogether in favor of team collaboration tools such as Slack and Microsoft Teams.
That's why it's important to be aware of the benefits of blocking unwanted emails in Yahoo and other email services and using smart filters to automatically organize new mail:
Stay away from spam: Blocking unwanted senders in Yahoo Mail effectively reduces the clutter in your inbox by stopping spam emails before they reach you. This proactive approach not only keeps your mailbox cleaner but also minimizes the risk of falling for phishing schemes or malware attacks.
Save time for what really matters: Time spent sorting through irrelevant emails is time wasted. By blocking unnecessary senders and using smart filters, you can automate the process, thereby freeing up your time for more important tasks. This will inevitably enhance your productivity and workflow.
Never miss an email: Spam can often bury important emails, making them difficult to find. When you block unwanted emails, you're ensuring that your inbox is populated only by messages that actually matter to you. This makes it easier to spot and respond to important communications without missing a beat.
Forget manual email management: Using Clean Email's advanced automation features, you can go beyond basic blocking to intelligently organize, categorize, and even archive your emails. This adds an additional layer of efficiency and security, allowing you to focus on your most important tasks without constantly micromanaging your inbox.
Conclusion
Knowing how to block an email address on Yahoo is crucial for maintaining a clean and organized email environment. In this article, we've presented several ways to do it and explained why email management is such a big deal these days. If you send and receive emails every day, an email organizer such as Clean Email can help you reach new levels of productivity and accomplish more in less time.
Why spend hours every week categorizing emails when you can use a secure online email inbox cleaner to automatically manage your Yahoo emails for you? Clean Email is verified by Google, Yahoo, and AOL as a trusted application, and you can start testing it right now for free.
Learn more about how to block an email on Android or about blocking emails on iPhone in our other posts. If you are a Mac user, check out our guide on how to block emails on Mac.
---
How to Block Emails on Yahoo — FAQs
How to block someone on Yahoo Mail?
You can block someone on Yahoo Mail using the web version. To do this, go to the 'Security and privacy' settings, then click 'Add' under the 'Blocked addresses section'. Enter the email address you want to block. This will send future emails from that sender to the Spam folder.
What happens when you block someone on Yahoo mail?
When you block someone on Yahoo Mail, emails from that sender are automatically directed to your Trash folder. The blocked individual will not be notified of this action. This prevents their future emails from appearing in your inbox.
How do I block bulk emails on Yahoo?
Blocking bulk emails on Yahoo isn't easy, as you must manually enter each address in the Security and privacy settings. However, you can use a Clean Email inbox organizer to stop getting messages from a certain domain or to block Yahoo emails in bulk.
Why am I still getting emails from blocked senders Yahoo?
If you're still receiving emails from blocked senders on Yahoo, it's possible that the blocking feature didn't update correctly or that you blocked only a specific email address and not the entire domain. Make sure to double-check your 'Blocked Addresses' list in 'Security and Privacy' settings to confirm the correct addresses or domains are blocked.
Why can't I block emails on Yahoo?
Sometimes it takes a little bit of troubleshooting in order to block emails on Yahoo. If you are struggling to block senders in Yahoo Mail inbox, try blocking the sender through the Clean Email app.
How do you block emails on Yahoo mobile?
In the Yahoo Mail mobile app, you can't directly block senders. Instead, mark unwanted emails as spam to filter them out. As another option, use the web version of Yahoo Mail on a mobile browser or computer to add senders to the Blocked addresses list.
How to block emails on Yahoo on iPhone?
To block emails on Yahoo on iPhone, access the Yahoo Mail's mobile web version through a browser, since the app lacks a direct block feature. Alternatively, the Clean Email app lets you block individual senders and domains directly from your iPhone.
How to unblock emails on Yahoo?
To unblock email on Yahoo, go to 'Settings' and then click on 'Security and Privacy'. Locate the blocked email address, click the trash bin icon next to it to remove it from the blocked list, and then save your changes. This will unblock the email address and allow future emails from that sender to reach your inbox.