Blocking and Unblocking Emails
You may have a sender who has been clogging up your inbox for some time, you're simply annoyed with them, or you just wish to stop receiving their emails.
If this is the case, you've probably blocked them to stop emails from landing in your inbox.
Here's a quick recap on how to block an email address on Yahoo Mail. All you need to do is:
Login to your Yahoo Mail account.
Click the Settings gear icon, then enter More Settings.

Choose Security and privacy.
Under Blocked addresses, choose to add an address.

Type in the email and click Save.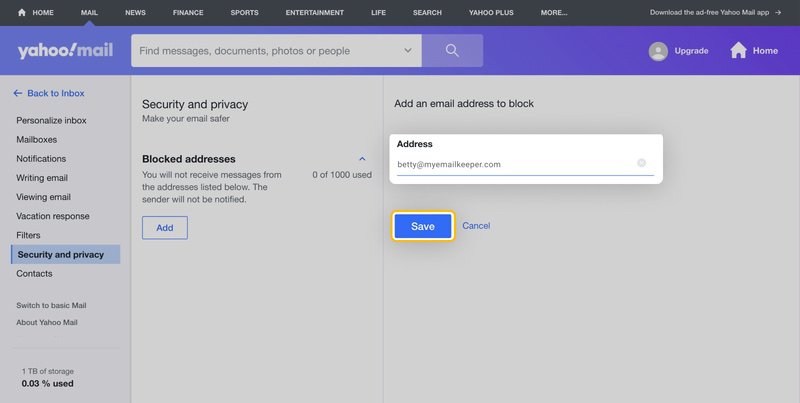 Sometimes you need to unblock an email address if the information they send is important, or you need to contact them.
💡 Note: You can only perform the unblocking action using Yahoo web version. You cannot unblock Yahoo emails with their iPhone or Android mobile app.
To learn how to unblock senders in Yahoo Mail, keep reading.
How To Unblock Emails On Yahoo
Learning how to unblock emails on Yahoo is easy. Within a few clicks, you can change your privacy settings and have your desired senders unblocked in no time.
Here's how to unblock on Yahoo Mail:
How to unblock email on Yahoo on the Web
You can only unblock emails accessing your Yahoo Mail account via the web.
Login to your mail account.
Click the Settings gear icon. Then choose More settings.

Click Security and privacy in the left-hand column.
A list of all blocked addresses will show.
Click the Trash icon next to an email address you want to unblock.

This email will be removed from the blocked senders list.
Unblocked emails will now appear in your main inbox when they're delivered. From here you can sort and organise where these emails go. You can do this using Clean Email's Auto Clean feature (read more about it at the end of the article).
Mobile (unblocking emails on Yahoo using Clean Email)
Unfortunately, you cannot unblock Yahoo mail using their mobile application. You will have to log in to Yahoo Mail on your internet browser on mobile. Otherwise, you can use a third-party all like Clean Email to perform unblocking actions from your smartphone.
Here is how to unblock email on Yahoo using this app on your smartphone:
Click Senders from the left-side panel.
Click the Blocked tab on the top.

You will see the list of your blocked addresses here. Click the sender you'd like to unblock. Under the profile icon, you'll find the Unblock button.

Click Unblock and new messages from this sender will appear in your inbox when they come next time.
If Blocking A Sender Doesn't Help
Be sure to only block a sender that isn't important. If you block an email address from, for example, your accountant, or bank, then you will miss the information you need.
Blocked emails will be sent straight to a spam or junk folder and deleted permanently after a 30-day period (for most mail service providers).
However, sometimes blocking a single email address doesn't help.
If your inbox is clogged up with spam, blocking will not stop it! Spammers are too clever to succumb to being blocked.
Once they have your mail address, they can keep sending you spam by changing their email, and you won't even notice.
Spammers or marketers can change the address to keep sending you messages and avoid being totally blocked. In this case, you will need to block the whole domain if they are sending you junk messages from their custom domain.
You can block a specific domain in Clean Email and here is how:
Launch the application and click Auto Clean tool from the left-side menu. Then click Create Rule button.
Give a name to this rule and go to Any sender or recipients.

Choose Sender Domain in the drop-down list. In the search box below, start typing the domain you'd like to be blocked and choose it from the items found.

Select the action you want to apply to the messages from this domain like sending them to Trash. Press Create Rule button.
⚠️ Warning: You need to CLICK a domain found in the search results. If you don't do this and just type the domain address manually, all messages from your inbox may be affected.
This way you will create an Auto Clean rule that can be found under the Auto Clean dashboard.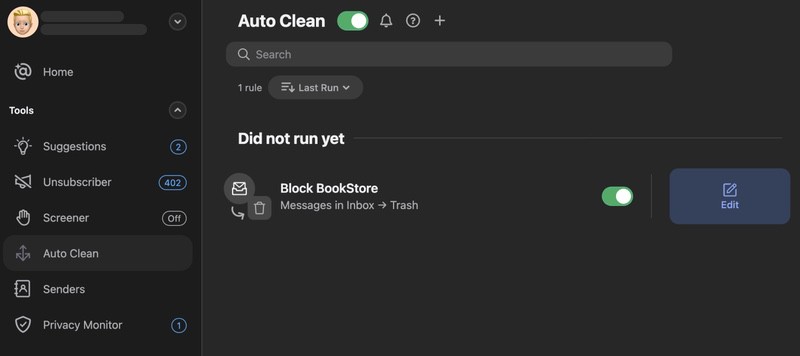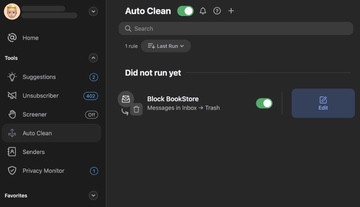 In case you'd like to unblock this domain in the future, you need to press Edit next to this rule and then choose Delete. Confirm your action and press Delete again.
Simplify Inbox Management With Clean Email App
Clean Email is an inbox management cleaner that helps to organise messages and declutter your mailbox automatically.
Besides blocking and unlocking emails, you can create Auto Clean rules to move messages to certain folders or to Trash automatically. You can also mark them as read or mute them right when they hit your inbox without any manual work. Auto Clean tool will save you time and make you more productive.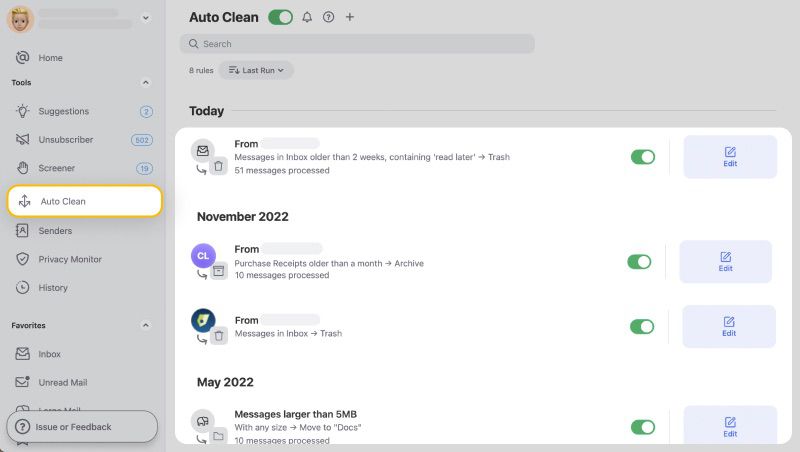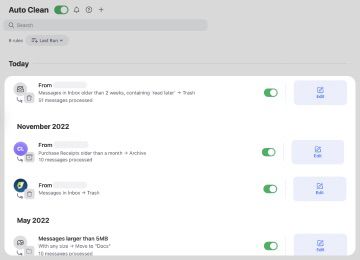 You can edit or remove any automated rules you've created by going into the Auto Clean view in the left sidebar.
The Smart Folders feature bundles all similar emails into their own specific folders. This makes locating and organising emails easier, and quicker! For example, you can click the Online shopping Smart Folder to access all shopping-related messages in one place to easily manage them further.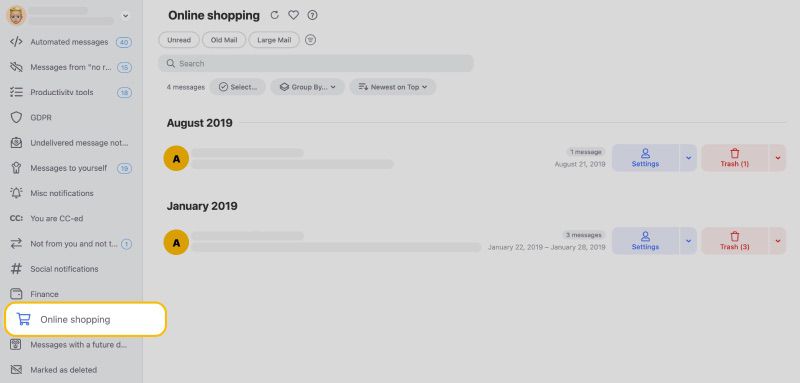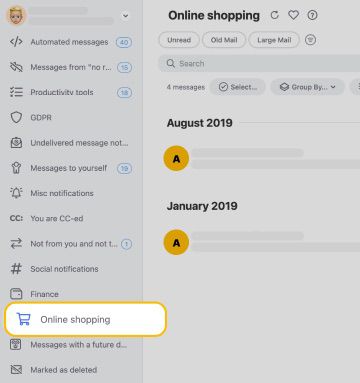 The Unsubscriber tool allows you to quickly organise your email subscriptions. You can choose to unsubscribe, read later, or keep only the newest message from your subscription.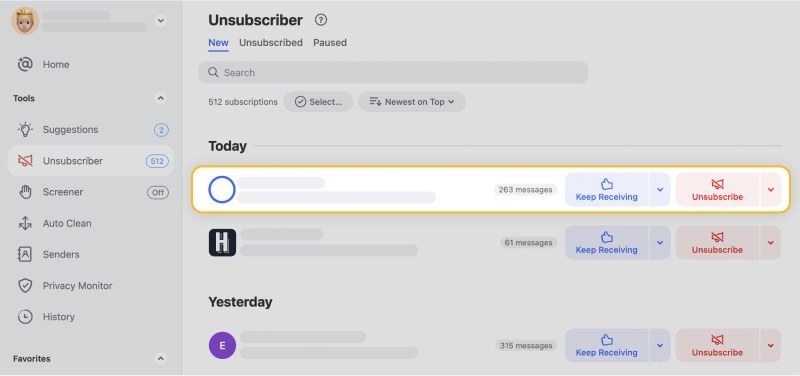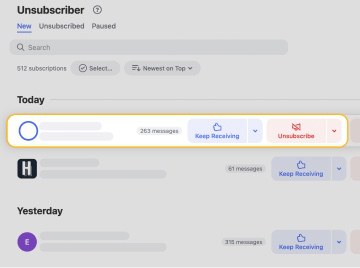 With just a click of a button, the app will send an unsubscribe request on your behalf and your inbox will become free of messages you never read!
💡 Note: We care about your Privacy and Security. Thus, we never collect, sell, or share your personal or even the aggregated data with any third parties.
Are you using your Yahoo mailbox on various devices? Check out our other posts on how to block emails on Mac, how to block a sender on iPhone, and how to block on Android.
---
How to unblock email on Yahoo - FAQs
How do I find my blocked list on Yahoo?
To find your blocked list on Yahoo, head into your Settings, locate the Security and privacy section and a list of blocked email addresses will show up there.
How do I unblock an email address?
To unblock an email address, click on the trash icon next to the address within the Blocked addresses list.
How do I unblock someone from Yahoo Mail on my iPhone?
You cannot unblock someone from Yahoo Mail mobile app; however, you can sign into your mailbox in the mobile internet browser or using the Clean Email mobile application.