Sometimes Messages Get Flagged
The Microsoft webmail offers various sophisticated tools to help maintain a clutter-free inbox. People often block suspicious senders to cut down on inappropriate messages. This a great way to avoid spam or any other unwanted messages.
However, there are times when senders get blocked by mistake. Also, there are times when Outlook automatically flags messages that you didn't want to be blocked. In either case, you will need to know how to unblock a sender in Outlook so you can receive emails from those addresses again.
Thankfully, there are ways to unblock addresses or entire domains, depending on whether you use tools directly within your mailbox to unblock them or rely on a mailbox management tool like Clean Email.
How To Unblock Email On Outlook
If you are an avid Outlook user, then you know it offers many features to help you manage incoming and outgoing mail. However, how to unblock senders in Outlook varies based on your version, whether you are using Outlook on the web, the desktop app, or mobile version. Then, you can follow the steps outlined below to unblock senders in your Outlook mailbox.
How To Unblock Email In Outlook.com
Go to Outlook.com and log in.
Click on Settings.
Select View All Outlook Settings.

Click Mail, then Junk Email.
Select the address you want to unblock, and select Remove.
How To Unblock Senders In Outlook Desktop App
Open the desktop email app.
Go to the Home tab.
Select Junk → Junk E-mail Options.
Click the Blocked Senders tab.

Select the address you want to unblock, then click Remove.
Click Apply → OK to save changes.
Unblock Outlook Email On Your Phone
Unfortunately, you cannot unblock senders in Outlook mobile app. Instead, you need to log into your inbox through the web and follow these steps.
Click on Settings.
Select View All Outlook Settings.
Click Mail, then Junk Email.
Select the address you want to unblock, and select Remove.
Unblocking Outlook Senders Using Clean Email
Although blocking and unblocking individual senders in Outlook is helpful, it isn't necessarily the easiest option, nor does it give you total control over your inbox. That's where Clean Email comes in — it's an inbox management solution that makes it easy to control what messages do or do not enter your mailbox (and we will highlight all of the app's features later on).
If you are using the Clean Email app and want to unblock senders in Outlook, simply:
Login here or launch the mobile app version.
From the left-side panel, click Senders.
Select the Blocked tab on the top.

A list of your blocked addresses will appear. Locate the sender you want to unblock.
Click the profile icon to the right of the blocked address.
Now, click the Unblock button to unblock the selected address.
💡 Note: This method works for unblocking individual addresses. If you used the Auto Clean feature to block an entire domain, you need to go to the Auto Clean dashboard and delete that rule to unblock the domain.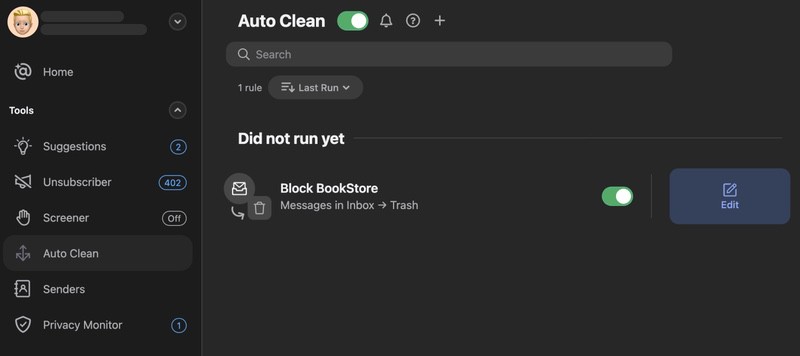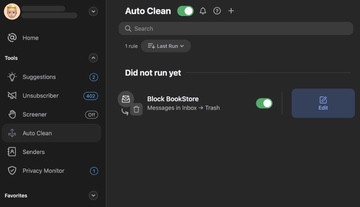 Take Control of Your Outlook Inbox With Clean Email
Knowing how to unblock email in Outlook isn't the only advice you need to maintain a clean and healthy mailbox. Thankfully, Clean Email can help you block emails in Outlook or unblock them as well as do many other things to manage your mailbox.
For instance, the Auto Clean feature (which helps you unblock entire domains) lets you set up automated rules for your mailbox. With Auto Clean, you can program Clean Email to delete messages after a specified period of time, transfer messages to specific folders automatically when they arrive, and more. These "set it and forget it" rules can make day-to-day mailbox management so much easier.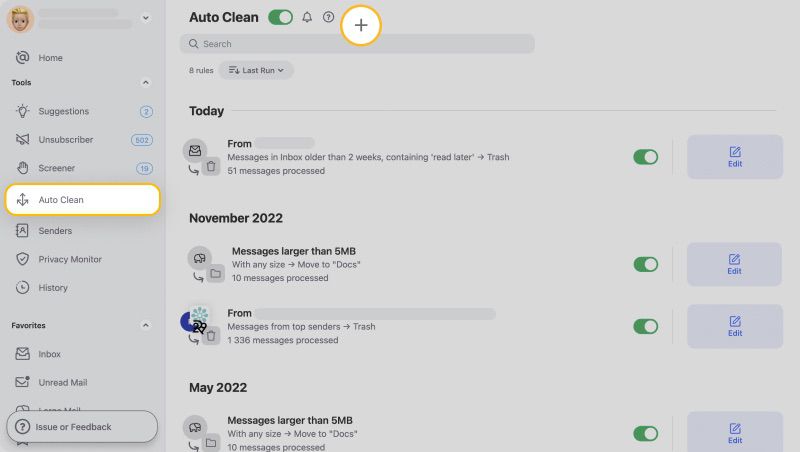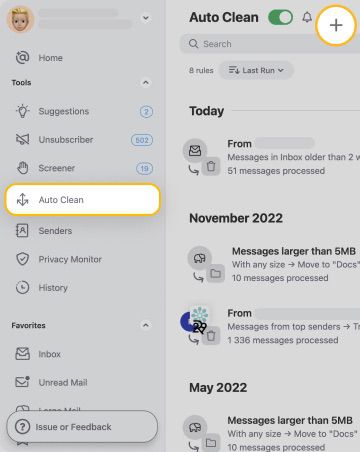 Also, the Unsubscriber feature helps remove you from promotional messages you do not want to receive. This removes even more clutter from your inbox without you having to go through the hassle of blocking each sender's address individually. Instead, you simply press Unsubscribe to remove yourself from these subscription lists and the app will do the rest.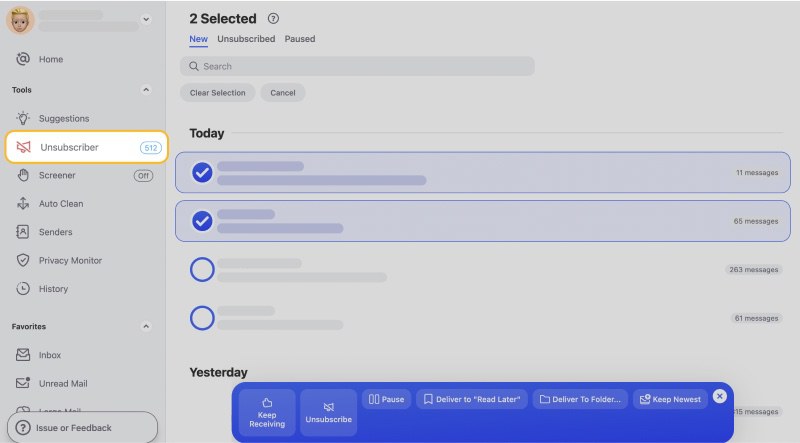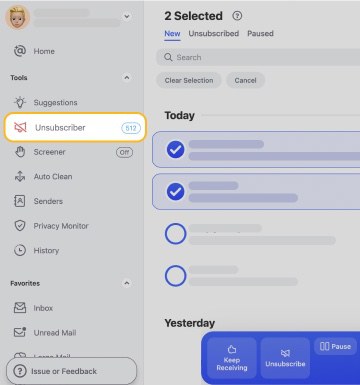 Similarly, Sender Settings lets you automatically block messages from specific senders. This feature works like unsubscribing, but with individual email addresses instead of whole domains or subscription lists.
Other tools, like Screener filter emails from new unknown senders into a quarantined folder instead of your main inbox. You can review them to make a decision if this is a legitimate sender and if these emails can be moved to your inbox. Otherwise, you can send them directly to the Trash folder.
Then, the Smart Folders tool lets you glance at messages' groups based on specific criteria, like the topic of messages (e.g. 'finance', 'travel', and more). These groups serve like preset filters to simplify searching and managing your emails.
All of these tools, and others, make Clean Email the ultimate email management app for anyone who wants to keep their Outlook inbox organized and safe. The app is completely safe to use, and the company will never collect or sell your data.
💡 Note: Outlook offers both an email service provider (meaning you use an @outlook.com mail address) and an email client (which links with other mail providers like Gmail, Yahoo, or AOL). Because of the way these each work, any actions you perform in Clean Email only translate to the email service provider, which means that they may not show up if you use the Outlook email client.
Wondering to get more tips and tricks about blocking unwelcome senders? Check out our other articles about blocking emails on Android and how to block an email on iPhone.
---
Unblock Senders In Outlook - FAQs
How do I view my blocked senders list in Outlook?
Outlook keeps a list of blocked senders within your mailbox settings. To access it, go to Settings → Mail → Accounts → Block or allow.
Why is Outlook blocking certain emails?
Usually, there are two reasons why it will block specific messages. Either you have added the sender to a blocked list, or the email was flagged as spam.
How do I unblock an email address in Outlook?
You can unblock senders in Outlook settings, but the exact location of these settings depends on the version of Outlook you use. On the web, you can unblock Outlook email by going to Settings → Mail → Junk Email.