What are the reasons to block email on iCloud?
Blocking emails in iCloud helps clean up your mailbox by sending unwanted messages straight to the Trash folder. This is great for stopping annoying ads, newsletters you don't read, or emails from people you don't want to hear from. So if you want to avoid reading certain messages or worry about potential scams, learning how to block an email address is crucial for maintaining a clean and focused inbox.
However, blocking isn't a cure-all for email clutter. It works well for individual senders, but if you're dealing with numerous newsletters or mailing lists, understanding how to unsubscribe from emails can give you even more control over your digital communication.
How to Block Emails on iCloud: 2 Methods
A quick way to block an email address is to use the Mail app on your Mac. All you need to do is find a message from the sender you wish to stop. Here's how to do it:
Open the Mail app on your Mac.
Select a message from a certain sender.
Move the mouse pointer to the name in the message header.
Select Block Contact to display the Blocked icon next to the sender's name.
For more details, follow our comprehensive guide on how to block Mac emails.
If you want to block emails on iCloud from the iCloud website, you'll need to establish a rule that sends unwanted emails to the Trash folder.
Here's how to block iCloud email senders from a web browser:
Go to the iCloud website and sign in to your account.
Select Mail to open iCloud Mail.
Click the gear icon on the left and choose Settings.
Go to the Rules tab and select + Add New Rule.
In Message drop-down menu select is from. Enter the address you want to block.
In Action drop-down menu choose Move to Trash.
Select Add.
How to Block Emails on iCloud with Clean Email
Looking for a reliable tool to block individual contacts and entire domains on iCloud? Clean Email is your ideal choice, compatible with iOS, macOS, and other platforms.
Here's how to block email on iCloud using this app so that message from a specified mail address goes to your Trash folder automatically:
Go to: https://app.clean.email or download the app for your iPhone or Mac, and sign in with your iCloud mail address.
Go to your Inbox and select a message from the sender you want to block.
Select Block under the Sender Settings in the top right toolbar.

In the window that appears, select the option to Move existing messages to Trash if you wish, and then click on Confirm.
You may find that some spam emails come from different accounts, but those addresses come from the same domain. In this case, you can set up an automated Block rule in Clean Email to stop all emails from that domain.
Launch the app and go to Auto Clean. Tap the ✚ icon at the top.

Name your new rule.
Select the Any sender or recipients. From the dropdown menu, choose Sender Domain option. Type in the domain name in the search bar and select it from the results that appear.
Choose the action you want to apply: to block emails coming from this domain, choose Trash option.
Optionally, click the toggle switch below the Trash action if you want to apply this action to existing messages.
Hit Create Rule to finish.
In addition to blocking, the app offers advanced filters and automation for easy email management and quick unsubscribing from newsletters, ensuring a clutter-free inbox. Find more details at the end of the article.
How to Unblock Emails on iCloud
If you've mistakenly blocked an email address, changed your mind, or want to adjust your block settings on iCloud, here's how to go about it:
Open the Mail app and navigate to Settings.
Click on Junk Mail, then select the Blocked tab.
Locate the contact you wish to unblock and click '—' to remove them from the blocked list.
You can also edit or remove block rules if you've previously set them to move emails from certain senders to the Trash folder, either via the Mail app or through a web browser. Here's how to unblock contacts in iCloud using a browser:
Go to iCloud.com and open Mail. Click the gear icon at the top of your mail list and choose Settings.
Navigate to Rules, then click the rule you want to change.
You have two options:

To update a rule: Change the conditions and click Save.
To remove a rule: Click Delete Rule.
How to Unblock Senders on iCloud with Clean Email
Clean Email provides an easy and straightforward method for unblocking senders. Follow these steps:
Sign into the app at https://app.clean.email/ with your iCloud mailbox.
Navigate to Senders on the left-hand panel.
Select the Blocked tab at the top.

View the list of blocked email addresses. Click the sender you would like to unblock.
Click Unblock to remove the block.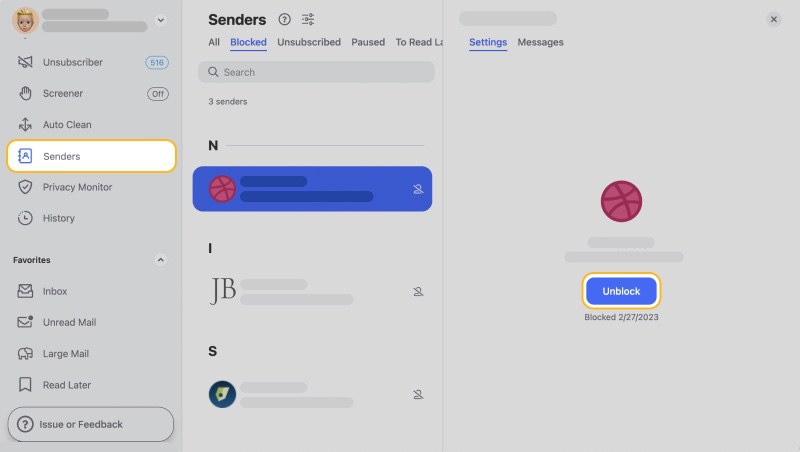 If you've blocked someone by creating an Auto Clean rule, you can unblock the blocked domain later by simply pausing or deleting the rule in the Auto Clean dashboard.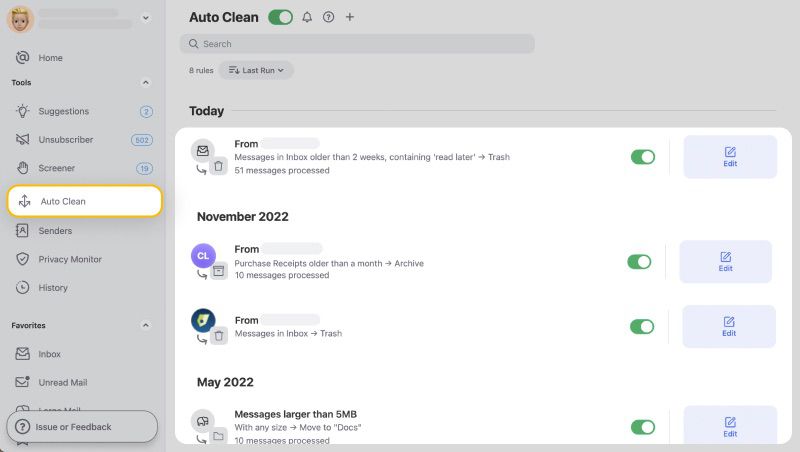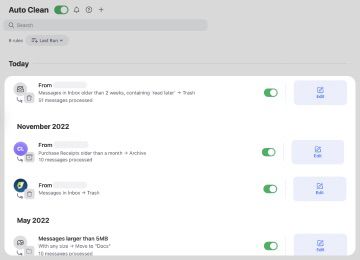 How Clean Email Can Simplify Email Management
Along with blocking and unblocking emails on iCloud, Clean Email offers additional automated tools that help you manage your Inbox. Here are a few examples of how it can help you keep the number of messages in your inbox to a minimum so that you spend less time stressing over your emails:
Does your inbox fill up with newsletters that you don't read? Select those emails in the app, and the Unsubscriber feature opts you out of your subscription.

Want to set up a reading list for emails you prefer to read later? Tell the app, and those messages go to your Read Later folder with a summary of the emails.

Would you prefer to sort your emails by category? The app can assist you with that by applying predefined filters to your messages, making it easier to navigate through your inbox.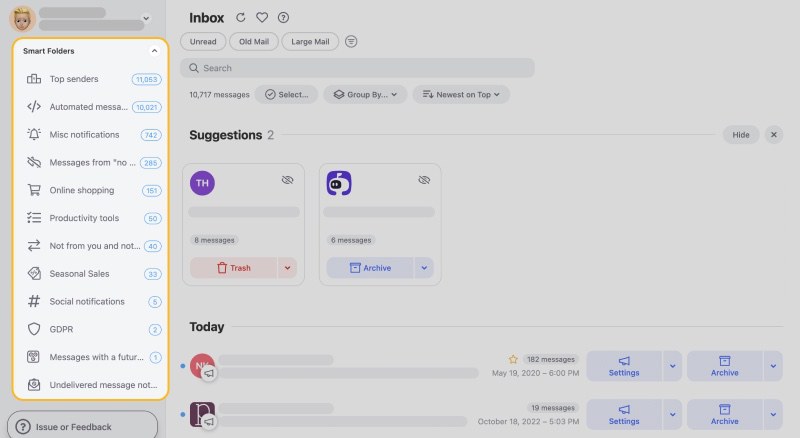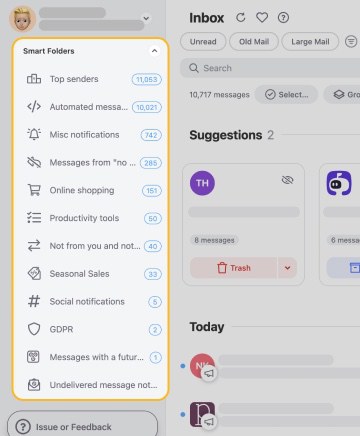 iCloud isn't the only email service that works with Clean Email. You can use it to block email from popular mail service providers.
If you use Google's apps, discover how to block someone on Gmail. Do you prefer Microsoft Office? Find out how to block emails on Outlook. Or, if you use Yahoo or AOL, learn how to block emails on Yahoo or teach yourself how to block emails on AOL.
Final Thoughts
Email messages can fill up your inbox quickly and become overwhelming. When your inbox contains more messages than you can comfortably deal with in a 15-minute session, use the iCloud block email feature and send those unwanted messages to the Trash folder.
If you only want to block an email sender, you can do it from the iCloud app or website. If you want more email management options to effectively organize iCloud emails and become more productive, choose the Clean Email app.
---
How to Block Emails on iCloud - FAQs
How to block an email address in iCloud?
To block email in iCloud so that selected messages go to your Trash folder, you'll need to set up a rule, and you'll need to do it in a web browser. To set up a rule in iCloud Mail, go to 'Settings' → 'Rules' and select 'Add a Rule'. Then, create a rule so that messages from a specified sender go to the Trash.
How to block an email on iCloud permanently?
There are several ways to permanently block an email address. Many mail clients include a feature that blocks unwanted messages and sends them to your Trash folder. Another way is to use an email blocking app such as Clean Email. It uses filters to remove unwanted emails automatically.
How to block emails on iCloud on iPhone?
When you want to block email on your iPhone, do it from the Mail app. To block a sender, open a message from the sender, tap their name, tap the name next to 'From', and then tap 'Block This Contact'.
How to unblock someone on iCloud email?
To unblock someone on iCloud email, navigate to the Rules section and either modify or delete the rule associated with blocking the sender. Alternatively, you can use Clean Email's unblocking feature by navigating to 'Senders,' selecting the 'Blocked' tab, choosing the sender, and clicking 'Unblock'.
How to stop spam emails on iCloud?
Spam emails are usually sent to your Junk folder automatically. Still, sometimes these messages make it to your inbox. If you get spam email in your iCloud Inbox, you can either block messages from that sender or move them to your Junk folder. When you mark a message as junk, similar messages are moved to the Junk folder automatically.