How to Delete All Yahoo Emails at Once: 3 Methods
Clearing out your Yahoo Mail doesn't have to be a chore. Let's look at three simple methods to delete all Yahoo emails and keep your inbox neat and tidy.
💡 Note: Approach the idea of deleting all emails with caution, as it's easy to lose important information. Instead of clearing everything, using an email cleaner like Clean Email can be a safer way to sort out and remove only unwanted messages.
Method 1. How to delete all Yahoo Mail on the web
Navigating through the process of deleting all emails in Yahoo Mail on the web can require a considerable effort and time. Here is what you need to do:
Navigate to Yahoo Mail and sign in using your email address and password.
Click on the Advanced button, found on the right side of the search bar since Yahoo Mail lacks an 'All Mail' folder.

Hit Search to display the first 25 emails from all folders.
Scroll down to progressively load more messages, with the ability to load and select up to 1000 messages at a time (if you have over 15,000 emails, this will be a lengthy process).
Once 1000 messages (or less) are visible, click the checkbox located above the messages and below the search bar.

Click Delete to send them to Trash. For permanent deletion, manually remove them from the Trash folder or wait 7 days for automatic deletion by Yahoo.
Even with the seemingly straightforward steps, this method can be especially time-consuming for mailboxes with a large number of messages. Consequently, we recommend employing Method 2 for a more effortless and automated email removal process.
Method 2. Swiftly deleting all Yahoo emails using the Clean Email app
This app provides a straightforward and quick process for deleting emails, with the added bonus of managing them effortlessly on the web or while on the move with your smartphone.
Here's how to delete all Yahoo emails at once using Clean Email:
Sign in to the service with your email account here, or install the app on your iOS or Android device.
Choose the All Mail folder from the options on the left and click 'Select…' under the search bar.
Then click Select All for total email deletion.
When all your messages are selected, click the Trash button on the bottom blue action bar. Alternatively, you can choose Delete if you wish to remove your messages permanently without them going to the Trash. Be careful with this action as it can't be undone.
Confirm the action by clicking Confirm in the pop-up window.
Method 3. How to delete entire Yahoo inbox
Sometimes, a selective cleanup, particularly of your inbox, might be more suitable than removing all your emails.
If you desire a neat, clutter-free main email folder, here's how to empty Yahoo inbox using the web version:
Hover over the Inbox folder and click the downward arrow on the right.
Choose the Clean your inbox action.
You will be allowed only to archive them by choosing the Archive emails button. In case you still need to have them deleted instead of archived to save storage (which is pretty big in Yahoo Mail - 1TB for free), you will need to select all messages in your Archive folder following Method 1 and click the Delete button.
The option to Archive emails will appear. However, if your intention is to delete them to conserve storage (even with Yahoo Mail's generous 1TB), you'll need to later navigate to the Archive folder, select all messages, and hit the Delete button.
Likewise, the Clean Email app enables you not just to erase messages from the Inbox folder but also to leverage its distinctive Smart Folders, which are predefined filters that categorize your messages based on common characteristics.
For instance, you can view all your shopping-related emails or social media notifications and delete them in a manner similar to how we described email deletion from the All Mail folder (go to Method 2). With Clean Email, there's no need to delete your Yahoo Mail account; simply remove all unwanted mail easily and continue using it.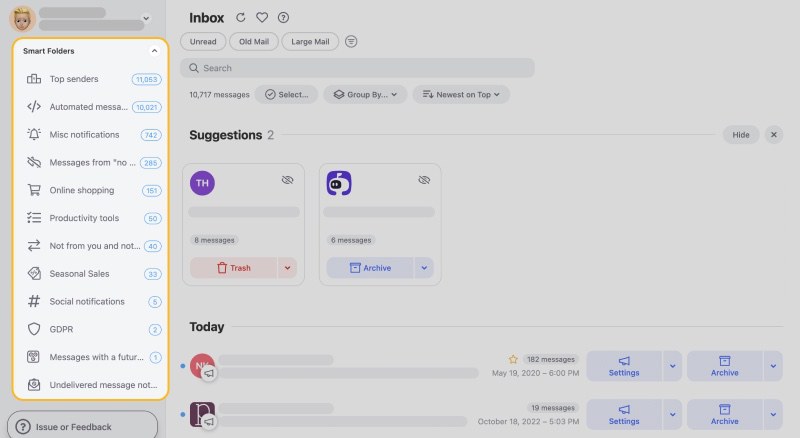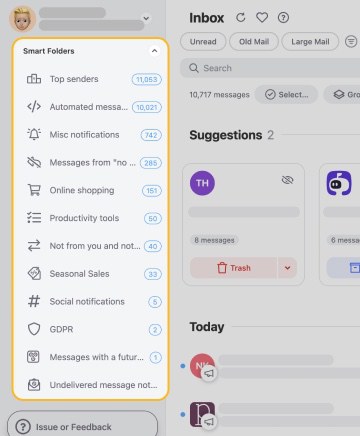 How to Delete Thousands of Emails in Yahoo on Mobile
While the Yahoo mobile app doesn't have a direct method to delete ALL emails simultaneously, you can achieve this using the Clean Email mobile app, as we discussed earlier.
For bulk email deletion on your smartphone, refer to the guides below, tailored specifically for iOS or Android devices.
How to delete multiple emails in Yahoo on iPhone using the Apple Mail app
In order to mass delete Yahoo Mail messages on your iPhone, you can use either the official Yahoo mobile app or the default Apple Mail app.
To clear out messages in bulk using the Apple Mail app:
In the Yahoo Inbox, adjust the default Unread filter by tapping the striped checkbox at the screen's bottom. Then, access the Filters section by tapping on Unread.

Ensure the messages you want to delete are displayed in your inbox. Then, tap Edit in the top right corner.

Select emails by tapping the circle to their left or swipe right on a message. The count of selected messages appears at the top.
For a full selection, tap Select All on the top left. To remove messages, tap Bin or Delete at the screen's bottom.
💡 Note: This method can delete thousands of messages in bulk. But in specific mailboxes like 'Flagged' or 'Today', the 'Select All' option might be absent, making selection more tedious.
Curious to get more tips on how to delete all emails on iPhone or delete multiple emails on Mac? Explore our Blog for expert advice!
How to delete all Yahoo emails at once on Android and iPhone
Although the Yahoo mobile app doesn't allow deleting all emails at once on both Android and iOS, you can still delete them in bulk. The steps are identical for both devices:
Open the Yahoo mobile app on your iOS or Android device. Ensure the Inbox folder (or other desired folder) is chosen, located at the bottom left of the screen.
Tap the Edit button at the top right, followed by Select all.
With all messages selected, simply hit the Delete button at the bottom left. All done!
How to Delete All Unread Emails in Yahoo
Here's how to delete unread emails in Yahoo using the Clean Email app:
Visit the app's website and log in.
From the main dashboard, select the Unread Mail folder on the left. This will show all your unread messages from every folder (excluding emails from Trash and Spam). Click 'Select...' underneath the search bar.

Opt for Select All. Next, hit the Trash button found at the bottom action bar, moving all unread messages to the Trash.
When the confirmation pop-up appears, click Confirm.
How to Delete Multiple Emails in Yahoo with Ease
The Clean Email app enables you to easily filter your messages by sender, size, age, topic, keywords, and other criteria with just a few clicks.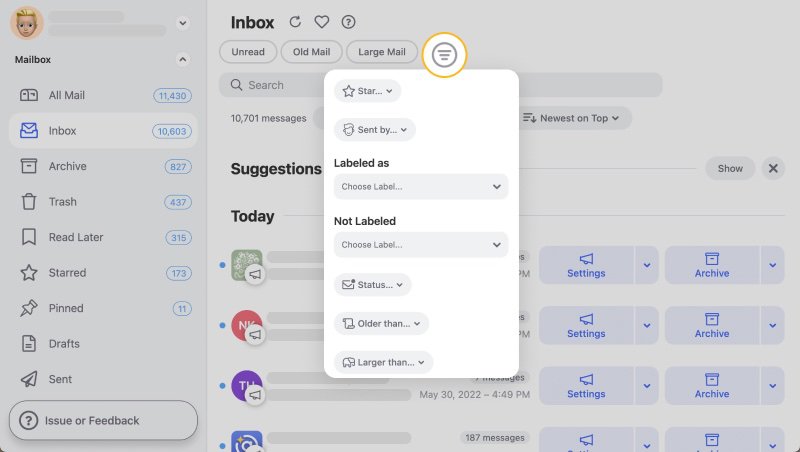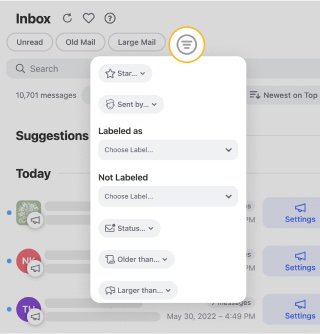 Once you've applied the necessary filters and selected your messages, you can set up automated email rules. These rules automatically apply actions to both existing and new messages from selected senders. This is how to mass delete emails on Yahoo without much effort.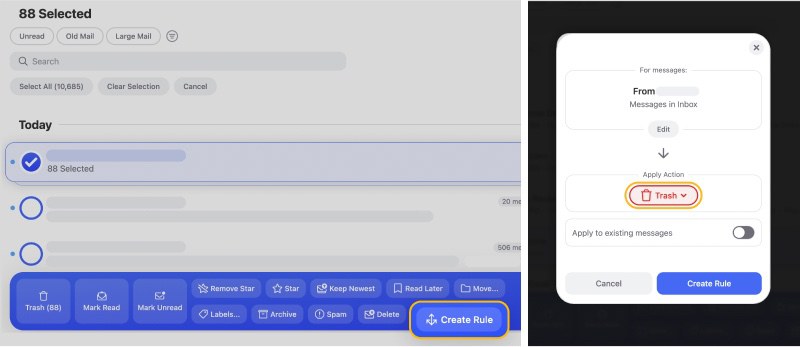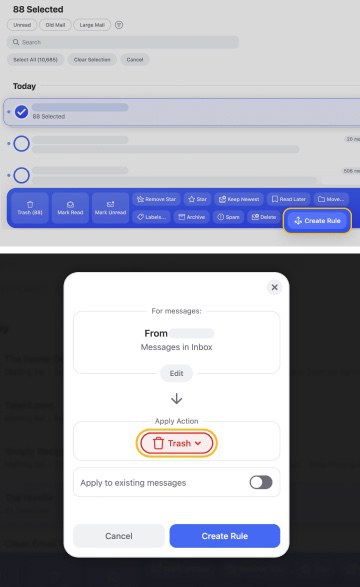 You have the flexibility to modify or pause these rules anytime through the Auto Clean dashboard.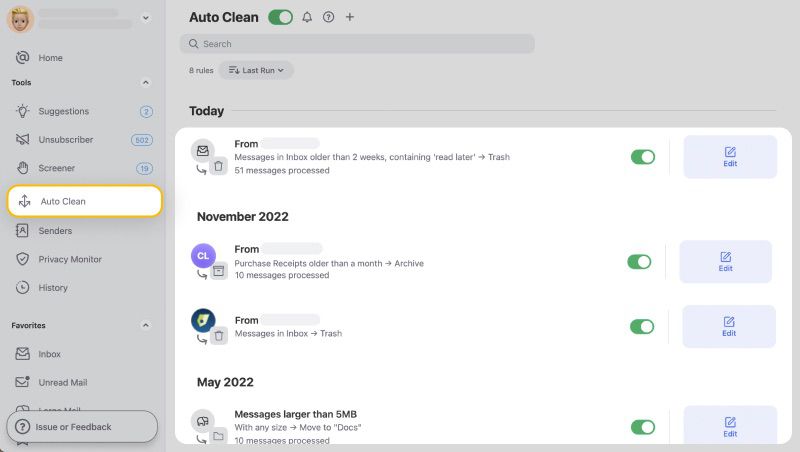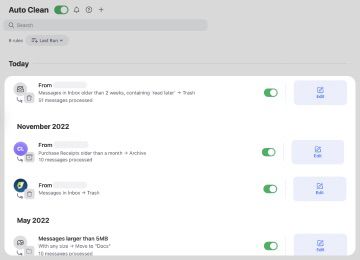 Transform Your Yahoo Inbox with Clean Email
Managing your email can be a time-consuming task, better spent on more important activities. Clean Email helps by organizing your messages, grouping them for easy review. This way, you can quickly decide whether to delete, label, move, or archive them. The app simplifies the process, saving you from handling emails one by one.
Here are some of the app's standout features:
Unsubscriber: You can view all your subscriptions in one place, easily select multiple ones, and unsubscribe with a single click. The app will handle the rest, including sending unsubscribe requests and completing any necessary forms.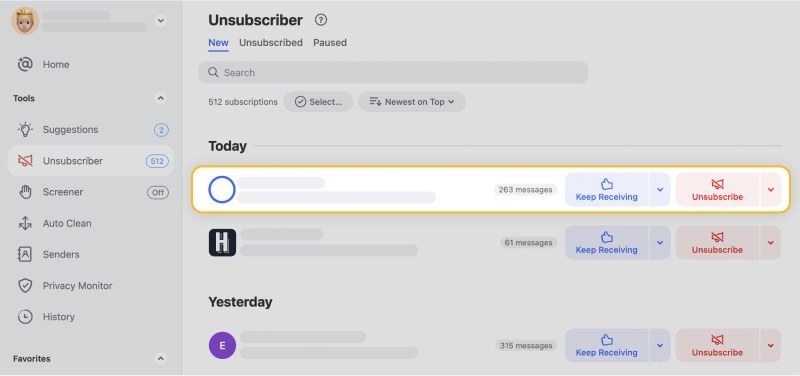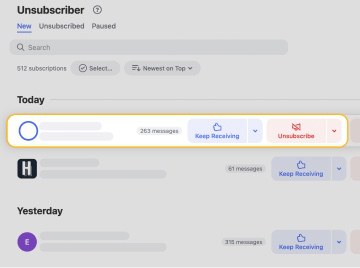 Cleaning Suggestions: Based on your usual email actions, this feature offers email management suggestions. You can then set up automated rules and filters with ease.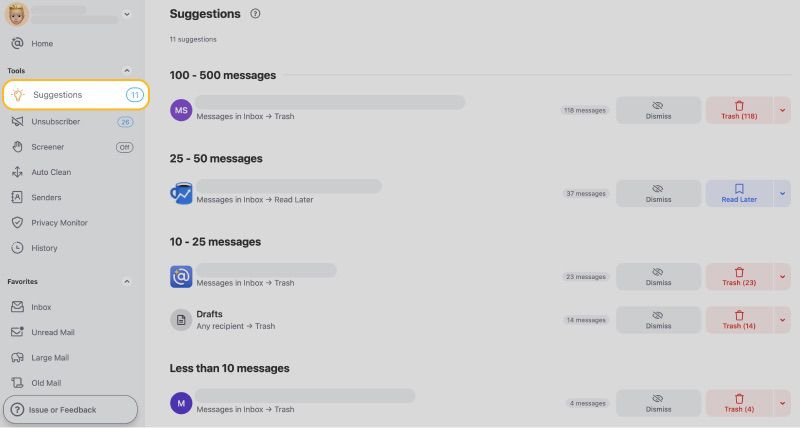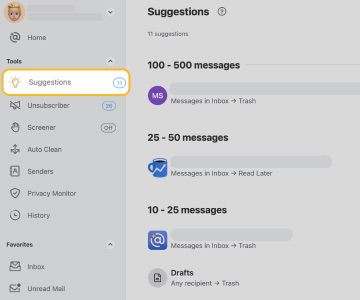 Screener: Acting as an inbox guard, it moves new senders' emails out of your main folder. You can then approve or block these messages, filtering out unwanted emails and reducing the risk of phishing, ensuring a safer inbox.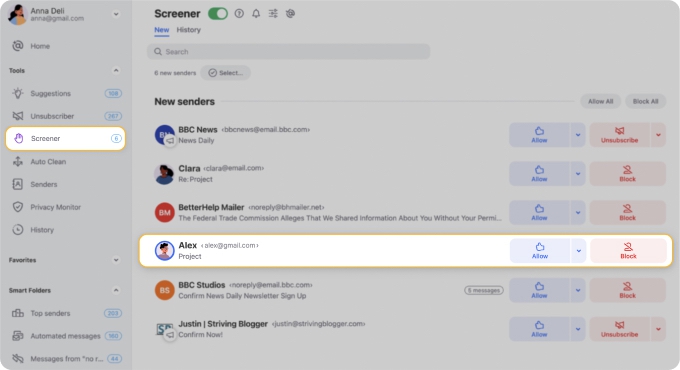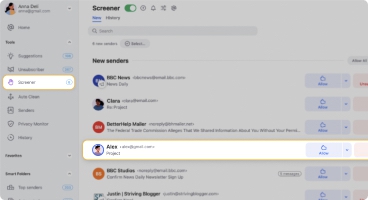 One of the significant benefits of Clean Email is its continued commitment to privacy and security. We won't share, sell, give away, analyze, anonymize, or use your data beyond the app's core functions.
Check out our other guides on how to delete all emails from one sender and how to select all in Yahoo Mail.
Conclusion
Deleting old emails or unwanted newsletters is crucial to free up space and boost productivity by reducing the time spent searching for needed messages. While manual methods exist, using an app like Clean Email can save time and help maintain order in your Yahoo mailbox. Time is precious, and regularly cleaning out your inbox shouldn't consume it.
---
How to Delete All Emails on Yahoo - FAQs
How do I delete all my emails at once on Yahoo?
To delete all your emails at once on Yahoo, use the Clean Email app. Sign in, select the 'All Mail' folder from the options on the left, click 'Select...' under the search bar, then click 'Select All' and hit the 'Trash' button. This moves all your messages to the Trash folder.
Is there a way to delete all the unread emails in Yahoo quickly?
To delete all unread emails in Yahoo, you can click on the 'Sort' option in your inbox and choose 'Unread'. Then, select all the unread emails and click on the 'Delete' button. This will quickly remove all unread messages from your Yahoo inbox.
Is there a way to select all the emails in Yahoo Mail?
In Yahoo Mail, the 'Select All' feature applies to the current folder or view you're in, but not across the entire mailbox. To delete emails from different folders, you'll need to navigate to each folder and use the 'Select All' option within each one.
What's the best way to delete thousands of emails in Yahoo from my iPhone?
The best way to delete thousands of emails in Yahoo from your iPhone is by using the Apple Mail app or a third-party email management app like Clean Email. In the Apple Mail app, you can use the 'Edit' and 'Select All' options to delete multiple emails at once. Alternatively, Clean Email offers more advanced options for bulk deleting and managing messages efficiently.
If I want to delete over 100 emails at once, how do I do it on Yahoo?
To delete over 100 emails at once in Yahoo, go to your Inbox, click the checkbox to select all visible emails, click 'Select all x messages in Inbox' if you have more, and then hit the Delete icon. For bulk deletion, consider using the Clean Email app.