Why Is Clearing Unread Emails Essential?
Getting email messages from all the companies you do business with (and some you don't!) seems to be the norm these days. In fact, the average person receives 121 emails every day! And while each message might mean well, the fact is that you don't want to read them all. So, what's the easy way to delete all emails in Gmail and get them out of your way?
It's actually quite simple and takes much less time than reading and deleting each email individually. Check out this video about how to delete all unread messages in Gmail and keep on reading.
How to Delete All Unread Emails in Gmail: 3 Methods
Typically, Gmail shows your emails in the order they come in. The left sidebar indicates your unread messages with a number next to "Inbox," but only in the primary inbox, not in Social, Promotions, or other tabs. Using the guide below, effortlessly switch to viewing unread emails first, keeping important messages in plain sight.
Method 1: Using 'Unread First' Inbox Feature
Here is how to find unread emails in Gmail and view them collectively in your inbox:
Open your web browser and go to Gmail, logging in if needed.
Click on the gear icon in the top-right corner and scroll to the Inbox type section.
From the available options, select Unread first.
No need to confirm—your inbox will automatically display all unread messages at the top.
Now, you can go through your unseen messages and make sure you want to delete them all. From here, you can either click the checkboxes next to the messages you want to clean up or do the following
Mark the checkbox above your messages and choose Unread, which selects all visible unread emails.
Click the Delete icon (trash bin) to delete all selected messages.
Optionally, go to the Trash folder on the left sidebar and click Empty Trash now to permanently delete the messages immediately; otherwise, Gmail will automatically remove them after 30 days.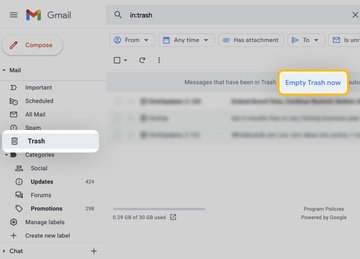 Method 2: Use the Search Bar
Another option for viewing unread emails in Gmail is by using the search bar. Here is how to search for unread emails in Gmail:
Open Gmail in your web browser and log in if not already logged in.
Type "is:unread" (without the quotation marks) into the search bar and press Enter or click the magnifying glass icon.

All unseen messages across all your folders and categories will be displayed. To delete them, you can click the checkbox at the top left of the email list to select all displayed messages, then click the Delete icon (trash bin).

If you wish to permanently remove these messages immediately, navigate to the Trash folder and click Empty Trash now. If not, Gmail will auto-delete emails after 30 days.
💡 Note: The drawback of deleting unread messages in the Gmail service is the necessity to first search for the messages and then take additional steps to delete them subsequently (such as removing them separately from your Trash). Furthermore, the 'Select all' feature is unavailable in the Gmail mobile app, meaning the bulk action must be performed on the web. To simplify the process, you may utilize a third-party email management service like Clean Email, which we will discuss in detail in the next method.
Method 3: Using the Clean Email Bulk Email Cleaner
Clean Email is a powerful email productivity tool designed to clean up the Gmail inbox with a set of robust automation features. Wide filtering options and high customization of email rules are available on both desktop and mobile, ensuring you are always on top of your important messages and can effectively declutter unwanted mail.
Here's how to delete all unread emails in Gmail at once using the Clean Email app:
In the main dashboard, click the Unread Mail folder on the left sidebar.
All your unseen mail from all folders (except Trash and Spam) will be displayed. Click 'Select…' located under the search bar.

Choose Select All.
Then, click on the Trash button located in the action bar at the bottom of the screen. This will send all your unread messages to the Trash. Alternatively, you can click the Delete button if you wish to remove your messages permanently. Ensure to do this only if you've checked all the selected messages, as this action cannot be undone.
In the next pop-up window, press Confirm.
Moreover, using Clean Email's Newest on Top option, you can sort Gmail unread emails in various ways: by size, date, or count, and in either ascending or descending order.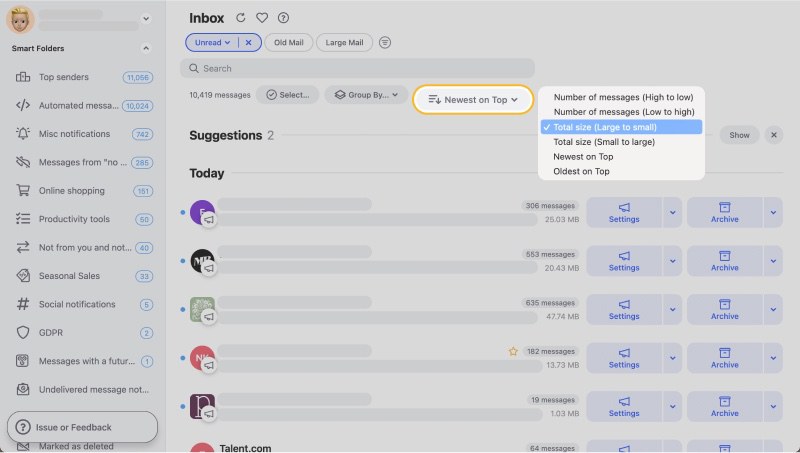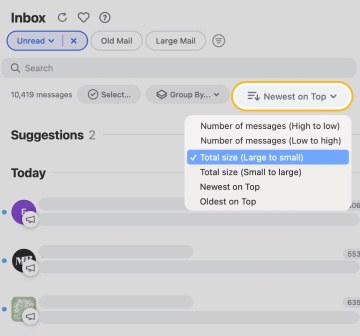 When unread messages are sorted automatically, important messages don't get lost amid the clutter. This is where the Clean Email app can also assist with its Auto Clean feature. You can easily set up an automated rule to mark unread messages from certain senders as read, send them to Trash, and more.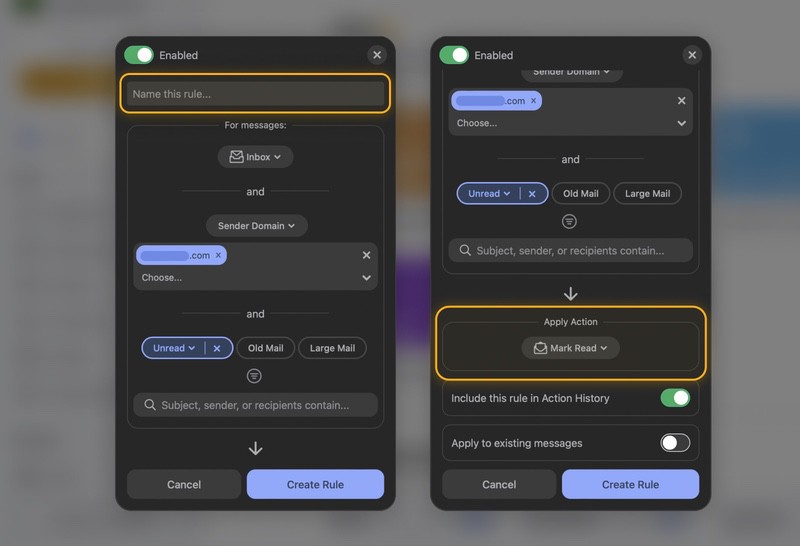 How Clean Email Can Help Keep Your Inbox Tidy
Clean Email has much more to offer than previously mentioned. It is a comprehensive and user-friendly email tool for Gmail users.
Its intuitive features allow you to organize your emails in groups and execute bulk actions. For instance, Smart Folders are custom filters that enable users to view specific types of emails based on their characteristics, such as messages from social networks or online shopping emails. Smart Folders allow you to breeze through your inbox in minutes.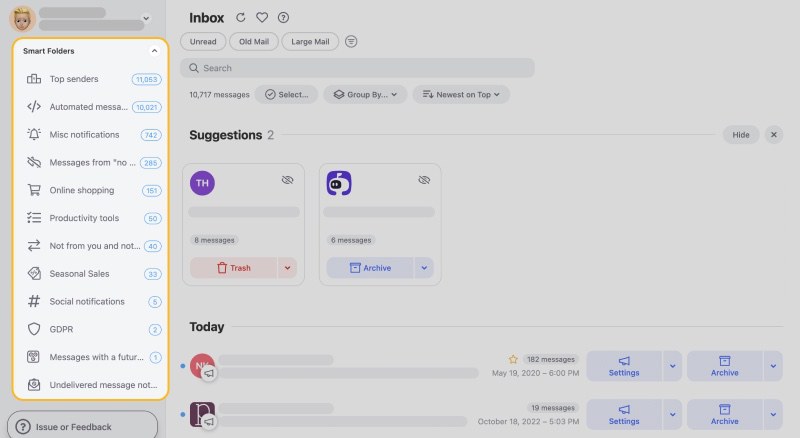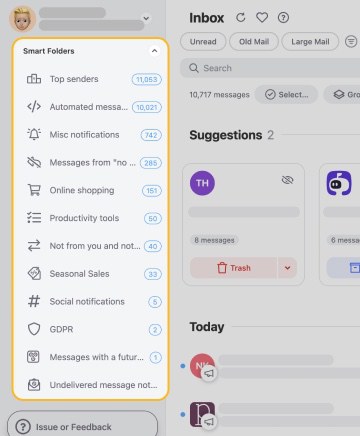 By using your past cleaning history and the collective data of other users, the app's Cleaning Suggestions can recommend similar messages for cleaning, offering a quick and hassle-free way to maintain a neat inbox.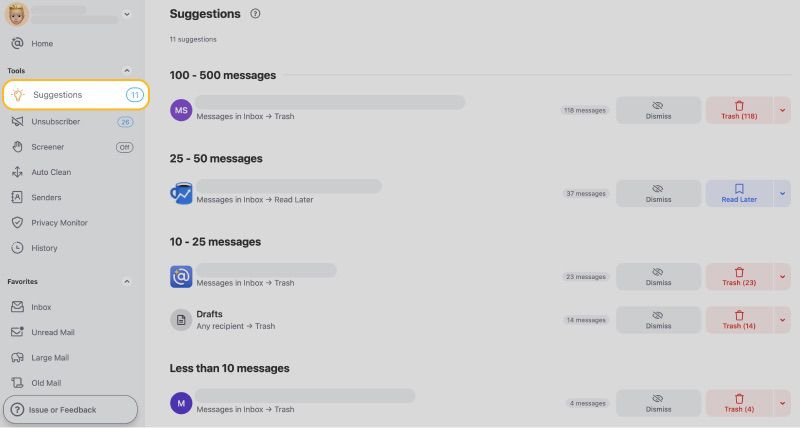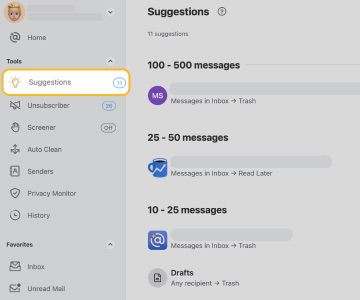 Or, perhaps you receive numerous unwanted email newsletters daily. The app's Unsubscriber feature can help automate your unsubscribe requests. You no longer have to open each letter and navigate through what can sometimes be a lengthy, confusing, and frustrating unsubscribe process.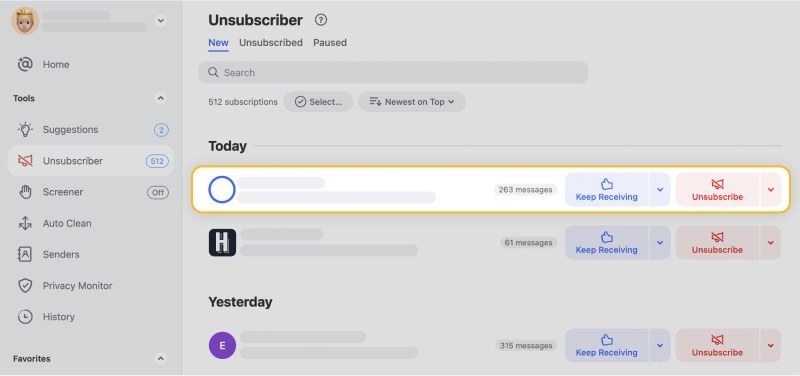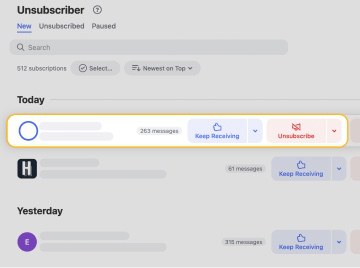 What's more, Clean Email is fully compliant with Gmail API requirements. It takes privacy and security just as seriously as you do. In fact, in 2019 Gmail severely limited the types of apps that are allowed to access Gmail. This app is one of the few of its kind that meet stringent privacy requirements and protect your email data.
You can try Clean Email for free to see how it works and watch how it transforms your inbox!
Curious about how to delete multiple emails on Mac or how to delete old emails in Gmail? Dive into our Blog and elevate your email expertise to guru status!
---
FAQs - Gmail Inbox Unread Mail
Is there a way to delete all unread emails in Gmail?
Certainly, you can easily manage and delete all unread emails directly within Gmail by using its filtering options, or for a more automated and comprehensive approach, utilize the Clean Email app to efficiently declutter your inbox.
How to see only unread emails in Gmail?
For viewing unread emails, you can adjust the Gmail inbox settings to display all unread messages at the top. Additionally, to show unread emails in Gmail using a different method, employ the search bar at the top, typing is:unread to filter and display all unread messages in your inbox. Both methods provide quick ways to focus on your new emails.
How do I delete thousands of emails in Gmail?
An inbox cleaning app like Clean Email provides the fastest way to delete thousands of messages in Gmail. It automates the way emails are filtered and grouped based on your user history and any rules you set. Quickly review groups of messages that Clean Email has selected for deletion, then take a single bulk action to delete all emails.
How to mass delete unread emails in Gmail?
First, you need to filter your list of emails to delete. Use the 'Search Mail' bar to search for all messages you want to delete (by Unread status, by sender, etc.). Once the list populates, click the checkbox to select all emails, and then click the trashcan icon to delete them. A quicker alternative is using an inbox cleaning tool like Clean Email.
How how to select all unread emails in Gmail?
Type is:unread in your 'Search Mail' bar at the top of your inbox and then press Enter. All unseen messages will be displayed. To select all unread emails in Gmail, mark the checkbox at the top of the email list. Now, you can take bulk actions with the selected messages, including archiving, deleting, or marking them as spam.