Large Emails Eat Up Valuable Storage Space
Long gone are the days when email storage space was a precious commodity. Today, popular email providers like Gmail offer plenty of free email storage, allowing their users to send and receive a lot of messages before getting an "inbox full" warning.
The problem with plentiful email storage space is that it leads to bad habits. Even professional marketers are getting lazy, sending larger and larger messages that contain poorly optimized images, long GIFs, and uncompressed file attachments.
It then doesn't take many large emails for 1 GB of storage space to disappear, causing the storage space indicator to grow by a sizable chunk and eventually become completely full. When that happens, some users delete all emails in Gmail or create a new address, but there's a much better solution: learning how to delete large emails in Gmail.
How to Check How Much Gmail Storage You've Used
All Gmail users get 15 GB of storage space for free. This storage space is shared across Gmail, Google Drive, and Google Photos. To see how much Gmail storage you've used so far:
Look at Gmail under Storage details.
If you discover that Gmail is actually not taking up a significant portion of your storage, then you should shift your attention to Google Drive and Google Photos. A single large Google Drive file or a long video automatically uploaded from your smartphone by Google Photos can easily rob you of several gigabytes of storage space that you would much rather use for emails.
Okay, so let's assume that Gmail is, indeed, taking up most of your storage. In that case, you could simply purchase additional storage space, but you would risk ending up in the same situation again in no time. Instead, you should address the core cause of the issue by learning how to delete emails with large attachments in Gmail.
How to Find Large Emails in Gmail
In order to delete large emails in Gmail efficiently, you need to be able to display only messages that exceed a certain size. Without this essential skill, you would be forced to examine messages one by one, and that would take an obscenely large amount of time.
The good news is that finding large emails is pretty straightforward:
Log in to your mail account.
Make sure your inbox is selected.
Click the Search settings icon on the right side of the search bar.

Find the Size field, select the "greater than" option, and specify the desired email size.

Click the Search button.
You should now see only messages that are larger than the size you've specified, which means you're ready to learn how to delete large Gmail emails. Alternatively, you can also type "larger:5M" (feel free to replace 5 with any number you want) into the search bar to sort Gmail by size directly.
How to Delete Large Emails in Gmail
Once you've successfully found all large emails that are robbing you of precious storage space, you can follow these instructions, which explain how to delete large-size messages from Gmail without any third-party tool:
Click the checkbox located above found emails (on the left side) to select them all.

If there are more than 50 messages that match your search, then you also need to click the "Select all conversations that match this search" option.
Click the Delete button to move all selected messages into the Trash folder.

Open the Trash folder and select all emails located there.
Click the Empty Trash now option to permanently remove them.
Keep in mind that permanently deleted messages can't be recovered (read more about how to recover deleted emails from Gmail), so take the time to double-check if all emails in the Trash folder can be safely deleted.
Tips to Prevent Your Gmail Storage from Running Out
Besides learning how to delete emails with attachments in Gmail, there are several other things you can do to prevent your Gmail storage from running out:
Delete old emails: You will never need most old messages, so why not remove them? There are several ways how to delete old emails in Gmail, so feel free to pick whichever you like the most.
Delete unnecessary emails: Deleting unwanted messages as soon as they land in your inbox is an essential inbox management practice, so you should learn how to delete all promotions emails in Gmail efficiently using Gmail's native features and third-party tools.
Keep the Spam folder empty: Messages that end up in the Spam folder are by definition worthless, so don't hesitate to get rid of them whenever they start to pile up. Of course, a legitimate email may end up in the Spam folder by accident, so don't click the Delete button before checking.
Clean Google Drive and Photos: As we've already explained, the Gmail storage space limit is shared across Gmail, Google Drive, and Google Photos, which is why you should regularly clean all three of these services.
Use file hosting services: If you regularly send large files via email, then your Sent folder is guaranteed to take up a lot of storage space. To make it more compact, you should use third-party file hosting services whenever appropriate and send only text links.
With these simple tips, it should take you a very long time to run out of free Gmail storage space. To effortlessly implement them in practice, you can use a third-party email organizer like Clean Email.
Easily Delete Large Emails in Gmail with Clean Email
Clean Email's job is to help the users of Gmail and other popular email services keep their inboxes organized.
How? By intelligently grouping different types of messages together into the so-called Smart Folders, making it easy to, for example, delete all social notifications with a few simple clicks.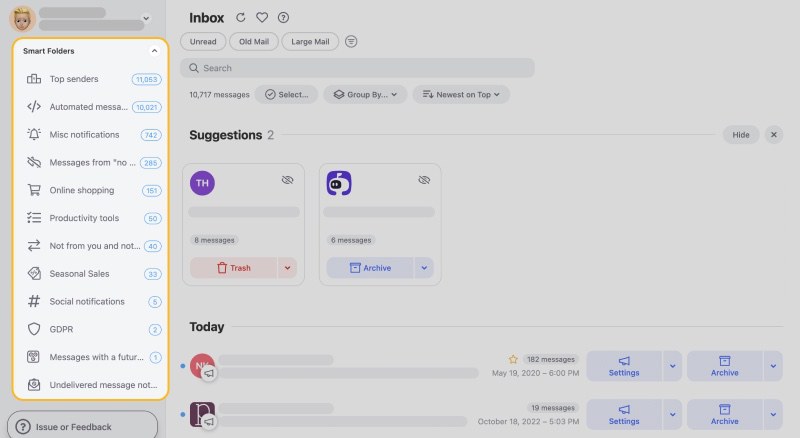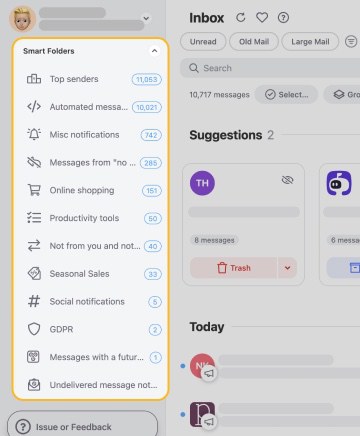 Here's how effortless it is to delete all emails that are larger than certain size with Clean Email:
Go to: https://app.clean.email/ and sign up with your mail account.
Use the Large Mail filter to see all messages that are larger than 10 MB or any other size you choose.

Then you can apply additional filters and sorting options.

Choose messages or email groups that you'd like to be deleted.
Click the Trash button at the blue action panel.

Confirm your action and you're done!
In addition to Smart Folders, Clean Email offers a whole bunch of other useful email organization features to make your life easier. The Unsubscriber feature can be used to put an end to unwanted mailings and newsletters, while the Sender Settings feature can be used to discreetly stop or mute messages from any unwelcome sender.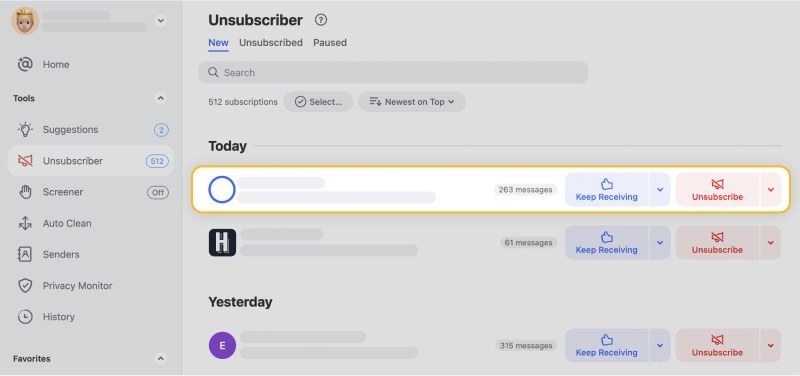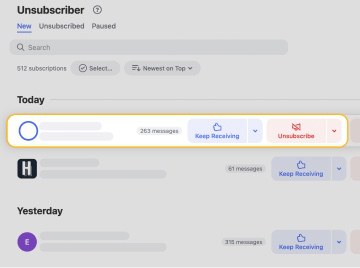 You can also automate routine email tasks thanks to the Auto Clean feature. With this powerful tool, it takes no time to maintain Inbox Zero and enjoy the numerous benefits associated with keeping the inbox empty at all times.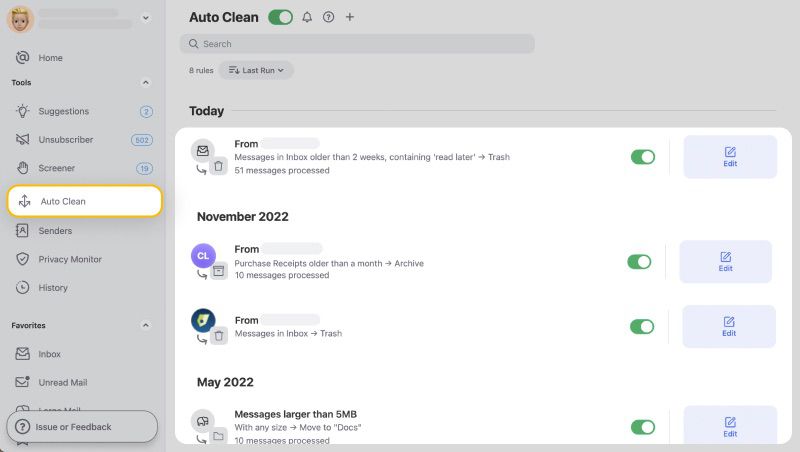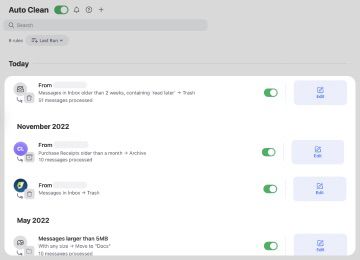 As a trustworthy third-party email organizer, Clean Email is committed to the security and privacy of its users, and it doesn't keep, sell, or analyze user data for any purposes beyond providing its publicly advertised features.
---
How to Delete Large Emails in Gmail - FAQs
How do I bulk delete Gmail attachments?
You can quickly filter out large emails using a third-party tool like Clean Email and then delete them in bulk:
1. Connect Clean Email to your Gmail inbox.
2. Use the "Large Mail" filter to see all messages that are larger than the size you choose.
3. Select the messages from the given list and click the Trash button.
Can I just delete attachments from Gmail?
Unfortunately, there's no Gmail delete attachments option that you could use to delete only email attachments. You can, however, display only emails that exceed a certain size, knowing that only messages with attachments are usually larger than several megabytes.
How do I find large emails in Gmail?
To find them, you need to create a custom search filter:
1. Click the settings icon on the right side of the search bar.
2. Find the Size field, select the "greater than" option, and specify the desired email size.
3. Click the Search button.
How can Gmail delete attachments?
To permanently delete attachments (and the messages they were attached to), you need to: Move them to Trash → Open the Trash folder → Select all emails inside and click the Delete forever button.