The Importance of a Clean Mailbox
Unless you practice good email hygiene, your mailbox has probably been overrun by messages that are irrelevant, stale, or both. Outlook.com offers users nearly 15 GB of free storage. If you're a heavy email user, you are probably near your storage limit if you don't delete old emails or irrelevant messages.
However, storage isn't the only reason having a clean inbox is important. Having a clean mailbox boosts productivity and improves response time. A cluttered inbox will hide important messages, and you'll have to dig through hundreds of emails to find one that is important.
How to Delete Multiple Emails on Outlook
Unlike many other service providers, Outlook offers a variety of options to clean up emails. Wondering how to delete multiple email in Outlook? Check out this video to find out how to delete Outlook emails in bulk and rejuvenate your cluttered mailbox.
You'll find several ways to delete Outlook email, both for the Outlook desktop app and the mobile app. We show you how deleting multiple emails in Outlook can quickly get rid of unwanted and unnecessary messages in your inbox.
💡 NOTE: There is an Outlook email service provider (if your email address ends in @outlook.com or @hotmail.com, etc.) and an Outlook desktop client (you can connect it to any mail provider, including Outlook, Gmail, Yahoo, and more). With Clean Email, you can delete messages and perform other actions if you use the Outlook email service provider.
How To Delete Multiple Email in Outlook Desktop Email Client
Knowing how to mass delete emails on Outlook can make it quick and simple to clean up your mailbox so that your important messages don't get lost in the clutter. There are several ways you can get this job done.
1. Use Outlook Built-in Cleanup Tool for Desktop App
Outlook provides a built-in email cleaner that lets you automatically delete emails in Outlook when there are redundant emails in a conversation thread. This tool is only available in the Desktop Outlook email client.
To use the Conversation Clean Up tool:
Select the conversation thread or folder that you'd like to clean up.
Go to the Home tab.
Select the Delete drop-down arrow.
Choose to either Clean Up Conversation, Clean Up Folder, or Clean Up Folders & Subfolders.
If prompted, select Clean Up to confirm your choice.
The emails in the conversation are then moved to the Deleted Items folder. You will have to remove messages from the trash to get rid of them completely.
2. Delete All Emails in a Single Folder
Outlook, like Gmail, allows users to delete all emails in an entire folder. Considering that this service provider doesn't offer many default folders, you can create one where you simply move redundant messages that are no longer needed.
On the Desktop app, follow these steps to remove all the messages in a folder:
Go to the Folder pane.
Right-click the folder that you want to empty.
Select Delete All.
Select Yes when prompted to move the messages to the Deleted Items folder.
If you prefer to use keyboard shortcuts to delete all messages in a folder, press Ctrl + A on Windows or press Command + A on Mac to highlight all the messages. Then, press the Delete key.
Follow our guide on how to delete multiple emails on Mac.
3. Delete Consecutive and Nonconsecutive Emails for Desktop App
Here's how to delete multiple emails from Outlook folders when you want to remove just a few of the messages, not all of the messages:
For consecutive messages in a folder: Select the first email in the message list, press and hold Shift, select the last message in the group you want to delete, and press Delete.
For nonconsecutive messages in a folder: Select the first email, press and hold Ctrl (Windows) or Command (Mac), click the other messages you want to remove, and press Delete.
How To Delete Multiple Emails in Outlook Web App
For businesses using the Exchange server and web access as their web-based connection method, you can delete emails in bulk with or without opening messages. This way, you can save time and effort while you achieve an organized inbox.
1. How To Mass Delete Emails on Outlook Web
Simply follow the steps below:
Log in to your account at Outlook.com.
Select the desired folder, such as Inbox or Sent Items.
Select checkboxes in front of the message you'd like to remove.

When done, select the Delete button on the top toolbar.

For permanently deleting, empty the Deleted Items folder.
Use Third-party Apps Like Clean Email
The final method on how to delete multiple emails in Outlook, and one of the best, involves using a third-party cleaning tool. There are a lot of cleaning options you can do with the Outlook email client or web version. However, with a third-party cleaning tool, you can do much more to keep your mailbox organized and become more productive.
With Clean Email, you can take actions on emails that match a given criteria. For example, you can automatically delete social media notifications, block certain senders, unsubscribe from unwanted newsletters, label your work-related messages, and more.
Clean Email's Auto Clean feature helps you set up automatic rules that apply to incoming messages. These rules take all the work out of organizing your mailbox. This means that you can have a clean Outlook inbox without manually managing each incoming message. Auto Clean rules will do it for you. All you need to do is to set them up once.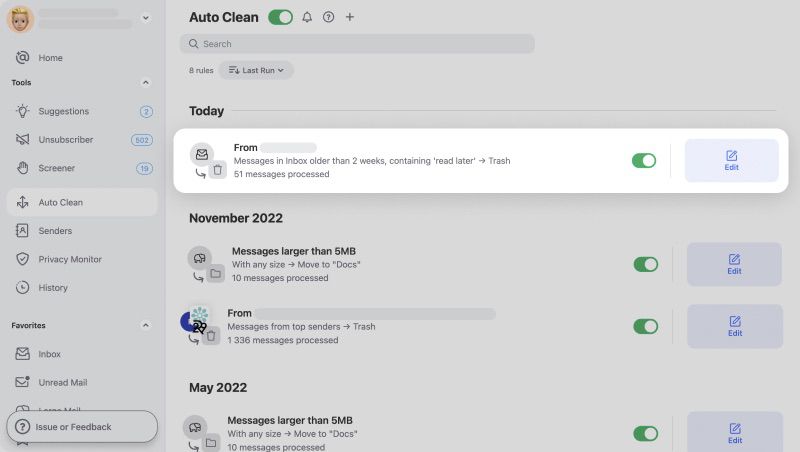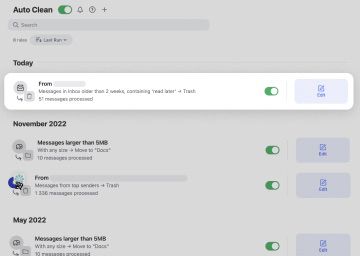 Here's how to delete emails from Outlook using Clean Email:
Launch the app and sign in to your Outlook account.
Choose the message or messages you want to delete. Click the Trash button at the blue action bar on the bottom.

Click Confirm and the selected messages will be deleted from your Inbox.
If you'd like to create an Auto Clean rule to delete certain messages automatically when they arrive, click the Create Rule button at the action bar instead. Then choose an action to be applied to these messages and click Create Rule again. All new messages matching the rule will be deleted automatically.
How Clean Email Can Simplify Email Management Further
Would it help if your messages were organized into categories so that you can delete them with a single click? Do you like to see similar emails grouped together so that you can quickly view your messages by date, sender, or size? Wondering how to delete all emails from one sender? Want a fast and easy way to unsubscribe from mailing lists and block unwanted senders? Clean Email makes these tasks a breeze.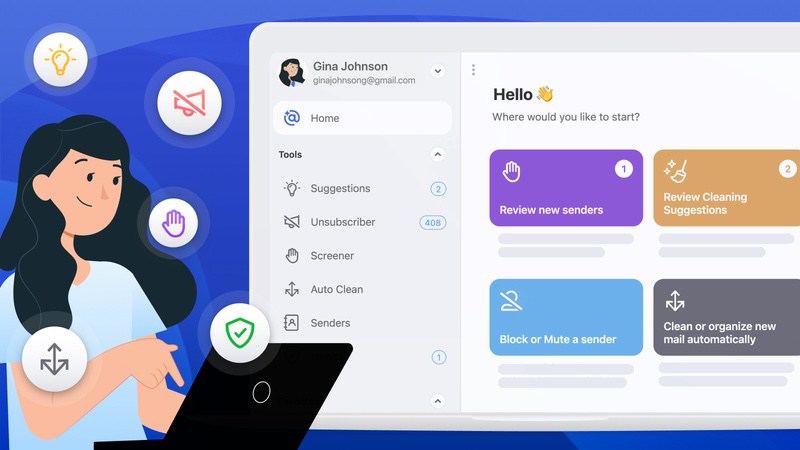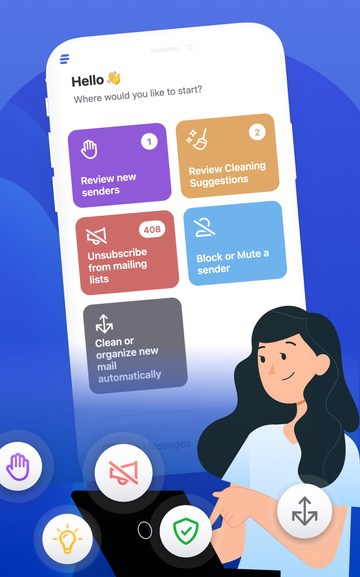 And your data is private and secure. Clean Email doesn't read your messages. Only certain data in your email headers are accessed by Clean Email, such as subject, sender, recipient, dates, and email size. The rest of your message, including attachments, is not accessed and your data is not sold or analyzed. Also, your mailbox access details are encrypted, giving you exclusive access to your account.
Conclusion
It is crucial to know how to delete multiple emails in Outlook and how to delete old emails if you want to have a clean and organized mailbox without running out of storage. While there are several methods to do this manually, having an app like Clean Email will help save you time and keep everything in your mailbox in order.
Wondering how to delete emails in Gmail? Check out our blog to know how to maintain Inbox Zero and have an organized account!
---
How to Delete Multiple Emails in Outlook – FAQs
How do I delete multiple emails in Outlook?
You can delete them by highlighting and deleting emails in groups. Shortcut keys such as Ctrl + A on Windows and Command + A on Mac can be used to highlight an entire email folder. Once messages are selected, you can proceed to click the Delete button on your keyboard or on the app.
How do I mass delete emails in Outlook by date?
On the Outlook Desktop app, you can sort and delete messages by date, size, and subject. To mass delete emails by date, follow these steps. Launch the Desktop app → select Sort by date on ribbon → highlight messages by date → select Delete.
How do you delete multiple emails in Outlook mobile app?
On the Outlook mobile app, there is a box in front of every message. Depending on your version, you might sometimes have to hold down an email to toggle on the highlight. Select as many messages as you want and delete them. You can also highlight an entire email folder from Select all shown at the top of a folder.
Is there an app to mass delete Outlook emails?
You can use third-party apps for better email management, control, and to mass delete emails. With an app like Clean Email, you can set up rules and filters to automatically remove incoming messages matching the rule. It also has a Smart Views feature that combines similar messages into easy-to-review bundles allowing you to delete multiple messages in a few clicks.
How do you select multiple emails in Outlook?
On the mobile and web versions of Outlook, you can select multiple emails and take group actions. On the Desktop app, you can use shortcuts such as Ctrl + A to highlight all emails in a folder.