Why Deleting Old Email Messages Is Important
A clean Gmail inbox helps you stay on top of things. When your inbox is full of old emails, it's hard to find the important ones. You might miss something big because it's hidden under emails you don't need anymore. Deleting old emails means you only see the messages that matter now.
Also, old emails can take up a lot of space. By getting rid of them, you make sure your Gmail works smoothly. Plus, old emails can sometimes be risky. They might have old information that hackers can use. Keeping your inbox clean is not just about being tidy; it's also about being safe online.
In short, deleting old emails in Gmail makes your mailbox easier to use and keeps it safe. Follow the guides below to learn how to delete old emails in Gmail in bulk and how the Clean Email app can simplify the process.
How To Delete Old Emails In Gmail
If you've been using your mailbox for a while, then chances are it contains many old messages that can safely be removed. But how do you clean up only old messages without also deleting newer emails along with them? It's done with a simple search query.
Let's explain how Gmail search queries work with an example. Our goal will be to delete all messages from social networks that are older than a year. Here's how to do that using the native search feature:
Step 1: Craft your search query
The search bar in Gmail is much more useful than it may first appear. In addition to finding specific emails based on their sender, subject, and text, it can also display groups of similar email messages based on shared criteria like category and age.
To display all messages from social networks that are older than a year, you need to copy and paste the following search query into the search bar and hit 'Enter': category:social , older_than:1y

Gmail will then allow you to further narrow down the search results by displaying a series of contextually-aware buttons under the search bar. We won't be using them for the purposes of this article, but you are encouraged to explore them on your own.
Step 2: Select all search results
Assuming you've correctly filtered your inbox so that only emails from social media networks older than one year are visible, you can now proceed to click the Select box (All). Initially, only the first visible 100 email messages will be selected.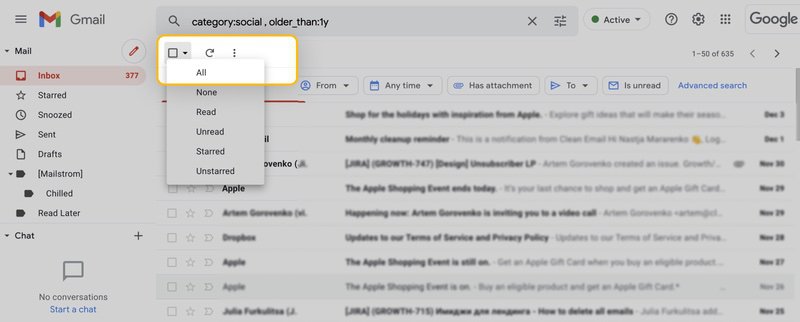 Next, click the 'Select all conversations that match this search' option to select all messages matching your search query. If there's a specific email you don't want to delete, now is the time to click the checkbox next to it to deselect it.
Step 3: Delete selected emails
With your emails selected, you can click the Trash can icon to delete them. The messages will be moved to the Trash folder, where they'll stay for 30 days before becoming automatically deleted.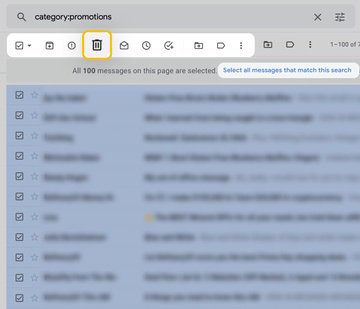 You can, of course, empty the Trash folder manually yourself at any moment to free up valuable email storage space. Just make sure that it doesn't contain any important messages.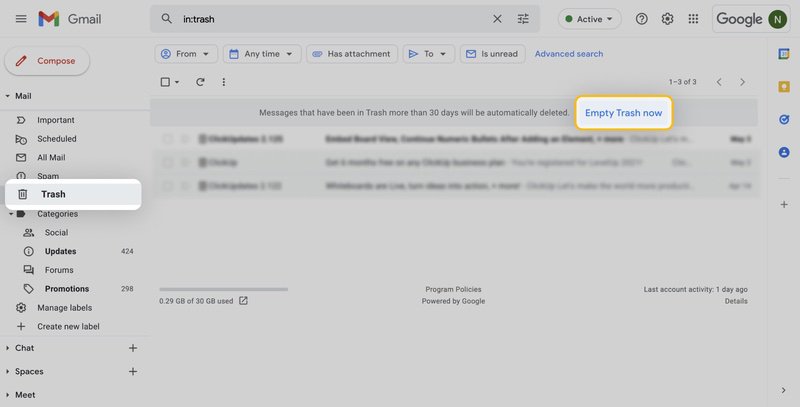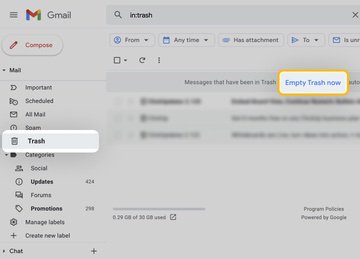 That's how easy it is to delete all social media emails older than one year, and it's just as easy to learn how to delete all promotions in Gmail, or how to delete all emails on Gmail for that matter.
How to Delete Old Gmail Emails With Clean Email
Are you wondering if there's an easier way to find old emails on Gmail and delete them with just a few clicks? We have good news: Clean Email can help with that.
Clean Email is a secure email organizer app compatible with Gmail and all IMAP-based email services. It stands out from the competition because it doesn't monetize users' private data, making it an ideal choice for those who are serious about protecting their privacy.
Here is how to make your Gmail delete emails older than 6 months:
Log in to Clean Email with your mail account at https://app.clean.email. Alternatively, you can download the app for your iOS or Android device.
Select the All Mail folder from the left-side panel.
Click the Old Mail filter located above the search box.

The 'Older than 6 months' filter is chosen by default (you can click the down arrow and select the other time period).

Mark the checkboxes next to the senders whose messages you'd like to clean up, and then look at the blue action bar at the bottom. You can apply any available action, such as moving all selected messages to the Trash folder, by clicking the Trash button.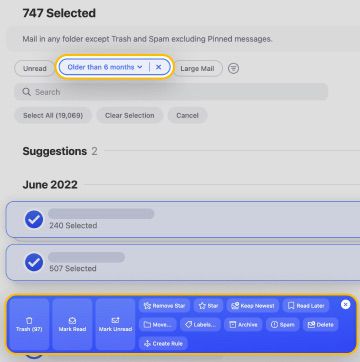 For those who like to maintain a clean inbox by retaining only the most recent email from a sender, the Keep Newest feature is an ideal tool. This feature ensures that you have the latest messages readily available, eliminating the clutter of older email threads.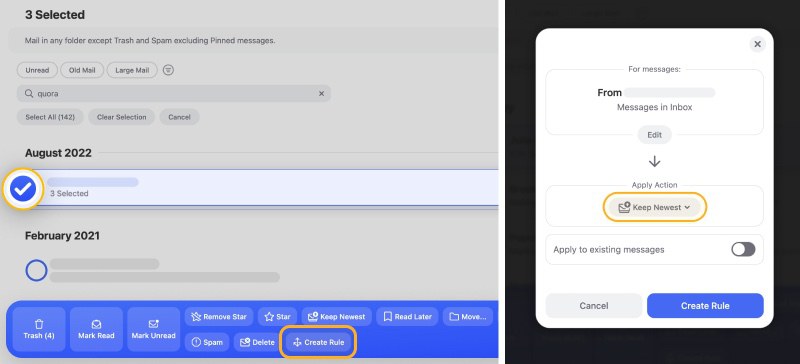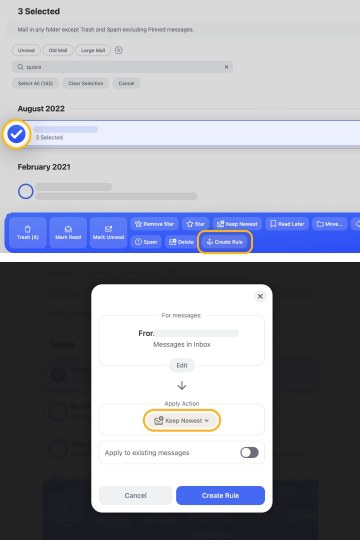 Moreover, the app's Smart Folders feature lets you easily see everything from online shopping emails to social notifications to messages you've sent to yourself just by clicking the respective Smart folder.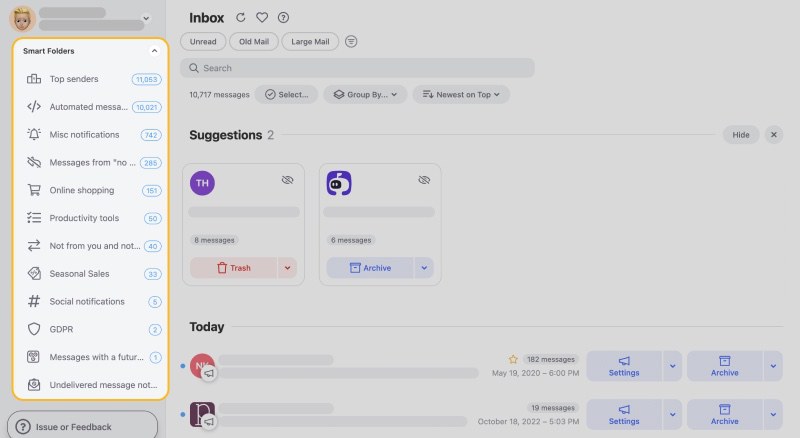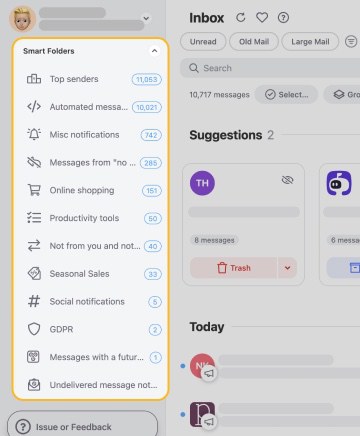 The most repetitive actions applied to certain emails can be easily accessed from the Cleaning Suggestions section, which is essentially a collection of quick actions and a great place to start exploring the full potential of Clean Email.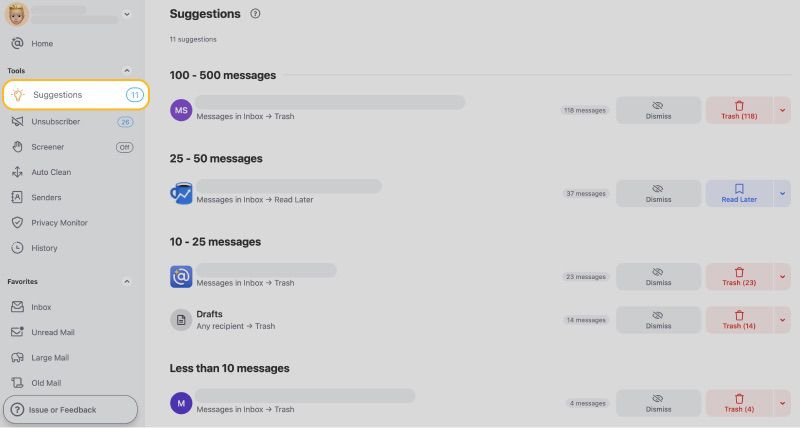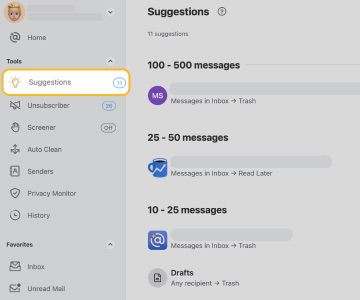 How To Automatically Delete Old Emails In Gmail
Deleting old messages once isn't enough. Since new messages keep coming every day, you need to learn how to auto delete old emails in Gmail:
Open your Gmail account using the web browser.
Click the Settings gear icon and select the See all settings option.
Go to the Filters and Blocked Addresses tab.
Click Create a new filter.

Enter older_than:1y (or older_than:90d, etc.) in the Has the words field.
Click Create Filter to confirm.
Select the Delete it option and click Create filter again.
Gmail will now automatically delete all emails that are older than 1 year (or the age you've specified).
Compared to Gmail's native filters, the Clean Email app offers more customizable and comprehensive rules for automating email tasks. You can pause these rules anytime as needed and restart them, which isn't possible in Gmail where you would have to delete and recreate a filter. Additionally, in Clean Email, you can include various criteria, such as deleting unread Gmail emails or specifying a Smart folder, among others.
Here's how to make Gmail auto delete old emails using Clean Email's Auto Clean feature:
Begin by opening the app and navigating to Auto Clean in the menu on the left side. Next, tap on the ✚ (plus) icon located at the top of the screen.
Start by naming your rule. Then, define the criteria for the rule: you can select emails from a specific sender or domain, determine how old emails should be for the rule to apply, and more. For further refinement, options like message size, specific keywords, and additional filters are available to precisely target the messages you need.
In the 'Apply Action' section, choose what you want to do with the emails that meet your criteria, such as moving them to the Trash folder.

Once you've configured all settings, finalize the process by clicking the Create Rule button.
Conclusion
In conclusion, mastering how to delete old Gmail emails is not only about keeping your inbox neat but also about enhancing its functionality and security. With the step-by-step guides provided, you can easily manage your Gmail, ensuring that only the most relevant and recent messages occupy your inbox. Whether you choose to use Gmail's native search and filter features or opt for the more advanced capabilities of the Clean Email app, the process is straightforward and efficient.
Clean Email, in particular, offers a user-friendly and customizable experience, allowing you to maintain a clean and organized inbox with minimal effort. By adopting these methods, you can ensure your Gmail account remains a productive and secure tool in your daily digital life.
Wondering how to delete emails on Android? Check out our blog section to become an email guru!
---
How To Delete Old Emails In Gmail - FAQs
Where are my old emails in Gmail?
Gmail keeps them in the Inbox folder, alongside new emails. That's why it's important to proactively delete them in order to prevent them from piling up.
How do I mass delete old emails in Gmail?
To mass delete old emails in Gmail, first log into your email account. Then, in the search bar, type the query 'older_than:1y' (you can change '1y' to any other time period that suits your needs). After hitting Enter, Gmail will display all the messages matching this criteria. Select all these messages and click on the Trash bin icon to remove them.
Can you set Gmail to auto-delete old emails?
Yes, you can. Here's how to auto delete old messages in Gmail:
1. Log in to the Clean Email app with your mail account.
2. Go to the All Mail folder and use the Old Mail filter above the search bar.
3. Make sure all found emails are selected and click the Create Rule button on the action toolbar. Then, customize the rule to fit your preferences and click Create Rule again to confirm its creation.