What Is Custom Tabs in Gmail
Gmail custom tabs are categorization tabs used to organize messages as they hit your mailbox. Typically, your mailbox comes with three built-in tabs, which are primary, social, and promotions. These tabs are visible underneath the search bar on your inbox when you are signed in on desktop.
What Each Tab Represents
Social: This is where updates from all your registered social media are sent. From LinkedIn, Facebook, Instagram, and others. However, if you aren't registered on any social media platforms, no messages will appear on this tab except for social media ads.
Primary: The primary tab is where the majority of your important messages end up. These are emails from colleagues, friends, family, work, updates from newsletters you subscribed to, forum updates, etc.
Promotions: The email promotions tab is where marketing messages from various websites you've registered on are delivered.
Why Custom Tabs Are Important
If you ever decide you do not need a custom tab on your account, you can also revert back to the standard mailbox view. Custom tabs help you manage your mailbox, so you know which folder to look up a particular message. If you find emails appearing in the wrong tab, you can manually move the email to the appropriate tab, and the service provider will follow suit on newer messages. Custom Gmail tabs are quite useful for sorting out your Gmail emails and leaving them less cluttered.
How to Add and Remove Custom Tab on Gmail
Google gives customization privileges to its users. Below is how to add and remove tabs.
How to Add Tabs in Gmail
To add tabs in Gmail, simply follow the instructions below.
Log into your account.
In the top right corner beside your profile image, select settings, then choose All settings.
In the next screen, navigate to Inbox.
Here you will find the tab list on default. Beneath that, you will find the current tab options selected under categories.
To add, simply tick the box in front of your preferred category. This is how to add a category in Gmail.
How to Remove Tabs in Gmail
Log into your account.
Select settings → All settings → Inbox
Here you will find the tab list. Simply untick the boxes in front of the categories you will no longer need displayed.
How to Delete Promotions in Gmail
Promotional emails are marketing messages you receive from platforms where you are registered.
📌 Note: Gmail doesn't provide a way to delete all emails at once.
How to Delete Promotions in Gmail On Desktop
Log into your account on desktop and navigate to the Promotion folder.
In front of each message, you will find a clickable box.
Tick these boxes in as many emails as you would like to delete and select the trash button that appears at the top of the list.
How to Delete All Promotions in Gmail App
For users who spend more time on their mobile, here is how to delete all promotions in the Gmail app.
Launch the app.
Select the menu bar on the top left corner to navigate to the Promotion category.
Select Promotions.
To delete, select promotion emails individually by clicking on their header.
You can select all emails and click the trash icon.
To delete permanently, select trash from the menu and empty it.
How to Delete All Promotions in Gmail at Once with Clean Email
Gmail does not provide a feature or guidance on how to empty the Promotions folder at once. This means you have to clean up your mailbox from time to time, so messages do not pile up. Imagine having to delete over 2000 marketing emails by selecting them one by one. It should be stressful and time-consuming.
To delete emails at once in any Gmail category, you can use an email management tool like Clean Email. The app offers an Auto Clean feature that helps you identify certain marketing messages and delete them as they arrive. You will set your own rules that either delete, achieve, move, or label emails that match the set rule.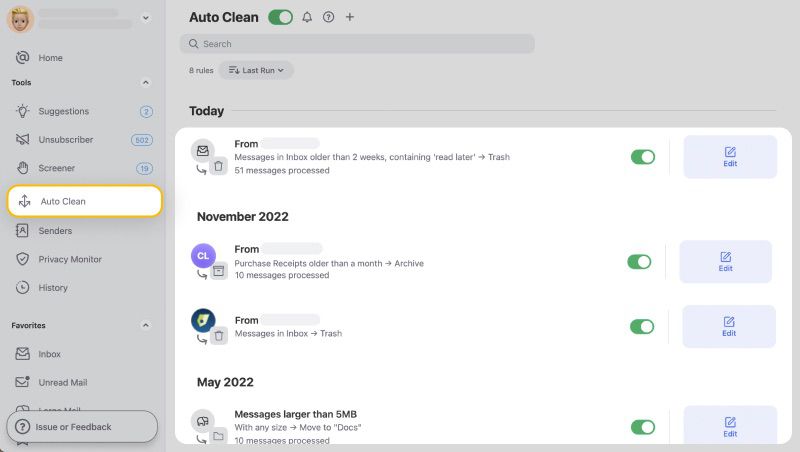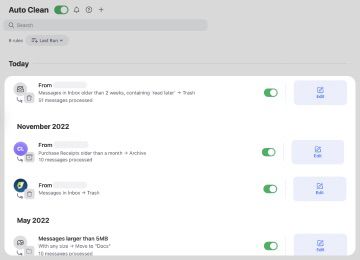 The Quick Clean feature allows users to combine emails from all over your mailbox and delete groups of similar messages. This is the quickest way to clean up any mailbox or delete all promotions in Gmail at once.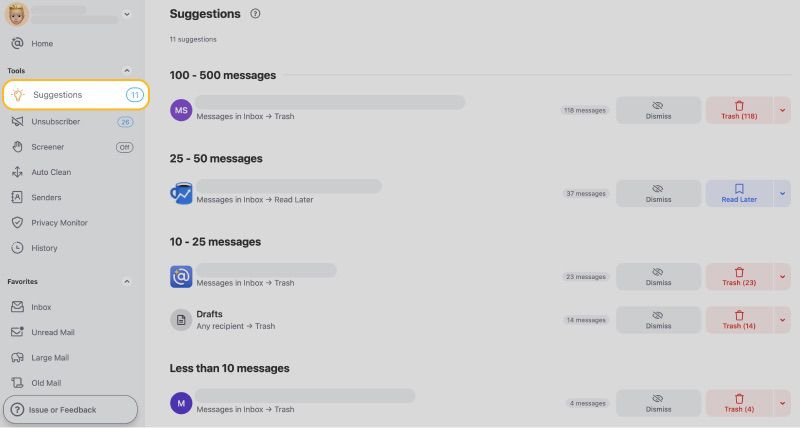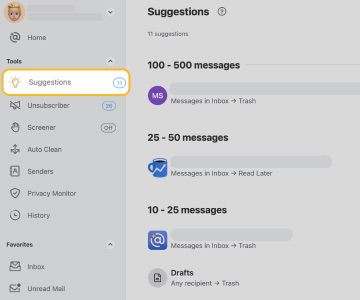 Follow our guide on how to delete Gmail emails and how to delete old emails.
How to Move Emails From Primary to Promotions in Gmail
Gmail comes with pre-set filters that identify which emails go into which tabs i.e., category:promotions. However, this filter is not perfect, and as such, the wrong message can be sent into the Promotions folder. Below is how to move emails from the promotions tab to the primary category or vice versa.
Log into your account on desktop.
Highlight the message you intend to move, right-click on your mouse, and select Move tab.
In the next screen, simply select where you want to move the message to.
Once moved, all future emails will enter into the new tab.
---
How to Delete All Promotions In Gmail - FAQs
Where is the promotions tab in Gmail?
On desktop mode, you can find all tabs which include promotions, social, and primary underneath the search tab. On the Gmail app, however, you will have to select the menu bar at the top left corner to see the various tabs.
How do I stop emails going to promotions?
You can manually move emails from promotions to social or primary category to ensure all future emails enter the new tab. You can also remove the promotions tab from settings to stop emails from going to promotions.
How do I delete all categories in Gmail?
On desktop, simply select settings beside the profile image → select All settings → Inbox, and deselect the categories you no longer need. Keep in mind that you can remove all categories except Primary. When others are removed, all emails go into the primary category.
How do you move emails from promotions to primary in Gmail permanently?
On the Gmail app or on desktop, simply select the email you want to move, right-click mouse when on desktop and click the three-dotted menu button when using the app, to access the move option. Simply select Move and choose which category to send to.
How do I add categories to my Gmail inbox?
You cannot add more categories than the in-built categories: forums, social, promotions, and updates. However, you can choose to add or remove any of these categories from tabs. Simply enter Settings → choose All settings → Inbox tab and select or deselect any category you want to appear or disappear.