Delete AOL Emails: No More Digital Dust
Manually deleting AOL emails can feel like a never-ending task, eating up more of your time than you'd like. Mastering how to delete AOL email efficiently is a game-changer, ensuring that important emails don't get buried in the flood of unwanted messages. This task isn't tricky; it doesn't require any high-tech skills, but it can significantly improve your approach to cleaning up your inbox.
By following our simple instructions outlined below, you can easily optimize your email management routine. The real trick is learning how to delete AOL mail in bulk using Clean Email – an effective method that can transform an overwhelmed mailbox into a tidy, manageable space without much effort.
How to Delete All AOL Emails at Once
Deleting all AOL emails at once helps reclaim your digital space, making room for new and important messages. Here are the steps for your AOL platform:
For Web users (Standard/New AOL Mail)
Open your mail and navigate to the Inbox folder.
Notice the checkbox at the top of your email list. Selecting this will choose the first 100 messages. If you're comfortable deleting your emails in groups of 100, this is a good start.
To delete all AOL emails, scroll down to the earliest ones at the bottom of your Inbox folder. Once all messages are displayed, click the checkbox at the top of your email list to choose them all.
Hit the Delete icon located under the search bar.
💡 Note: Managing thousands of email messages in your Inbox by deleting them in groups of 100, or continuously scrolling to the earliest ones can be an inefficient task. To ease this process, consider trying the Clean Email app. It offers a handy 'Select All' feature that allows you to easily select all messages, regardless of your folder size. While AOL doesn't have a dedicated 'All Mail' folder (you need to use search filters to locate All mail in AOL), Clean Email does, enabling you to manage all your messages at once for a truly clean AOL inbox.
For Mobile users (iOS and Android devices)
Go to the Inbox or the folder containing your unwanted emails.
Click on Edit, located at the top right of the email list.
Tap Select All.
Tap the Delete icon at the bottom of the screen.
💡 Note: This is how to delete all emails on AOL at once using your mobile device. Once deleted, your messages will be shifted to the Trash folder, where they will remain for 7 days before AOL automatically removes them. However, if you need to free up your storage space more swiftly, you can manually empty your Trash folder.
How to Empty the Trash Folder in AOL Mail
The steps to empty the Trash folder can slightly vary based on your AOL Mail version.
For Standard AOL Mail web users: Locate the Trash folder and click on the Trash bin icon next to the folder name. A pop-up will appear, asking you to confirm if you wish to permanently delete all messages from the Trash. Click OK to empty the folder.
For mobile users on iOS and Android devices: Launch the AOL app and tap the current folder name at the lower left (likely 'Inbox'). Navigate to the Trash folder and select the Trash can icon to its right. A pop-up will emerge, prompting you to confirm if you want to permanently delete all emails from Trash. Tap OK to confirm and clear the folder.
How to Delete Multiple Emails in AOL
If you prefer not to delete all your emails but instead manage them in larger groups, understanding how to delete AOL emails in bulk is essential. Let's look at the process for removing multiple AOL emails simultaneously:
Open your AOL Mail on a web browser or mobile app.
Navigate to the folder where you aim to delete multiple emails.
Select the messages you wish to remove. On the web, tick the checkboxes; on mobile, tap Edit, then tick the boxes.
Hit Delete to remove the selected messages.
💡 Note: For deleting emails from specific senders or applying custom filters for bulk AOL email deletion, consider the Clean Email app. Its advanced features allow you to find and delete non-essential messages easily, preserving the important ones.
How to Delete AOL Emails by Date
If you want to delete AOL email based on a specific date range, follow these steps:
For Web users (Standard/New AOL Mail)
Tap on the Search field, then select the Advanced option at the top right.
In the Search section, choose the folder you wish to filter messages from (e.g., Inbox or All Mail).
Navigate to the Date section and select Custom dates. Input the date range of the emails you aim to clean up.
Hit the Search button.
Choose the email messages you intend to delete.
Press the Delete button to remove the selected email messages.
For Mobile users (iOS and Android devices)
Open your AOL mobile app and tap the search button represented by a magnifying glass.
In the Search field, type the date range as, for instance, after:"2020-07-15" before:"2023-07-15". Click the Search button on your keyboard.
Select one of the filters such as 'Sent', 'Received', 'Starred', or 'Unread', or if you prefer a broader search, don't select any to include all messages.
Select the emails by clicking Edit and tap the checkboxes next to the ones you want to clean up.
To remove chosen messages, select the Delete button.
The aforementioned steps are efficient for manually removing emails. To automate this process and further streamline your inbox, discover how Clean Email can help you delete AOL email in the upcoming section.
Automated AOL Cleanup via Clean Email
Seeking a clean, organized AOL inbox? Look no further than Clean Email, a tool offering features for automated email cleanup and effortless clutter management. Its Auto Clean feature lets you set rules to automatically delete emails based on certain criteria, saving you from having to find and delete each one by one.
Let's look at how to delete old AOL emails in bulk using this tool.
Access the app by visiting https://app.clean.email.
Choose All Mail or any other relevant folder. Then select the Old Mail filter above the search box.

By default, the Old Mail filter displays messages older than 6 months. You can adjust this filter to find and remove messages older than any specific period. To create an Auto Clean rule, click the Create Rule button on the blue action bar.

Choose the desired action, such as moving the emails to the Trash folder, under the Apply Action section. Toggle the Apply to existing messages option if you want the rule to be applied to all existing emails that meet the selected criteria.
Confirm the rule by clicking Create Rule. This rule will be added to the Auto Clean dashboard, allowing you to easily edit or modify it whenever necessary.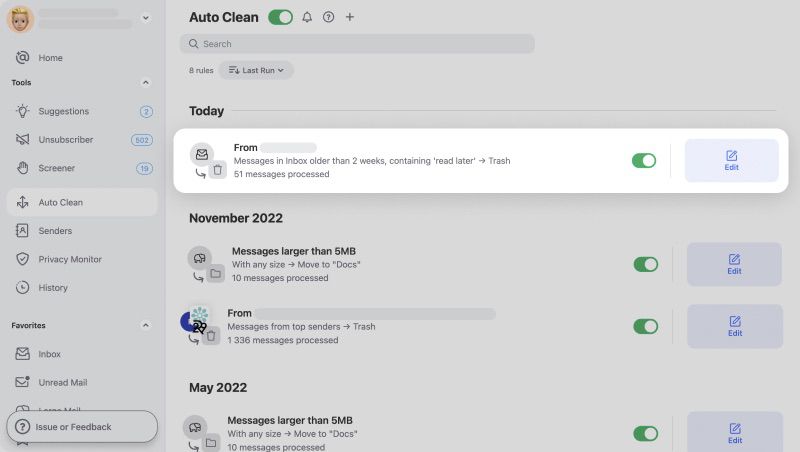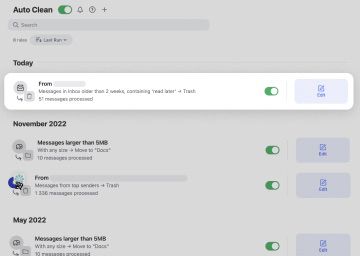 To exclude specific senders or email categories from the cleaning process, go to Preferences → Pinned and add them to the exclusion list.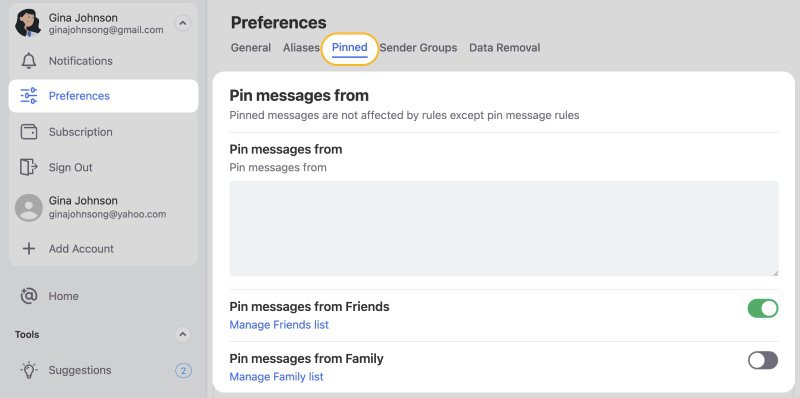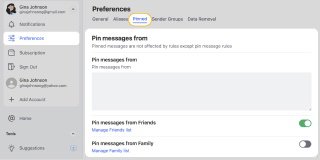 Creating automated rules isn't limited to standard folders like Inbox or All Mail. Clean Email features Smart Folders for a structured inbox view without physically moving emails, functioning much like Gmail's 'labels'. With 33 custom filters, you can manage emails based on specific parameters, including 'Online Shopping', 'Seasonal Sales', 'Productivity Tools', and more.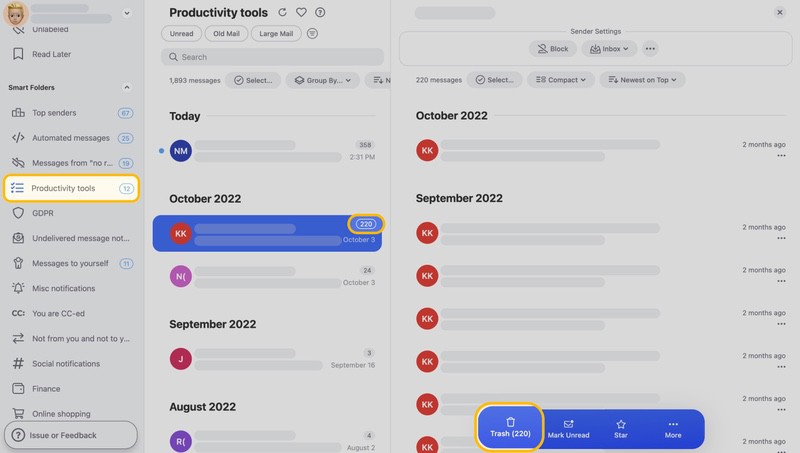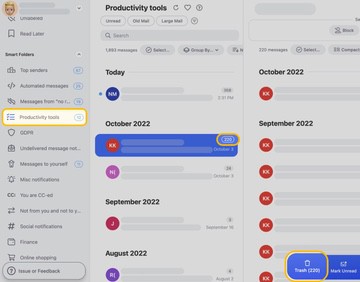 These categories allow you to quickly review and trash groups of unwanted messages, streamlining inbox decluttering without needing extra AOL Mail filters. The app can also locate emails from particular senders if needed. Follow our guide on how to delete all emails from one sender.
Besides automation, the app provides Cleaning Suggestions, personalized to your email habits. These tips recommend Auto Clean rules or other strategies based on your common actions and the actions of other users, helping you maintain a tidy AOL inbox effectively.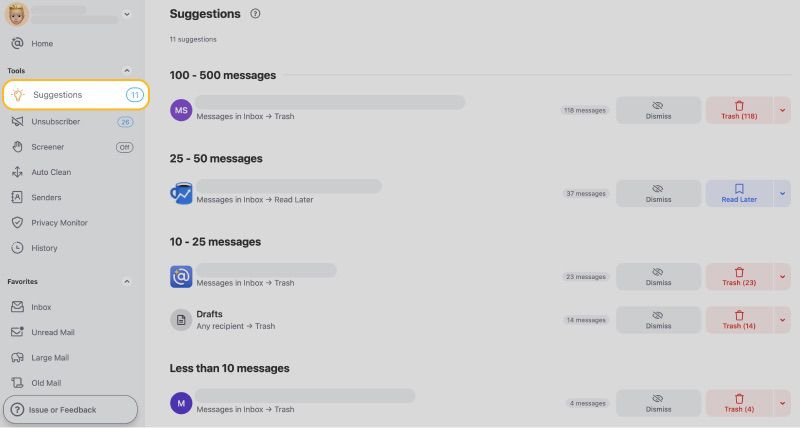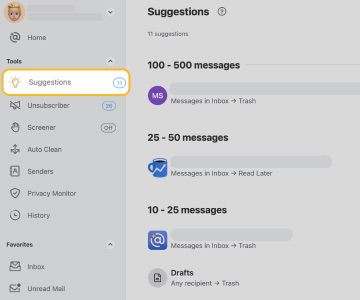 Also, the app's Keep Newest feature enables you to maintain only the newest copy of recurring email messages, automatically deleting old emails. As a result, your inbox becomes less cluttered, providing a cleaner, more efficient email experience.
Why Deleting Emails May Not Always Be Ideal
While deleting emails can help clean up your inbox, there are situations where it might not be the best case to follow:
Important Correspondences: You may have important messages related to work, family, or other critical matters. These are valuable, and deleting them may lead to the loss of crucial information.
Legal Documents or Contracts: Emails containing legal agreements, contracts, or other official documents should be preserved for future reference.
Purchase Receipts or Order Confirmations: Emails containing proof of purchases or order confirmations serve as a record and should be saved in case of disputes or for warranty claims.
Account Verification or Password Reset Emails: Email messages used for account verification or password resets should not be deleted, as they might be needed for future reference.
Instead of deleting, consider the following alternatives:
Archiving: Archiving moves emails out of your inbox, so it looks clean, but the emails are still accessible in the future. A well-defined archiving system in your AOL inbox enables efficient retrieval when needed. Additionally, storing data on backup servers safeguards against data breaches and ransomware attacks, providing a reliable recovery plan.
Organizing with Folders: You can create specific folders for different types of emails (work, personal, bills, subscriptions) and move appropriate messages into these folders. This keeps your inbox tidy without deleting anything.
Using Email Management Tools: Tools like Clean Email can help manage your inbox better. You can use these tools to sort, filter, and categorize emails. They can also help automate routine tasks like moving messages to specific folders.
Conclusion
Managing a tidy AOL inbox is vital for productivity. This guide has shown you how to mass delete emails on AOL, making this usually tedious task straightforward.
With features such as Smart Folders, Auto Clean, Cleaning Suggestions, and the Keep Newest, Clean Email equips you with the necessary tools for efficient AOL inbox management. Embrace the convenience of automation and maintain a well-organized AOL inbox.
For more insights on how to block emails on AOL and how to search AOL Mail effectively, head back to our Blog.
---
How to Delete AOL Emails - FAQs
Does AOL automatically delete old emails?
No, AOL does not automatically delete old emails. Users need to manually delete them or set up AOL filters (email rules) to manage their inbox. Alternatively, you can use Clean Email's Auto Clean rules to clean up email messages automatically.
How to delete multiple emails on AOL?
To delete multiple emails on AOL, you can use the checkboxes next to each email to select multiple messages. Once selected, click on the Delete button to send them to the Trash folder.
How do I delete thousands of emails on AOL?
To delete thousands of emails on AOL, you can utilize the Clean Email app which allows you to apply custom filters and delete specific emails in bulk. Its powerful automation features like Smart Folders and Auto Clean enable you to manage and declutter your AOL mailbox efficiently.
Why did AOL delete all my emails?
AOL does not typically delete all emails unless there is a specific issue or a user request. If your emails were unexpectedly deleted, it's recommended to check your account settings or contact AOL support for assistance.
How do you mass delete emails on AOL on iPhone?
To mass delete emails on AOL on an iPhone, you can select multiple messages by tapping the Edit button, then choose the email messages you want to delete, and finally tap the Delete icon to remove them.
How to delete all emails in AOL on my iPad?
To delete ALL of your AOL emails on iPad, simply select one email by tapping the profile icon next to it, then tap Select all to choose all messages. Finally, press the Delete icon at the bottom of the screen to send your messages to the Trash.
How long does AOL keep deleted emails?
AOL keeps deleted emails in the Trash folder for up to 7 days. After that, they are permanently deleted and cannot be recovered. It's important to regularly check your Trash folder and restore any mistakenly deleted messages within the 7-day retention period if needed.