How to Delete Multiple Emails on Mac (step-by-step guide)
While you may have tons of storage to accommodate as many messages as you possibly would like, having too many irrelevant emails can get in the way of your important emails; leaving your mailbox cluttered. You always want to keep your inbox as clean as possible. To delete Mail storage on Mac, using the Apple Mail multiple cleaning functions is out of the question for busy bees. This is because inbox cleaning can take forever when carrying out the task with the mailbox provided features. The best alternative is by using email management software such as Clean Email.
How to delete multiple emails on Mac manually
Open mail by clicking on the icon on your dock.
Select each email you want to remove while holding down the command key and then click Delete.
To remove consecutive emails without selecting them individually, simply click on the one at the top while holding shift, scroll to the last one, and select. This will highlight all messages within the first and the last. Click Delete to trash all.
Search for emails by date, subject line, and other characteristics using the search tab at the top of the screen. Using the magnifying glass icon, organize your emails by date, name, or other categories. Select in bulk using steps one or two and click on Delete.
To permanently delete all trashed messages, simply right click on a specific folder (i.e. inbox) and select "erase deleted items". Alternatively, you can select the trash mailbox on the mail sidebar when you have deleted it from multiple folders. Right-click on the trash mailbox, select "erase deleted items".
How to delete emails on Mac with Clean Email
Since your mails are categorized into different folders and sections, deleting multiple mails at once manually will take time. With Clean Email, you just have to log in your email through the tool and discover incredible features that will help you best sort your emails, delete in bulk, filter your emails, and block new and old newsletters using your command prompt and more.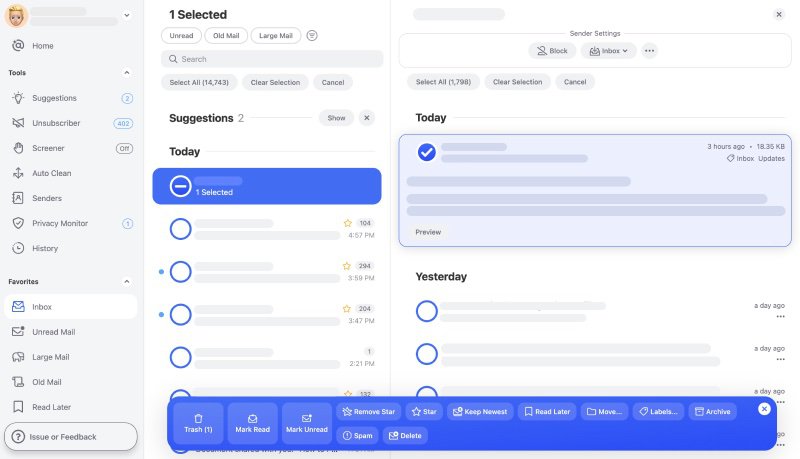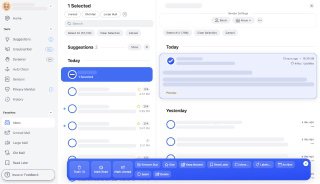 To use Clean Email to get rid of multiple emails on Mac, simply follow the instruction below:
Using the Quick Clean feature. The Quick Clean feature allows you to compile your entire email into a single screen layer and gives you an easy to select an option. With this method, you can mark and get rid of as many messages you'd like in no time.
Using Auto Clean. With Clean Email, you are provided with the opportunity to delete any email that follows a specific rule. Once you set a rule, all emails matching the stated rule will be deleted. This feature can also be used in moving, labeling, and archiving messages already in your mailbox or new mails you receive.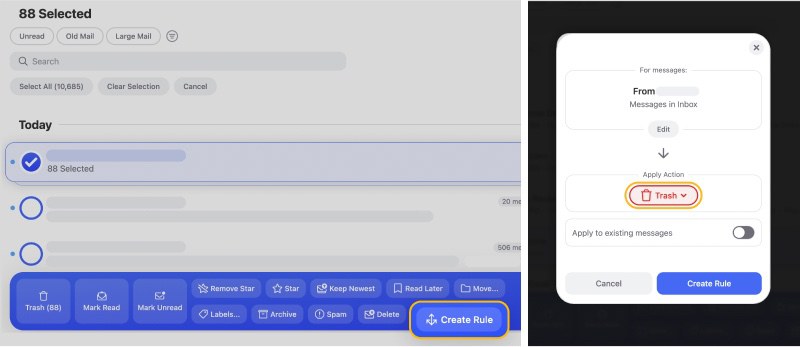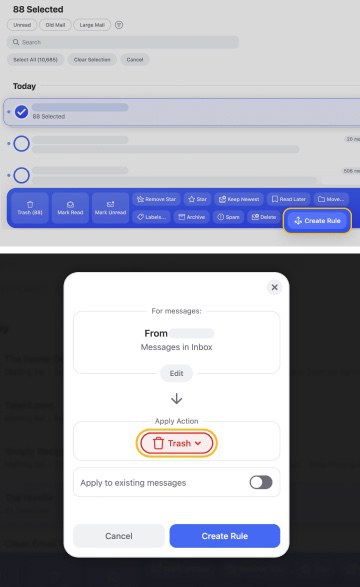 How to Delete All Emails on Mac
While very uncommon, sometimes you might have the need to delete all emails on your Mac.
These steps will show you how to delete all mail on Mac:
Select a particular folder, outbox, inbox, sent message, or anyone of your choice.
Select Edit on the top bar.
Click "Select all" and then Delete.
This sends all deleted messages to the trash. To empty trash, simply right click on the inbox icon and select "erase deleted items". To do this for the rest of your folders, simply repeat the steps in the individual folders.
How to Delete Archived Emails on Mac
People use email archiving for different purposes. Mostly, they revolve around the unwillingness to trash a particular email. Either due to its significance or its uselessness. However, when your archived mailbox has become unbearably clustered, it is time to have a clean slate.
Here is how to delete archived emails on Mac:
Click the archive folder
Click Edit in the top taskbar
Click "Select all" and then the delete key
Right-click on the archive folder and select "Erase deleted items" to permanently delete
How to Unsubscribe From Email Newsletters on Mac
Businesses are always tricking people into providing them with their personal email addresses. Sometimes you just don't know how or when you subscribed to a particular newsletter. While subscribing from newsletters might be easy, it becomes a huddle when you have to do so every day.
How Clean Email's Unsubscriber feature works
Unsubscriber from Clean Email ensures you never have to worry about promotional emails and unwanted newsletters ever again. It allows you to see every newsletter you subscribe to in one place. Here, with a few clicks and at any time, you can opt-out of any newsletter or promotion. It also keeps a list of all newsletters you have unsubscribed from so you can opt right back in whenever you want.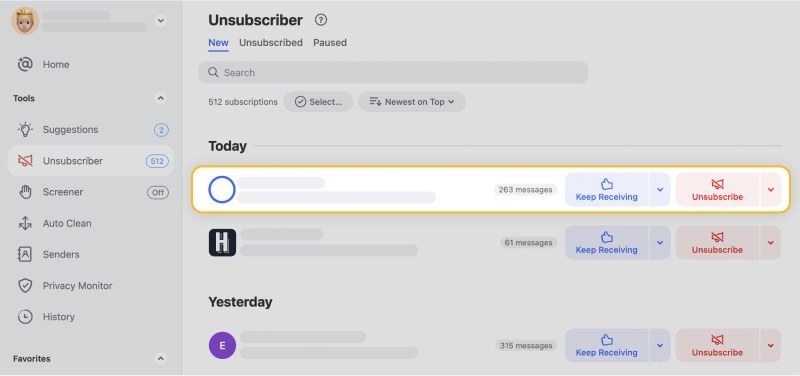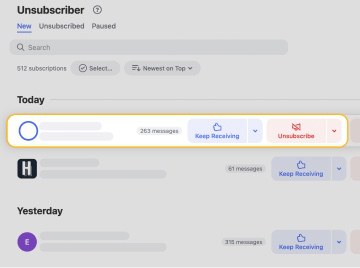 To start, simply download the app on your Mac (macOS 10.13+ including macOS 12 Monterey) from here and begin for free. Alternatively, you can use the Block Sender feature which simply prevents a particular service provider from ever reaching you again.
Follow our guide on how to delete all emails at once on Android.
How to set a reminder on multiple emails on Mac
Sometimes you get an important email you would like to get back to or save for future references. Achieving it can and will help you isolate it, but without constant reminders, you can forget it was there in the first place. With Clean Email's Read Later feature, you can choose the "Read Later" and get a regular summary of emails on your "Read Later" folder.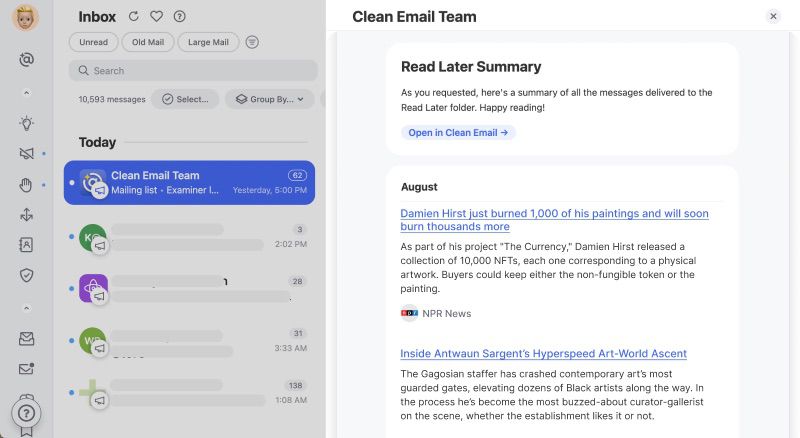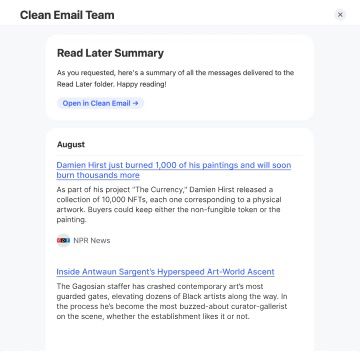 Conclusion
Knowing how to delete multiple emails on Mac is how you keep your mails organized and inbox unclustered. While using third-party apps to keep your inbox clean, your privacy should always be a concern. There is quite the number of third party applications out there, and very few offer users the kind of privacy they need. Emails are personal, so much so that you can't have a third-party snooping in on your mails.
Clean Email is one of the few third-party tools committed to offering one hundred percent privacy and security protection. We never sell, share, give away, or analyze your mails (not even anonymously). The tool is privacy and security proofed. You can read our privacy policy to better understand how we protect your data.
Wondering how to delete all emails on iPhone or delete all promotions in Gmail? Visit our blog to get the detailed instructions on how to declutter your mailbox!