How to Find Old Emails in Outlook and Gmail
There are 306.4 billion email messages sent and received around the world each day. That means you're amongst the 4.03 billion email users worldwide that have had trouble finding old messages and experienced a cluttered inbox at least once in their life. If you're a Gmail or Outlook user, we're going to go step-by-step on how to find old emails for those providers.
How to Find Old Emails in Gmail
Log into your Gmail account.
At the top, there will be a Search mail option.
Once you click the box, select the down arrow on the right to fill out the fields that will narrow your search.
Fill out the Date within field.
Then press Search to see the results.
The Date within field tells Gmail how far back it should look from the date you select on the calendar icon. If you are not able to locate the email you want, it may have been deleted or in spam.
Wondering how to delete all emails on Gmail or delete all emails from one sender? Check out our blog section to become an email guru!
How to Find Old Emails in Outlook on Web
In your Outlook inbox, you should see a search bar labeled Search and a drop-down button on either side.
Select the right drop-down button.
Fill in the empty fields to narrow your search.
The fastest way to find older emails is to only fill in the Date from section. Click on the Select a date options and choose the start and end dates that reflect the timeframe the messages you want to find were sent or received.

Press Search for your results.
Learn how to delete multiple emails in Outlook in our other post.
How to Delete Old emails for Yahoo, Gmail, and iPhone Users
Knowing how to remove old messages no longer has to be a mystery. Below are simple and efficient instructions to help you delete old emails on Yahoo, iPhone, and Gmail.
How to Delete Old Emails in Yahoo
Click on the search bar that says Find messages, documents, photos or people in your Yahoo inbox on web.
On the right, select the downwards arrow.
Fill out the Date field.

Press the Search button and all the messages within that timeframe will show up.
Click the Select all checkbox above the emails to select all search results.

After you've double-checked the messages you want to be deleted, press the Delete button with the trashcan icon.
Learn how to delete multiple emails in Yahoo Mail in our other post.
How to Delete Old Emails in Gmail
Here are instructions on how to delete old Gmail emails so you can permanently free the occupied space:
Choose how you want to separate the messages you want to remove or keep by category, inbox tabs such as "social," "promotion," and "search mail" bar, etc.
Click on the Search mail bar and type in a command like "has: has:attachment" of "from:me." If you don't care to figure out the meaning of all the search bar commands, then select the small arrowhead on the right to populate a more in-depth search field.
Fill out the information that the message contains or only fill out the Date within section to get quick, accurate, and narrow results.
Next, click the Search button and all of the old messages should have populated.
Remove messages as normal by checking the checkbox and clicking the trashcan icon.
Follow our guide on how to delete all unread emails in Gmail at once.
How to Delete Old Emails on iPhone
Open the Apple Mail app to access your messages.
In the Search bar, type in the month and year or only the year. The information you typed will show up under the Dates section of the results.
All of the messages in that timeframe will populate in your results.

You can delete emails one by one by swiping from left to right on the message to show the Trash name and icon.
If you want to delete multiple emails, click the Edit button at the top right corner and then hit Select all.

Once every message you want is selected, press the Trash button to remove them.
How to Access Old Emails in AOL
Knowing how to access old AOL emails can be a lifesaver for many email users who have lost important files from months or years ago in their AOL inbox.
Click the dropdown arrow near the Search Mail bar in your AOL Mail app.
You can either choose Advanced Search to fill out more detailed information or choose the section of your email account you want to search for.

Fill in the required parameters such as Date from and to and click Search button.
How Clean Email Can Delete Old Emails
Clean Email understands that many of us don't have time to take the steps to manually search for and remove old messages every day. That's why the Clean Email app uses a pre-set smart view option called "emails older than ..." to help you easily isolate all of the old messages into one place for mass deletion. You can choose the time period by yourself, filtering messages older than 6 months, 1 year, 2 years, etc.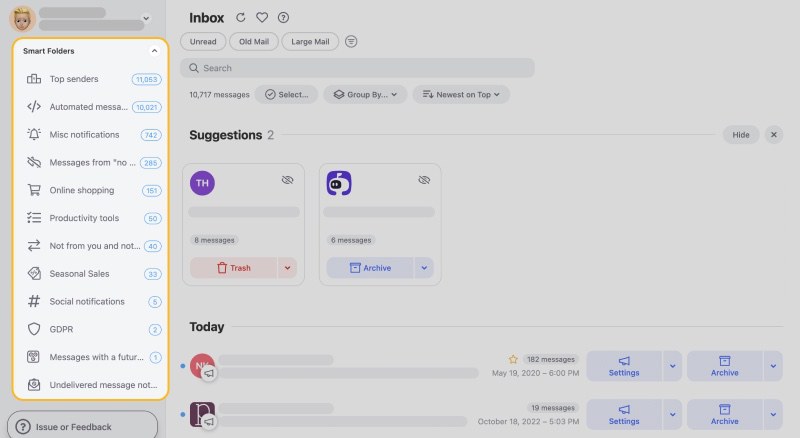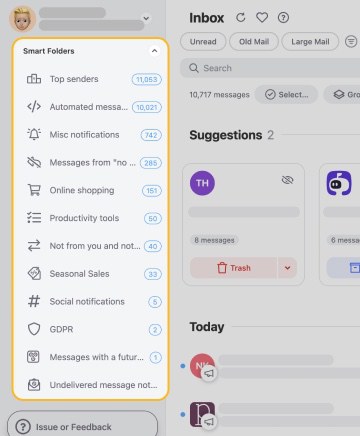 You can also use the search bar in any of the "smart views" to search and filter your results whether that's by email size, how long ago it was received, the folder, etc.
Conclusion
By following these steps, your old messages will be removed from your inbox in no time. You'll get the space back from those large files and have a clean and organized inbox. If you feel that manually deleting messages is too time-consuming, Clean Email is ready to help with our safe and secure email management software.
---
How To Delete Old Emails - FAQs
Should you delete old emails?
Yes, it will free space for new important messages, attachments, and files. Deleting old messages will also help keep your inbox clean and organized.
How to delete old emails in Yahoo?
First, you'll need to fill out the blank fields in the search bar and click the "search" button. Next, select the checkbox to highlight all the old messages you want to remove and press the delete tab.
How to automatically delete old emails in Gmail?
First, you have to manually remove the email. Once it is in your trashcan, Gmail will automatically delete it after 30 days.
How far back does Gmail keep emails?
There is no limit on how long Gmail will keep messages in your inbox. However, emails in spam or trash will be permanently removed once it has been in the folders for 30 days.
Where are my old emails in Gmail?
You may find them in specific folders like archives in Gmail. The other possibility is that it has been deleted and sent to trash.