Give Your Inbox a Fresh Start
Ever feel like you're drowning in a sea of unread emails, wondering how to delete old messages? If so, you're not alone. Deleting old emails can feel like a herculean task, but it's crucial to maintaining an organized and efficient workflow.
Whether you want to know how to delete old emails in Outlook in bulk or how to auto delete old emails, this guide has you covered. By leveraging Outlook's native features and Clean Email's handy automation capabilities, you'll conquer that mountain of messages in no time.
How to Delete Old Emails from Outlook with AutoArchive
One of the smartest ways to tackle that growing mountain of old emails is to use Outlook's AutoArchive feature. This clever tool helps you manage space by automatically moving or deleting emails past a certain age.
Here's how you can use it in the Outlook desktop app for Windows:
Open Outlook and click on the File option in the top left corner.
Click on Options in the bottom-left corner.
Select the Advanced tab in the new Outlook Options window.
Scroll down to find the AutoArchive Settings button under the AutoArchive section and click it.
Check the Run AutoArchive every X days checkbox.
Customize the settings according to your preferences.
Click OK to save your settings.
Unfortunately, the AutoArchive feature is included only in the Windows version of Outlook. If you want to learn how to delete emails older than a certain date in Outlook on the web or Mac, then you need to use Outlook rules, as explained in the next section of this article.
How to Delete Emails Older Than a Certain Date in Outlook
If you're using Outlook on the web or Mac, you might feel left out in the cold, as these versions lack the AutoArchive feature available in Windows. But don't worry! We've got your back with another effective tool: email rules, which let you automatically delete emails in Outlook based on predefined criteria. This is your answer to "how to delete emails older than a certain date in Outlook web."
For the Outlook web app (also known as Outlook.com):
Sign in to your mail account.
Click on the gear icon at the top right corner and select View all Outlook settings at the bottom.

Select Mail then Rules from the Settings menu.
Click Add new rule and give your rule a name.
Select the Received Before option under Add a condition.
Select the desired date in the newly appeared field.
Choose Delete from the Add an action dropdown.
Click Save to implement your rule.
💡 Tip: If you're looking for another effective method to manage your emails, consider using Outlook Sweep rules. This tool lets you set up automatic actions for emails from a specific sender, helping you maintain an uncluttered inbox without the need for constant manual management.
For the Mac version of Outlook:
Launch Outlook and open the Tools menu.
Select the Rules option.
Click the New Rule button.
Give your rule a name.
Click the Select a condition dropdown menu and choose the Before option under Received.
Specify the date before which you want to delete the emails.
Move to the Select an action dropdown menu, and choose the Delete option.
(Optional) Add more conditions if you want to delete only certain old emails.
Click OK to save your new rule.
💡 Note: If you're unable to create rules in Outlook for Mac, it might be due to the specific requirements needed. To create or modify server-based rules, you need a Microsoft Exchange account administered by Microsoft Exchange Server 2010 or a later version. However, if these conditions aren't met, you can alternatively establish rules using the Outlook web app.
Sadly, neither of the two sets of instructions we've just provided can be used to create rules in the Outlook mobile app because the app doesn't currently support this feature. Luckily for you, Clean Email is a fantastic alternative, and it works equally well across all major platforms.
Easily Delete Old Outlook Messages on Any Platform With Clean Email
Clean Email is a highly capable inbox organizer for Outlook and other popular email services. With its Auto Clean feature, you can create rules to automatically manage emails that are older than a specified period. It's like having an assistant who sweeps away emails that have crossed a certain age threshold—a perfect way for how to delete multiple emails in Outlook by date.
Follow these steps to delete old Outlook messages with Clean Email:
Visit https://app.clean.email/ and connect it with your mail inbox.
Choose the Inbox or All Mail folder from the left pane.
Select the Old Mail filter above the search box.

Modify the default Older than 6 months filter according to your preference and select the messages you want to manage. Click Select All if you want to delete all messages that are older than the time you've just specified. Alternatively, you can select individual senders.
Click the Create Rule button on the blue action bar.

Under the Apply Action section, choose either Trash or Delete, with Delete implying permanent removal.
Click Create Rule again to confirm.
Voila! Your rule will be set and added to the Auto Clean dashboard, allowing you to easily edit it whenever necessary.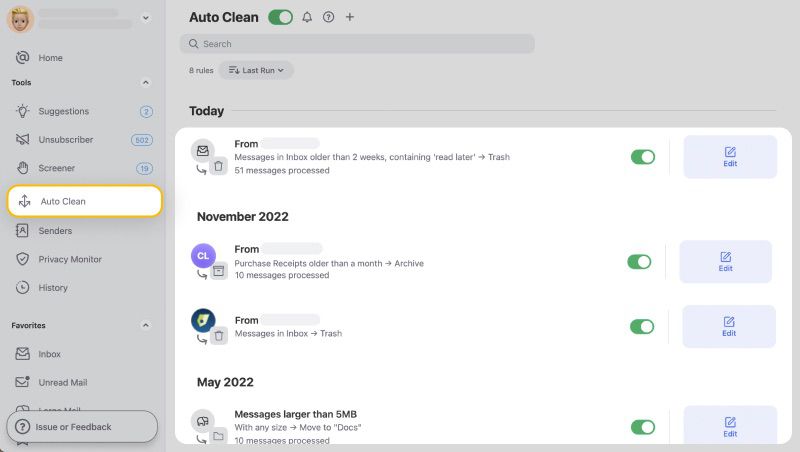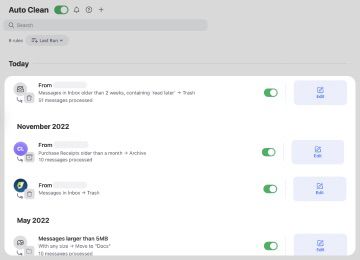 This feature can be used on any platform (web, macOS, Android, iOS), and the same goes for all other features that you can use to organize emails in Outlook, including:
Smart Folders: These predefined filters are the organizational superpower of this app. They take your Outlook inbox and sort your messages into easily manageable categories. Whether it's identifying 'Top Senders' or grouping 'Social notifications' messages, Smart Folders ensure you can navigate your email in minutes.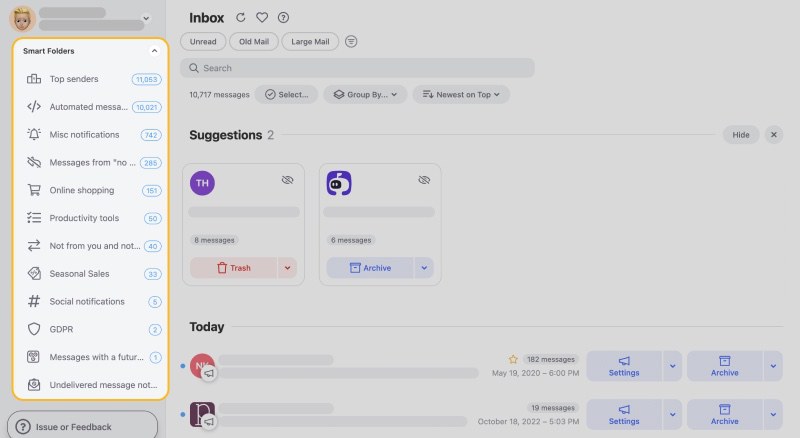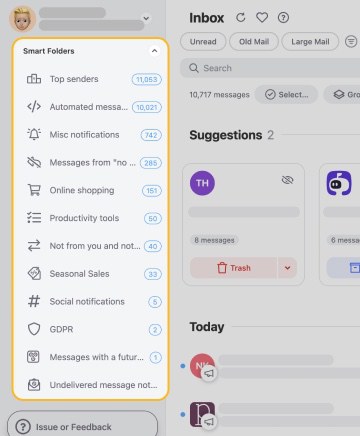 Keep Newest: If you prefer to keep only the latest email from a sender and delete the rest, the Keep Newest feature will be your best friend. With this feature, you'll always have the most recent communication on hand without being burdened by older threads.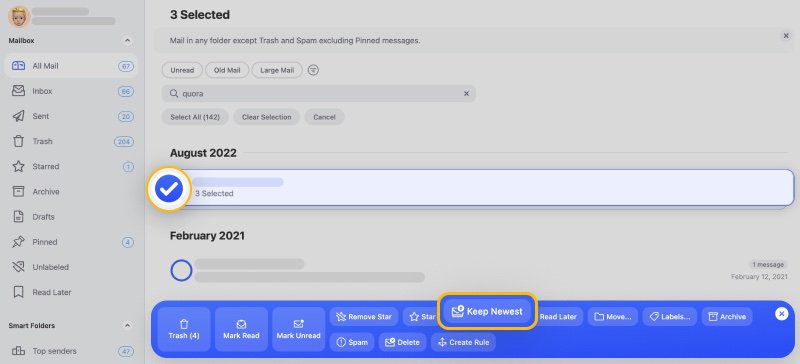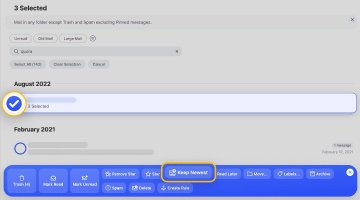 Action History Summary: Ever worried about deleting something important during your email clean-up? The app's Action History Summary is your safety net. It gives you a detailed rundown of the emails deleted so you can ensure nothing crucial slipped away.
Are you worried about your safety and privacy? Don't be! Clean Email has prioritized user security and privacy since its inception. We have a strict privacy policy, which maintains that we do not keep, sell, or analyze user data beyond the application's public features. Furthermore, the company successfully completed a multi-step verification process introduced by Google, reinforcing our commitment to user data protection.
---
How to delete old email from Outlook - FAQs
How to quickly delete old emails in Outlook?
To quickly clean up old emails, you can utilize features like AutoArchive in Outlook for Windows or create specific inbox rules in Outlook on the web and Mac. Tools like Clean Email can also help streamline the process regardless of which platform you use.
How to delete emails older than a certain date in Outlook 365?
To delete emails older than a certain date in Outlook 365 on the web, you can create an inbox rule in the Outlook web app specifying the number of days. Alternatively, you can use a third-party inbox organizer like Clean Email.
How to set Outlook to automatically delete old emails?
To set Outlook to automatically delete old emails, you can use its AutoArchive feature. This allows you to specify how frequently Outlook should clean out old items and which folders to apply these settings to. Clean Email's Auto Clean feature simplifies email management, allowing automatic cleaning of your inbox directly from your mobile device.
Is it a good idea to mass delete old email in Outlook?
Now that you know how to mass delete old emails in Outlook, you might wonder if it's a good idea. Generally, it is beneficial to clean up outdated messages in bulk because it helps declutter your inbox and free up valuable email storage space. Make sure you don't delete any important emails by mistake, especially when using the 'Outlook delete emails older than' option.