Why It Makes Sense to Download Gmail Emails to Computer?
Considering that Google has nearly 100,000 expertly trained employees, many of which are highly talented cybersecurity professionals with many years of industry experience, you might think that they are better suited than anyone else to guard your data, and you wouldn't be wrong.
However, past experience has taught us that hackers always find a way how to get what they want. In 2017, for example, a group of hackers successfully executed a sophisticated phishing attack that allowed them to take control of users' Gmail accounts.
Fortunately for Gmail users, the hackers used the compromised accounts just to send spam emails even though they had permissions to do a lot more, including deleting all emails. Considering that Google has been steadily losing its reputation of a company that's always striving to do the right thing, it's not far-fetched to imagine some hacktivist executing a similar attack like the one that took over a million Gmail accounts in 2017, but with far more sinister motives.
Of course, information loss is just one of the many reasons why people should learn how to download Gmail emails. When you download Gmail emails to your computer, you become able to easily move to a different email provider or access your emails even when Gmail is down.
How to Download Gmail Emails
When it comes to learning how to download emails from Gmail to computer, there's no need to download some third-party software and give it permissions to access your inbox because Gmail has everything you need to accomplish the task.
In fact, we recommend you avoid third-party email backup software because you might come across a software application that has been compromised by hackers to steal personal information from unsuspecting Gmail users.
How to Download all Emails from Gmail as Archive
Google provides its users with the option to download all data associated with their Google accounts, including Gmail emails, as a single archive.
To download all emails from Gmail as archive:
Log in to your Gmail account.
Click your Profile icon in the upper-right corner.
Click "Google Account."
Select "Data & personalization" from the list of options on the left.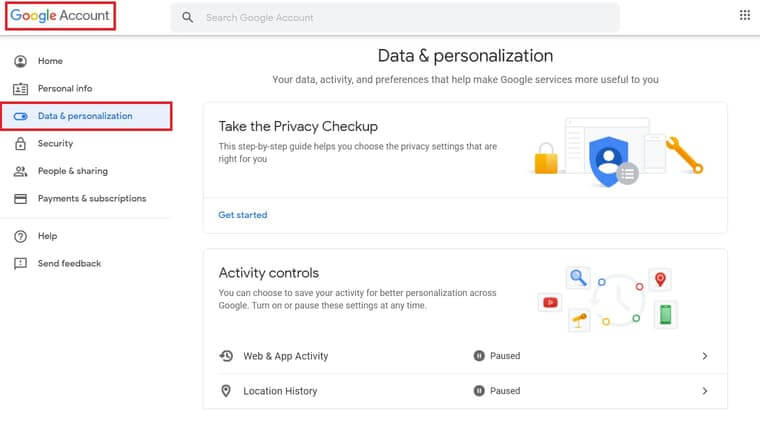 Scroll down until you see the "Download, delete or make a plan for your data" section and select the "Download your data" option.
Make sure "Mail" is selected.
Under "Mail," there should be a button telling you how many labels you have selected. Click on this button and select all the labels you want to download.
Scroll down and click "Next step."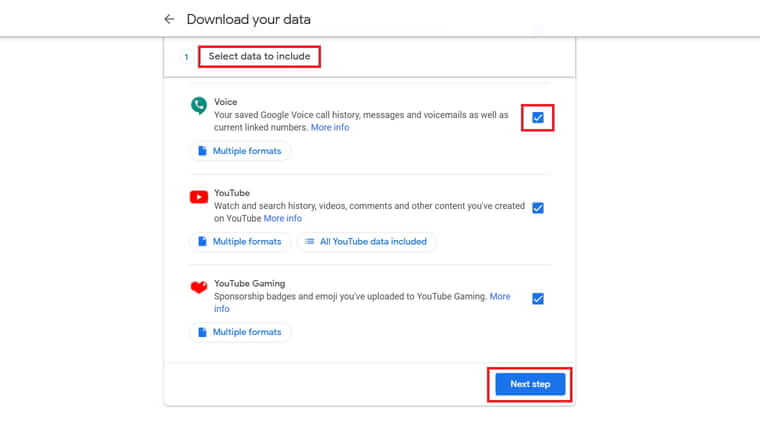 Now it's time to choose your archive's file type and whether you want to download it or save it in the cloud.
When you're done, you can click "Create archive."
Wait a while until the archive downloads to your computer.
To open the archive, you may need a file archiver like 7-Zip or PeaZip, depending on which operating system you use.
How to Save Gmail Emails as PDF
There are times when you need to create a bulletproof backup of just one email by storing it on your computer and perhaps even printing it. The good news is that you can kill two birds with one stone by learning how to export Gmail emails as PDF files.
To save Gmail emails as PDF:
Log in to your Gmail account.
Open the email you want to save as PDF.
Click the small printer icon on the top-right
A print dialog window should appear with several options on the left.
Change "Destination" to "Save as PDF" and click the blue "Save" button.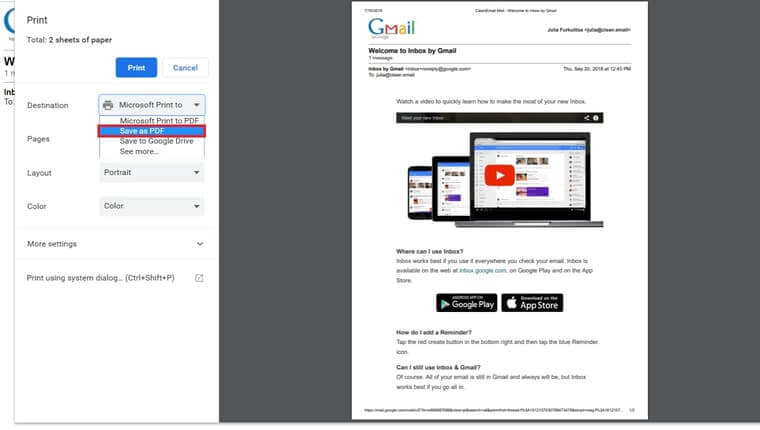 Select where you want to save the email.
Click the Save button to confirm the location.
Depending on your setting, your PDF reader might automatically start with the newly created PDF opened.
Unfortunately, this method won't help you if you want to learn how to download Gmail email to PC in bulk. For that, we recommend you use the first method and download emails as archive.
How to Download Emails from Gmail to Your Email Client
There are many free email clients that can quickly import all emails from your Gmail account and allow you to browse them even without access to the internet.
One such email client is Mailbird, and here's what you need to do to backup Gmail emails with it:
Download the free version of Mailbird.
Install Mailbird on your computer.
Launch Mailbird and type your address and name in the Add account window.
Click Continue to validate the address and give Mailbird permission to access your account.
Click Allow to finish the process.
Depending on how many messages you have, it can take Mailbird anywhere from a few seconds to several minutes to download emails from Gmail. Be patient and don't interrupt the process because you only need to go through it once. Once Mailbird has downloaded all messages from your inbox, you can read them even without an active internet connection because they are safely stored on your hard drive, with attachments and all other associated information.
How to Back Up Gmail Emails with a Third-Party Gmail Download Tool
There are several third-party Gmail download tools whose sole purpose is to make it as easy as possible to backup your entire account. A good example is Kernel Gmail Backup Tool. This popular software can back up Gmail emails to Outlook PST, PDF, HTML, EML, and MSG formats, and it lets you select specific folders or back up everything in one go.
Kernel tool can even perform incremental backup (excluding the previously migrated data) to keep your local backups fresh and up-to-date. Besides Gmail, it also works with G Suite and G Drive.
Here's how to back up Gmail emails with Kernel tool:
Download, install, and launch the Kernel tool.
Click the Add button and add your account.
Click Set Filter and Migrate.
Select the desired filters and click OK to start the migration process.
Provide the destination folder and wait until you see the 'Process completed' message.
The only problem with third-party Gmail download tools like Kernel is that they represent a certain security risk because they provide cybercriminals with another potential attack vector. That's why we recommend them only if the native methods for downloading Gmail emails don't work for you.
Bonus: How the Clean Email App Simplifies Inbox Management
With Clean Email, you can automatically sort out incoming messages, block unwanted senders, get rid of annoying newsletters, postpone messages for later, and much more. Use Clean Email before you download emails from your Gmail account to keep the size of the downloaded file as small as possible.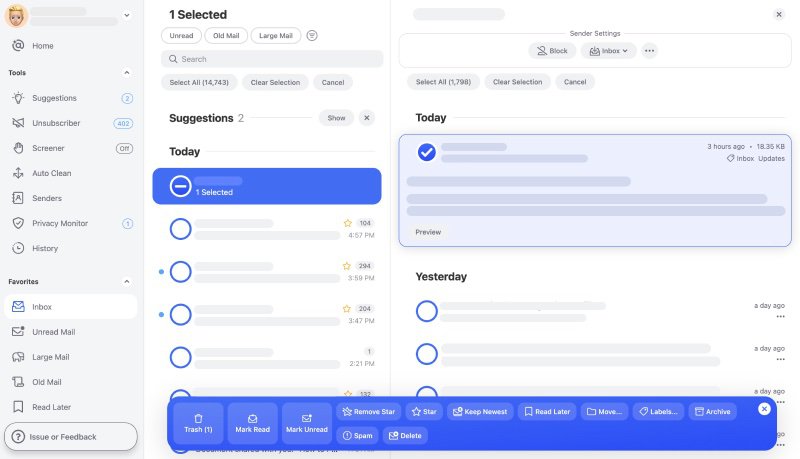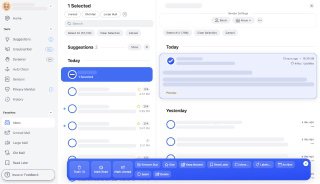 The app never reads full emails and doesn't access email attachments. What's more, Clean Email automatically removes all data it indexes from its servers after 45 days, so you can rest assured knowing that your personal information is well protected even in the future.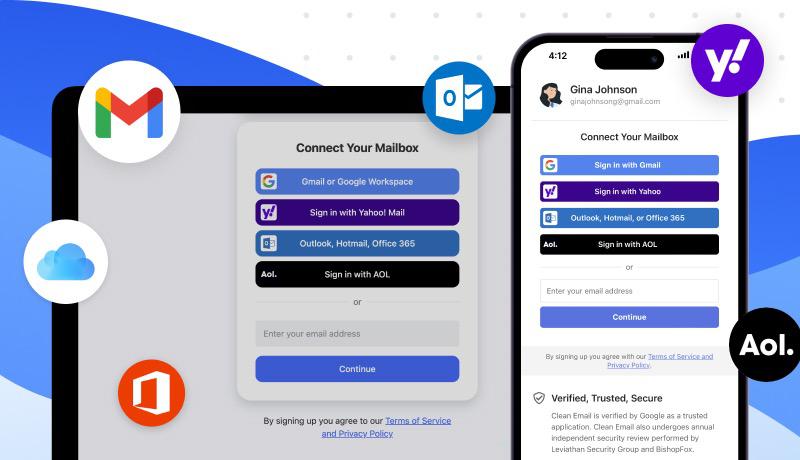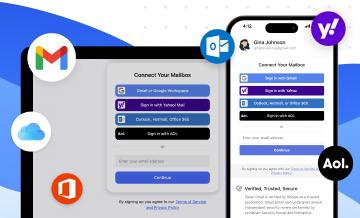 Conclusion
In this day and age, you can be sure that there's someone out there who is actively looking for a security hole that would make it possible to access your personal information without authorization. Even though Google does a lot to protect its users against hackers and other cyber threats, the fact remains that it's always a good idea to backup all important information, including your emails. In this article, we've described two methods how to export Gmail emails, with one method describing how to export Gmail emails as archive, and the other one describing how to export Gmail emails as PDF files.
Regardless of which method you choose, you should always store downloaded emails in a safe location. In the case of file archives, it could be a cloud storage service like Google Drive or Microsoft OneDrive. In the case of PDF files, it could be a fireproof safe hidden somewhere in your home. Should you ever lose access to your Gmail account, you will be incredibly glad that you've spent a few minutes to download them to your computer for backup purposes.
---
How to Download Gmail Emails - FAQs
Can I download Gmail to my computer?
Yes, Gmail, just like all other Google services, allows you to download your data to your computer. Just don't expect the downloaded data to be easily readable because that's not the purpose of the feature.
Why is it recommended to download Gmail emails?
Even though Gmail is one of the world's largest email services, with around 1.5 billion people relying on it every single day, there are still many reports online of users losing access to their messages after a hack or simple error. Downloading Gmail emails helps you protect your messages against loss, and it takes just a few minutes to complete.
Do I need to use third-party software to export Gmail emails?
No, you don't need to use any third-party software to export emails from Gmail. Google offers a native tool that lets you easily download all data associated with your Google account, including your messages.
How to backup Gmail emails with attachments?
To backup Gmail emails with attachments, we recommend you forward them to another email service. You can even set up automatic email forwarding to ensure that all future email messages will be backed up without you having to do anything.
How do I save a Gmail email as a PDF?
To save a Gmail email as a PDF, we recommend you print it and choose the Save as PDF options. This way, Gmail will export the email to a virtual printer, which will then convert the print data into a PDF file