What is Google Docs
Google Docs is a web-based word processing software created by Google back in 2006. The application serves as an alternative to the famous Microsoft word. It was created for those who prefer web-based applications to avoid having to install heavy-duty software like the Microsoft office package or having to pay for Microsoft's entire package fee when you just need a simple word processor. The best part about how to send a Google doc through email guide is that using the software is one hundred percent free for the average user. Other web-based processing software for work includes Sheets and Slides. While Google and Microsoft have had a private feud about whose word processor in better, recently there has been a collaboration between the two tech giants. Users can now open their word saved document with Google Docs and have complete access and privileges to edit, and collaborate with other users - unlike was possible in times past.
Google Docs Best Practices
If you are wondering how to attach a Google doc to an email, here are some of the best practices to help you make the most of it.
When creating a Word document on Google Docs, the setting is always set to private, which means only the creator has access to it or anyone with the user's login details. When sharing a document, two sharing methods are available: via direct mail invite or via a generated link. If the user shares via email, only the shared user(s) with the mail address the doc was sent to can access the shared file. However, if link sharing is enabled, anyone who has their hands on the link can view the shared file. In a world where security is a day to day struggle, it is always better and safer to share via mail - especially when sharing confidential documents.
Share folders, not document. From your Google Drive, you can share an entire folder instead of having to share every single document. This is especially if the sharing documents are much. Simply sort your work via folder and share it at once.
Be mindful of what you name a folder: Shared users will always see the name of a shared folder, or document. Always ensure to name appropriately.
How to Attach a Google Doc to an Email
Attaching a Google doc to an email is pretty easy and straight forward. The first step to take is downloading your doc file with your preferred file type. To do so, simply follow the steps below.
Visit docs.google.com and sign in with your preferred details.
There you will find a list of all your documents written through the signed-in mail address. Alternatively, you can also log in through Drive to access all your files.
Select the document you would like to attach in your mail.
Once open, select "File" on the top left corner, and navigate to download.
Select download and choose a file type such as Microsoft .docx file format, .pdf, .zip, or any other file format of your choice.
Once the file type is selected, your computer should ask for a pathway to save your file.
Select your preferred address and download.
Next, log in to your mail account.
Select send an email and search for the attachment ribbon.
Select the icon and navigate to your saved file to attach it.
The same principles apply when attaching a Google doc to an email across all devices. This means for users wondering how to attach a Google doc to an Outlook email, Yahoo Mail, Gmail, etc., the process is almost always the same. The only variation is where you find your attachment ribbon/icon to send a message.
How to Email a Google Doc File
To share your Google doc file directly via email, simply follow the steps below:
Open the document you intend to share through doc.google.com or Drive.
At the top right corner, you will find a share icon with a lock symbol. This signifies that your document isn't currently being shared with anyone.
Click "share".
You will be asked to input people or groups. If you have groups created on your Gmail account, simply input it there or input a single user mail address to share to only a single user, or enter as many individual addresses as you would like to share the file with.
Recipients will receive your file with a link in their mailbox. That is how to email a Google doc file directly from Drive or Docs. You can also share it via a link. To do so,
Click on "Share"
At the bottom of the share page, you will find "Restricted, only people added can open with link". Underneath that, you will find change.
Click change, and update permission to "anyone can view". Furthermore, you can also edit what a user with access can do with the link - View, comment, or edit. Once updated, simply copy the link and share it via mail or other sources.
How Clean Email App Can Simplify Inbox Management
Clean Email is an inbox management tool that helps users uncluster their mailbox fast and with ease. In a world where everyone is attempting cold calling, your inbox can be messy in a short time, making it difficult to find important emails.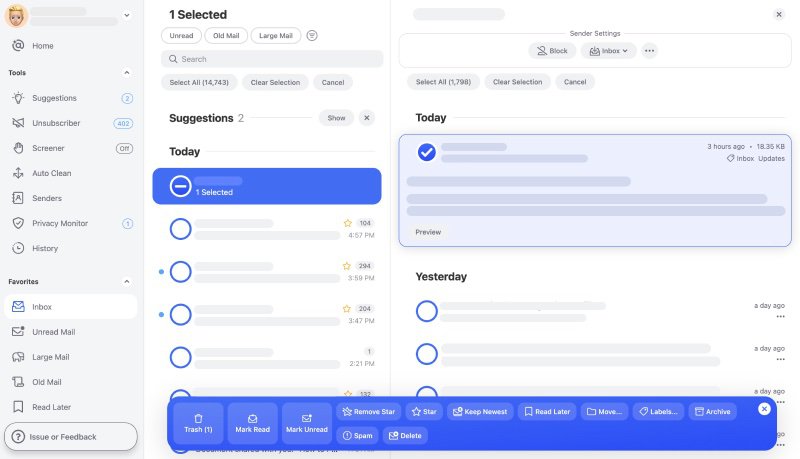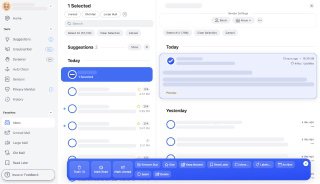 The app takes away the stress of having to delete emails one at a time manually and helps automate the process to keep your inbox clean at all times. Visit Clean Email's features page to see all you can do with the tool.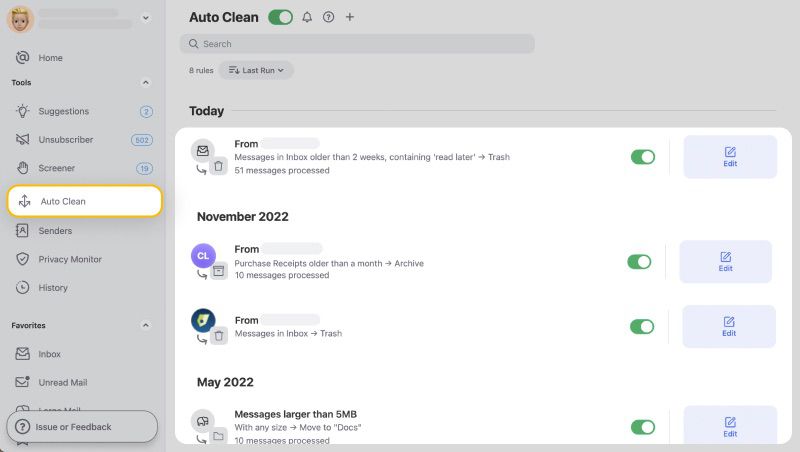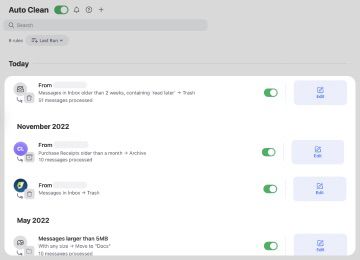 Conclusion
To make the most of your experience with working with Google Docs, this article covers all you need to know about the best practices of sending its files. Also, check out Clean Email to help you best manage your inbox and keep it under control.
---
How to Email a Google Doc - FAQs
How do I attach a file from Google Drive to Gmail?
To attach a file from Google Drive such as doc or sheet to Gmail, you can either enable link-sharing or download the file to your computer and share it via Gmail message.
How to send multiple Google docs in one email?
You can either attach multiple files to an email message or send all your files via a single folder. To share in a folder, simply create a folder in Google Drive, input the docs you want to share, and instead of sharing all docs, share a single folder.
How to email a Google doc on iPhone?
To email a Google doc on iPhone, you must have Google tools such as Drive, and Docs installed on the device. If you do, simply navigate to your Drive app and share a folder or single document via email.
How to email a Google doc as a pdf?
When downloading a doc file, you will be given a few format types. Simply click on the pdf format to save and send as pdf.
How to attach a Google doc to an Outlook email?
The process for attaching Google docs across all email platforms is the same. You will need to download the required file to your computer, then open an Outlook message and attach the file from the place where it was saved.