Filter Emails Like a Pro
When many email users read the phrase "email filtering," they immediately remember their last experience with it, which most likely happened years ago and ended up unsuccessfully, causing them to avoid email filters like the plague.
But times have changed, and learning how to filter emails in modern email services, such as Gmail, Yahoo, and Outlook, make email filtering much easier. What's more, there are now email filter software applications like Clean Email that reduce the creation of complex email filters into a few simple clicks.
In this article, we provide detailed step-by-step instructions on how to filter emails in popular services using their own native filters as well as Clean Email, equipping you with a wealth of inbox cleaning knowledge.
How to Filter Emails in Gmail
When many Gmail users first created their accounts, they didn't think that the time would come when Gmail's generous 15 GB email storage limit wouldn't be enough for them. Now, the same users are wondering how to filter emails in Gmail because they've come to understand that any available storage space eventually stops being available unless a lot of effort is made to preserve it.
The good news is that it's fairly straightforward to filter emails in Gmail. This is what you need to do in a nutshell:
Go to your mailbox account.
Click the down-facing arrow on the right side of the search bar.
Specify your filter criteria.
Click the Create filter button.
That's how easy it is to learn how to create an email filter in Gmail. But what if you want to delete a Gmail email filter that no longer serves its intended purpose? In that case, you need to follow the steps below:
Go to your Gmail account.
Click the Settings icon in Gmail.
Select the See all settings option.

Click Filters and Blocked Addresses.
Find the filter you want to remove and click the Delete button next to it.
Unfortunately, it's currently not possible to filter emails in the Gmail mobile app, and its developers have no plan to implement the functionality anytime soon.
How to Filter Emails in Yahoo
When it comes to free email storage limits, you would be hard-pressed to find an email service provider more generous than Yahoo, which gives its users 1 TB of online storage for emails and attachments.
But perhaps because Yahoo Mail users have so much free storage to play with, their inboxes often turn into digital dumpsters. To prevent this from happening, you should learn how to filter emails in Yahoo.
To create Yahoo Mail filters:
Click the Settings icon and then select the More Settings option.

Click Filters.
Click Add new filters.

Enter the filter name, set the filter rules, and choose or create a folder for the emails.
Click Save at the bottom.
To delete Yahoo mail rules:
Click the Settings icon and then select the More Settings option.
Click Filters.
Select the filter you want to delete.
Click the Delete icon.
Yahoo Mail lets its users create up to 500 filters, and you can prioritize your filters by clicking the Settings icon, choosing the More Settings option, and going to the Filters section. If you choose to filter Yahoo Mail using third-party email filter software applications like Clean Email, then the Yahoo email filter limit doesn't apply.
How to Filter Emails and Set Up Rules in Outlook.com
Outlook.com has come a long way since the days of Hotmail email addresses, and some of its users have been using it for over two decades now. It's only understandable that their inboxes are often not as clean and organized as they would like, but that can be easily changed just by learning how to filter emails in Outlook.
To create a new rule in Outlook:
Click the Settings icon and choose the View all Outlook settings option at the bottom.
Go to the Mail tab and click Rules.
Click the Add new rule button and enter the required information.
Once you're happy with the new rule, click Save.
Whenever you create a rule in Outlook, you're given the option to stop processing more rules. If you click the checkbox next to this option, Outlook will make sure that no other rules other than the one you've just created are applied.
To delete Outlook rules:
Click the Settings icon and choose the View all Outlook settings option at the bottom.
Go to the Mail tab and click Rules.
Click the Trash icon next to the rule you want to create.
Click OK to confirm that you want to delete the rule.
Hotmail Filters and Rules
Hotmail was a popular mail service that launched in 1996. Just a year later, Microsoft acquired it for an estimated $400 million and relaunched as MSN Hotmail. Its end came in October 2011, with Microsoft's decision to phase it out and relaunch it as Outlook.com.
Since Hotmail as you may remember it is no longer available, you can no longer create Hotmail rules and filters. Instead, you need to study Outlook.com email filter instructions to learn how Hotmail filters have evolved with the relaunch.
Because we've already described how Outlook.com filters work in the previous chapter of this article, we won't repeat ourselves here. Just remember that online guides that describe email filters in Hotmail are no longer relevant.
AOL Email Spam Filters
AOL email spam filters aren't exactly known for being highly effective, which is why so many AOL Mail users struggle with inbox clutter. Fortunately, you can easily learn how to filter emails in AOL Mail by creating additional filters manually.
To create AOL Mail filters on the web:
Log in to your AOL Mail account.
Click Settings and select More Settings.

Click the Filters tab.
Click the + Add new filters option.

Specify your filter criteria.
Click Save to complete the AOL email filter creation process.
Alternatively, you can create, edit, and delete AOL email spam filters using the Desktop Gold software, which runs on any computer with Windows 7 or newer. Once you have the software installed, you can launch it and follow the instructions below:
Click the Keyword menu at the top of Desktop Gold.
Select the Go to Keyword option.
Type mail filters, then click Go.
Click New Filter.
Specify your filter criteria.
Click Create to create your new email filter.
Android Email Filters
Android devices are great for managing emails on the go, but the huge number of available Android email spam filtering methods can be confusing. Let's cover the main ones.
Gmail app
Unfortunately, the Gmail app for Android currently doesn't currently support the creation of email filters, and its developers are not working on this functionality as far as we know.
To create an Android spam filter for messages in Gmail on your mobile device, you can do the following:
Open any web browser on your mobile device.
Visit the HTML version of Gmail: https://mail.google.com/mail/h/
Switch to the desktop version by clicking the link at the bottom.
Tap the Create a filter option next to the search bar.
Specify the filter criteria.
Click Create Filter.
Third-party apps
There are many third-party email apps that come with their own Android email app spam filters, and it would be beyond the scope of this article to describe them all. That said, the best email spam filters for Android are included with email filter software applications like Clean Email, which is available for Android and iOS devices alike.
iPhone Email Filter
If you're like most iPhone users, then you consider your smartphone to be an indispensable companion. To keep this companion from distracting you as you go about your life, you should learn how iPhone email filters work and use them to automate the management of your mailbox.
Follow these steps to learn how to filter emails on iPhone:
Open the Mail app.
Tap the filters button in the lower-left corner.
Tap the Filtered by message to open the Filter panel.
Choose how you would like to filter the messages in your inbox.
Tap the Done button in the top-right corner to return to your inbox with the new filter applied.
To quickly turn off any currently applied iPhone email filter, you can simply tap the Filter button in the lower-left corner again.
If you would like to go a step further and actually set up rules governing how your iPhone spam email filter works, then you can do so in Mail on iCloud.com:
Log in to your iCloud.com account and go to Mail.
Click the Settings icon in the sidebar and choose Rules.
Click Add a Rule.
Specify the filtering conditions.
Click Done.
Email Filter Services
As you can see, if you've read this article from its beginning, each major email service and app has its own approach to email filtering. If you use multiple accounts, each registered with a different provider, then it can be a hassle to manage email filters manually, and that's where email filter apps like Clean Email come in.
All email filter software applications simplify the creation and management of email filters by providing a convenient, unified user interface from which filters can be created with a few simple clicks. The best email filter apps can intelligently recognize different kinds of messages, such as social media notifications, newsletters, or shopping emails and group them together for simplified management.
Clean Email, which we've already mentioned several times throughout this article, is arguably one of the best email filter services currently available. It supports all major email providers, including Gmail, Yahoo, Outlook.com, AOL, and others.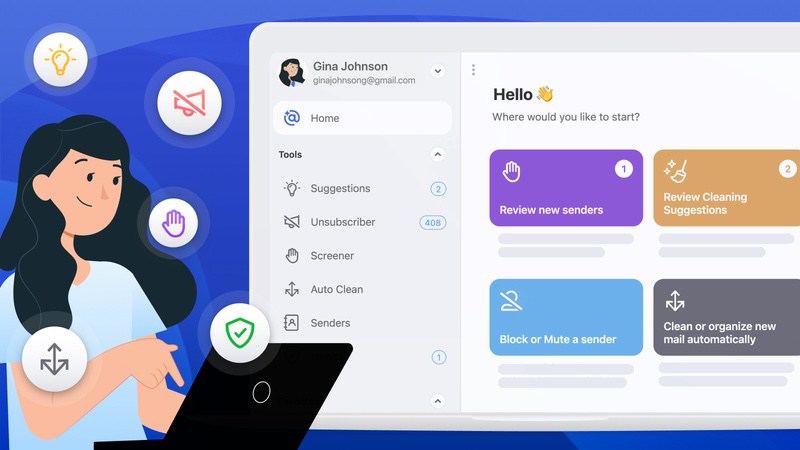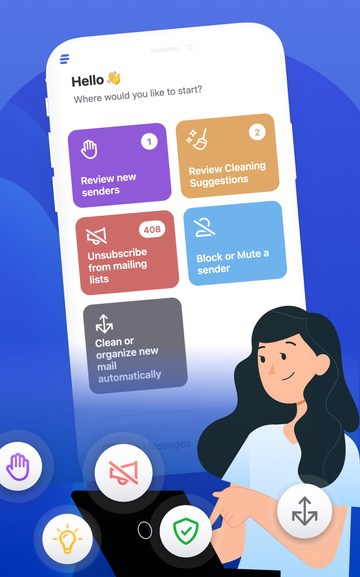 Besides the ability to create email filters no matter the service provider with just a few simple clicks, it also comes with a number of useful features to help you manage your inbox more efficiently, including:
Smart Folders: Smart Folders are predefined filters applied to your mailbox, and the app uses them to present your messages in convenient bundles based on their type.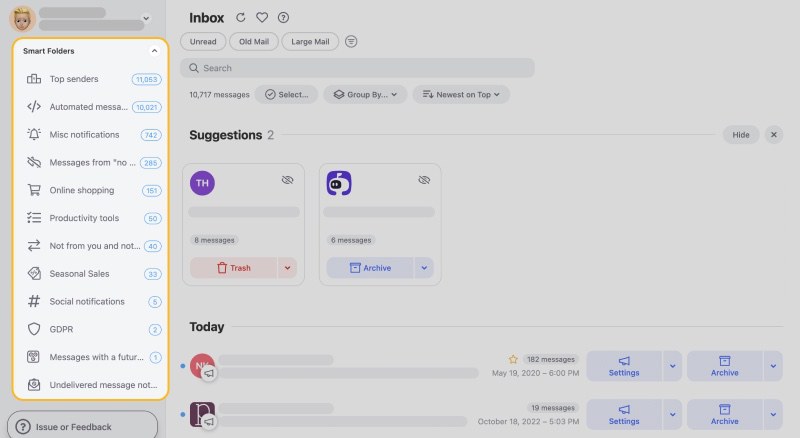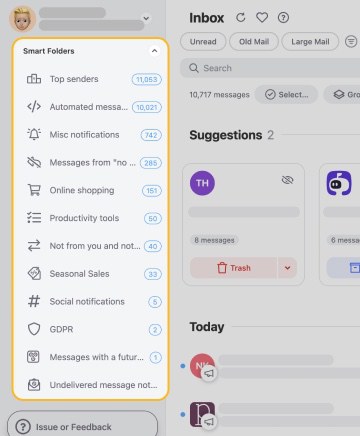 Unsubscriber: You can use this feature to prevent marketing emails and newsletters from ever reaching your mailbox.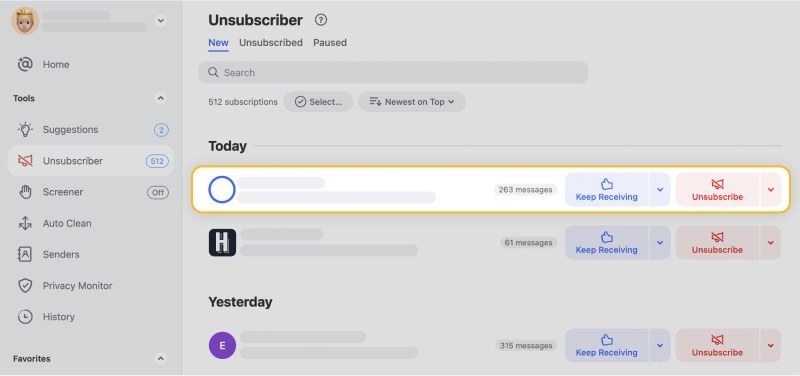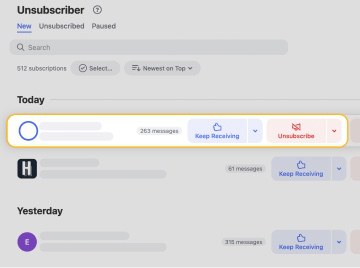 Auto Clean: This feature is what makes this app one of the best email spam filters because it lets you apply any action to new or existing emails in your mailbox without any manual work.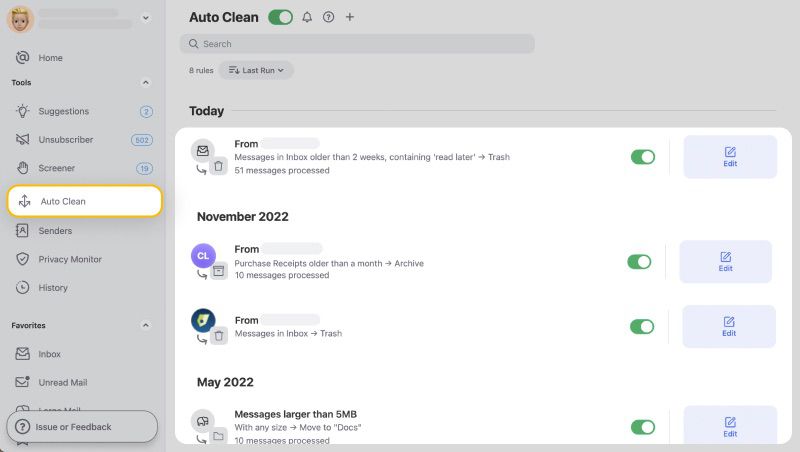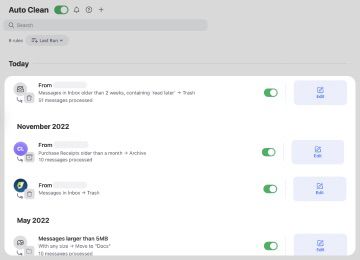 Here's what you need to do to create a new Auto Clean rule:
Sign in to Clean Email with your mail address.
Go to the Inbox section and select any message.
Click the Creare Rule button on the blue toolbar.
Choose the action you'd like to be applied to your emails (ex. Trash.)

Click Create Rule again and the rule is set.
For example, you can automatically mark all Facebook notifications as Read or Archive emails when they become older than one year.
Because Clean Email has been developed with privacy and security in mind, you don't have to worry about giving it access to your inbox: your personal information is always safe, and the app never shares it with any third parties.
---
How to Filter Emails - FAQs
How do I set up email filters?
That depends on which email service you're using because the steps you need to go through to filter emails in, let's say, Gmail are completely different from the steps for Outlook.com. If you use multiple email services and would like to avoid having to go through multiple sets of instructions just to create email filters for all of them, you can use an email filter software application to conveniently filter all your accounts from a single place.
How do I filter unwanted emails?
You can filter unwanted emails by marking them as spam or creating email filters. The latter approach has one important advantage: you can create filters before the first spam email arrives in your inbox. These filters can be created using email filter apps, which simplify the process by providing a unified approach to email filtering that works across all major email services.
What is email content filtering?
The goal of email content filtering is to evaluate the content of incoming messages to determine how likely they are legitimate or spam. Illegitimate messages are then automatically categorized as spam or removed straight away. These days, virtually all major email services perform some form of content filtering automatically to keep their users safe, but you can also manually create additional content filters to improve your defenses even further.
What is the best email spam filter?
The best email spam filter app must be easy to use, come with many useful features, don't cost too much money, and care about the security and privacy of their users. One versatile third-party email spam filter solution that meets all these criteria is Clean Email, which is why we recommend it to all Gmail, Yahoo, and Outlook.com users who would like to automate their inbox management without much effort.