What Is Email Filtering
According to Spamlaw's data, 45% of total emails are spam messages - and that number is fast rising. While spam messages can be outright annoying, it can also be used by cybercriminals as a means to get hold of valuable servers and sensitive personal and firm information. For firms and individuals looking to protect themselves from cyber attacks, an email filter is one of the most prevalent ways to outright control the types of emails you get, ultimately protecting you from spam by controlling incoming messages.
Email filtering is a mail security technique utilized by individuals and firms to help control the type of messages they send and receive. Much more so, messages filtering also helps productivity by easily categorizing emails as they are received. While firms can certainly do without it, it comes with quite the number of benefits to individuals and firms alike.
Why You Need Email Filter Service
Email filter service is a handy practice that no business should do without - especially companies with a lot of sensitive data such as financial information. This information attracts cybercriminals like bees to honey. With email filtering software, spam and phishing emails are spotted and deleted automatically. Other use cases include mail categorization, monitoring of team member usage - who accesses what and how they did it, and content filter on outgoing messages to ensure employees are customer friendly in their interactions.
How Email Filter Works
Email filter works with the use of a pre-set protocol or an email rule which can be set by the software admin. The pre-set protocol determines which incoming messages are phishing emails or spam, and those which are not. Typically, no mail filter is perfect regardless of the set email rules. From time to time, some spam will find their way into your inbox. When this happens, ensure to manually report mail as spam so that filters will learn to block all similar messages.
All filters typically follow the same protocol when identifying spam and deceptive emails. They scan the message's header information for evidence of malice, look up senders on blacklists of known spammers, and filter message's content for patterns that interprets as junk mail. The procedure is also similar to the outgoing email process. Mail contents are scanned for keywords or phrases that breach consumer safety or outright poor practice.
How to Use Email Filter on Gmail
You can perform Google email filtering by following these simple steps:
Open Gmail.com and log into your account.
Click on the arrow beside the search column to reveal mail rules/filter options.
Enter your desired rule, and select create filter.
Note: Gmail filters will apply to only new incoming emails. Emails can be deleted as soon as they arrive, sent to a labeled folder, starred, and more.
Follow our guide on how to filter email in Outlook.
What to Look Out For When Choosing an Email Filter Service
These qualities are what to take into account when looking for filtering services.
1. Compatibility
Email filters and their rules should be compatible with your needs for inbound mail filtering. Likewise, it should also have the capabilities needed for your business to properly enforce employee engagement policies on outbound messages.
2. Anti-Spam Accuracy and Customizability
The primary focus of email filter software is to identify and delete spam messages as they hit your inbox. Ensuring that the preferred choice has been tested to effectively offer the anti-spam feature with accuracy is what to look out for before purchasing an email filter software. It should also be customizable to meet business and individual needs.
3. Look for Pros and Cons
Reviews from other users can give the extra push to know what similar users find effective, the features they like, and those they do not. Ensuring you don't break the bank when acquiring an email filter service is also paramount.
4. Responsive Customer Support
There will always be technical issues to come across. Ensuring the preferred filter service providers are responsive is also something to look out for.
5. Extra Features
As cybercriminals get more creative, they find newer ways to make their spam messages look even more authentic. Having extra features that will enable filters to track these sophisticated attacks is a plus to consider when choosing an email filter service.
How Clean Email Can Categorize Emails
Clean Email is a privacy-oriented tool that not only helps users automate their inbox management process, it also serves as an email filter tool with lots of security layers. The app can be used to auto clean spam messages and other irrelevant messages in any mailbox, as well as unsubscribe you from newsletters you find irrelevant.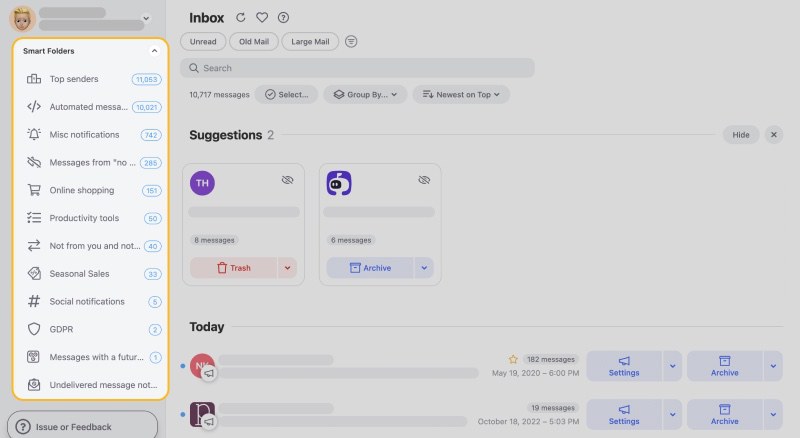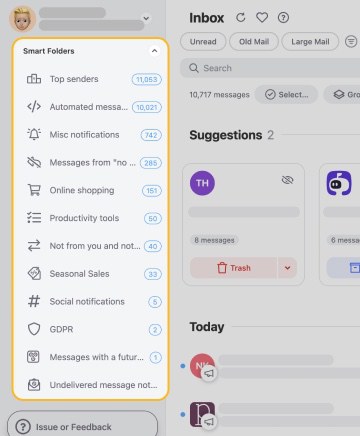 Clean Email filters emails into relevant bundles such as "finance emails," "top senders," "emails older than 5 years," etc. You can easily apply any action to these bundles including deleting, archiving, or moving to a folder to simplify inbox management and avoid managing your messages one by one.
Conclusion
If the safety of your personal data and transactional information means alot to you, then you ought to use email filters for early detection and cleaning of spam and phishing emails.
---
Email Filtering — FAQs
What is email filtering software?
Email filtering software is a tool used to detect certain types of emails as they are sent or received and set to take certain actions. I.e delete as they arrive or send them to a labeled folder. Mail filters are mostly used to identify and delete spam and phishing messages as they hit your inbox.
How do I set up email filters in Gmail?
You can set up filters in Gmail by clicking the downward arrow beside the search column, set rules, and click create filter. For firms, you can create enterprise email filters by following the directions from the email software or service providers you choose to go with.
Why do I need an email filtering app?
Safety has become a rule in today's cyberspace. From corporate data and financial details to your personal information, cybercriminals are out to get them. The major source of their attack is through email. Email filtering apps will stop you from ever clicking on a phishing message that will leave you vulnerable by accident, as it deletes these sorts of messages as they arrive in your inbox.