What is a Flagged Email?
A flagged email is one that is marked with a flag or star. In most cases, people flag an email so they can remember to follow up on a message or track it down later. Furthermore, flags can help your recipients see that your email is time sensitive and prioritize your message as a result.
Email flags can be an important tool in your overall email management because they help you quickly identify important messages so you can respond promptly or create a to-do list based on significant emails you receive. This can make a huge difference in how you handle your inbox and can ultimately save you time and headaches caused by lost messages.
How To Flag An Email In Your Mail Service Provider
While there are lots of ways to sort emails in your inbox, flags can help the most time-sensitive messages stand out so they don't get lost in the shuffle. Nearly every mail service provider offers some way to flag emails from the inbox, but the symbols they use and exact location of the flag varies between each mail service provider. In fact, some providers like Yahoo actually refer to them as a starred email, whereas Outlook uses traditional flags.
Luckily most of the most common mail service providers make it easy to flag emails — and most only require a few clicks.
How to Flag Email as Important in Gmail
Gmail allows users to flag a message as important, star it, or apply a label right from the inbox. If you want to know how to flag an email in Gmail because it's an important message, follow these steps:
Go to your Gmail inbox.
Find the message in your inbox.
Click the arrow button next to the star on the left hand side of the message row.
This will then flag the conversation as important, and you'll be able to retrieve it by selecting the "important" filter on the left side of your inbox.
How to Flag an Email in Outlook
Users can apply email flags in Outlook to help them remember to follow up on important messages. To do this, simply:
Open Outlook.
Select the message you'd like to flag.
Click the flag button on the right side of the message list.
What Does It Mean To Flag An Email On AOL?
Just like with Outlook, you can flag emails in AOL to help you remember to follow up on the message or check for responses by a certain date. To do this, you can:
Open your AOL inbox.
Scroll to the message you want to be flagged and hover over it.
Click the flag icon when it appears on the right side of the message subject line.
How To Flag An Email On iPhone?
If you use an iPhone, you can easily flag an email in your Mail app by following these steps:
Open the message you'd like to be flagged.
Tap the reply button, then select "Flag"
Choose a color for the flag and click that colored dot in the menu.
Once marked, you can easily find a flagged email on iPhone by creating a unique folder for each colored flag.
How The Clean Email App Can Help
When it comes time to organize your inbox, Clean Email can be a valuable asset. Even if you don't know how to star an email directly in your native inbox, the app offers an easy solution to flag one or dozens of emails as important with just a few clicks.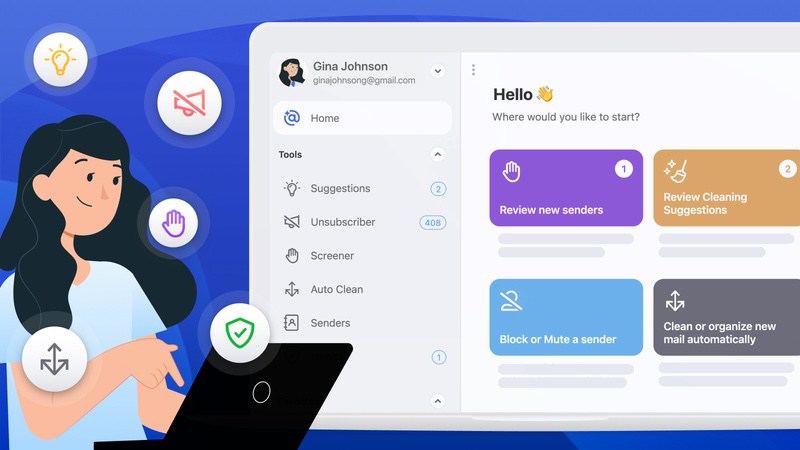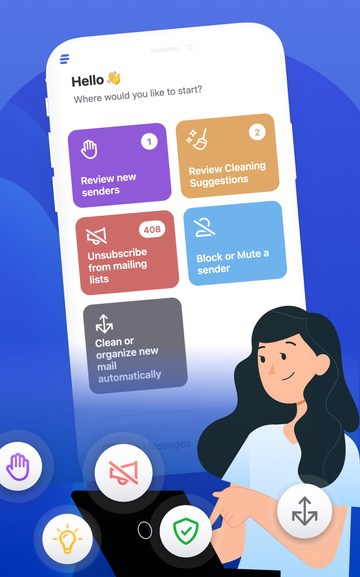 If you want to save even more time, you can use the Auto Clean feature to star certain incoming emails automatically. To do this, find any emails you'd like to star, then check "Selected and future similar emails" before applying the action to the selected messages — it's that simple!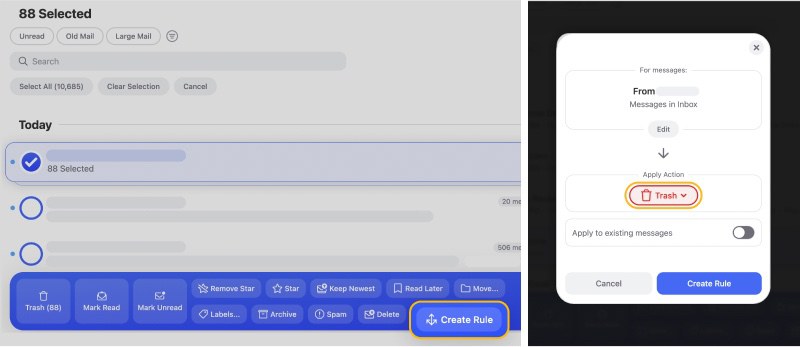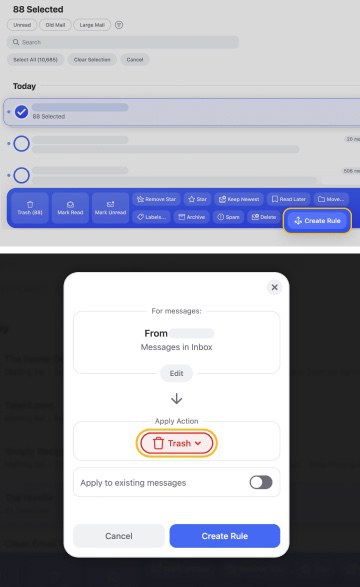 Then, if you want to quickly glance at all of your starred messages using the app, you can simply click on the "Starred Emails" filter in the left side menu bar. This is a great way to filter emails so you can prioritize the messages that matter most.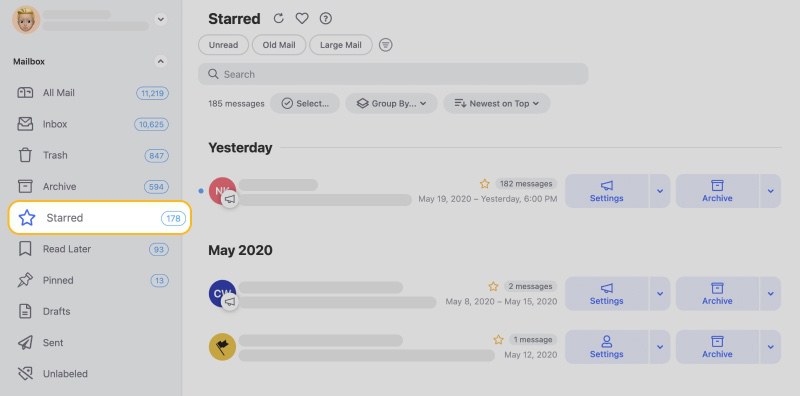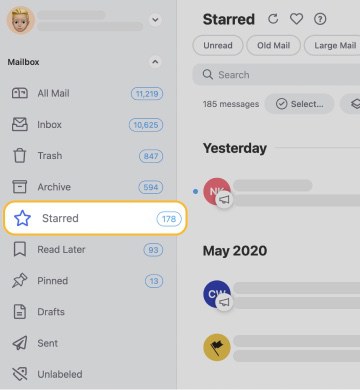 In addition to the auto clean feature, Clean Email offers numerous tools that can help clear out the clutter and help you learn how to get organized. For example, the Unsubscriber tool helps you get rid of unnecessary promotional emails and newsletters by filtering them out of your inbox.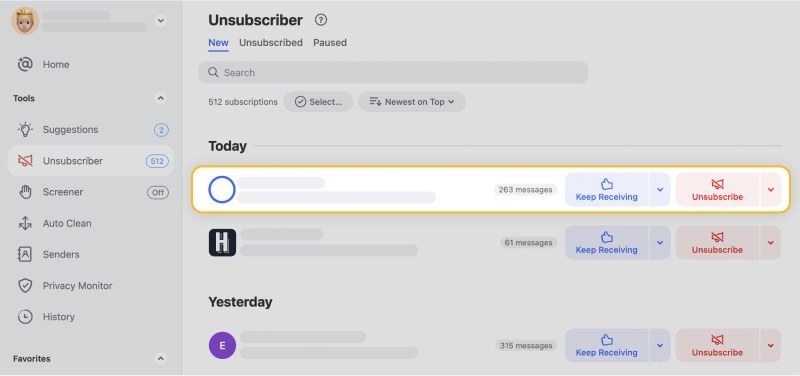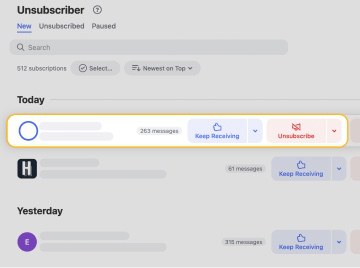 Additionally, Smart Views can help you quickly categorize emails and sift through them based on parameters you set, like "Social Media Notifications" or "Emails over 1 year old."
Whether your goal is to get to inbox zero or simply keep your messages more organized, Clean Email is here to help without compromising your internet security or filling your inbox with more messages.
---
What Happens When You Flag An Email - FAQs
What happens when you flag an email?
When you flag an email, most mail service providers filter these emails into a separate space within your inbox so you can easily view your most important emails and take action. In some cases, email flags also cue your mail provider to remind you about these important messages in your inbox.
How to star an email on iPhone?
If you aren't sure how to star an email on your iPhone, it may be because you're in the conversation view. Instead, you need to tap on a single message, then select the white star icon on the right side of the subject line of the individual message. This will turn the star yellow and mark the message as starred.
How do I see my flagged emails?
While the exact location varies based on your mail service provider, most inboxes have a tab or folder where you can view all of your flagged or starred emails.
Do flagged emails get deleted?
Since flagged messages are often important to a user, most inboxes do not automatically delete or remove flagged emails from the inbox. However, some mail service providers do archive flagged messages after a certain amount of time has passed, depending on your inbox settings.