What Is Multi Email Forward?
Multi Email Forward is an extension specifically designed to work directly with Gmail without the need for any additional applications or other email software. If you're wondering how to forward multiple emails at once in Gmail, Multi Email Forward is an accessible one-step solution.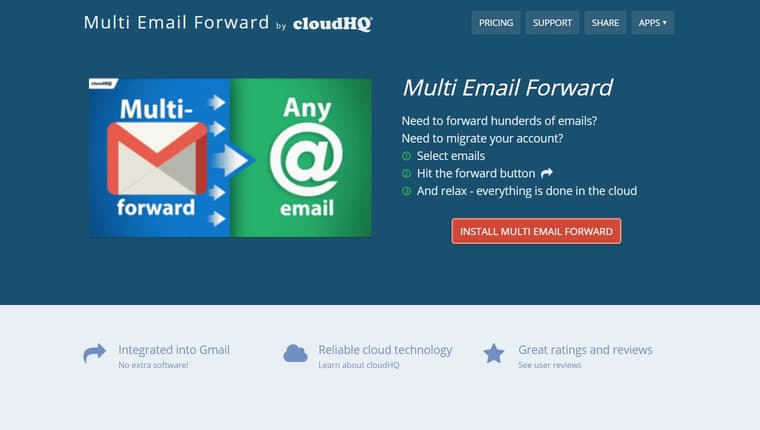 You can download Multi Email Forward from the Chrome Web Store if you're using Gmail forward multiple emails. CloudHQ offers a wide selection of Chrome extensions intended to aid Gmail productivity, including add-ons allowing users to save emails as PDFs and embed Youtube videos in a Gmail message.
The Limitations of Forwarding Multiple Emails in Gmail
If you're wondering how to forward multiple emails in Gmail, you probably won't run into any limits in the course of using Multi Email Forward. That said, Gmail does impose some limits on the capabilities of these applications which may affect users searching for how to forward multiple old emails in Gmail.
If you're using a trial Google Apps account or a free Gmail account, you'll be limited to 500 forwards per day. This maximum is increased to a total of 2000 images for paid Google Apps users, although users can also queue emails to forward in advance when the limit is reset once every 24 hours. The limit will likely be especially relevant for those wondering how to forward multiple emails in new Gmail.
Using Multi Email Forward
Once you have downloaded the Multi Email Forward tool from the Google Web Store, using it to learn how to forward multiple emails in Gmail is incredibly simple.
Select the emails you want to forward.
Click the forward icon and select the desired option.
Enter the target email address.
Multi Email Forward offers a number of helpful tools intended to allow for flexible use depending on the unique needs of each user. When forwarding multiple emails, you can choose whether to send them as a single email or keep them separate for the recipient. Emails can also be sent as a single PDF attachment if necessary.
The tool is also capable of forwarding large sets of emails, such as every email you have marked with a given label. To forward all labeled emails, simply click the correct label on the left sidebar, select all or any of the displayed messages, and use the Multi Email Forward function as normal.
Troubleshooting to Forward Multiple Emails Gmail
If you're having trouble using the Multi Email Forward tool as intended, the cloudHQ website provides a variety of troubleshooting tips and tutorials for both new and experienced users. This is a great first step if you find yourself stuck in the application and aren't able to find a solution yourself.
On the other hand, if your problem is more serious, you may prefer to receive personalized support from cloudHQ. Simply contact their support email at support@cloudHQ.net with details of the problem.
What about Email Migration in Gmail?
While the ability to forward multiple emails at the same time in Gmail is an exciting feature, the Multi Email Forward extension can also facilitate migration to a new email account. Migration options are easy to spot and conveniently located directly below forwarding options in the dropdown menu after emails have been selected.
Depending on your needs and the nature of your new account, you may want to migrate every email from your existing inbox or only a smaller portion of them. Multi Email Forward allows you to migrate emails based on filters if necessary along with an option to migrate all messages at once.
Just keep in mind that Gmail allows its users to forward only up to 500 messages a day, so migrating a large inbox using the Multi Email Forward extension might take a while. If you need to migrate thousands of messages, we recommend you download all of the messages and attachments in your Gmail account in MBOX format.
The MBOX format is the most common file format for storing messages on a hard drive. Messages stored in this format are not easily readable using a text editor because they are stored as a single, long string, but mail clients have no problem recognizing where one message ends and another one begins.
To export all Gmail messages and attachments in the MBOX format:
Click Deselect all.
Scroll down until you see Mail and click the checkbox next to it.
Click the Next step button at the bottom and specify the delivery method.
When you're happy with your delivery settings, click Create export.
You can then import the downloaded MBOX file to a new account or open it with your favorite desktop mail client.
Forwarding Multiple Emails with a Chromebook
Multi Email Forward will function on any computer running the Chrome browser, and its cloud capabilities are one of its key benefits, especially for users with less powerful machines. As all email forwarding takes place in the cloud, Chromebooks and budget PCs will work seamlessly with Multi Email Forward.
For the same reason, forwarding emails using this extension doesn't require that your computer be on after beginning the process. This makes it easy to forward a large number of emails overnight without worrying about your progress being interrupted.
Forwarding Multiple Emails on Android
If you want to forward multiple emails on Android using the Gmail app, we have bad news for you: forwarding multiple emails from the Gmail app is not possible.
The only way to forward multiple emails on Android is to open the web version of Gmail using a web browser like Google Chrome:
Open Google Chrome and go to: https://gmail.com/
Click the hamburger menu icon on the left and click the Desktop option at the bottom.
If you see the legacy HTML version of Gmail, you need to scroll down and switch to the standard view.
Click the checkbox next to each message you want to migrate.
Click the three vertical icons in the toolbar and select the Forward as attachment option.
Enter the mail address of the recipient. You can enter multiple addresses at the same time.
Click Send to migrate all selected messages as attachments.
Whether you're migrating to a new account or sticking with your existing one, Clean Email is the perfect email tool to help clean up your inbox and cut down on clutter. Its robust set of filtering features will continually remove spam and other unwanted content from your Gmail account and allow you to focus on the important messages.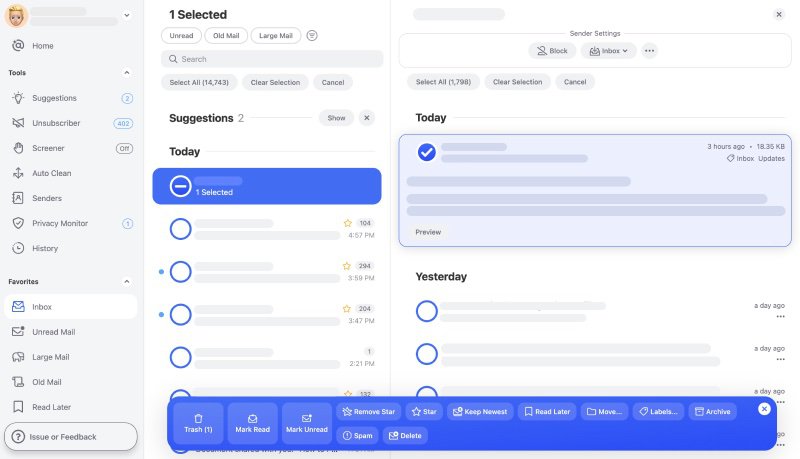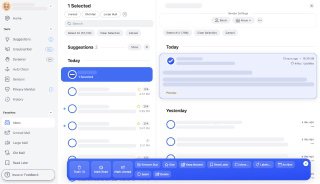 If you're subscribed to a large number of useless email lists but don't want to go through the effort of unsubscribing individually, Clean Email's Unsubscriber feature is the perfect tool to end all of your subscriptions in one place. And while the program gives you as much control as you want over your own filtering settings, it can also work automatically based on your preferences.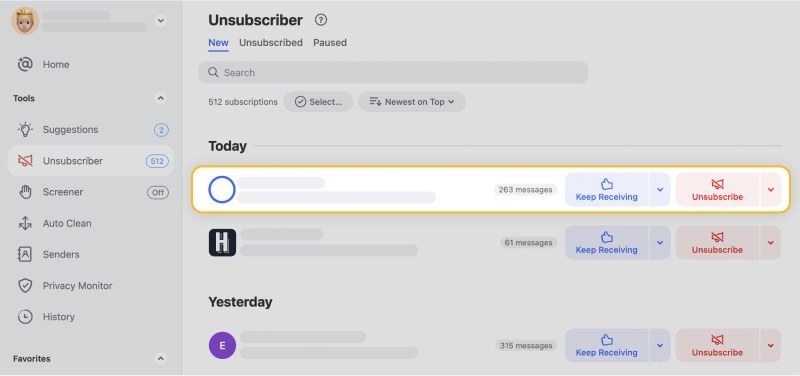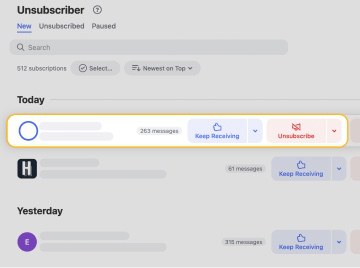 To tell Clean Email to automatically delete, archive, label, or move messages as they arrive, all you need to do is click a single button—no more messing with complicated mail filters that sometimes suddenly stop working or activate when they're not supposed to.
Of course, there's a chance that you won't always have enough time to read and respond to all legitimate messages even with your inbox automated to a large extent. That's where the app's Read Later feature comes in, allowing you to snooze mails for when you have time to deal with them.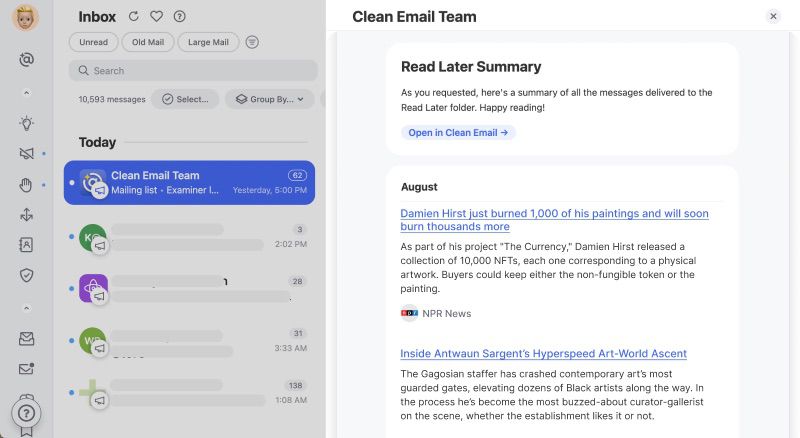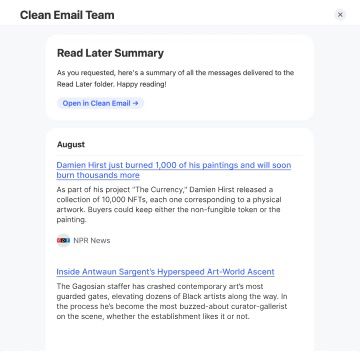 Forwarding multiple emails at the same time can be a pain, especially if you're dealing with a large number of messages. Luckily, Multi Email Forward makes it easy to forward as many emails as you need in a single click, giving you the time you need to focus on more important parts of your workday.
---
How to Forward Multiple Emails in Gmail - FAQs
What are the limits of forwarding multiple emails in Gmail?
To prevent users from abusing Gmail to distribute spam, the service provider limits the amount of messages users are allowed to send in a day to 500. This means that it's not possible to migrate more than 500 messages in a day. It's also not possible to send a message to a total of more than 500 recipients in a single mail.
Can you forward multiple emails at once in Gmail?
Yes, you can forward multiple emails at once in Gmail, but only if you send them as attachments. Alternatively, you can download a third-party web browser extension which adds a multi-email forward button to the Gmail toolbar. Just keep in mind that there are certain security and privacy risks involved with giving third-party extensions access to your inbox.
How to migrate email from one Gmail account to another?
If you have just a few messages that you need to migrate, you can mass-forward them with the help of a Gmail extension. But if you have hundreds or even thousands of messages, you need to go to the Download your data page and export your inbox.
How to forward multiple emails in the Gmail app?
To forward multiple emails in the Gmail app you need to log in to your inbox, select the messages you want to migrate, and choose the Forward as attachment option.
What Gmail extensions can help with forwarding emails?
When it comes to email forwarding, one of the most useful extensions that you can install is called Multi Forward for Gmail. Just like its name suggests, this extension allows users to send multiple messages with a simple click, which can be particularly useful when onboarding a new hire, sharing study materials with a classmate, or sending multiple photos to a relative.