Benefits of Email Sorter Software
Do you know how many emails you receive every day? Given that approximately 350 billion emails are sent and received globally each day, this averages to over 44 emails per individual daily.
People who use email for work often get more than 100 messages a day.
Because not all emails are equally important, it doesn't make much sense to manage them as if they were, but that's exactly what most people do. The common approach is to tackle emails chronologically, working from the latest to the oldest. If this sounds familiar, you need email sorter software in your life.
The purpose of email sorter software is to intelligently sort your emails according to various criteria, such as their importance, topic, sender, or age. You can then start your morning by reading only those emails that actually deserve to be read, which saves you time for other tasks that need to be done.
7 Best Email Sorter Apps
Let's take a look at 7 email sorting tools that can instantly reveal which unread emails that have been gathering dust in your inbox for days and perhaps even weeks can be deleted without opening and which should become your top priority.
Some of the email sorters we've selected go far beyond email sorting, featuring everything from a bulk unsubscribe option to advanced filters. Based on these recommendations, you can read to decide the best email organization system for you.
1. Clean Email
Price: Subscription (plans). Free for managing up to 1,000 emails. Additionally, receive up to 2,000 emails from social sharing. Free unsubscribing is available for 25 subscriptions. A 14-day trial for Premium features is also available.
Clean Email is an email sorting app with powerful algorithms analyzing only email headers that contain a subject line, sender and recipient information, dates, email size, and similar metadata—not the content of emails or attachments. Then, it helps you sort emails through a variety of advanced sorting options.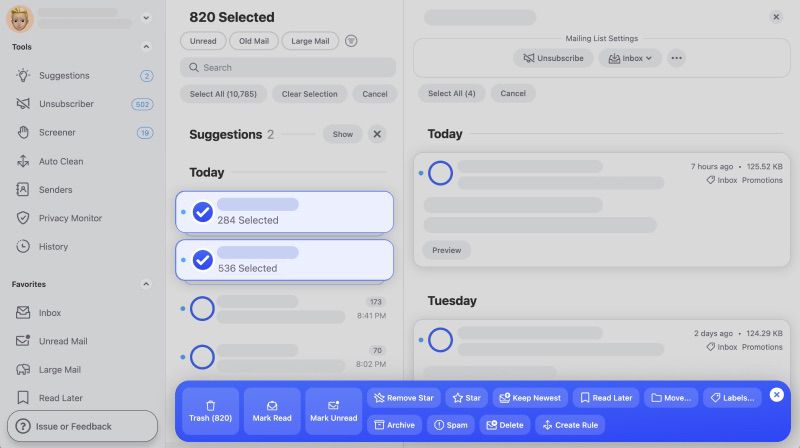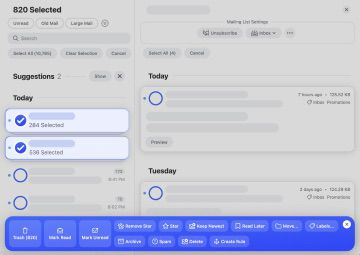 Since 2016, the developers of this email sorting solution have continuously improved its capabilities, and the Smart Folders feature is a prime example of that. This tool sorts emails based on commonalities the messages share, such as "social notifications," "online shopping," and more.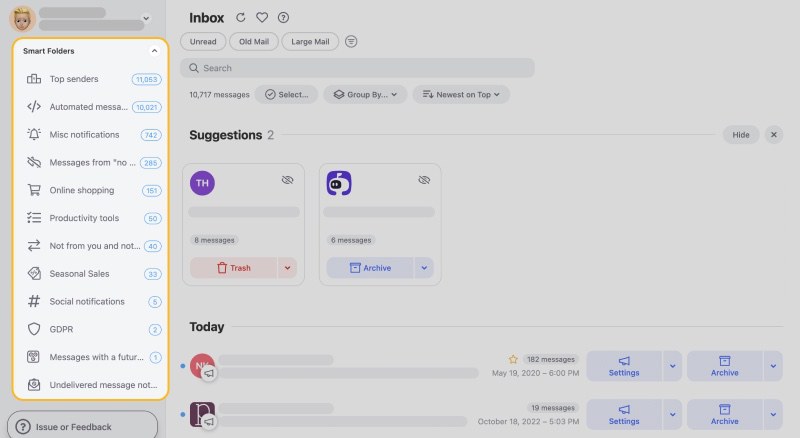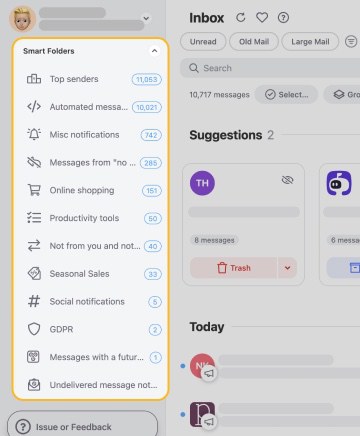 Additionally, you can now break down how each folder sorts the messages, whether based on the newest messages, the number of messages (per sender), or the total size of the messages.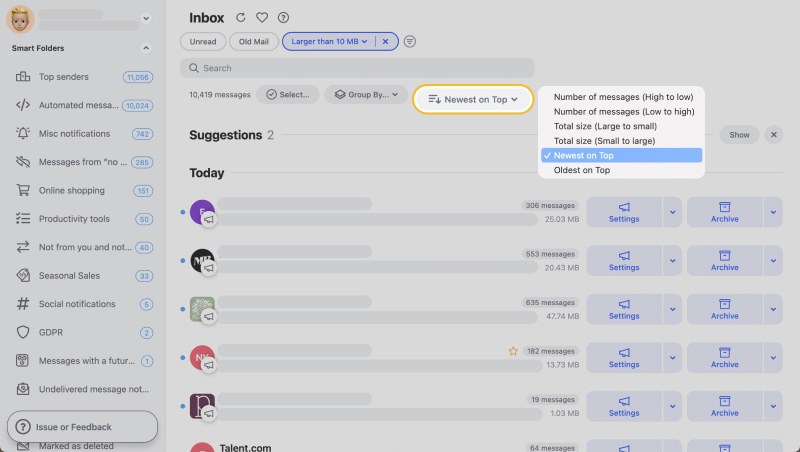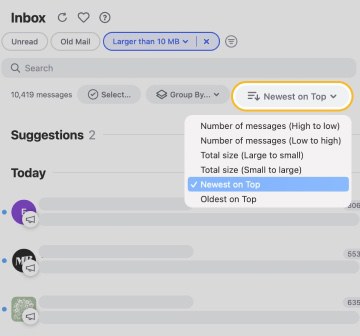 If you get a lot of incoming promotional messages you don't want, the Unsubscriber feature can help you out. This tool sorts newsletters based on the sender and then gives you the option to preview the messages, unsubscribe from the mailing list, or create an automation rule for all messages from the selected sender. Within the Unsubscriber tool, you can also sort and filter the senders based on criteria like "newest on top," or "email address."
Finally, the Preview Pane (which lets you preview individual messages and see all emails from the selected sender) lets you sort the pane's contents separately from the sort sequence applied to the main Smart Folder contents.
How to sort email messages with Clean Email:
Go to: https://app.clean.email/
Sign in with the email account you want to sort and organize.
Click Smart Folders in the left menu to check related emails (such as 'seasonal sales' or finance-related messages) already grouped for you.
Next, check Unsubscriber to opt out of everything you no longer need.
Finally, set up Auto Clean rules to sort messages automatically.
In addition to these built-in features for organizing emails, the Clean Email app also gives you the option to set up your own email sorting system with its automation feature, Auto Clean. This feature lets you establish rules for messages based on any number of criteria, and then apply an action. You can use this to automatically move all incoming messages that meet the criteria into a dedicated folder, thereby sorting it automatically.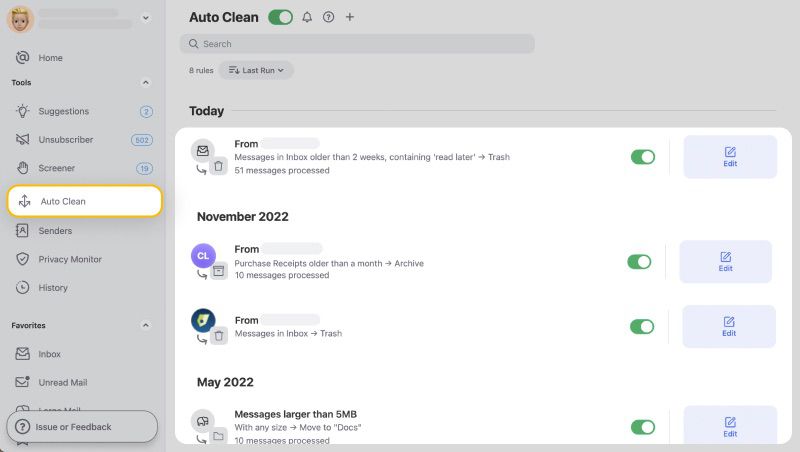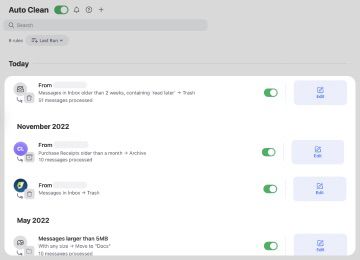 👍🏼 Pros:
Easy-to-use intelligent email sorting with Smart Folders
Advanced email filters with Auto Clean
Features like Unsubscriber, Screener, and more for full email management
👎🏼 Cons:
Can't be used as your email client to reply to emails
2. SaneBox
Price: Subscription. From $7 per month
SaneBox is a simple yet powerful email sorter that has been around since 2010. It helps you take control of your email by sorting unimportant emails away from your inbox. Then, as you review emails, SaneBox will pay attention and learn from you to do better filtering next time.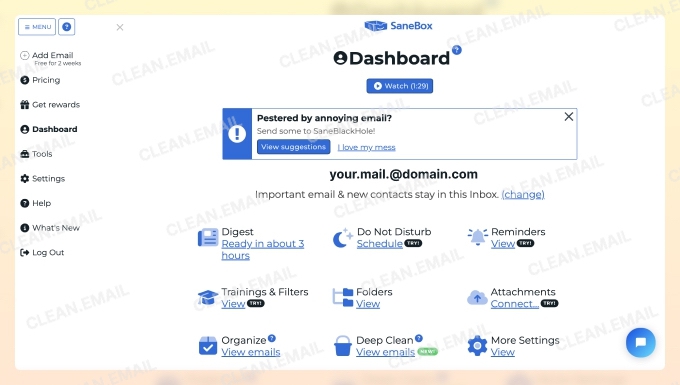 Unlike traditional email providers, SaneBox categorizes your incoming messages into different folders or labels, separating them into various levels of importance. The AI email sorter utilizes several folders by default: SaneLater, SaneNews, SaneBlackHole, SaneTomorrow, and more.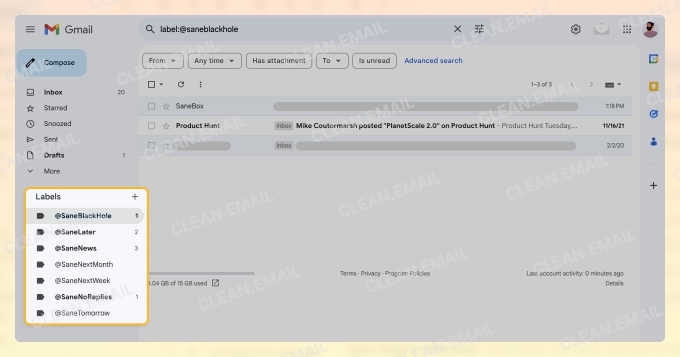 Then, as you move messages between these folders or perform other actions, the AI learns from you and starts sorting messages the way you want automatically. You can even create custom folders and teach SaneBox to use them to sort your messages.
However, SaneBox has evolved into something much more than just an email sorter app. The tool also offers features like the ability to see which emails haven't received a response (SaneNoReplies), offloading attachments onto a cloud storage drive (SaneAttachments), and the ability to gather and mass delete old messages (Email Deep Clean).
How to sort email messages with SaneBox:
Go to: https://www.sanebox.com/
Sign in with any supported email address.
Let SaneBox create Sane folders and start automatically sorting incoming email messages.
(Optional) Clean up older emails.
👍🏼 Pros:
Hassle-free email sorting
Trusted by many large brands
👎🏼 Cons:
Can't create your own email rules
Lacks advanced email management features
3. ActiveInbox
Price: from $5.37 per month
If you really think about it, then you'll probably realize that most emails you send and receive are task-specific. Wouldn't it then make sense to sort emails according to the tasks and projects they relate to instead of sorting them by date? If that makes sense, you'll likely want to try the email sorting tool ActiveInbox.
This Gmail extension can turn your inbox into an effortless email manager, helping you never forget an important email. Instead of wasting time copying information from Gmail to your to-do application, you can utilize the features available in ActiveInbox to sort and organize your messages and create actionable to-do lists straight from your inbox.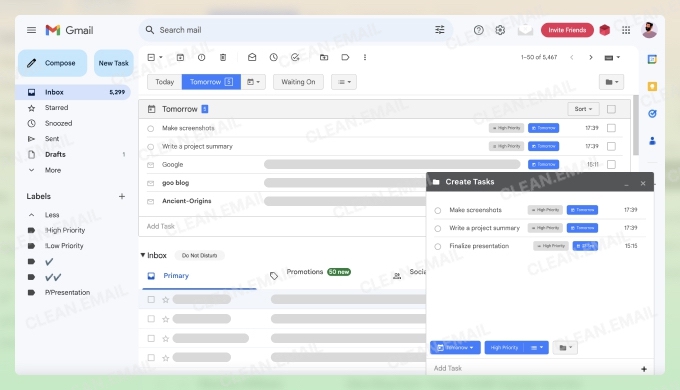 Namely, ActiveInbox gives you due date options to assign to each message in your Gmail account, thereby sorting them based on when you need to finish the task, respond to the message, or perform another action based on the message.
To assign a due date label, you can either open the message or hover over it from your inbox and select the calendar drop-down to choose a date. Then, you can click the new tabs at the top of your inbox to see all messages with the label (Today, Tomorrow, This Week, etc.).
However, this prioritization system isn't the only way to organize emails within ActiveInbox. The toolbar also gives you the option to create your own sorting folders. Similarly, you can use the Lists feature to assign labels to emails based on your created high-priority, low-priority, or custom lists.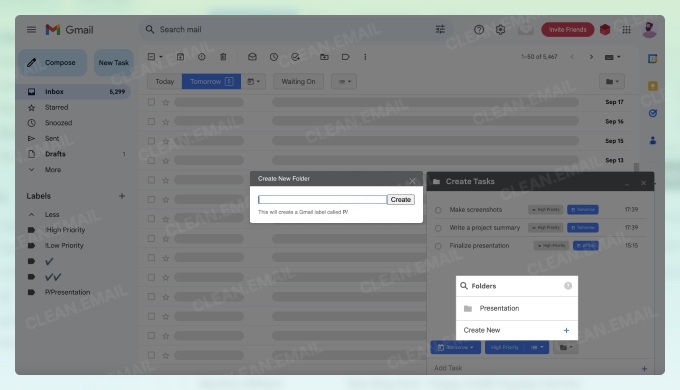 Finally, ActiveInbox has plenty of extra productivity-oriented features, including due date reminders, a dedicated follow-up (aka Waiting On) area, and more. You can even create checklists of subtasks for each message, jot notes down as you read the email, or click Related to view all other messages related to the one you have open.
Unfortunately, ActiveInbox doesn't sort emails automatically like Clean Email. You must do everything manually, which can be time-consuming, especially in the beginning. It also is not a free email sorter, you can only test it out with a 14-day trial before you have to pay.
How to sort email messages with ActiveInbox:
Download the Gmail extension into Chrome.
Refresh (or open) Gmail.
Create to-dos from your messages.
👍🏼 Pros:
Blends task management with email management
Easy to get used to
👎🏼 Cons:
Works only with Gmail
Available strictly as Chrome Extension with no mobile version
4. Sortd
Price: Free base version; premium plans start at $8/month
Sortd has plenty in common with ActiveInbox, presenting another way to use Gmail to stay on top of your tasks. Like ActiveInbox, Sortd lives inside Gmail and provides a seamless, intuitive way to plan, prioritize, and sort Gmail emails and tasks. Placed on the left is your inbox with all emails.
You can click on an email to open, respond to, or delete it. When you encounter a message that you can't either respond to or would like to save for later because you already know that the information it contains will come in handy, you can simply drag it to one of the columns on the right. These columns can be customized to suit your needs. You can have one column for to-dos, one for some project you're working on, and another for your clients' emails. If you're familiar with Trello, Sortd will feel instantly similar.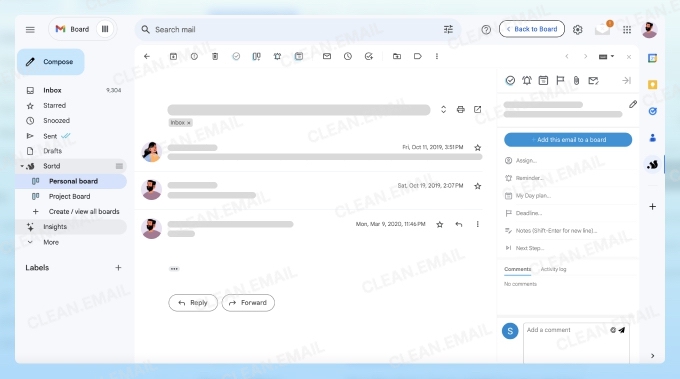 However, where Sortd really shines is for teams. With the premium version, you can use team collaboration to manage your boards and share messages between colleagues. This, along with the ability to set up mailbox automations and email tracking tools, make this the best email sorting software for sales and customer service teams.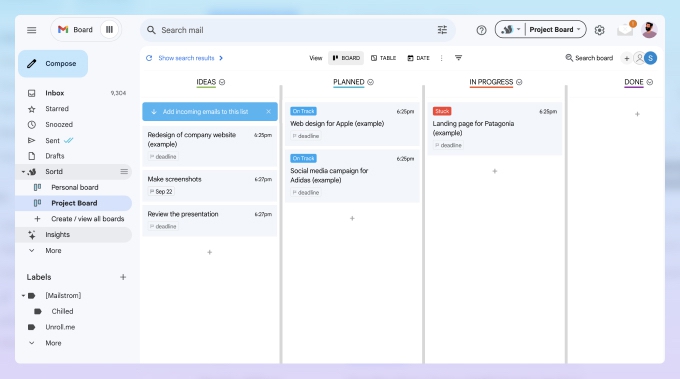 Unlike Clean Email and other intelligent email sorters, Sortd doesn't automatically sort emails based on their type and importance, which is arguably its biggest downside. It also doesn't work with any other email service besides Gmail, which is something to keep in mind when purchasing one of Sortd's premium plans.
How to sort email messages with Sortd:
Go to: https://www.sortd.com/
Click the Add Sortd to Gmail and install the Chrome extension
Refresh (or open) Gmail
Configure Sortd to fit your workflow and set up as many boards as you need
Move emails to relevant boards to visually plan and prioritize your messages
👍🏼 Pros:
Great for Trello users
Affordable
👎🏼 Cons:
Works only with Gmail
No automatic email sorting
5. Reply
Price: Free basic version; premium features starting at $60/month
Reply is an AI email sorter with 90% data accuracy for correct categorization. Like Sortd, Reply is designed for business use in mind. However, unlike virtually any other best email sorter on this list, Reply is not focused on everyday messages—it's explicitly designed for sales-based email campaigns.
When you set up a new email campaign and add the data to Reply, the algorithm scans all replies you receive and labels them based on the reader's interest. This method of sorting email helps you quickly find contacts interested in your offer and reply to them via the Inbox tab.
Reply sorts messages into six folders by default: Interested, Not Interested, Not Now, Do Not Contact, Forwarded & Meeting intent. However, you can add custom folder options for your messages if you desire. Also, you can transform messages in each folder into tasks so you can reply to messages, call interested clients, and more.
Unfortunately, Reply isn't designed to sort any inbox, nor does it offer many valuable tools for personal email accounts. But, if you want to improve results with your sales campaigns and streamline your response process, this is likely the best email sorter for you.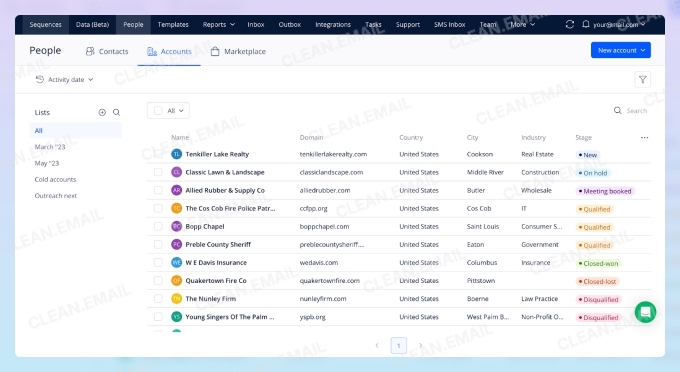 How to sort email messages with Reply:
Go to: https://reply.io/
Create an account to start your trial.
Use the Sequences tab to set up a new campaign.
Once replies come in, review them based on category in the Inbox tab.
👍🏼 Pros:
Powerful AI-backed algorithm sorts messages automatically
Ability to set up custom sorting folders
👎🏼 Cons:
Not designed for personal use
Only sorts replies to email campaigns
6. Shortwave
Price: Free plan. Premium plans start from 9$/month.
Shortwave is an email sorter app that is designed specifically to help individuals reach and maintain inbox zero. Shortwave's approach to sorting email is uniquely based on the Getting Things Done. Its tools combine manual actions and workflow automation to sort emails in ways that are most beneficial to you.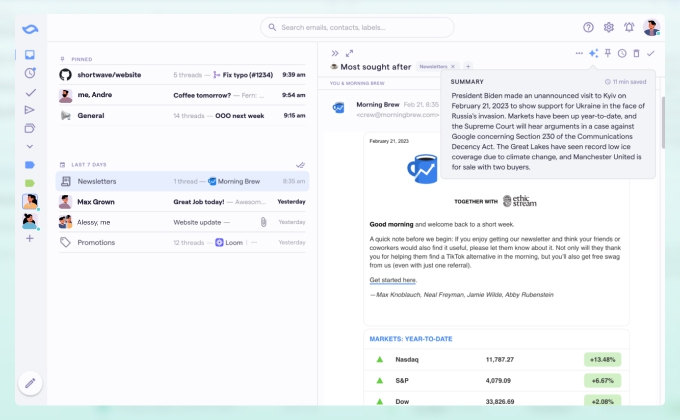 For example, you can use the Bundles feature to group email threads together so they take up a single row in your inbox instead of being spread throughout it. You can create bundles for anything that makes sense for you or let Shortwave automatically create them for you based on threads from the same sender.
Additionally, using the Pin function can help you quickly take action on priority messages while saving the rest for later. As you skim through your inbox, you can click the pin icon to move individual messages or threads. This will move them to a dedicated pin section at the top of your inbox, making it easy to take action on them.
Like Clean Email, Shortwave also has a Smart Labels feature that automatically sorts messages into folders (or threads). However, unlike Clean Email, these filters must be configured and only apply to messages based on the sender. You can, however, ask Shortwave to apply a label to future messages when you apply it to a sender for the first time.
Finally, Shortwave stands out from any other best email sorting app options on this list by providing a variety of other features related to email composition. You can not only read, but write and send messages straight from the Shortwave app.
How to sort email messages with Shortwave:
Download the Shortwave app or visit https://www.shortwave.com/
Perform "triage" to quickly go through messages and move them to Pin, Snooze, Done, or Delete.
Use the automation workflows to Bundle or apply Smart Labels.
👍🏼 Pros:
Provides a variety of sorting and labeling options
Makes it easy to prioritize messages
Lets users send messages from the app
👎🏼 Cons:
No AI-backed algorithms for sorting
Requires lots of manual work to set up
7. Hey Imbox
Price: Starting at $99/year. Free trial for 14 days.
Unlike most other best email sorting app options, Hey Imbox doesn't sort messages after they enter your inbox. Instead, it actually starts the sorting process by gatekeeping messages and holding them in The Screener until you say "yes" to the sender. If you say "no," then you'll never see another message from that email address.
In addition to The Screener, Hey Imbox sorts all messages into one of three buckets: The Imbox, The Feed, and The Paper Trail. You tell the app where you want messages to go, and it handles the rest going forward. Your Imbox is for important emails you want to read immediately, while non-urgent emails like newsletters that you read occasionally go to The Feed. For things like receipts you rarely need to read, The Paper Trail is the place to go.
Depending on how you handle messages that require a response, you can also use the Reply Later label to sort messages that need a thoughtful response. This label separates the emails from the rest, so you can easily sit down and reply to multiple messages at once.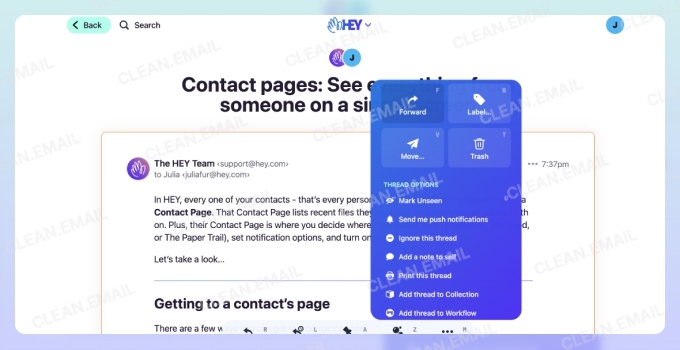 Like Shortwave and Clean Email, Hey Imbox gives users additional sorting and classification options like the ability to thread together multiple messages on the same topic. You can also ignore or remove yourself from threads or newsletters you no longer want, much like Clean Email's Unsubscriber tool. All of this makes sorting email easier than ever.
How to sort email messages with Hey Imbox:
Download the mobile app or visit the Hey Imbox web interface at https://www.hey.com/
Go to your Screener and start marking whether certain senders should be in your Imbox, Paper Trail, or Feed.
👍🏼 Pros:
Places all messages from unrecognized addresses into a screener
Places messages in buckets based on their importance
Lets you bundle together messages into threads
👎🏼 Cons:
No advanced labels or email rules options
Requires you to use their @hey.com email address unless you pay extra
Bonus: Sky Extractor Email Sorter Software
Price: Varies based on features
If you work with email distribution lists, you may find them to be messy and downright frustrating to use. What's more, each email provider has its own unique spam settings that require slight variations in your correspondence to not end up in spam. Luckily, Sky Extractor works like email sorting software, but for your mailing lists.
To use this tool, you simply import any lists you have, then let the tool sort them based on the mx exchanger. Once it's done, you'll have a list broken down by email provider that you can view breakdowns based on domain and export it that way or into a single list.
You can check out the free trial downloadable to test how Sky Extractor Email Sorter works. However, it is only compatible with Windows devices at this time.
Tips for Sorting Email
Whether you use an email sorting system or just implement better inbox management yourself, these tips for organizing email will help you sort messages and clean your inbox more effectively.
Use Folders or Labels: Create folders or labels to categorize emails based on topics, projects, or senders.
Prioritize with Stars or Flags: Use stars, flags, or other visual markers to highlight important emails that need your attention.
Unsubscribe and Filter: Unsubscribe from unnecessary newsletters and promotional emails, and set up filters to automatically sort incoming messages.
Set Up Priority Inbox: Use your email provider's priority inbox feature to automatically categorize important, unread, and less important emails.
Archive Regularly: Archive or file away emails you've dealt with to keep your main inbox clutter-free.
Use a Consistent Naming System: Give your folders, labels, and files clear and consistent names to quickly find what you need.
Utilize Search Effectively: Learn to use search operators to quickly locate specific emails instead of scrolling through your entire inbox.
Batch Processing: Group similar tasks together and process emails in bundles to improve efficiency.
Unclutter with Rules: Use email rules to automatically sort, categorize, or forward emails based on predefined criteria.
Conclusion
Email sorting is the foundation of email management. By using the best email organization system to quickly identify which emails are important and which are not, you can save yourself a lot of time and finally unclutter your inbox. Whether it's the advanced algorithms of Clean Email or the intuitive learning capabilities of SaneBox, there's a solution tailored to fit every user's needs.
Email sorter apps don't just sort emails, but they categorize them in a way that aligns with user priorities. This means urgent messages are easily accessible, while less pressing ones can be attended to later. For businesses and individuals alike, such organization is crucial. It not only ensures that essential communications don't get missed but also allows for a more focused and productive email management routine.
Follow our guides on how to sort emails in Outlook, how to sort Gmail by name, date, and subject, and how to sort Yahoo Mail by sender.