Benefits of Email Sorter Software
Do you know how many emails you receive every day? Our guess is that a lot since around 300 billion emails are sent and received every year. That's more than 40 emails for every single person on this planet, regardless of their age or socioeconomic status. Those who use email for work-related purposes often receive more than 100 emails every single day, but only a small fraction of the emails they receive are legitimate and even fewer of them are urgent.
Because not all emails are equally important, it doesn't make much sense to manage them as if they were, but that's exactly what most people do. They start from the most recent email and methodically open one email after the next until there are no unread emails left to open. If this sounds familiar, you need email sorter software in your life.
The purpose of email sorter software is to intelligently sort your emails according to various criteria, such as their importance, topic, sender, or age. You can then start your morning by reading only those emails that actually deserve to be read, which saves you time for other tasks that need to be done.
7 Best Email Sorter Software
Let's take a look at 7 email sorting software tools that can instantly reveal which unread emails that have been gathering dust in your inbox for days and perhaps even weeks can be deleted without opening and which should become your top priority. Some of the email sorters we've selected go far beyond email sorting, featuring everything from a bulk unsubscribe option to advanced filters.
1. Clean Email (free for up to 1000 emails, Premium features available)
Clean Email is an email sorting app with powerful algorithms analyzing only email headers that contain a subject line, sender and recipient information, dates, email size, and similar metadata—not the content of emails or attachments.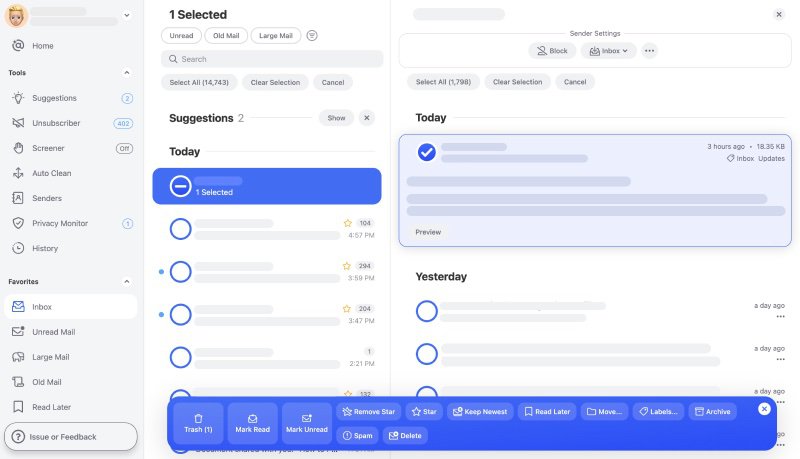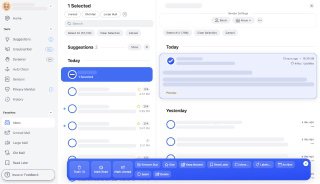 Clean Email sorts emails into easy-to-review bundles that can be removed, archived, moved, and more with a simple click. For example, a bundle can contain only social network notifications, junk emails and spam, emails from addresses you know and recognize as safe, subscriptions and newsletters, finance emails, online shopping emails, or emails with very large attachments.
To save you even more time, Clean Email lets you apply selected actions automatically in the future. If you never read emails from your favorite online store because you know that they contain only invoices and delivery confirmations but want to keep them just to be safe, you can tell Clean Email to automatically mark them as read and archive them as soon as they arrive.
How to sort email messages with Clean Email:
Go to: https://app.clean.email
Sign in with the email account you want to sort.
Click Quick Clean and wait for Clean Email to automatically group related emails for you.
👍🏼 Pros:
Easy to use
Intelligent email sorting
Advanced email filters
Unsubscribe feature
👎🏼 Cons:
Free trial is limited to 1000 emails
Follow our guide on how to sort Gmail by size.
2. SaneBox (from $8.25 a month)
SaneBox is a simple yet powerful email sorter that has been around since 2010. When you first use SaneBox, a folder called SaneLater is automatically created. Using its smart algorithms, SaneBox determines which emails are important and which are not. Those that are important stay in your inbox, while those that are not important are moved by SaneBox to the SaneLater folder.
The idea behind SaneBox is to keep you focused on your inbox and move everything that doesn't need your immediate attention to the SaneLater folder. When you have some time to review emails in the SaneLater folder, SaneBox will pay attention and learn from you so that it does a better job next time.
The price of SaneBox ranges from $7 - $36 per month, but discounts are available for students, non-profits, and government agencies.
How to sort email messages with SaneBox:
Go to: https://www.sanebox.com/home
Sign in with any supported email address.
Let SaneBox create Sane folders and start automatically sorting incoming email messages.
(Optional) Clean up older email messages.
👍🏼 Pros:
Hassle-free email sorting
Trusted by many large brands
3. ActiveInbox (from $4.16 a month)
If you really think about it, then you'll probably realize that most emails you send and receive are task-specific. Your boss may give you an assignment, your colleagues may want to discuss the details of some project, and you may need information from various stakeholders to meet a deadline. Wouldn't it make sense to sort emails according to the tasks and projects they relate to instead of sorting them by date?
Yes, it would, and that's exactly what ActiveInbox is for. This Gmail extension can turn Gmail into an effortless email manager, helping you never forget an important email. Instead of wasting time copying information from Gmail to your to-do application, you can do everything in one place and never miss a task.
ActiveInbox has plenty of extra productivity-oriented features, including due date reminders, dedicated Follow Up (aka Waiting On) area, Send Later function, and more. Unfortunately, this great email sorter software works only with Gmail.
How to sort email messages with ActiveInbox:
Download the Gmail extension into Chrome.
Refresh (or open) Gmail.
Create to-dos from email messages.
👍🏼 Pros:
Blends task management with email management
Fantastic reviews
Easy to get used to
4. Sortd (from $6 per month)
Sortd has plenty in common with ActiveInbox, presenting another way how to use Gmail to stay on top of your tasks. Just like ActiveInbox, Sortd lives inside Gmail and provides a seamless, intuitive way to plan, prioritize, and sort Gmail emails and tasks. Placed on the left is your inbox with all emails.
You can click on an email to open it, respond to it, or delete it. When you encounter an email that you can't either respond to at the moment or would like to save for later because you already know that the information it contains will come in handy, you can simply drag it to one of the columns on the right. These columns can be customized to suit your needs. You can have one column for to-dos, one column for some project you're working on, and another column for emails from your clients. If you're familiar with Trello, Sortd will feel instantly familiar.
Unlike Clean Email and other intelligent email sorters, Sortd doesn't automatically sort emails based on their type and importance, which is arguably its biggest downside. It also doesn't work with any other email service besides Gmail, which is something to keep in mind purchasing one of Sortd's premium plans.
How to sort email messages with Sortd:
Go to: https://www.sortd.com/
Click the Add Sortd to Gmail and install the Chrome extension.
Refresh (or open) Gmail.
Configure Sortd to fit your workflow and set up as many boards as you need.
Move emails to relevant boards to visually plan and prioritize your email messages.
👍🏼 Pros:
Great for Trello users
Works inside Gmail
Affordable
👎🏼 Cons:
No automatic email sorting
Works only with Gmail
Filtr is an email sorting app for iOS that fully recognizes the undeniable fact that not all email messages are created equal. According to its developers, email is no longer the useful communication tool it once was because we now use it for everything. That alone wouldn't be such as a huge problem by itself if it was possible to devote our attention solely to email that require our full attention and leave the rest for later.
With Filtr, you can prioritize email messages by their sender to improve productivity by saving time on interruptions. Let's say that you're a freelancer with a strong LinkedIn presence. You don't want to ignore LinkedIn-related emails entirely because you could miss out on valuable leads, but you also don't want to be distracted by every single LinkedIn notification because you wouldn't be able to get anything done.
What's Filtr's solution? Easy email prioritization. After installing Filtr on your iOS device and connecting it to your email account, you can choose how often you want to see emails from senders with a single tap. The available options include: immediately, in a batch with other emails every 4 hours, at the end of the day, at the end of the week, keep for some time, and never show. Once you have configured Filtr according to your preferences, it will do all the heavy lifting automatically without any input from you, allowing you to focus on your work instead of email notifications.
How to sort email messages with Filtr:
Download Filtr from the App Store.
Launch Filtr and connect it to your email account.
Create Filtr rules.
👍🏼 Pros:
Smart way how to avoid distracting email notifications
Easy to set up
👎🏼 Cons:
Works only on iOS devices
It may take you some time to create all the Filtr rules you need to keep unwanted email notifications at bay
6. MailHub ($19.00 for a single license)
Developed by London-based Dervish Software, MailHub is a smart plug-in for Apple Mail with many time-saving features that all heavy email users are guaranteed to appreciate. This email sorter was created as a reaction to the frustrations experienced by Dervish Software when using email as their main communication channel. After some thinking, they figured out a better way how to organize email messages in Apple Mail, and the rest is history.
MailHub simplifies email management with its auto-suggest intelligent technology, which suggests suitable folders for individual email messages based on your previous email activity. All you need to do is click a single button to move each email message to the most suitable folder.
In addition to the auto-suggest intelligent technology, MailHub can also set reminders for email related actions, color messages and swap to/from fields for messages you sent, auto-file sent email messages, and more. You can use it for free for 30 days, and a single unlimited license costs $19.
How to sort email messages with MailHub:
Download the free trial version of MailHub.
Install MailHub and launch Apple Mail.
Click the Toggle MailHub button located in the top menu.
Select an email message and either move it instantly to the suggested folder or select one manually.
👍🏼 Pros:
Very easy to get started with
Has many time-saving features
👎🏼 Cons:
Not as automated as some of the other email sorting apps we've described
Works only with Apple Mail
7. Organizer (Free)
Organizer by OtherInbox is like your personal assistant whose job is to instantly organize all emails you receive into relevant folders so that your inbox never becomes cluttered with unread emails. At the end of every day, Organizer will send you Daily Digest summarizing what's been organized for you recently.
Even though Organizer has been designed to work without any user input, you can still customize it to better fit your needs. All major email providers that enable IMAP are supported with one important exception: Gmail.
Unfortunately, Organizer is unable to continue service for Gmail users due to changes in Gmail's Terms of Service. Considering how many people use Gmail as their primary email service, it's a real shame that Organizer couldn't find a business model that would allow it to comply with Gmail's Terms of Service and still be profitable.
👍🏼 Pros:
Easy to use
Daily summaries
Customizable
Update: The Organizer by OtherInbox is no longer available.
Conclusion
Email sorting is the foundation of email management. By using modern email sorter software tools to quickly identify which emails are important and which are not, you can save yourself a lot of time and finally unclutter your inbox. After testing multiple email sorters, we've decided that Clean Email is the best app of its kind currently available because it's extremely easy to use and always able to reliably organize emails into easy-to-review bundles.
Follow our guides on how to sort emails in Outlook or how to sort Gmail by name, date, and subject.