Why You Should Unsubscribe From Newsletters
Newsletters, as we know, are electronic reports sent by businesses (genuine and fake). It could be news, updates on their services, sales pitch, or other information sent to their customers, prospect, and employees.
While you might have genuinely subscribed to some newsletters, many businesses buy their email list. This is why you often find yourself getting newsletters you didn't subscribe to. Sometimes you simply subscribe to a particular newsletter to get a special benefit. Making it a convenient service, and not a needed one.
Obviously, you always have the option to unsubscribe from newsletters and other messages manually by clicking the "unsubscribe" button on each message you'd like to opt out of. Unfortunately, though, not every company offers an unsubscribe button, and you can't unsubscribe from emails without an unsubscribe link easily.
Furthermore, unsubscribing from newsletters and other messages manually takes time and doesn't always remove you from every distribution list a domain uses, which leaves you still dealing with spam and battling to clear out your inbox on a daily basis.
Similarly, you can also try using the Gmail unsubscribe button or similar built-in features. However, these features do sometimes miss messages, especially for companies who use multiple email addresses from the same domain.
Luckily, there are tons of apps that help you unsubscribe from emails. In many cases, using an app is the best way to unsubscribe from emails you don't wish to receive any longer. However, privacy is a major issue to tackle when using these apps, so always ensure to read the fine print before using third-party apps to clean your messages.
💡 Note: These solutions only work for unsubscribing you from emails you receive. If you're looking for ways to cancel your subscriptions on the Apple App Store or Google Play, then you'll need different information. Luckily, we can also help you cancel Apple subscriptions, too!
The 5 Best Unsubscribe Apps Available Today
Clean Email

SubscriptionZero

Mailstrom

Leave Me Alone

Sanebox
| Clean Email | SubscriptionZero | Mailstrom | Leave Me Alone | Sanebox |
| --- | --- | --- | --- | --- |
| Mobile and Desktop Users | Budget-Conscious Users | Less Tech-Savvy Individuals | Users Who Want A Simple Solution | Multiple Inboxes |
| Starting at $9.99/month | Starting at $5/month | Starting at $9/month | Credits start at $2.50 for 50 credits | Starting at $7/month |
| Visit website | Visit website | Visit website | Visit website | Visit website |
Best Apps to Unsubscribe From Emails
With various unsubscribe email apps out there, we have made a list of the best solutions to help you unsubscribe from emails/newsletters, and clean up email inbox. Typically, all emails are expected to come with a manual way to unsubscribe. This link is usually placed at the bottom of every email newsletter you receive.
However, many newsletters fail to add this link to every email they send. When they do, it is placed with a tiny bottom making it easy to miss. This is why you need an unsubscribe from emails app on your devices, to help you get rid of unwanted email subscriptions.
1. Clean Email (iOS, macOS, Android, web)
Clean Email is the best app to unsubscribe from emails anywhere, and anytime. It offers a simple yet efficient way to declutter your mailbox with a few clicks.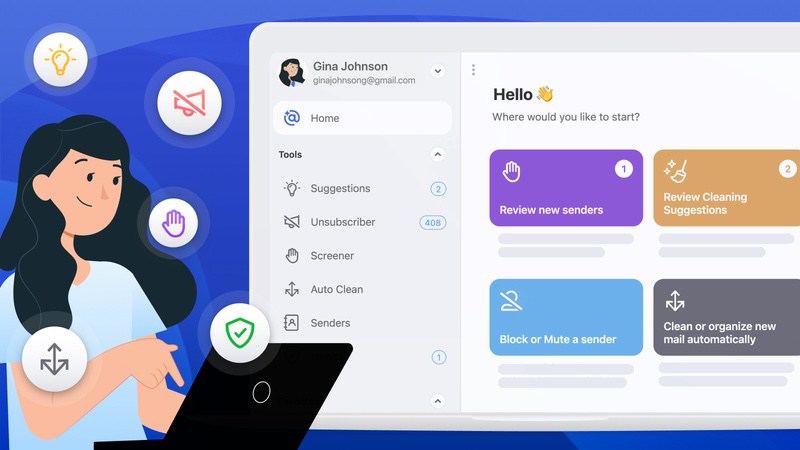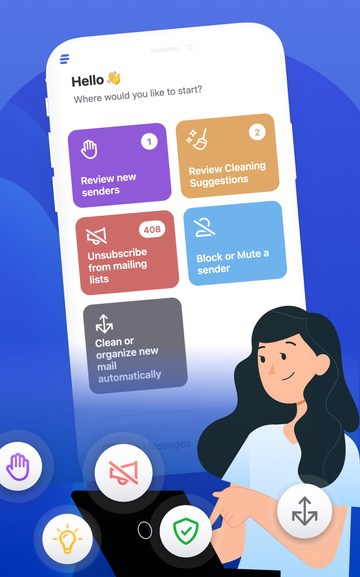 The tool uses a high-end algorithm to intelligently bundle related emails together, making it easy to organize, clean, and unsubscribe emails in bulk, instead of having to go through them individually. You will see all your subscriptions on one screen and easily choose any of them you no longer need.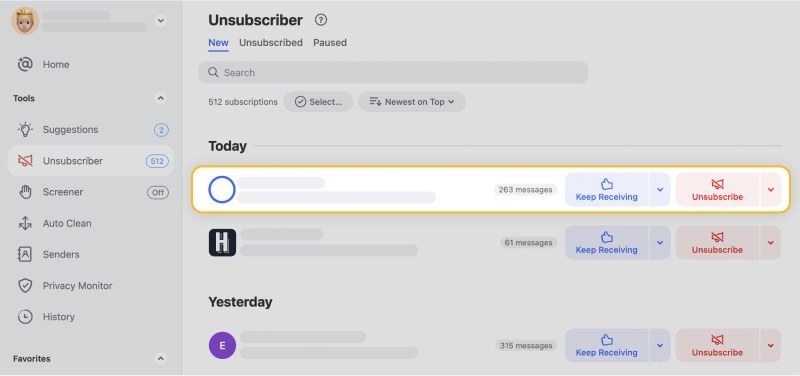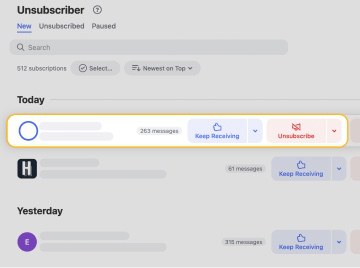 Clean Email is the best unsubscribe app when you need to get a result in a short time and without much effort. Once you establish your parameters, this unsubscribe email app will make decisions for you automatically, which helps keep your inbox clear so you can do your best work. What's more, you can use Clean Email to unsubscribe from emails on Gmail or any other platform.
👍🏼 Pros:
Multiple unique features
Ease in navigation
Data privacy
Affordability
Great UX
👎🏼 Cons:
Some features only work with premium
Prices
One account: $29.99/year - $9.99/month
Five accounts: $49.99/year - $19.99/month
Ten accounts: $99.99/year - $29.99/month
Email providers supported: this email unsubscribe app supports all major service providers including Gmail (with Google Apps/Suite), Yahoo! Mail, Outlook, Office 365, and any other IMAP-based mailboxes.
2. SubscriptionZero (web)
SubscriptionZero is yet another outstanding app to unsubscribe from emails. Unlike other email apps, SubscriptionZero helps you unsubscribe by designing a unique address for all of your newsletters. Then, from your SubscriptionZero inbox, you can read, star, and archive your digests in one place.
The nice thing is this helps you avoid receiving subscriptions like newsletters and marketing emails in your main inbox. However, the downside is you have to go to SubscriptionZero to look through these messages and clear them out every once in a while, especially if you want to use it to eventually unsubscribe from messages completely. However, since SubscriptionZero is web-based, you can't use it to unsubscribe from emails on iPhone or other mobile devices.
👍🏼 Pros:
Great user interface
Easy navigation
Data privacy
Allows you to create custom emails
Automated unsubscriber
👎🏼 Cons:
Limited features
Complicated email unsubscribe process
Pricing:
SubscriptionZero comes with three subscription packages: Free, Pro, and Custom.
Free: free users get ten subscriptions and 50 email units to be used manually.
Pro: offers 50 subscriptions, 500 email units, custom mail, and automated unsubscribe process. This package costs $5/month.
Custom: This package offers unlimited email units, over 50 subscriptions, automated processes, and custom emails. This package has no fixed cost. To purchase it, you have to contact their customer support.
Email providers supported: It can be used through all Google and Microsoft accounts including Gmail, G Suite, Outlook, Office 365, Live, Hotmail, and MSN.
3. Mailstrom (web)
Like SubscriptionZero, Mailstrom offers a web-based unsubscribe service. With Mailstrom, you can declutter your inbox, delete messages in bulk, block senders, and unsubscribe from newsletters with just a few clicks. In fact, Mailstrom even bundles related mail for users, which makes it easier to take action on a group of similar messages all at once.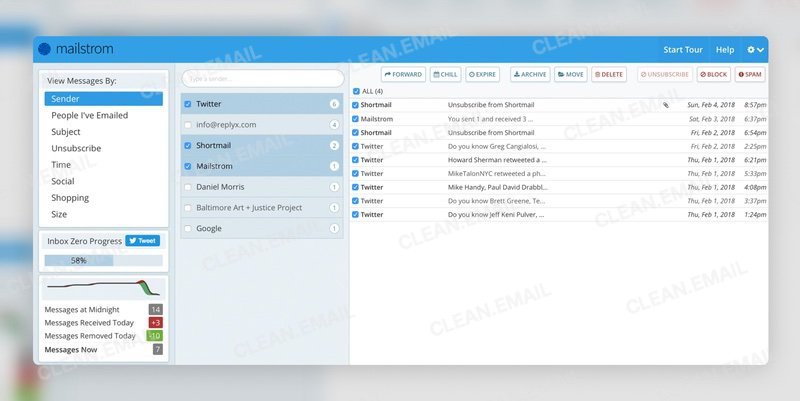 Although a little expensive, the platform is simple, comes with a lot of perks for premium subscribers, and is easy to use. However, Mailstrom doesn't offer much in the way of added features or other perks, which makes it seem a little less comprehensive than some of the other solutions out there.
👍🏼 Pros:
Great UX
Multiple email management features
Gives you control over what to delete
Easy to navigate
Offers free trial
Pricing:
Other than its free trial (offers a snapshot of your inbox up to 5,000 emails), Mailstrom offers three major packages.
Basic: Their basic plan offers a live Inbox, unlimited removal, add up to 1 email account, load up to 10,000 inbox emails, up to 200 Filters, and offer Block feature. This plan costs $9.00/mo and $59.95/yr.
Plus-best value: Features offered by the plus-best value are live inbox, unlimited removal, adding up to 3 email accounts, loading up to 250,000 inbox emails, up to 400 Filters, and allowing block. This plan costs $14.00/mo and $99.95/yr.
Pro: offers live inbox, unlimited removal, add up to 20 email accounts, unlimited inbox size, and up to 1,000 filters. The cost of this package is $29.95/mo and $199.95/yr.
Email providers supported: Mailstrom supports Google, Outlook, Yahoo Mail, Live, MSN, and other mailboxes that work with IMAP.
4. Leave Me Alone (web)
Leave Me Alone is another best email unsubscribe app that offers premium and excellent unsubscribing service while taking the privacy of its users to heart. The app is rated 4.6/5 by the majority of review websites. Although their subscription method is quite complex, it offers an efficient way to clean your inbox with a few clicks.
With Leave Me Alone, you simply connect any email accounts you'd like to manage, then pull up your subscription emails in the Leave Me Alone app. From here, you can unsubscribe from emails or use the Rollup Digest to easily read through multiple newsletters all at once. It's that simple!
👍🏼 Pros:
Easy to use
Great interface, making it easy to navigate
Data privacy
Pays you $50 for referring a company
👎🏼 Cons:
No resubscribe feature
No other features
Pricing:
With Leave Me Alone, each unsubscribe costs one credit. The cost of purchasing credits are:
50 credits - $2.50
100 credits - $4.50
200 credits - $8.00
300 credits - $10.50
Email providers supported: Leave Me Alone can be used through all Google and Microsoft email accounts, including Gmail, G Suite, Outlook, Office 365, Live, Hotmail, and MSN. They also support accounts with Fastmail, Yahoo Mail, iCloud, AOL, and all other mailboxes that work with IMAP.
5. Sanebox (web)
SaneBox is an email management tool that works with almost any email client. Sanebox helps users through its powerful AI system, which sorts your inbox into multiple subfolders depending on the contents of the message and the sender. Then, the Sanebox Blackhole helps you clear out newsletters and other emails you no longer wish to receive, all with a few clicks.
While the help with unsubscribing is nice, Sanebox also offers numerous other options, like automatic email sorting, message archiving, notification pauses, and snoozing non-essential messages. All of this helps you be more productive and helps you maintain an organized inbox.
👍🏼 Pros:
Easy to use
Works with virtually any inbox
Fairly inexpensive
Robust feature options
👎🏼 Cons:
Poor customer support
Difficult to set up at first
Pricing:
Playing on their name, Sanebox uses 3 pricing tiers named after meal courses: snack, lunch, and dinner.
Snack: costs $7/month and covers 1 email account and 2 features of your choice
Lunch: costs $12/month and covers 2 accounts with up to 6 features
Dinner: costs $36/month, covers 4 unique accounts, and includes all the features
Email providers supported: SaneBox works anywhere you check your email, on your PC or Mac, desktop or mobile, Gmail, Exchange, Outlook, Yahoo Mail, IBM Notes and anything in between.
What About Free Unsubscribe Apps?
In addition to the paid unsubscribe apps outlined above, there are also free options. Many of these apps, such as Unroll.me and Cleanfox, offer similar features in terms of unsubscribing you from unwanted newsletters and marketing mailings. Like the paid versions listed above, you give these apps access to your email inbox, then they create lists of newsletters and other mailings you receive so you can choose which ones to keep and which to unsubscribe from.
Unfortunately, the perk of receiving these services for free comes with a different kind of price tag — your privacy. For example, Unroll.me has been caught selling customer data. Similarly, Cleanfox collects and anonymizes data for research purposes, which still can be problematic in its own way.
If you care about privacy and keeping your personal data out of the hands of marketers or anyone else, then it's absolutely worth the small price to go with an Unroll.me alternative, like any of the paid apps mentioned above. This is the only way to guarantee that the contents of your messages and other personal data are secure.
Conclusion
When looking to declutter your mailbox, any of the apps mentioned above will serve you just fine. However, if you are looking for extra features such as the ability to set parameters for quicker email cleaning, read later features, and more, Clean Email is the number one app to unsubscribe from emails. It also lists every newsletter you have unsubscribed from, making it easy to resubscribe to them if you ever needed to do so.
Wondering how to unsubscribe from YouTube emails or stop Twitter notifications? Our blog will help you learn how to stop unwanted newsletters from cluttering your inbox and achieve Inbox Zero.
---
Best Apps to Unsubscribe From Emails - FAQs
Is there an app to unsubscribe from emails?
Yes, there are many apps to unsubscribe to emails. Some of these are simple unsubscribe apps, whereas others like Clean Email offer numerous tools to help you organize your inbox.
Are unsubscribe links safe?
Unfortunately, some hackers now use innocent-looking unsubscribe links to lure users into clicking them, which can cause all sorts of issues. Before clicking any links, it's best to check where the link directs you to and check the exact email address of the sender to be sure it's from a reputable company.
How do I see everything I'm subscribed to?
While there's no great way to check every newsletter you're subscribed to straight from your inbox, some unsubscriber apps like Clean Email will display all your email subscriptions on one screen from within the app. This is a great feature for users who want to mass unsubscribe at one time.
Is Clean Email app safe?
Yes, this app is built with your privacy and security in mind. We will never share, give away, sell, analyze, "anonymize", or otherwise use your data, guaranteed. For our full privacy policy, click here.
Is it better to block or unsubscribe?
If you know the source of a newsletter or other marketing mail you receive, it's perfectly fine to unsubscribe — especially if you plan to receive other emails from the same domain. However, if you don't recognize the source of any email, it's best to block or mark the message as spam to avoid anything unsafe.