9 Tips on How to Stop Receiving Spam Emails
Spam has become an obnoxious part of our daily lives. In fact, over 320 billion spam emails are sent to inboxes every single day. While many of us complain and go about our business, we don't actually have to let spam take up as much mailbox space as we think.
Believe it or not, some of the most effective ways how to permanently stop spam emails are surprisingly simple and intuitive. Let's look at some tips on how to stop getting spam emails in Gmail, Yahoo, Outlook, and other email service providers.
1. Train Your Spam Filter
Most people do one of two things when they receive spam emails: they either delete them or ignore them. However, neither of these options prevents future spam messages from the same sender. So, instead, you need to report the messages as spam so your email provider learns to toss them out automatically. This is how to stop junk email, and it doesn't take a lot of effort.
How to Mark As Spam in Gmail
Although Gmail does try to identify spam for you, the spam filter isn't always 100 percent accurate. Luckily, you can mark spam on Gmail by following these steps:
Open your Gmail mobile app or log into Gmail through your web browser.
Tap the circular photo/letter to the left of the message (mobile) or check the box to the left of the email (web).
Select Report Spam. (💡 Note: On mobile app, you may need to select More first.)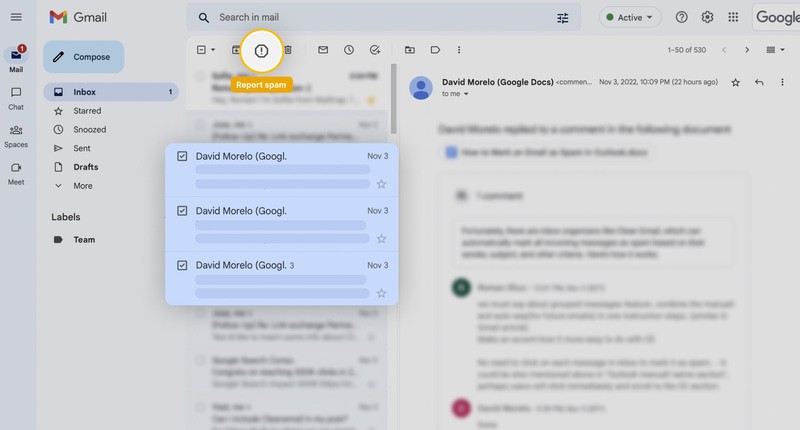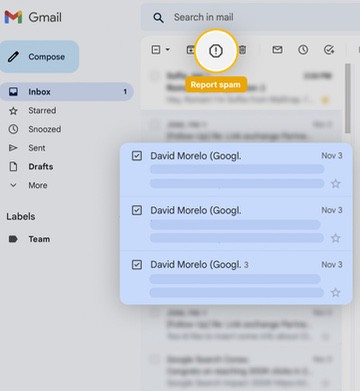 How to Mark An Email As Spam in Yahoo
Like Gmail, Yahoo Mail also filters spam. However, if you need to manually mark a message as spam, take these steps:
Open your Yahoo mobile app or navigate to Yahoo Mail via the web and login.
Tap the circular logo to the left of the message (mobile) or check the box on the left side of the email (web).
Select the shield marked Spam. (💡 Note: On mobile app, you may need to select More first.)
How to Mark An Email As Spam in Outlook
In Outlook, spam is typically referred to as junk. Nonetheless, you can still filter spam or junk messages in Outlook by following these directions:
Access your Outlook inbox (on the web) and select the spam message or messages you'd like to filter out of your inbox.
At the top of the screen, select Report.
Then choose Report junk.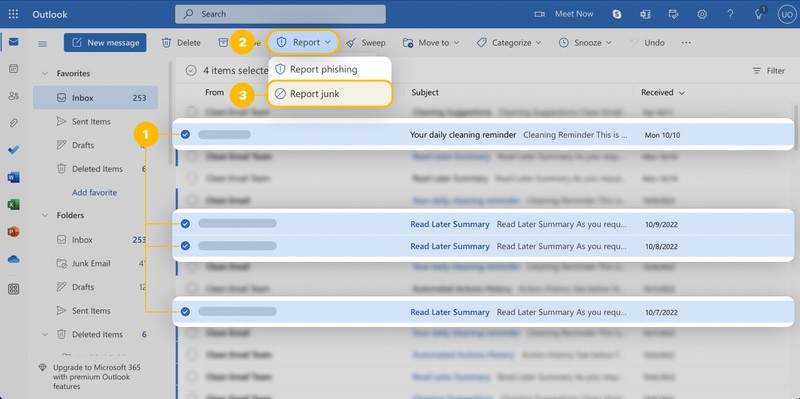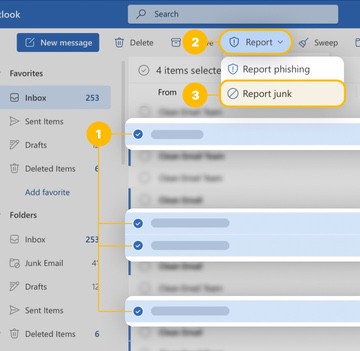 How to Mark Spam in Apple Mail
If you use Apple Mail on your macOS or iOS device, you can also mark spam messages in Apple Mail by:
Open Apple Mail from your device.
If using an iOS device (iPhone, iPad, or iPod touch), swipe left on the message. Then, select More → Move to Junk.
If using a macOS device, click to select the message. Then, press the Junk icon within the Mail toolbar.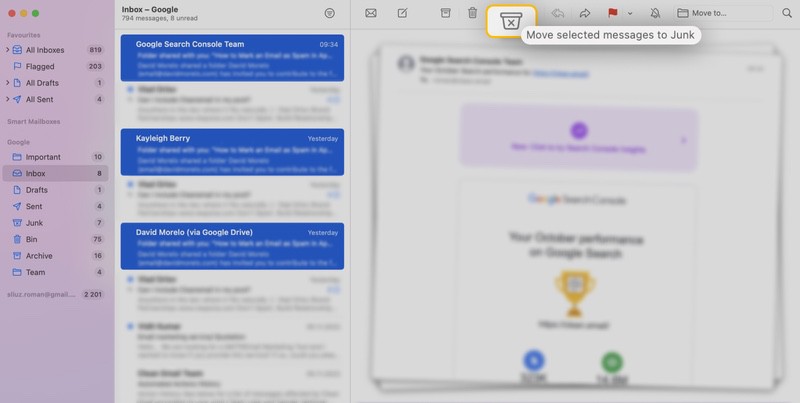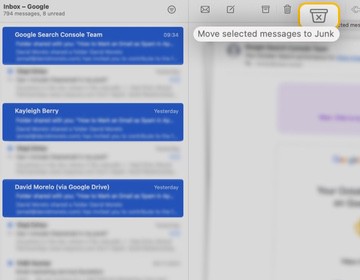 How to Mark Spam in the Clean Email App
In case you don't have enough time to mark every unwanted junk message manually, you can rely on the Clean Email app's rules and filters to automate this process. The app's Auto Clean feature can set up rules to send spam emails from the selected domain to Trash or mark them as Spam once they hit your inbox.
Sign in to the app with your email account.
Choose the All Mail or Inbox folder from the left sidebar.
Click the empty checkbox next to each message group you want to select.
Choose the Create Rule button from the action toolbar. Apply Action such as Mark as Spam or any other and click Create Rule again.

Now the rule is set and available in your Auto Clean dashboard where you can edit it when needed.
2. Block Spam Email Senders
Sometimes marking specific messages as spam isn't enough to prevent additional emails from that sender from ending up in your inbox. In these cases, you may want to block the sender's address completely.
How to Block Spam Senders in Gmail
When you block a sender's address in Gmail, any messages that come from that address will go directly into your Spam folder. To block a spam sender in Gmail, simply:
Open your Gmail inbox.
Select a message from the spam sender to open it.
Once you open the message, select More (three dots) in the top right.
Click Block [sender] to block all future emails from this address.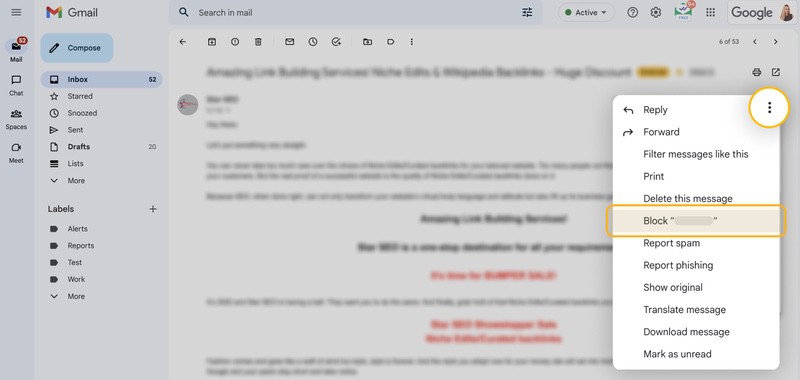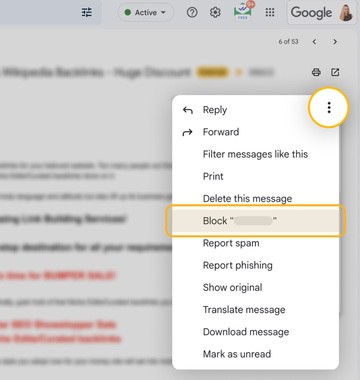 How to Block Spam Senders in Yahoo
Just like with Gmail, you can also block spam sender addresses in Yahoo. To do this, just:
Open your Yahoo mailbox.
Select at least one message from that sender's address.
Move to the far right of the toolbar at the top of your inbox and select More.
In the pop-up list, select Block senders.
From here, a new box will appear and ask you to confirm the email address you want to block and if you want to block all existing messages and future ones. Check the appropriate boxes and push OK.
Learn more about how to stop spam emails on Yahoo.
How to Block Spam Senders in Outlook
If you use Outlook as your email provider, you can also block spam senders from your Outlook mailbox. To stop junk email in Outlook, simply:
Open Outlook mailbox (on the web).
Select a message from the sender you wish to block.
In the top toolbar, click More (three dots), then choose Block and click Block sender to confirm.

You will now see a confirmation message. Click OK. This will block any future messages from this sender.
How to Block Spam Senders in Apple Mail
If you use Apple Mail, you can do the following to block a spam sender from your Mac:
Open the Mail app.
Select a message from the spam sender from within your inbox.
Within the message header, you will click the arrow next to the sender's name and press Block Contact.

This should add a blocked icon next to the sender's address.
Using Clean Email to Block Spam Senders
It's helpful to know how to block an email address directly from your preferred email client to help you stop spam emails. In some cases, though, websites use multiple addresses from the same domain (eg. Amazon) depending on the type of message. Unfortunately, all of these methods only block a single email address, not all messages from that domain.
However, you do have another option — you can use Clean Email to block all messages from a specific domain. To do this, simply:
Sign into the app and choose the Auto Clean tab from the left sidebar. Then click Create Rule.
Name the rule and click Any sender or recipients.

In the drop-down list, choose Sender Domain. In the search box under the Sender Domain, start entering the domain you'd like to block and choose it from the items found.

Select the action you'd like to apply to the messages from this domain, e.g. mark them as spam or send them to Trash. Click Create Rule.
⚠️ Warning: You need to CLICK a domain found in the search results. If you only type the domain name manually, all emails from your Inbox folder may be affected.
3. Get Rid of Existing Spam by Unsubscribing From Mailing Lists
There are many instances where you receive spam messages because you somehow signed up for a mailing list. This often happens when you purchase a product from an online vendor or enter your email address on a website to receive a coupon code. Unfortunately, these messages can quickly overtake your mailbox, especially if the company sends messages daily or, even worse, multiple times per day.
If you need to learn how to unsubscribe from unwanted emails, we recommend using the Unsubscribe button that most email providers now offer at the top of email messages that the client picks up as possible spam. In fact, Gmail, Apple Mail, and Outlook all offer these automated tools.
If you open an email where that Unsubscribe button doesn't appear in the top toolbar, you can also unsubscribe another way from within the message. Most companies that send marketing messages include an Unsubscribe link somewhere in the bottom of the message. You can simply open an email from the sender you'd like to unsubscribe from, pull up the search function within your web browser, and search for the word Unsubscribe to see where the button is within the message.
If neither of these methods works, or if you just simply don't have the time to go through this process for marketing messages from several companies, you can also use bulk unsubscribing tools like Clean Email. This tool will help you even if you don't know how to stop spam emails any other way.
When you login to Clean Email, you can select the Unsubscriber tool from the main menu. Within this tool, you can see all your subscriptions and can easily select multiple newsletters you no longer need.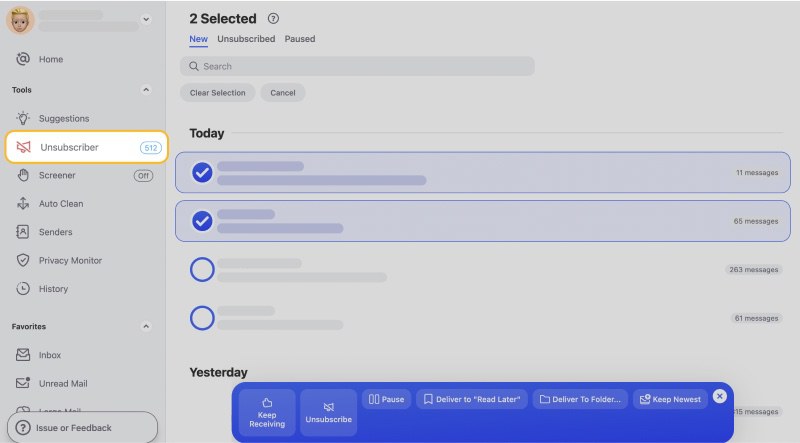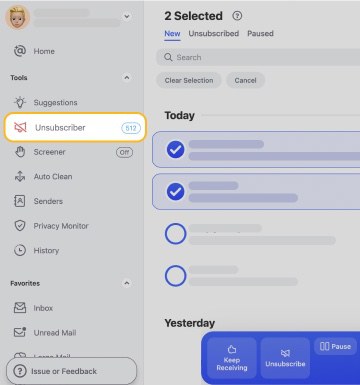 When you push Unsubscribe, Clean Email will follow the required steps to remove your email address from the selected mailing list. The app will send unsubscribe requests and complete unsubscribe forms to opt you out. Until the sender completely unsubscribes you, all new messages will be sent to Trash directly so you never see them again in your Inbox.
4. Use a Third-Party Spam Filter
Unfortunately, no email provider offers foolproof spam filtering. Luckily, there are third-party spam filter apps available to help you cut down on the amount of junk messages you receive.
Third-party spam filters are specific software applications that analyze emails before they enter your inbox to determine if they are "safe" or "suspicious." These apps scan everything from the sender's address to the body of the message (and more). Then, based on what it reads, the filter either allows the message to pass through to your inbox or falls into a specified junk mail location.
Although there are many of these third-party spam filters out there, not all of them work well in every situation. However, some of the best tools include apps like N-Able Mail Assure and MailWasher. We've also compiled a great list of the best email spam filter services so you can decide which third-party spam filter will meet your needs.
5. Don't Respond to Spam Emails
Unfortunately, not all spam emails are as easy to identify as those containing ads for medication used to treat erectile dysfunction. Spammers sometimes go to great lengths to make their emails seem completely legitimate, and they may even attempt to impersonate someone you know, such as your colleague from work or relative.
When in doubt, look for the following telltale signs of spam emails:
The email address doesn't look genuine:
Companies and institutions don't send emails from public email services like Gmail or Yahoo. If you ever receive an email message from, for example, apple-payments@gmail.com, you can be 100% sure that someone is trying to scam you, and you should immediately mark the message as spam.
The email is poorly written:
Many spammers come from countries where English isn't spoken, and their emails usually show it. Be very suspicious of every poorly written email you receive, especially if it comes from someone who supposedly lives in an English-speaking country.
The email contains suspicious attachment:
Spammers use email attachments to distribute dangerous malware, which is why every unsolicited email that contains an attachment reeks of spammers. Never open any executable files (.exe, .bat) or archives (.zip, .rar) because they are almost guaranteed to be malicious. If you receive an attachment that seems legitimate, we still recommend you use an online file scan tool like VirusTotal to verify it.
The email is trying to create urgency:
When you're in a hurry, you're much likely to make a regrettable decision, and spammers know this. They often try to create a sense of urgency by sending emails containing limited-time offers or stating that something bad will happen if you don't follow their instructions. Don't let them fool you and simply mark their emails as spam.
The email is trying to obtain personal information from you:
Your bank will never ask you for your password or social security number over email, and neither will any other reputable institution, so keep your personal information to yourself.
If you notice any of these signs, don't waste your time by responding, even if it's to stop email spam. Responding flags you as a responder, and spammers will then focus their attention on you to try to get you to click on a malicious link or send them money. Instead of responding, simply flag the sender as junk and move on.
You can also learn about more tips like this in our article on how to avoid phishing attacks.
6. Hide Your Email Address
If you want to stop spam emails, you should limit where you publish your email address. When you publish your email address online in a way that is publicly accessible, intelligent bots that constantly crawl the web can obtain your address. Spammers can then add your address to their database and use it to send you malicious messages or sell it to other spammers who will then flood your inbox. In fact, this is most often how email spammers get your address.
If possible, use contact forms instead of publishing your email address publicly on personal or professional websites. If using a contact form isn't possible or you must post your email address somewhere for any reason, try to obfuscate it as much as possible. Instead of writing my@email.com, write my (at) email (dot) com. You won't fool all bots, but it's still better than nothing.
Additionally, you may want to check your email security settings and look for ways to increase the privacy of your email address. Measures like encrypting emails, using strong email passwords, and enabling two-factor authentication will help you secure your inbox. Furthermore, you may want to check what third-party apps have access to your inbox and review which devices have access to your inbox to avoid hacking attempts.
If you specifically use Apple devices, you can also take advantage of Hide My Email. This unique tool lets users create random email addresses for certain apps and websites so that your primary email address is never given out. You can easily enable this feature by going to iPhone Settings → iCloud → Hide My Email.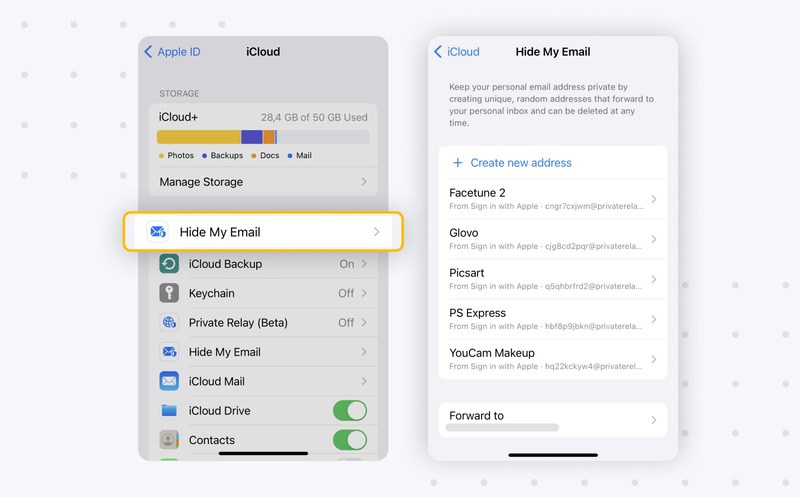 Then, any time you log into a site or app using your Apple ID, it will hide your email address for you automatically.
7. Only Accept Emails From Known Senders
Arguably the most effective way to stop unwanted junk email is to only accept emails from known senders. However, not all email services will let you do this easily. So, let's look at how to create safe contact lists in each of the major email providers: Gmail, Yahoo, Outlook, and Apple Mail client.
How to Add Known Senders in Gmail
In Gmail, you can add emails to your contacts by following these steps:
Open Gmail inbox (on the web).
Open an email from a sender you want to add to your contacts.
Hover your cursor over the sender's name or profile icon.
Click the Add to contacts icon at the top right corner of the profile card.
The sender will be added to your contacts list.
How to Add Known Senders in Yahoo
To add contacts in Yahoo, simply:
Open your Yahoo Mail inbox (on the web).
Scroll to the far right of the top toolbar and click on Contacts icon.
Click on the dots for More, then select Add a New Contact.
From here, you will add the info for this contact.
Press Save.
How to Add Known Senders in Outlook
To add contacts in Outlook, follow these steps:
Open your Outlook inbox.
Open an email from the sender you'd like to add.
Hover your cursor over the sender's name or profile icon.
Click the three dots at the bottom right corner of the profile card.
Click Show more, then press Add to contacts button.
Fill in the contact details and press Save.
How to Add Known Senders in Apple Mail
To add contacts in Apple Mail, just:
Open the Mail app. Then open the message from the sender whose email address you'd like to be added to the contacts list.
Within the message header, click the arrow next to the sender's name and press Add to Contacts.
Now, this sender is added to your contacts list.
Use Screener to Keep Unknown Senders Quarantined
Another way to keep your inbox protected from unknown senders is to use the Screener feature from Clean Email. With the Screener enabled, you can stop spam emails as all messages from new senders will be kept away from your Inbox. You can easily review them in the Screener tab on the left sidebar and choose which emails you want to allow to be delivered and which of them should be blocked and deleted.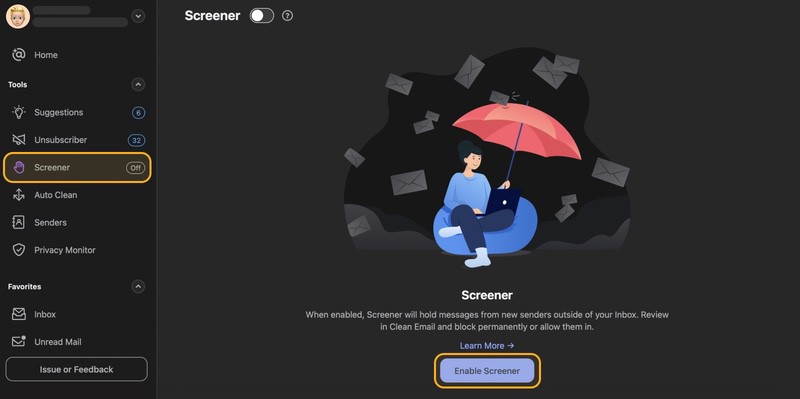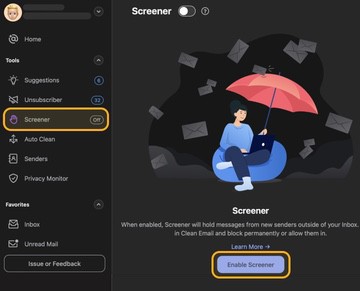 8. Use Alternative Email Addresses
It's a good idea to have multiple email addresses and use each for a different purpose. Reserve your main email address only for work, family, and friends and have at least one more email address ready for online shopping, entertainment, and other purposes.
It's also handy to have a junk email address that you can use whenever a shady website wants you to register. If worst comes to worst and that shady website turns out to be a source of spam emails, you can just create a new junk email address and forget about the old one.
Today, there's no shortage of excellent email services that provide gigabytes of free email storage space. Gmail is by far the most popular option, but there's also Outlook.com, Yahoo Mail, Zoho Mail, AOL Mail, Yandex, and others.
Keep in mind that not all email services are equally resistant to spam emails. If one of your inboxes starts overflowing with spam messages for no apparent reason, we recommend you consider leaving it for one of the most secure email providers to help you avoid additional spam.
9. Change Your Email Address
If none of the above suggestions work, it may be time to move on and simply change your email address. Then use the suggestions above to keep the new address from becoming filled with spam. All you need to do is create a new email address with your favorite email client, then forward any important emails to the new address.
However, consider where you may need to change this address (like with credit card companies or other vendors who send you paperless statements) and make sure you take the needed measures to update these addresses.
Use Clean Email to Stop Getting Spam Emails
If you're looking for a tool to help you maintain a clean, spam-free inbox, then you may want to try Clean Email.
Although it's not specifically designed as a spam filter service, Clean Email does offer many great features that can help you maintain a more efficient inbox. There are several features in addition to the ones previously mentioned in this article that can help you avoid spam when you check your email.
For example, the Privacy Monitor feature can check if your email credentials were compromised during any known security break or accident. If found, you will be advised to take security measures.
Furthermore, you can block certain addresses right from the Senders tab which is located on the left sidebar. From here, you can also pause getting messages from the selected senders or unblock the senders you'd like to remove from your blocked list.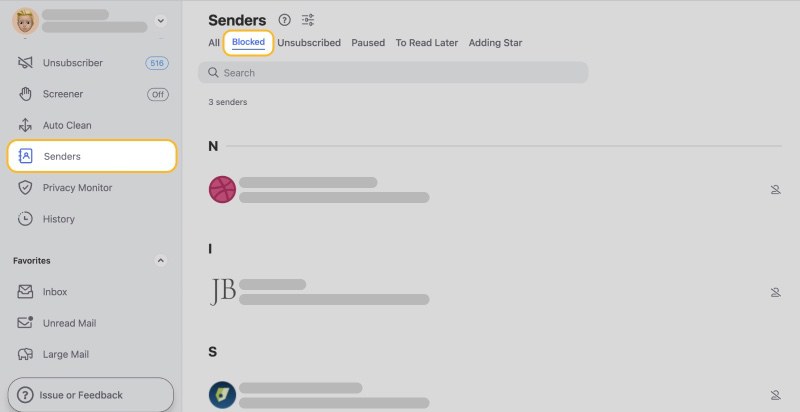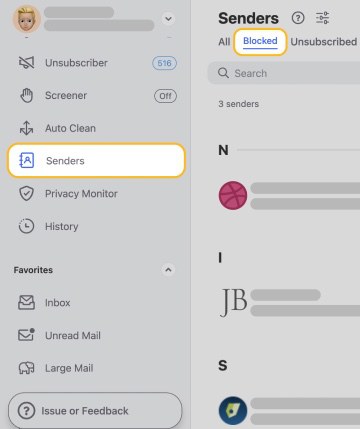 ---
How to Stop Spam Emails - FAQs
Why am I suddenly getting a lot of spam emails?
Unfortunately, spammers frequently purchase email addresses in bulk from other companies. If you feel like you've suddenly seen an increase in the amount of spam messages in your inbox, it could be that your email account is on one of these lists.
Will spam emails eventually stop?
Spam emails will likely always be an issue we all deal with. However, if you block spam senders and take other recommended steps to secure your inbox, you can cut down the amount of spam emails you receive.
Can I block spam emails?
Yes, there are measures you can take to block spam senders with your email provider and through third-party apps like Clean Email.
How to stop spam emails on iPhone?
If you use Apple Mail or a similar email client, you can flag senders to cut down on the amount of junk mail you receive.
How do I stop spam emails permanently?
You can take several steps to help stop spam emails or messages from specific senders from landing in your inbox. These steps include unsubscribing, training your spam filter, and blocking emails from specific senders.
How do I stop spam emails in Gmail?
Gmail offers several tools to help you stop spam emails from getting to your inbox, several of which we've outlined in this article.