Unsubscribe From Amazon Emails: 2 Methods
Whether you want to stop Amazon order confirmation emails or you want to pause all their product recommendations, one of these methods should help you out.
1. How to turn off Amazon email notifications in a browser
Unfortunately, you can't unsubscribe from Amazon emails from the mobile app, so you'll need to hop on your computer and turn them off this way:
Open your web browser and go to www.amazon.com.
Log in (if needed) and select the "Account and Lists" dropdown menu.
Under "Your Account," select "Account."
Scroll down to the section labeled "Communication and content."
Click on "Communication Preferences."
Under "Email Preferences," select the dropdown for "Promotional Emails."
From here, you can either select "Do not send me any marketing email for now," or just choose which messages you do or do not want to receive.
2. How to stop emails from Amazon in your email service provider
If you'd like to stop Amazon shipping emails or similar messages that Amazon doesn't allow you to simply unsubscribe from, you can use your email service provider's spam filter to catch these:
Open your inbox.
Search for the messages you want to stop (ex. shipping emails come from ship confirm@amazon.com).
Click to create a filter.
Choose what you'd like to do (ex. "archive it" or "send to spam").
Note: These directions may vary based on the exact mail service provider you use.
How to Stop Amazon Emails Using Clean Email
Although the methods above can help you stop some of the marketing emails from Amazon, there's no great to stop everything. In fact, it's almost impossible to stop Amazon order confirmation emails and other similar messages.
Luckily, Clean Email makes all of this very easy. The app can help you organize and manage your inbox for Gmail, Outlook, Yahoo, iCloud, AOL, and many others. In fact, you can use the app's Unsubscriber feature to automate unsubscribe requests, pause certain subscription emails, or even block unwanted senders entirely.
Whether you want to organize your work, school, or personal email (or even more than one!), Clean Email is here to help in any web browser or though apps for iOS and Android.
How to Unsubscribe From Amazon Emails In Clean Email
If you'd like to unsubscribe for any or all Amazon emails using this app, just follow these steps:
Open your web browser and go to https://app.clean.email/.
Sign into your account.
Choose "Unsubscriber" from the left pane on home screen.
Scroll through the list of emails to unsubscribe from or simply type in "@amazon.com" to see just messages from Amazon.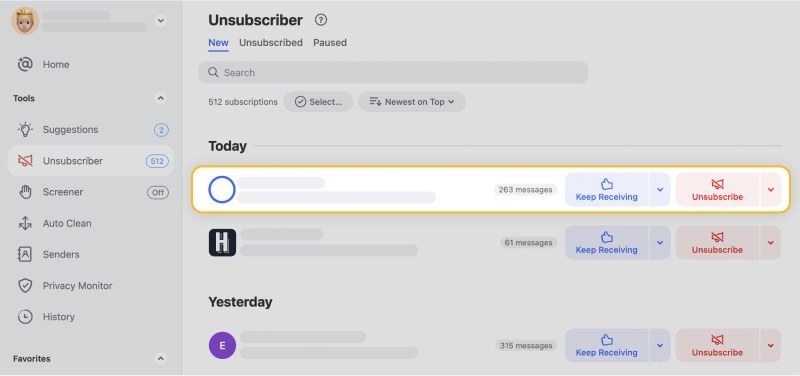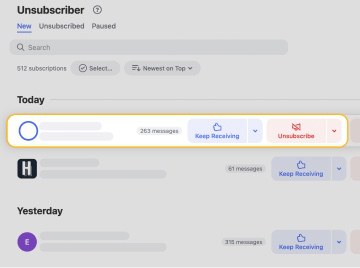 Click "Unsubscribe" next to each email address you'd like to unsubscribe from.
Of course, the app can help you easily unsubscribe from Pinterest emails and other unwanted notifications, including those coming from Facebook, Twitter, Quora, Medium, LinkedIn, etc.
How to Stop Amazon Emails with Block Feature In Clean Email
Sometimes unsubscribing from some Amazon emails won't completely remove them from your inbox. Amazon sends messages from slightly different addresses depending on if it's a product recommendation, an order confirmation, or a request for a review from a seller. Thankfully, Clean Email can help you block all Amazon emails in just a few steps:
Launch the service and log into your account.
Choose Inbox from the home screen or All Mail smart view.
Type "@amazon.com" (without quotation marks) in the search bar.
Choose "Select All," then press "Block" from the menu bar at the top of the page.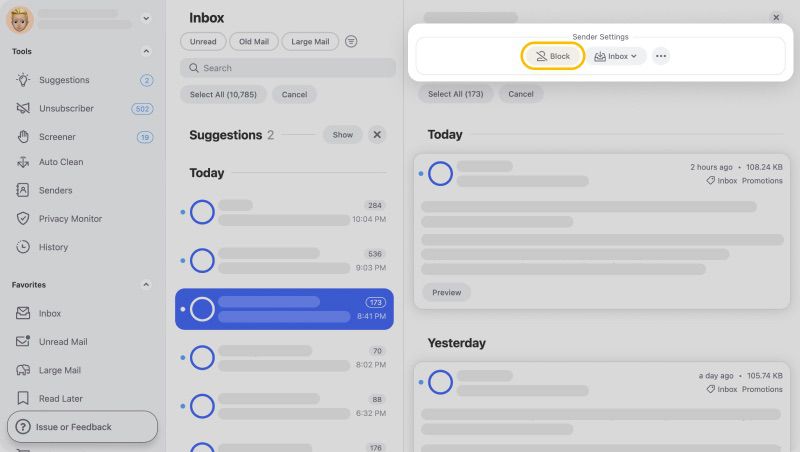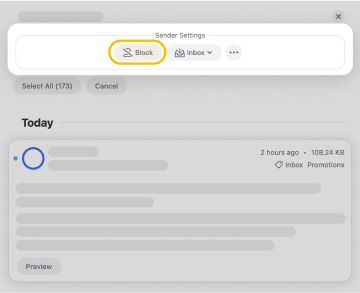 Move Amazon Email Notifications to a Dedicated "Read Later" Folder
If you simply want to read your Amazon emails later without receiving notifications, the "Read Later" feature can help with that. To move your Amazon messages to Read Later, use these steps:
Go to https://app.clean.email/ and sign into your account.
Choose "Unsubscriber" from the home screen.
Type "@amazon" in the search box.
Push the "Read Later" tab on top.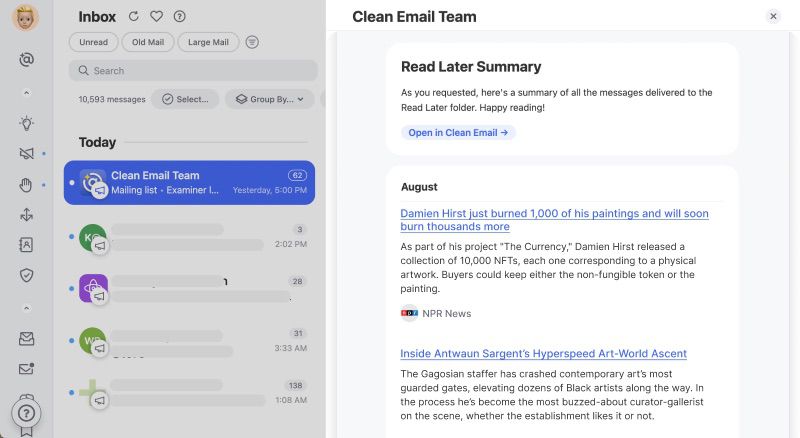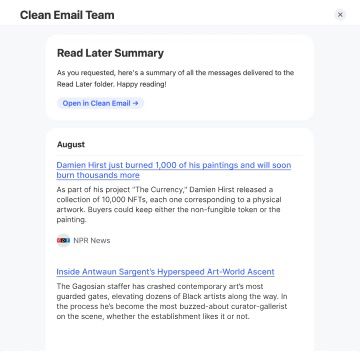 Set an Automatic Rule To Filter Emails from Amazon
If you'd rather just set all of your Amazon emails to read, archived, or spam, you can use Clean Email's automatic rule using these steps:
Log into your account.
Choose "Auto Clean" from the home screen.
Select the "Selected and future similar emails" option.
Choose the rule that you want to apply to your Amazon emails.
While messages from Amazon can get overwhelming, they aren't the only unnecessary messages that come into your inbox. Clean Email is here to help you learn how to unsubscribe from emails from social media sites like Facebook and Pinterest, or even block excessive emails from eBay or PayPal. With this app, you can keep your inbox organized so you can stay productive.