How to Unsubscribe from Amazon Emails: 3 Methods
Whether you want to stop Amazon email newsletters or you want to pause all their product recommendations, one of these methods should help you out.
1. How to stop emails from Amazon with Clean Email
If you're looking to stop Amazon emails or manage their mailings more efficiently, Clean Email can be an invaluable tool. Here's a step-by-step guide to help you leverage this software to turn off Amazon email notifications:
Go to https://app.clean.email/ and sign in with your mail account.
Choose the Unsubscriber tab from the left pane on the home screen.
Type in amazon.com (without quotes) to the search box to see just messages from Amazon.
Click Unsubscribe next to each Amazon address you'd like to stop getting messages from.

⚠️ Warning: Be cautious when unsubscribing, as you may want to retain certain Amazon emails such as order confirmations, delivery notifications, or messages warning about issues with your Amazon account. Take the time to explore the different types of Amazon emails and learn how to manage them effectively.

The app will now handle unsubscribe requests for you. As Amazon reviews your request for unsubscribing, any new messages from their domain will go straight to the Trash folder.
2. How to turn off Amazon email notifications in a browser
Unfortunately, you can't unsubscribe from Amazon emails from their mobile app, so you'll need to hop on your computer and turn them off this way:
Open your web browser and go to amazon.com. Log in (if needed) and select the Account and Lists dropdown menu.
Under Your Account, select Account.
Scroll down to the section labeled Communication and content.

Click on Communication Preferences.
Under Email Preferences, select the dropdown for Promotional Emails.

From here, you can either select Do not send me any marketing email for now, or just choose which messages you do or do not want to receive.
3. How to unsubscribe from Amazon emails in your email provider
You can also directly stop Amazon emails through your email provider. Follow these steps to efficiently turn off Amazon emails without leaving your inbox:
Open your inbox on the web.
Search for the message you want to stop and open it.
Find the unsubscribe link that should be located in every message sent by a legitimate sender, as required by the CAN-SPAM Act. Keep in mind that it might be hidden at the bottom of the message or use a smaller font.

Once found, click the link and follow further instructions to opt out.
💡 Note: Unsubscribing from one mailing using this method may not be efficient, as you may still receive emails from other Amazon email addresses, making it time-consuming to stop them all.
When Unsubscribing Isn't the Best Solution: Use Clean Email
While the methods we've discussed can reduce the influx of Amazon's marketing emails, they might not halt all types. This is where Clean Email shines with its robust feature set. The app can assist you in managing your emails from Amazon without forcing you to unsubscribe from all of them. Compatible with Gmail, Outlook, Yahoo, iCloud, AOL, and other IMAP-based email services, it is a comprehensive solution for your email management needs.
Managing Amazon emails made easy with Clean Email
Through analyzing typical Amazon user communications, we've crafted solutions to effectively manage them using Clean Email's features:
Use Auto Clean rules

to:

Archive: Use this rule to automatically archive Amazon order confirmations, delivery notifications, policy updates, and customer service communications after a set period. This keeps your inbox tidy while preserving essential information.
Star: Apply this rule to highlight payment issues or account-related notifications, ensuring critical information doesn't get lost in a crowded inbox.
Keep Newest: This rule saves only the most recent email from a particular address. It's useful for managing recurring messages like Amazon shipping notifications.
Trash: This rule can automatically discard review requests from Amazon one week after they land in your inbox.
Move to Read Later

: This feature is ideal for postponing the reading of Amazon's news or personalized product recommendations sent based on your browsing and purchase history. The advantage of this feature is that these emails won't clutter your inbox.

Block Sender's Domain

: In extreme cases where you no longer wish to interact with Amazon but continue receiving their emails, you can block all their addresses permanently. This is a drastic but effective solution.
Set automatic rules to filter certain emails from Amazon
Use the Auto Clean feature to filter specific types of Amazon emails, like order confirmations that you don't want to delete or unsubscribe from. With this feature, you can create automated rules, such as automatically sending delivery notifications or policy updates to the Archive folder once they're older than three months.
Here's how:
Log into your email account at https://app.clean.email/.
Tap Auto Clean on the left panel and click the Plus sign to add a new rule.

Click Any sender or recipients and select Sender (name and email). Start typing amazon (without quotation marks) in the search bar.
Click on the Amazon email address that sends you the order confirmations from the search results.
Optionally: If you're receiving various types of messages from the selected email address, you can add a keyword like order into the Subject, sender, or recipients contain… line to ensure that only order confirmations will be included in the rule.
Then select the Old Mail filter and choose Older than 3 months.
Under the Apply Action section, click Choose action… and choose Archive (or Move to if you want to move these emails to their own folder).

Toggle on the Apply to existing messages if you want to apply this rule to all existing emails. Then, click on Create Rule to set the rule.
💡 Note: If you accidentally click on the wrong action and the rule is applied to the wrong messages, you can undo your action in the app. To do this, be sure to enable the Quick Cancel toggle located in the account Preferences.
Move Amazon email notifications to the Read Later folder
Want to read your Amazon personalized product recommendations later without notifications? Use the Read Later feature by following these steps:
Sign into your mail account at https://app.clean.email/.
Click the All Mail folder and type in @amazon (without quotation marks) in the search bar.
Mark the empty checkbox next to the email address that Amazon uses to send you product recommendations.
Click the Create Rule button located in the blue action bar at the bottom.
In the pop-up window, choose to Move to Read Later under the Apply action section.
Turn on the Apply to existing messages toggle if you want to apply this action to all existing emails. Click Create Rule and the rule is set.
💡 Note: Clean Email can send you a summary of the messages in your Read Later folder regularly to help you stay informed.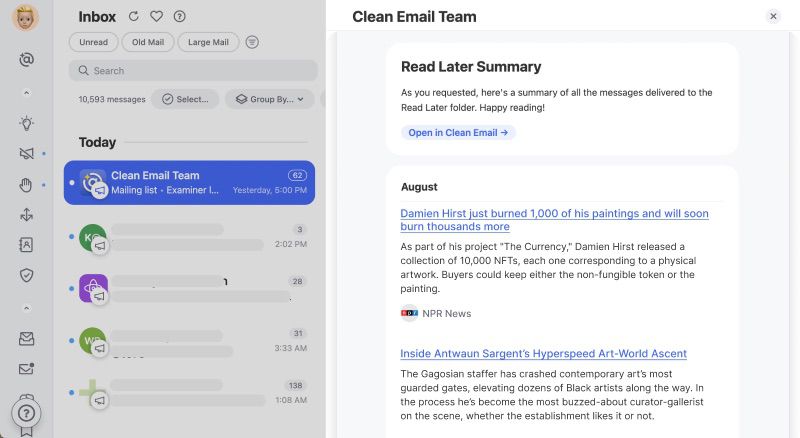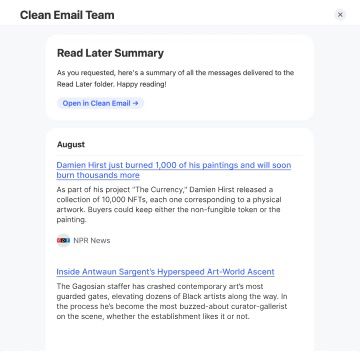 How to stop Amazon emails with the Block feature
In case you need to, Clean Email can quickly and easily help you stop ALL Amazon emails in just a few steps. Here is how to block an entire domain:
Go to https://app.clean.email/ and log into your mail account.
Choose Auto Clean on the left panel, click the Plus sign, and name the new rule.
Click Any sender or recipients.

Select Sender Domain from the drop-down list and type amazon.com (without quotation marks) in the search bar.
Decide on the action you want to take, such as moving those emails to the Trash folder, and click Create Rule to confirm. With the rule set, you'll never receive those emails in your inbox again.
Of course, the app can help you easily block emails from Quora, stop Pinterest emails and other unwanted notifications, including those coming from Facebook, Twitter, YouTube, Medium, LinkedIn, etc.
Although messages from Amazon can become overwhelming, they are not the only unnecessary emails that flood your inbox. Clean Email is here to help you learn how to unsubscribe from Facebook emails or other social media sites such as Pinterest or Instagram. You can even block unwanted emails from eBay or Target with this app, allowing you to keep your inbox organized and stay productive!