How To Stop Instagram Emails: 3 Methods
Instagram emails can be overwhelming. But more importantly, too much clutter in the inbox prevents you from seeing the messages that matter most. Try these easy methods to stop unwanted messages for good.
1. How to stop receiving emails from Instagram on mobile
Chances are you're already using Instagram on your mobile device. If so, you might want to try this easy method to stop receiving emails from Instagram.
Open the app on your mobile device.
Go to your profile.
Click the hamburger menu (three stacked horizontal lines) and click Notifications.
Choose Email and SMS under Other Notifications.
Turn off each type of notification you no longer wish to receive. Done!
2. How to stop emails from Instagram in a browser
Prefer to stop Instagram emails from your computer or laptop? The process is fairly similar to using the mobile app.
Open a new browser tab and log into your account.
Click your profile pic in the top right corner, then select Profile.
Click the Gear icon to go to settings.
Choose Notifications, then Email and SMS.
Un-check the messages you no longer wish to receive.
3. How to unsubscribe from Instagram emails in your mail provider
You can also unsubscribe from Instagram emails without leaving your inbox. Here's how:
Locate an Instagram message in your inbox and open it.
Scroll down and click the Unsubscribe link in the message (usually in the footer).
Follow the prompts to opt out.
How To Stop Instagram Emails with Clean Email
For a faster and more efficient way to get rid of unwanted messages, there's Clean Email. The app takes the guesswork out of creating a neat and tidy inbox by unsubscribing from emails in bulk and organizing incoming messages on your behalf.
Using Clean Email, you can:
Stop all or selected Instagram notifications
Automatically move specific messages to a Read Later folder or archive
Temporarily pause emails from entering your inbox
Only keep the newest emails from Instagram and other senders
This email unsubscribe app supports all email providers and operating platforms with IMAP. Use your Clean Email account for your personal, student, and work emails. The app makes it easier to unsubscribe from and manage all your emails compared to manual methods. It's email management your way, hands-free, without the stress.
How to Get Instagram to Stop Sending Emails Using Clean Email
Follow the steps below:
Open the app and sign in with your mail account.
Select the Unsubscriber tool from the left pane.
Click the Unsubscribe button next to the email address from which Instagram sends you messages.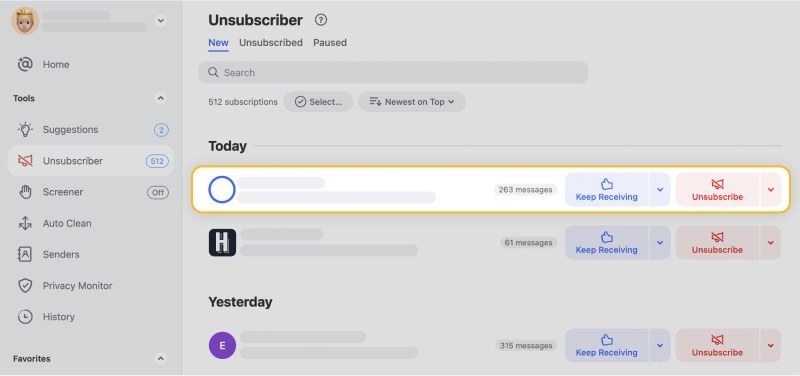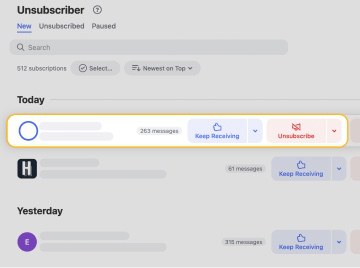 Of course, the app can help you easily unsubscribe from New York Times email notifications, stop Reddit emails and other unwanted messages coming from LinkedIn, Groupon, Target, etc.
How To Block Emails from a Specific Domain In Clean Email
Instagram sends many types of emails, which is why many users still see their messages even after they think they've unsubscribed. If you don't unsubscribe from all email categories, then you will continue to see Instagram emails in your inbox.
That's why we offer another option for getting rid of Instagram email notifications — block the entire domain. Here's how to use this feature in Clean Email.
Open the app and sign in with your mail account.
Go to the Inbox folder and type in "instagram.com."
Select all found messages.
Click the Block option from the toolbar.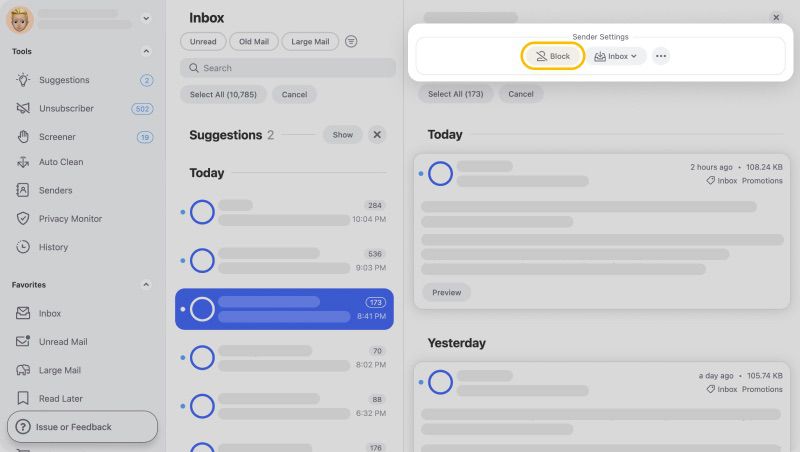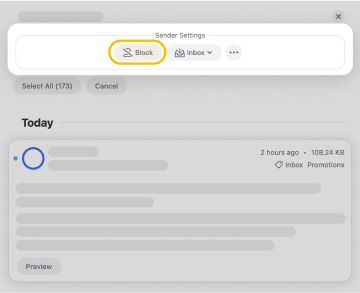 This option also works to stop Netflix emails, turn off notifications from Wish, eBay, and more.
Move emails to a dedicated "Read Later" folder
So maybe you're not ready to say good-bye to all your Instagram emails. Maybe some of them can be useful, but you don't want to see them all the time. No worries — Clean Email has you covered with a dedicated Read Later folder option. The app can automatically send all notifications you haven't unsubscribed from to this folder for you to read at your convenience.
Here's how it works:
Open the app and sign in with your mail account.
Select the Unsubscriber tool from the left pane.
Click the Read Later button next to the mail address from which Instagram sends you messages.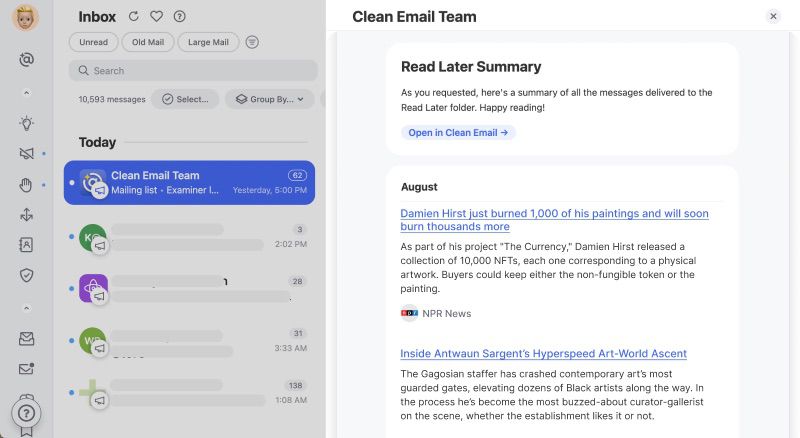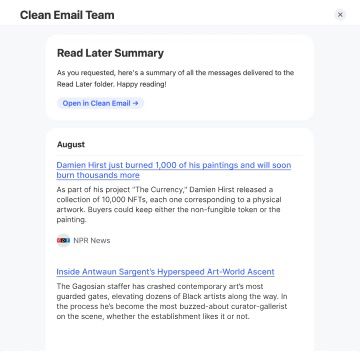 Set an automatic rule to filter emails
Clean Email also has an Auto Clean feature that filters incoming emails matching your selected rules set. For example, if you don't want to delete Instagram notifications, you can set a rule to mark them unread, archive, or move to a specific folder.
There's a ton of flexibility in how you manage your inbox with this inbox cleaner app. See for yourself with a free trial!
Wondering how to stop getting spam emails or how to unsubscribe from emails on iPhone? Visit our blog to clean up your inbox and boost your productivity!