How to Unsubscribe from Poshmark Emails: 3 Methods
Like many popular companies that use email marketing (Target, Walmart, Facebook, Kohl's, and others), Poshmark offers several ways to update your email preferences. Here are three easy methods to try:
1. How to stop Poshmark emails on mobile
Got the Poshmark app? Try stopping Poshmark emails via mobile device.
Open the app on your mobile device.
Go to Account Settings.
Select Notifications.
Choose Email Notifications.
Update your preferences.
2. How to stop getting emails from Poshmark in a browser
Update your Poshmark email settings from your web browser. Here's how:
Log into your Poshmark account.
Click your Profile image in the top corner.
Select Notifications.
Choose Email Notifications.
Toggle the On/Off switch to update your preferences.
3. How to stop Poshmark emails in your email provider
Do you have a Poshmark message in your inbox right now? Use it to unsubscribe or update your preferences.
Go to your Inbox and open a Poshmark message.
Scroll down to find the Unsubscribe link in the message (usually in the footer).
Update your preferences.
How to Get Poshmark to Stop Sending Emails Using Clean Email
Want a better way to unsubscribe from Poshmark emails? The Clean Email app makes it easy, fast, and painless. Just connect the app to your inbox, then choose what you want to happen with Poshmark messages. Unsubscribe from all newsletters in bulk with just one click. Or, have them automatically sent to a special folder for you to read later. You can also choose to archive them, keep only the newest email, or block the entire Poshmark domain. The choice is yours!
Our users love Clean Email because of its simple interface and reliable functionality. If you can click a button, you can use our app! All the features and functions are at your fingertips. There's no fancy setup, no coding, and no surprises. Just tell the app which newsletters you don't want to see and consider it done.
This is a huge benefit since unsubscribing from email using traditional means doesn't always take effect immediately. But when you use this app, all those unwanted messages will completely disappear!
This email unsubscribe app works across all mail providers, including Outlook, Gmail, Yahoo!, Apple Mail, and more. You can use the same Clean Email account for all of your mailboxes, including work, school, and personal accounts. With all the features you need right at your fingertips, the app makes it faster than unsubscribing manually. Plus, it works on multiple frequent senders, including Amazon, Twitter, Pinterest, Quora, Reddit, and more!
Let's explore how you can clean up your inbox in seconds — and keep it that way!
Unsubscribe from Poshmark Emails in Clean Email
You can bypass your Poshmark account and unsubscribe directly from your inbox. Here's how:
Open the app and sign in with your mail account.
Select the Unsubscriber feature from the left pane.
Click the Unsubscribe button next to the unwanted newsletter and you're done.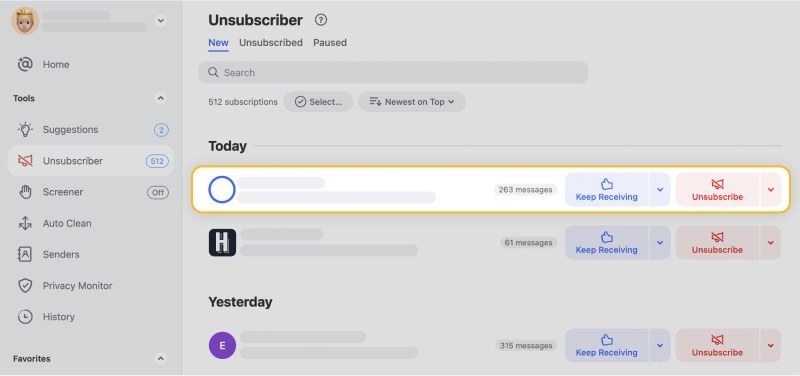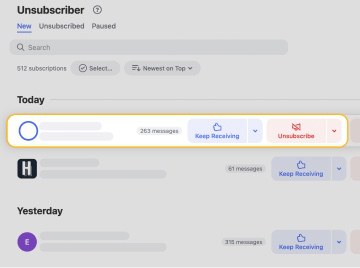 Of course, the app can help you easily unsubscribe from American Express email notifications, stop Robinhood emails and other unwanted messages coming from LinkedIn, Groupon, Target, etc.
How To Block Emails from a Specific Domain In Clean Email
There's another option to stop Poshmark emails — block the entire domain. Companies like Poshmark often send messages from multiple addresses. Blocking the domain ensures no message falls through the cracks.
Open the app and sign in with your mail account.
Go to the Inbox folder and type "poshmark.com" in the search bar.
Select all found messages.
Click the Block option from the toolbar.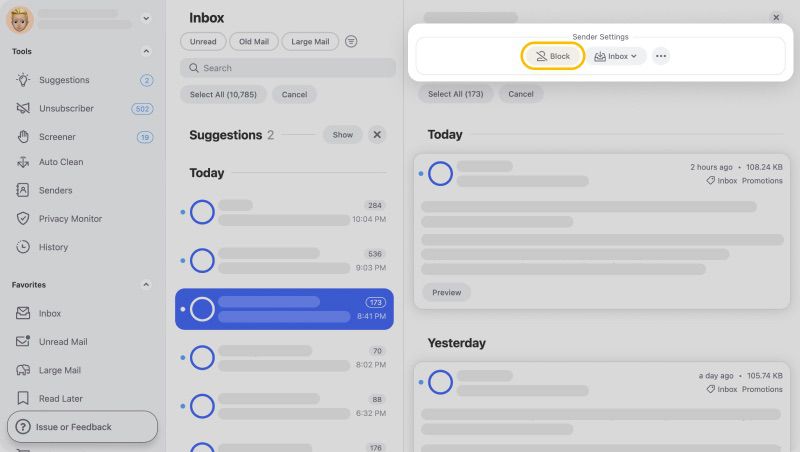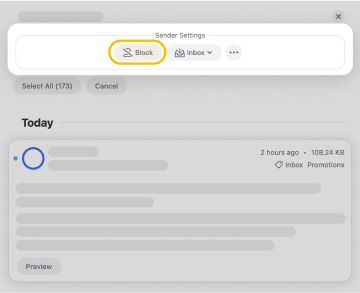 This option also works to stop DoorDash emails, turn off notifications from Walgreens, eBay, and more.
Move emails to a dedicated "Read Later" folder
Not ready to get rid of all Poshmark emails? Clean Email's Read Later feature allows you to move selected messages to a Read Later folder. Open those emails at your convenience while keeping your main inbox free and clear of annoying newsletters.
Here's how it works:
Open the app and sign in with your mail account.
Go to Inbox folder and locate the desired Poshmark message.
Click the Read Later button on the top bar with various actions.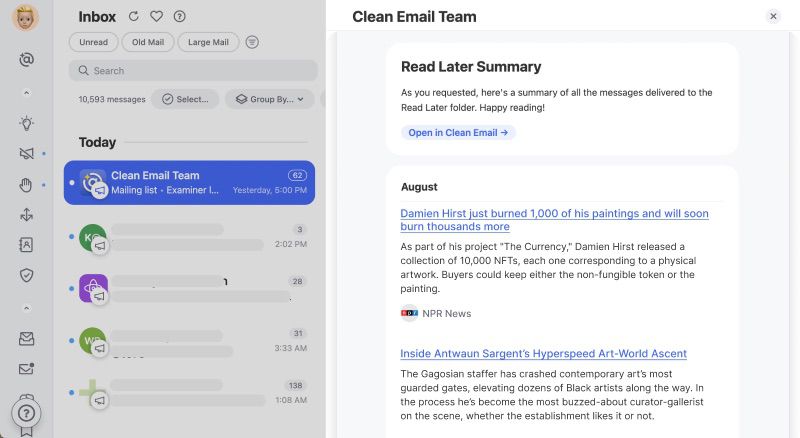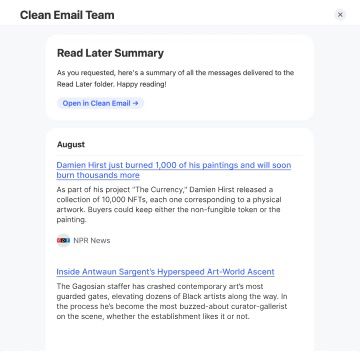 Set an automatic rule to stop Poshmark emails
There's also an Auto Clean feature within Clean Email that allows you to filter incoming emails based on simple rules. You decide how you want to interact with your Poshmark messages, whether it's to archive them, keep only the newest one, mark them unread, or move them to another folder. Get more control over your inbox and enjoy less clutter without the fuss!
Wondering how to stop getting spam emails or how to unsubscribe from emails on Outlook? Visit our blog to clean up your inbox and boost your productivity!