How To Unsubscribe from Reddit Emails: 3 Methods
If you're not using Clean Email yet, you can unsubscribe from Reddit emails through traditional means. Here are three options you can try right now:
1. How to stop getting emails from Reddit on mobile
If you have the Reddit mobile app, you can update your email preferences directly on the app. Here's how:
Open the mobile app and click on the profile icon in the top left corner.
Choose Settings.
Choose your User Name.
Select Manage Emails.
Turn off the notifications you wish to no longer receive, or select the Unsubscribe from all emails option.
2. How to stop Reddit notifications in a browser
You can unsubscribe from Reddit emails by logging into your account on a traditional browser. Here's how:
Open a new browser and go to Reddit.com.
Log into your account.
Click the user profile in the top right corner.
Go to User Settings.
Go to Notification Settings.
Choose the message types you no longer wish to receive.
3. How to stop Reddit emails in your mail provider
You can unsubscribe from Reddit emails directly from your inbox. This is a more manual process, but still effective.
Open your inbox.
Locate a Reddit email.
Click the Unsubscribe link and follow the instructions.
How To Stop Reddit Emails Using Clean Email
There's another option to stop Reddit emails, and it's less hands-on and highly effective: the Clean Email app. This app uses automation to unsubscribe you from unwanted emails and notifications, such as you get from Quora, Facebook, Target, LinkedIn, Mint, Netflix, Amazon, and many more.
The app works across all mail providers, including Outlook, Yahoo!, Apple Mail, Gmail, and others. You can use the same Clean Email account for all of your emails, including work, school, and personal accounts.
The app makes it easier and faster to unsubscribe from multiple messages in bulk instead of manually selecting each one. Set it up one time and it's done!
How to block messages from a specific domain in Clean Email
There is another option to stop getting Reddit notifications in this app — block the entire domain. This is helpful when you've already unsubscribed from Reddit emails but are still receiving them. Or, when there are too many different types of messages to unsubscribe from.
Launch the app and sign into your mail account.
Open the Inbox or All Mail smart view.
Type @reddit in your inbox's search bar.
Click "Select All" and then "Block."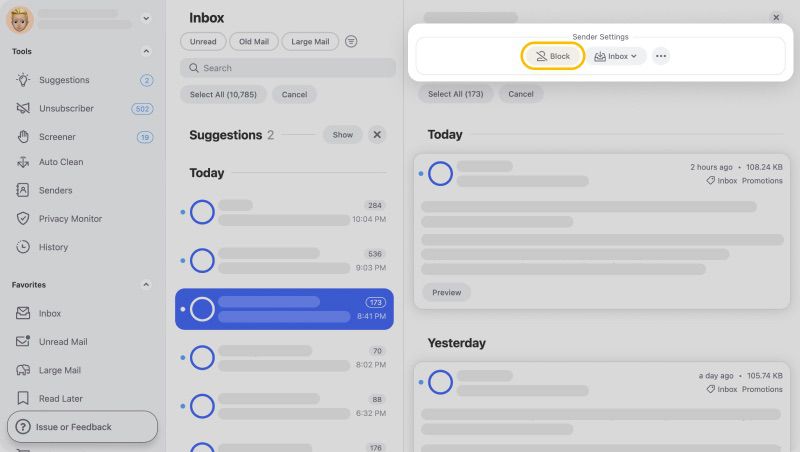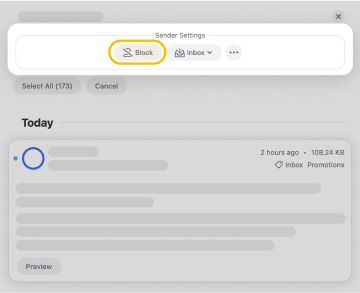 Move Reddit email notifications to a dedicated "Read Later" folder
If you don't want to completely get rid of some messages, you can send them to a dedicated Read Later folder. This way, Reddit emails don't clog up your inbox but you can still access them when it's convenient for you.
Connect Clean Email to your inbox.
Select the necessary message.
Choose the Read Later option (on the sender row).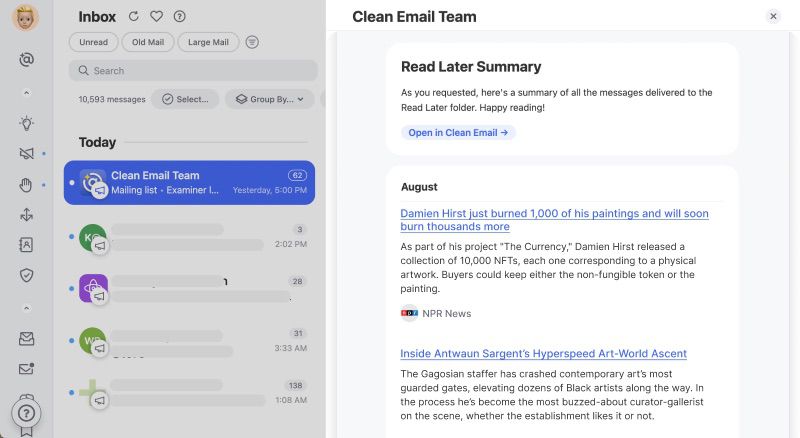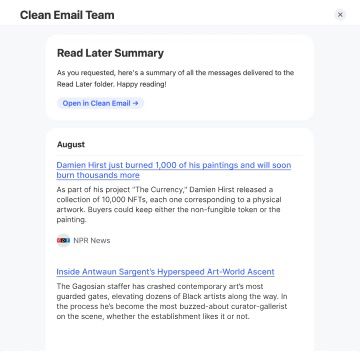 Set an automatic rule to stop Reddit emails
If you like the idea of having more control over how your messages are filtered, you'll love the Auto Clean feature in Clean Email. You can filter and sort emails based on the rules set. Mark certain messages unread automatically, archive after a certain date, or move them to specific folders.
To use this feature, locate a Reddit email and click the Auto Clean button. From there, you can create an easy rule on how to handle future similar messages with ease. Say goodbye to manual inbox management for good!
Bottom line: Clean Email is the easiest email management tool to help you get around the inbox clutter. Get rid of unwanted Reddit emails and other notifications so you can get straight to the good stuff and never miss an important message again.
Wondering how to unsubscribe from Twitch emails, stop Zillow messages, or turn off Groupon emails? Our blog will help you learn how to stop unwanted newsletters from cluttering your inbox.