How To Stop Emails From Groupon: 3 Methods
Many users report receiving multiple emails from Groupon every day. If these messages are becoming a nuisance to you, there are several Groupon emails unsubscribe options to try.
1. Stop Groupon emails on mobile app
Groupon's mobile app allows you to update your account information. If you want to send messages from this marketplace to another address (maybe one you use just for promotional emails), you can change your preferences on the app.
Open the app and log into your account.
Scroll down to My Stuff.
Choose "My Account" and update your email.
2. How to opt out of Groupon emails in a browser
Similar to the app, you can log into this marketplace via a desktop browser to update your mail address. This option works if you have another email to collect your unwanted Groupon emails. You can also update your email preferences in your Account.
Go to groupon.com and log into your account.
Go to My Stuff and select Account.
Change your mail address.
Under My Stuff, go to Preferences.
Select Email Preferences from the top menu.
Uncheck any boxes that do not apply, then click Save.
3. Unsubscribe from Groupon emails in your email provider
All mail clients, such as Gmail, Yahoo!, and Outlook, offer the option to unsubscribe from unwanted newsletters. You can do this in one of two ways:
Log into your mail account.
Locate a Groupon email and select it.
Use the Report Spam button (or similar option, depending on your email provider).
Alternatively, you can open the message and click the Unsubscribe link.
How to stop getting emails from Groupon using Clean Email
Clean Email combines automation with email to maintain your inbox on your behalf. The Unsubscriber feature takes bulk action against all of your unwanted newsletters from Groupon and other senders, including Facebook, LinkedIn, Target, Best Buy, Medium, Quora, and many more. Set up rules to customize how your emails are filtered. Send specific messages to a dedicated Read Later folder so they don't overcrowd important messages. It's your inbox, your way.
The app works for all mail clients, including Gmail, Yahoo!, Apple Mail, and Outlook. It's excellent for work, school, and personal accounts, and can be used with all of them! Save time in the inbox and kiss SPAM goodbye!
How to unsubscribe from Groupon emails in Clean Email
The app makes it easy to learn how to unsubscribe from all Groupon emails in just a few clicks. There's no need to manually open and delete each one, ever again. Bonus: the app also works to unsubscribe from Twitter emails, Uber, Quora, stop spam emails, and many more!
Log into the app and connect your inbox.
Select the Unsubscriber feature.
Select the newsletters you no longer wish to receive.
Click Unsubscribe and you're done!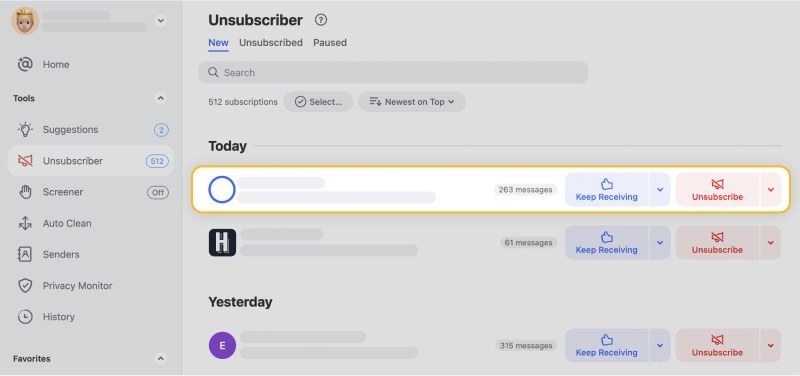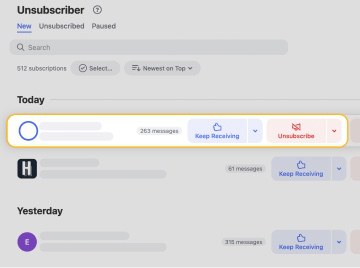 How to block emails from a specific domain in Clean Email
There is another option to stop getting Groupon notifications in Clean Email — block the entire domain. This is helpful because these messages often come from multiple addresses. If you block the entire domain, then no message from Groupon will be allowed into your inbox.
Launch the app and sign into your mail account.
Open the Inbox or All Mail smart view.
Type @domain in the search bar (replace "domain" with the Groupon domain).
Click "Select All" and then "Block."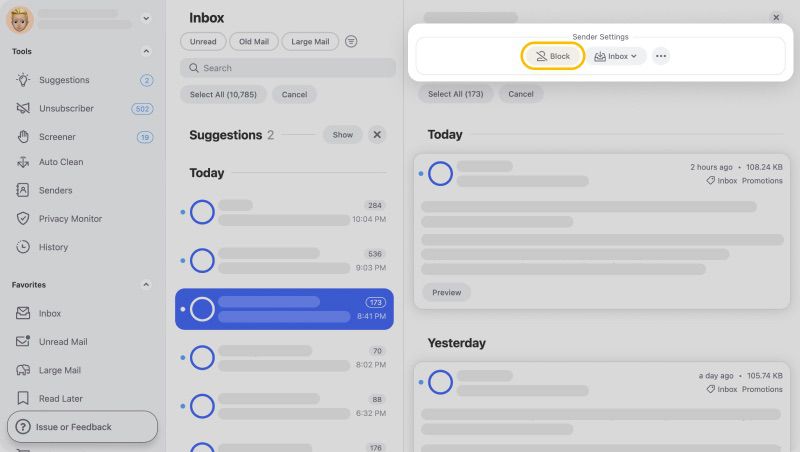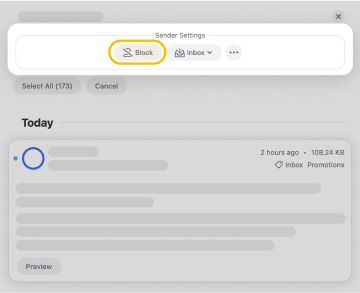 Move Groupon email notifications to a dedicated "Read Later" folder
If you want to hold onto your Groupon emails but don't want them in your main inbox, you can send them to a dedicated folder to read later. Clean Email can do this automatically with just a few clicks to set up.
Launch the app and sign in with your mail account.
Select the necessary message.
Choose the Read Later option (on the sender row).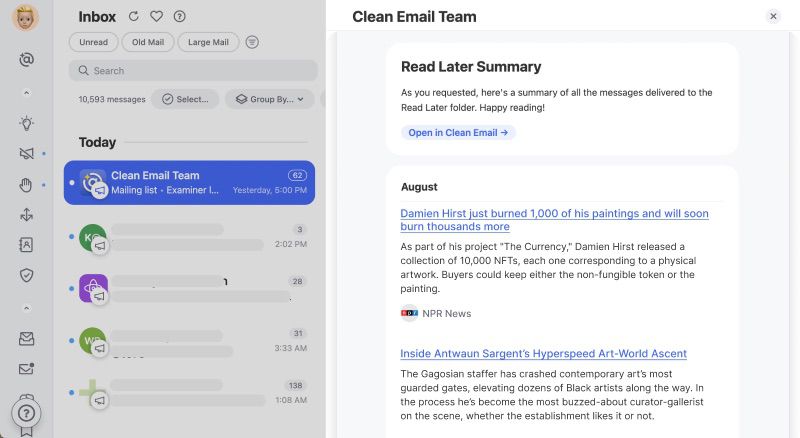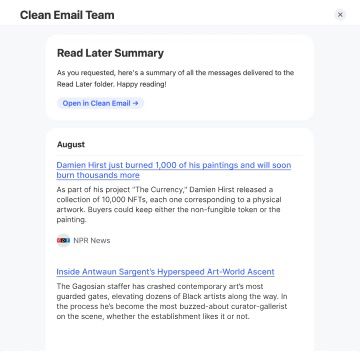 Set an automatic rule to filter emails from Groupon
Clean Email's Auto Clean feature filters incoming messages matching your specific rules sets. If you don't want to get rid of all Groupon messages, you can create a rule to mark these emails Unread, archive them, or move them to a folder of your choice.
There are tons of ways to organize your emails with Clean Email. Get started today for free and take the stress out of the inbox.
Wondering how to unsubscribe from Target emails, stop Indeed messages, or turn off Best Buy email notifications? Our blog will help you learn how to stop unwanted newsletters from cluttering your inbox.