Unsubscribe From Netflix Emails: 3 Methods
Given the prevalence of Netflix on digital and mobile channels, you have several ways you can manually stop getting Netflix emails. Here's how to unsubscribe from their messages the traditional ways.
1. How to stop emails from Netflix on mobile
If you have the Netflix app on your mobile phone, you can unsubscribe directly through the app. Here's how:
Open the app and go to your User Account settings.
Go to Communication Settings.
Check the box "Do not send me any emails or text messages."
Alternatively, you can select the types of messages you wish to receive.
2. How to stop getting Netflix login emails in a browser
If you prefer to use a traditional browser to unsubscribe from unwanted messages, the process is similar to using the mobile app. Here's more:
Open a new browser and go to Netflix.com.
Log into your account.
Choose Communication Settings.
Select the types of messages you wish to receive, or check the box to receive no emails or texts.
3. How to unsubscribe from Netflix emails in your mail provider
Are you getting tons of messages from Netflix? Here's how to unsubscribe with just a few clicks.
Open a Netflix message.
Find the Unsubscribe option in the message, usually in the footer.
Click the Unsubscribe option and follow the instructions.
How to Stop Receiving Emails from Netflix Using Clean Email
There's a better way to unsubscribe from Netflix emails that works flawlessly: the Clean Email app. The app works faster and more efficiently than any other method because it automates the process for you. Tell it once that you want to get rid of Netflix emails and it's done.
Bonus tip: these same processes work for other types of messages, too! Use Clean Email to get rid of emails from Target, Facebook, Reddit, Wish, LinkedIn, and so many more.
How to stop Netflix Emails in Clean Email
Here's how fast and easy it is to stop Netflix emails using Clean Email unsubscribe app:
Log into the app and connect your inbox.
Select the Unsubscriber feature.
Select the newsletters from Netflix you no longer wish to receive.
Click Unsubscribe and say goodbye to unwanted messages!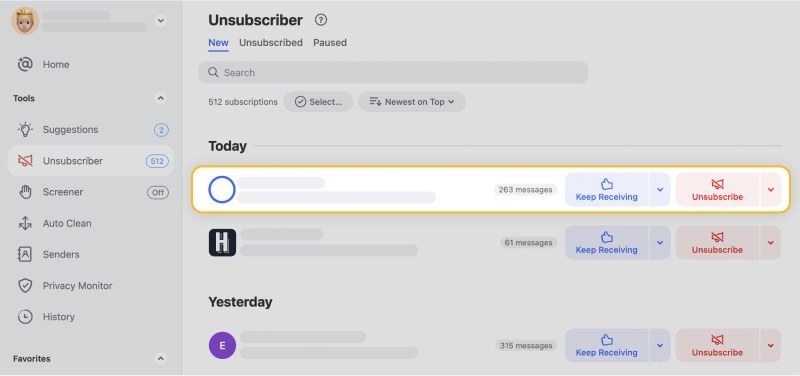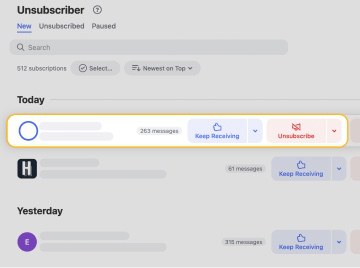 How to block messages from a specific domain in Clean Email
There is another option to stop getting Netflix email notifications in Clean Email — block the entire domain. This is helpful since unsubscribe requests can take some time to go into effect. And sometimes, these requests don't work! Blocking the entire domain means never seeing an unwanted message again.
Launch the app and sign into your mail account.
Open the Inbox or All Mail smart view.
Search for the @netflix.com domain.
Click "Select All" and then "Block."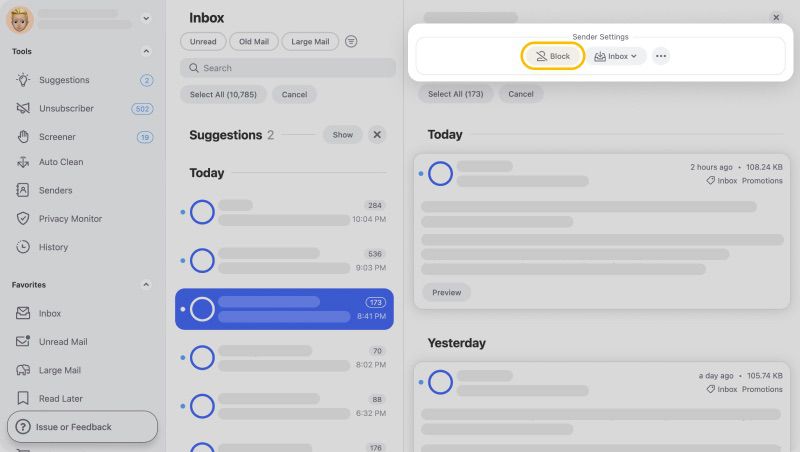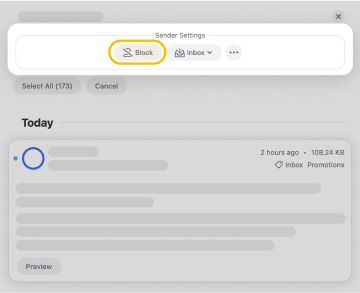 Move Netflix emails to a dedicated "Read Later" folder
If you don't want to get rid of emails but also don't want them cluttering your inbox, you can use Clean Email to move those messages to a dedicated "Read Later" folder. They stay out of your way until you're ready to read them.
Open the app and connect it to your inbox.
Select the necessary message.
Choose the Read Later option (on the sender row).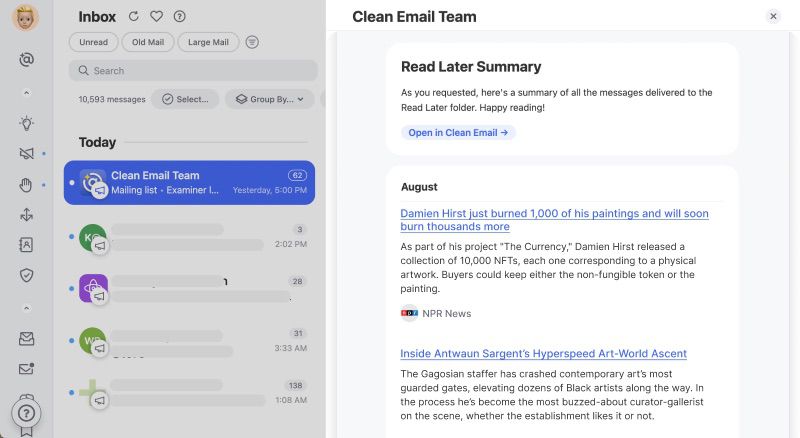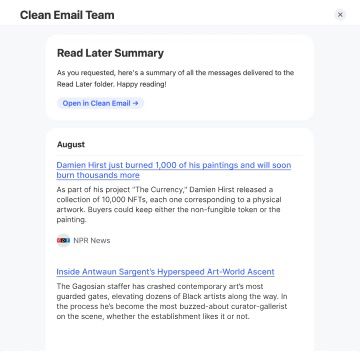 Set an automatic rule to filter unwanted emails
Clean Email also offers an Auto Clean feature that filters your messages based on pre-defined rules. You can choose what happens to your Netflix emails, such as marking them Unread, moving them to a specific folder, archiving the messages based on age, and more.
This is the easiest way to take control of your inbox with very little effort. Put automation to work for you so you can spend more time with the messages that matter and never worry about a junk-filled inbox again!
Wondering how to unsubscribe from Wish emails, stop Twitch email notifications, or turn off Zillow emails? Our blog will help you learn how to stop unwanted newsletters from cluttering your inbox.