How to Stop OfferUp Emails: 3 Methods
There are lots of ways you can manage your inbox so you never miss important messages again. If OfferUp is talking to you too often, here's how you can stop their emails for good.
1. How to stop getting emails from OfferUp on mobile
Use your mobile device to unsubscribe from OfferUp app notifications with just a few clicks. Here's how:
Go to your mobile device's Settings.
Locate the OfferUp app.
Open Notifications for OfferUp.
Disable app notifications.
2. How to stop emails from OfferUp in a browser
Want to stop OfferUp messages from clogging up your inbox? Follow these steps to update your email preferences.
Go to offerup.com and log into your account.
Go to Account Settings.
Click Edit.
Uncheck the box next to Newsletter.
3. How to unsubscribe from OfferUp emails in your mail provider
You can also unsubscribe from OfferUp emails without leaving your inbox. Here's how:
Log into your mail account.
Locate an OfferUp email.
Click Unsubscribe at the bottom of the message (learn more about what the Gmail unsubscribe options are).
Follow any prompts.
How to Stop OfferUp Emails with Clean Email
There's an easier, faster, and more effective way to say good-bye to OfferUp messages — and other unwanted emails from Best Buy, Facebook, Instagram, Reddit, and many other senders. It's the Clean Email app, and it's designed to help you take back control of your inbox on your terms.
Clean Email is an inbox management tool that lets you unsubscribe from OfferUp emails and other newsletters with just a few clicks. Get rid of unwanted messages in bulk and never see future emails from unwelcome senders. You can also leverage our suite of management features, such as filtering certain messages to dedicated folders, marking them as read or unread, or getting a weekly rundown of all the actions taken.
Even better, the app works across all mail providers and operating platforms, including Gmail, Outlook, Yahoo!, and Apple Mail, among many others. You can also deploy the app across all of your mail accounts, including work, school, and personal.
How to Stop OfferUp Subscription Using Clean Email
Here's how you can use our app to unsubscribe from OfferUp emails with ease.
Log into the app and connect your inbox.
Select the Unsubscriber feature from the left sidebar.
Use the Search bar to find the OfferUp subscription.
Click Unsubscribe next to it and you're done!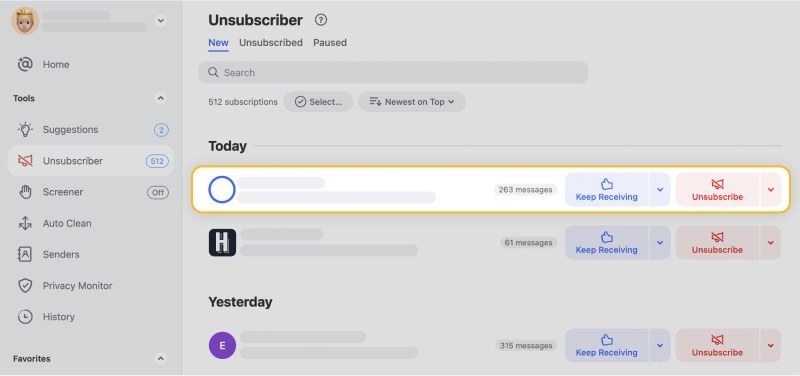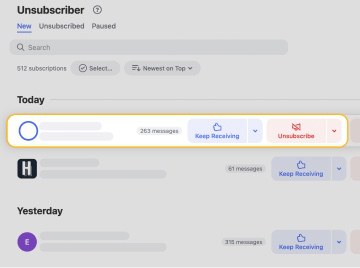 Bonus: the app also works to unsubscribe from Walgreens emails, Uber, Quora, stop ZipRecruiter emails, and many more!
How to Block Emails from a Specific Domain In Clean Email
There is another option to stop getting OfferUp email notifications in the app — block the entire domain. This can be highly useful because OfferUp may send multiple types of messages from different addresses. Blocking the entire domain ensures no message slips through the cracks.
Here's how you can block an entire domain:
Launch the app and sign into your mail account.
Open the Inbox or All Mail smart view.
Type @offerup in the search bar.
Click "Select All" and then choose "Block."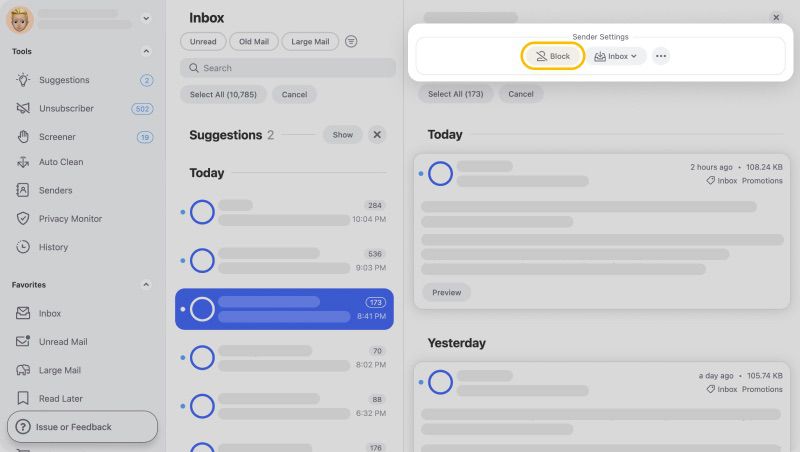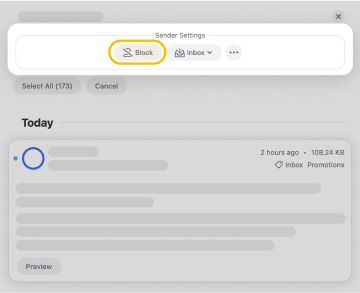 Move OfferUp Emails to a Dedicated "Read Later" Folder
Another feature of Clean Email is the Read Later option. This moves messages of your choice to a dedicated folder for you to engage with at your convenience. They won't take up space in your main inbox, which helps your more important messages become more visible.
Launch the app and sign in with your mail account.
Locate your OfferUp or other desired message.
Choose the Read Later option (on the sender row). Messages will be automatically moved into the Read Later folder.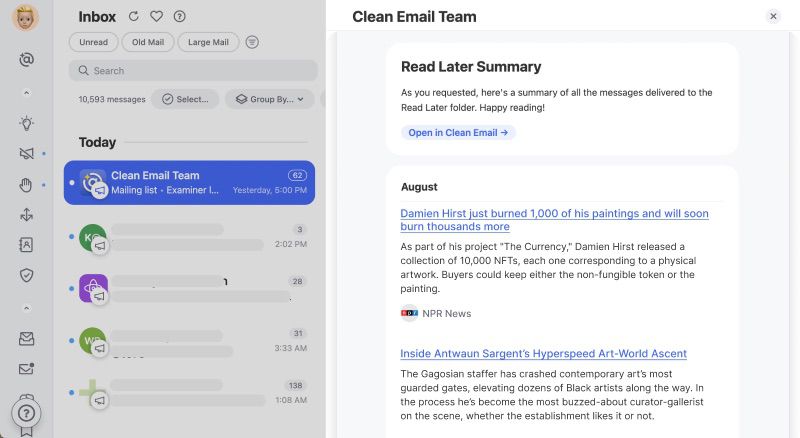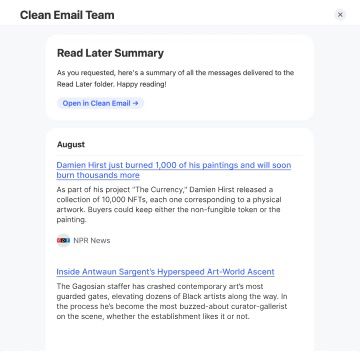 Set an Automatic Rule to Filter Emails from OfferUp
Our app also offers unique automation features to manage your inbox on your behalf. Our Auto Clean will filter messages according to rules you set up. For example, if you do not want to delete your OfferUp messages, you can set up a rule to mark them read or unread, archive, or move them to a select folder.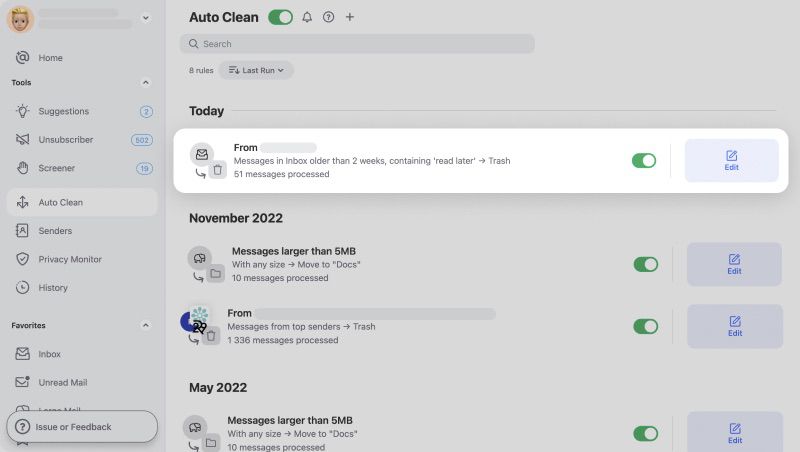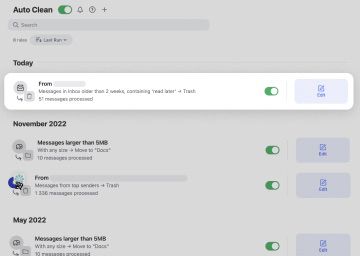 Get easier inbox management, your way!
Wondering how to unsubscribe from New York Times emails, stop Instagram emails, or how to stop getting emails from Apple News? Our blog will help you learn how to unsubscribe from unwanted newsletters from cluttering your inbox.