Unsubscribe From Pinterest Emails: 3 Methods
If you're wondering how to stop Pinterest emails from flooding your inbox, try one of these three methods.
1. How to stop emails from Pinterest on mobile app
If you utilize the Pinterest mobile app, just follow these steps to unsubscribe from unwanted messages:
Open the Pinterest app on your phone or other device.
Go to your "Saved" page.
Click on the "Settings" icon in the top right corner.
Select "Notifications" from the settings menu, then push "By email."
You can either press "Turn off all" to completely unsubscribe from Pinterest emails, or simply uncheck any of the specific messages you'd like to stop receiving.
2. How to stop getting Pinterest emails in a browser
If you'd rather unsubscribe from your computer, that's also an option:
Open your preferred web browser.
Go to pinterest.com.
Click on the drop down arrow in the upper right hand corner of the screen.
Select "Settings" then "Notifications."
Choose "Edit" next to "By Email" within the notifications page.
From here, you can choose "Turn off all" to unsubscribe from Pinterest emails or simply unselect the email categories you'd like to stop receiving.
3. How to stop getting emails from Pinterest in your email service provider
Sometimes it's easiest to simply unsubscribe from Pinterest emails directly from your inbox using these steps:
Open your web browser and pull up your mail account.
Open a message from Pinterest.
Scroll down to the bottom of the message and click "Unsubscribe."
This will redirect you to a webpage where you will push "Confirm" to unsubscribe.
Note: This method will only unsubscribe you from that particular category of Pinterest email, so you may need to repeat this method several times to completely unsubscribe.
How to Get Pinterest to Stop Sending Emails Using Clean Email
While any of the previously mentioned methods will help you unsubscribe from Pinterest emails, they require time and effort on your part. If time is something you have very little to spare, it may be easier to utilize Clean Email and clean up your entire inbox in just a few clicks!
The app's Unsubscriber feature helps you keep unwanted messages from Pinterest and other websites out of your inbox for good. You can choose to automate unsubscribe requests, block certain messages, or pause subscriptions for any number of newsletters, subscriptions, or spam emails faster than you ever would manually.
The app works with a wide range of providers, including Gmail, Outlook, Yahoo, AOL, iCloud, ProtonMail, Zoho Mail, and any other service provider who uses IMAP. You can even manage multiple inboxes from one place, which is perfect for hardworking people or students who utilize multiple email platforms daily between work, school, and personal use. The app is also compatible with any web browser, MacOS, Android, and iPhone/iPad.
How to Unsubscribe From Pinterest Emails In Clean Email
Follow these steps to stop Pinterest emails from cluttering your inbox.
Head to https://app.clean.email/.
Sign into your account.
Click the "Unsubscriber" button.
Choose the subscriptions that you would like to unsubscribe from.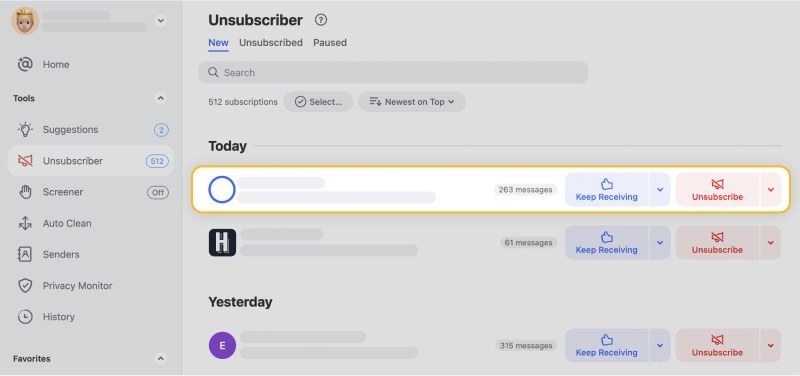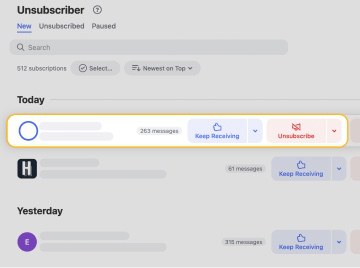 Click "Unsubscribe" and enjoy the lack of Pinterest emails in your inbox!
Of course, the app can help you easily unsubscribe from Quora emails and other unwanted notifications, including those coming from Facebook, Twitter, Amazon, Medium, LinkedIn, etc.
How to Stop Pinterest Emails with Block Feature In Clean Email
Sometimes simply unsubscribing isn't enough anymore because companies will use multiple email addresses and subdomains to make their way into your inbox. Luckily, the app can help you block an entire domain like Pinterest with these steps:
Head to https://app.clean.email/ and sign into your account.
Click on Inbox or All Mail smart view.
In the search box, type in "@pinterest.com" without the quotation marks.
Press on the "Select All" button.
Press "Block," and you're done!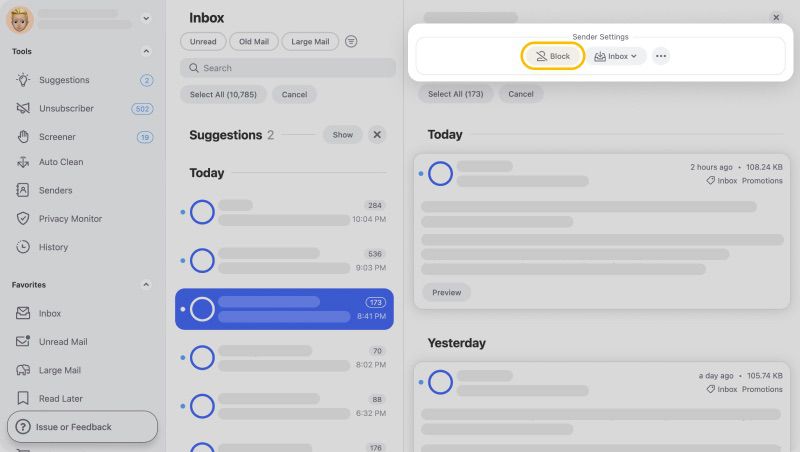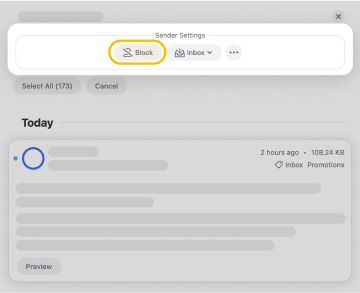 Move Pinterest Email Notifications to a Dedicated "Read Later" Folder
If you want to stop Pinterest notifications but still want to check out your Pinterest emails later, you can use the "Read Later" feature. This will set your Pinterest emails aside for you so you can read through them at a time that's convenient for you.
To move Pinterest emails to Read Later, use these steps:
Go to https://app.clean.email/ and sign into your account.
Push on the "Unsubscriber" button.
Search for "@pinterest" using the search box.
Push the "Read Later" tab on top.
Now messages from Pinterest will go to your "Read Later" folder.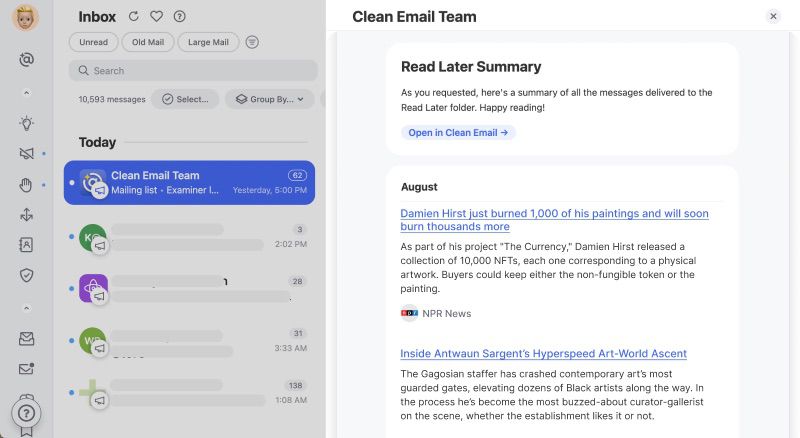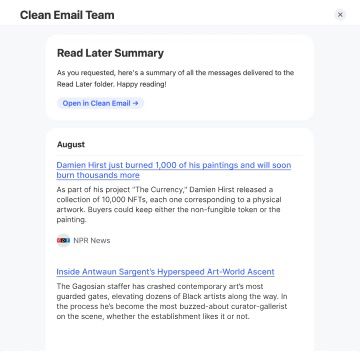 Set an Automatic Rule To Filter Emails from Pinterest
Clean Email's Auto Clean feature lets you filter your messages to apply actions like "mark as read," "archive," or "move to spam" so you don't have to manually do the work. To set an automatic rule for emails from Pinterest, follow these steps:
Open the app and sign into your account.
Press the "Auto Clean" tab.
Select the "Selected and future similar emails" option.
Choose the rule that you want to apply to Pinterest emails.