How to Stop Twitch Email Notifications: 3 Methods
As with any type of email, stopping Twitch email notifications can follow different paths. Here are some of the classic ways to limit the number of unwanted messages you receive.
1. How to disable Twitch emails on mobile
If you have the Twitch app, you should be able to manage your account settings using your mobile device. One method we have found that works well is to change your mail address to one you don't use often and won't mind receiving lots of Twitch messages. Here's how to do this:
Open the Twitch app.
Click on your Account.
Update your mail address to keep your main inbox clear and free of Twitch emails.
2. How to turn off Twitch emails in a browser
You can also access your Twitch account from your regular internet browser. Here's how to manage your notifications:
Log into your account.
Go to your Account, then choose Settings, then Notifications.
Click "By Email."
Update your mail preferences.
3. Unsubscribe from Twitch emails in your mail service provider
Skip the hassle of logging into your Twitch account and updating your settings one by one. You can unsubscribe from Twitch emails directly from your inbox.
Go to your inbox.
Use the search bar to locate the message you want to opt out from.
Select the message and click the Unsubscribe button in your mail client.
How to Stop Getting Emails from Twitch Using Clean Email
Clean Email offers a better, faster way to get rid of unwanted emails from LinkedIn, Twitch, Amazon, Medium, Facebook, Quora, and so many more!
The secret lies in the app's Unsubscriber feature. Just set it up one time to identify the newsletters you no longer want and the app works to eliminate junk from your inbox without you having to manually unsubscribe from each message.
Clean Email works with all email providers and platforms, including Gmail, Yahoo, Outlook, Apple, and more. You can use the app for multiple accounts, such as email for work, school, and personal use. We make it easier to unsubscribe from newsletters compared to doing it manually, helping you save time and stress. This is a huge benefit to you since manually unsubscribing from unwanted messages can take days before you see the effects.
How to unsubscribe from Twitch emails in Clean Email
Once you install the app, follow these simple steps to get your Twitch emails under control:
Use the search bar to locate your Twitch emails in the inbox.
Select the Unsubscriber feature.
Select the newsletters you no longer wish to receive and click Unsubscribe.
Enjoy a clutter-free inbox knowing you can change your mind at any time.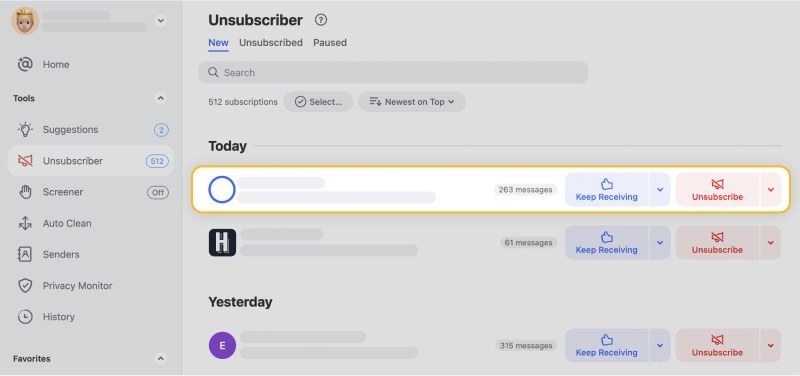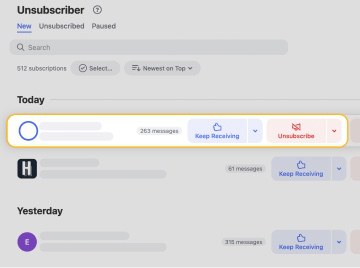 Follow our guides on how to unsubscribe from emails on Gmail on mobile or in a browser, how to stop spam emails from hitting your inbox, and how our app can help you unsubscribe from emails without unsubscribe link.
How to block Twitch messages in Clean Email
There is another way to stop getting Twitch emails using the app: block the entire domain. This is handy because this streaming service sends so many different types of messages: Friend activity, mentions, moderation requests, streamer stats, and more. And even if you have already unsubscribed from their messages, conventional methods are not always effective.
Here's how to block an entire domain using Clean Email:
Use the Smart Mail view in the app's dashboard or simply go to your Inbox tab.
Type @domain, in this case it would be @twitch.tv.
Select all.
Click "Block."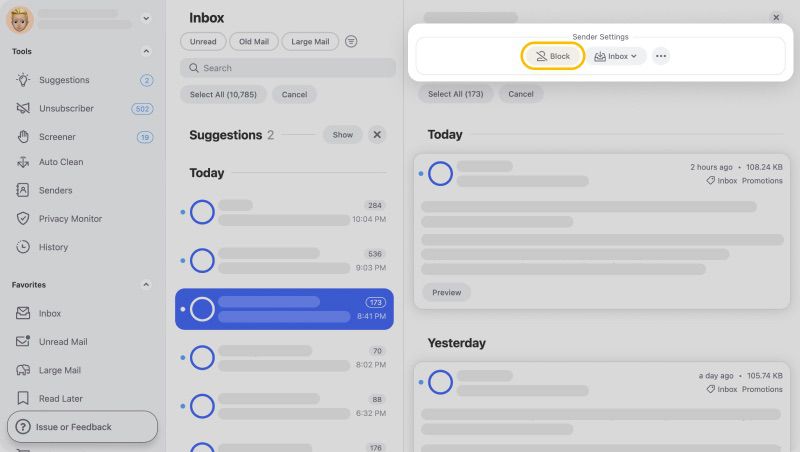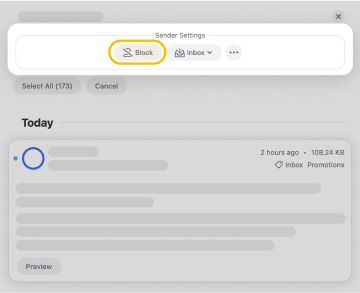 Move Twitch email notifications to a dedicated "Read Later" folder
Do you not want to get rid of all your Twitch emails completely? Clean Email offers another flexible option, this time sending messages to a dedicated Read Later folder. You can hold onto your emails and engage with them when you're ready.
Launch the app and sign in with your mail account.
Locate and select your Twitch messages.
Move them to a Read Later folder.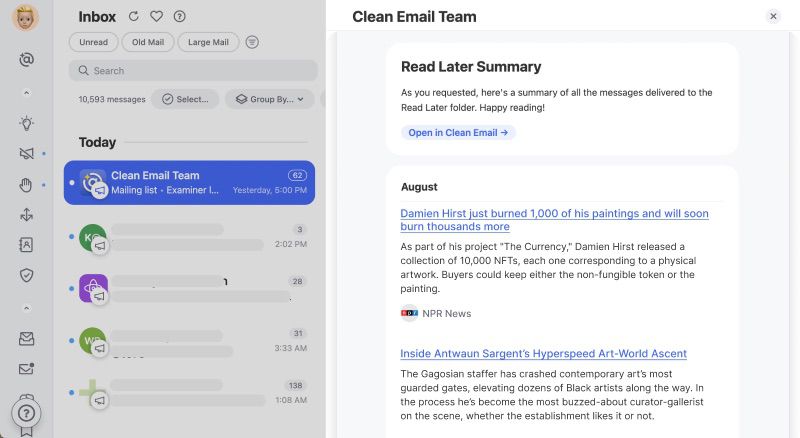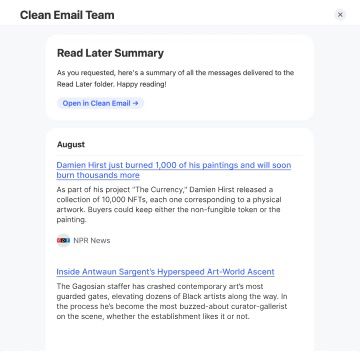 Set an automatic rule to stop Twitch emails
Clean Email also has an Auto Clean feature that allows you to filter incoming messages matching a rule set. If you don't want to delete Twitch email notifications, you can create a rule to make them unread, archive, or move to a specific folder.
Wondering how to unsubscribe from Target messages, stop Zillow emails, or turn off Groupon email notifications? Our blog will help you learn how to stop unwanted newsletters from cluttering your inbox.