How to Turn Off YouTube Email Notifications: 3 Methods
Knowing how to turn off these notifications can help you keep a cleaner inbox. Here are three ways you can try:
1. How to stop YouTube notifications on mobile app
If you have the YouTube app on your smartphone, you can unsubscribe from YouTube emails in just a few steps. Here's how:
Open the app and click on your user profile in the top right corner.
Go to Settings.

Select Notifications.
If Notifications are turned on, you can click the Turn Off option, which will direct you to your smartphone's settings.
2. How to stop YouTube email notifications in a browser
Alternatively, you can stop these notifications via your desktop web browser. This is for emails that end up in your inbox, not sent via a smartphone notification.
Open YouTube on your desktop browser.
Click the Bell icon in the top right corner, then select the Gear icon to open your mail settings.

Scroll down to Email Permissions, then deselect any active items to stop YouTube emails.
3. How to stop emails from YouTube in your mail service provider
If you currently have a message from this platform in your inbox, you can use it to unsubscribe to future emails.
Open the message.
Click the Unsubscribe link to remove yourself from their mailing list.
How to Stop Getting Emails from YouTube using Clean Email
Each of the above methods doesn't necessarily turn off all YouTube emails for good. In some cases, certain settings may revert back to their previous status. If you're looking for a more permanent option, then Clean Email might be a better solution.
This app allows you to unsubscribe from unwanted messages in bulk. It's faster and more effective than manually unsubscribing from email and gives you more control over how your inbox is managed. It supports a range of mail providers, including Gmail, Outlook, Zoho Mail, AOL, Yahoo, and more. It's perfect for personal, work, and school accounts so your most important messages don't get lost in the clutter.
How to Unsubscribe from YouTube Emails In Clean Email
Here's how to use our app to get rid of YouTube emails once and for all. Bonus: it also works to unsubscribe from Twitter emails, eBay, Quora, LinkedIn, and many more!
Sign up for your account at https://app.clean.email/.
Click the "Unsubscriber" button.
Select the subscriptions you no longer wish to receive.
Click Unsubscribe and you're done! Never see another YouTube messages in your inbox!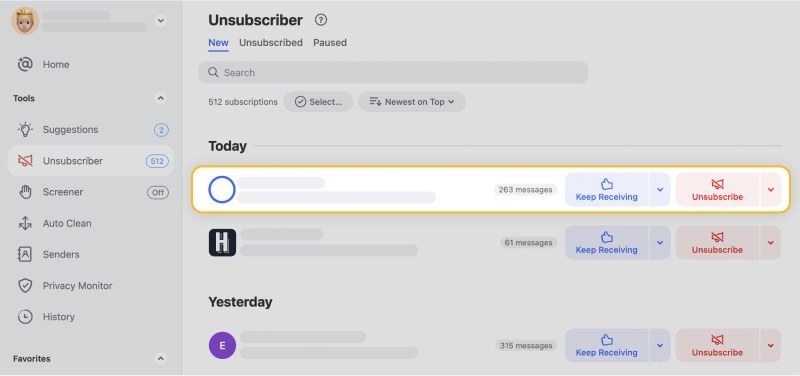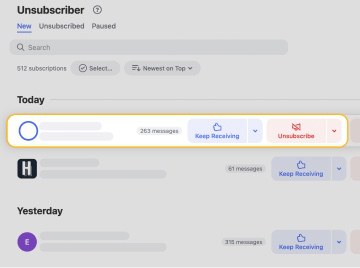 How to Block Emails From a Specific Domain In Clean Email
There is another option to stop getting YouTube notifications in Clean Email — to block the entire domain. This can be helpful if you receive multiple types of email from YouTube (e.g., video upload notifications, new channel subscribers, recommended content, etc.).
Launch the app with your account.
Open the Inbox or All Mail smart view.
In the search bar, type the following domain: @youtube
Choose "Select All" and click "Block." All messages from their domain will be eliminated.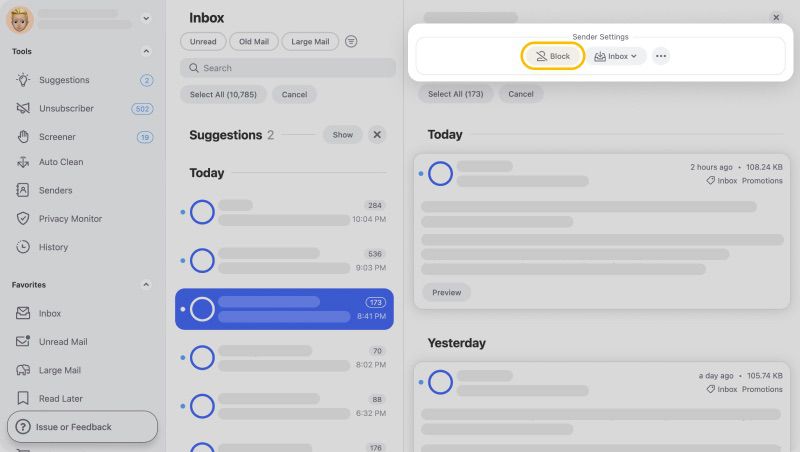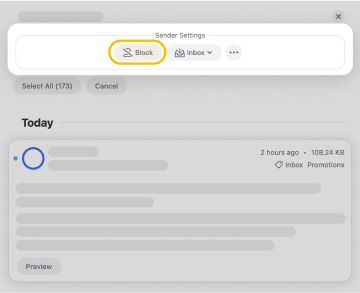 Move YouTube Notifications to a Dedicated "Read Later" Folder
Clean Email's Read Later feature allows you to move messages to a dedicated Read Later folder. This is helpful if you want to read YouTube emails at some point but don't want them clogging your main inbox.
In the app's home screen, click the "Unsubscriber" button.
Search for @YouTube in the search bar.
Click the "Read Later" tab.
All new messages matching the rule will now be sent to your "Read Later" folder.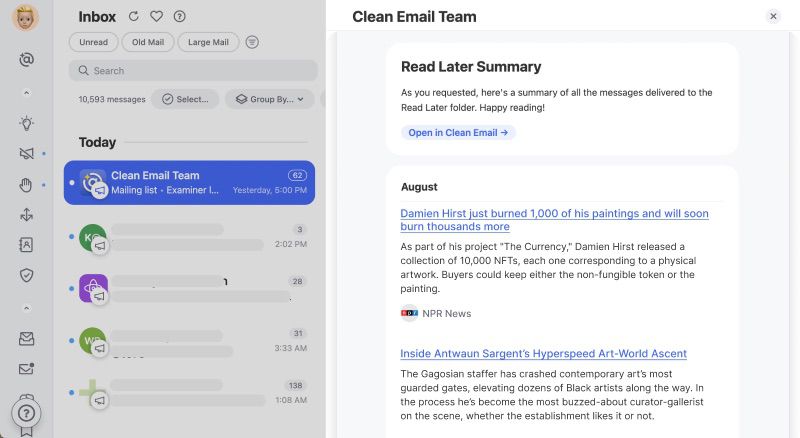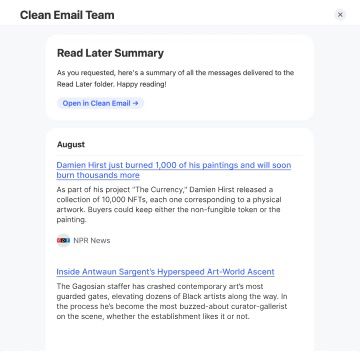 Set an Automatic Rule to Filter Emails from YouTube
Clean Email's Auto Clean filter allows you to create rule sets based on your preferences. For example, if you don't want to delete YouTube notifications, you can set a new rule to mark them unread, archive, or move to a specific folder.
Open the app and click the Auto Clean option.
Select the box for "Selected and future similar emails."
Choose the rule you wish to apply to certain messages.
Wondering how to unsubscribe from emails on iPhone, stop messages on Outlook or Yahoo? Our blog will help you learn how to stop unwanted newsletters from cluttering your inbox.