Unsubscribe From Zillow Emails: 3 Methods
There are different ways you can unsubscribe from Zillow emails, depending on the device you're using. Here are three of the most straightforward ways we've tested:
1. How to stop receiving emails from Zillow on mobile
If you have the Zillow mobile app, you cannot manage email preferences from your mobile device but you can disable push notifications from this marketplace. Here's how:
Open the Zillow app on your mobile device.
Click the More menu at the bottom of the app.
Go to your Account in the top right corner.
Click Notifications.
Follow the steps to disable notifications on your phone.
2. How to turn off Zillow emails in a browser
You can use your desktop computer's browser to change your email preferences on the Zillow website. Here's how:
Open a new browser and go to Zillow.com.
Log into your account.
Click your Account icon in the top right corner, then select Subscriptions.
Toggle the On switch to Off to stop getting Zillow emails.
You can also edit preferences for different email categories, such as Market Reports and Seller Updates.
3. How to get Zillow to stop sending emails in your mail provider
If you do not want the hassle of logging into your Zillow account and managing your mail preferences, you can stop Zillow emails right from your inbox. This is a fast and easy way that requires very little effort on your part:
Go to your inbox and locate a Zillow email.
Open the message and scroll all the way down.
Select the "Unsubscribe from this email" option or click "Update your preferences."
How to Stop Receiving Emails from Zillow Using Clean Email
Unsubscribing from emails like Zillow is usually a multi-step process, but Clean Email knows it doesn't have to be this way. Our app takes the chore out of keeping a cleaner inbox by helping you purge, unsubscribe, and manage your mail preferences in bulk, automatically. It works for all types of messages, including Zillow, Facebook, Amazon, Medium, and so many more, even when there isn't an unsubscribe option.
The app works with all email providers and operating platforms, including Gmail, Yahoo!, Outlook, and more. You can use multiple mail accounts with the Clean Email app, which works well for school, work, and personal accounts. Unsubscribing with this app is easier and faster than doing it manually, saving you time and stress so you can enjoy the results!
How to unsubscribe from Zillow emails in Clean Email
Follow these short and simple steps to opt out from Zillow using the Clean Email unsubscribe app:
Log into the app and connect your inbox.
Select the Unsubscriber feature.
Select the newsletters from Zillow you no longer wish to receive.
Tell the app you want to unsubscribe from these newsletters, pause, or move them to a dedicated Read Later folder.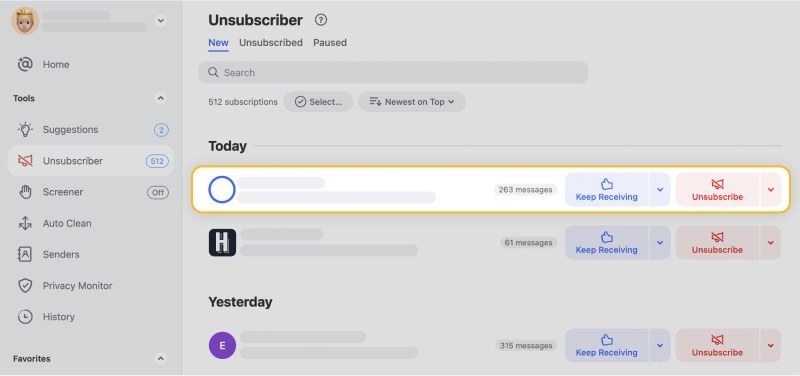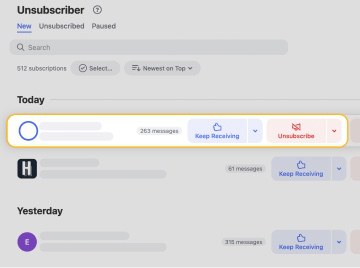 Bonus: the app also works to unsubscribe from Target emails, Uber, Quora, stop Groupon emails, and many more!
How to block messages from a specific domain in Clean Email
There is another option to stop getting Zillow email notifications in the app: block the entire domain. This can be useful because Zillow sends multiple types of messages, including recommended homes, market reports, and seller's updates. This way, you don't have to manually unsubscribe from each message type. There might also be some cases where you've unsubscribed from a newsletter but your request isn't fulfilled. Blocking the entire domain ensures immediate action without waiting for your address to be removed from the list.
Launch the app and sign into your mail account.
Open the Inbox or All Mail smart view.
Type @domain in the search bar (replace "domain" with the Zillow domain or other intended domains).
Click "Select All" and then "Block."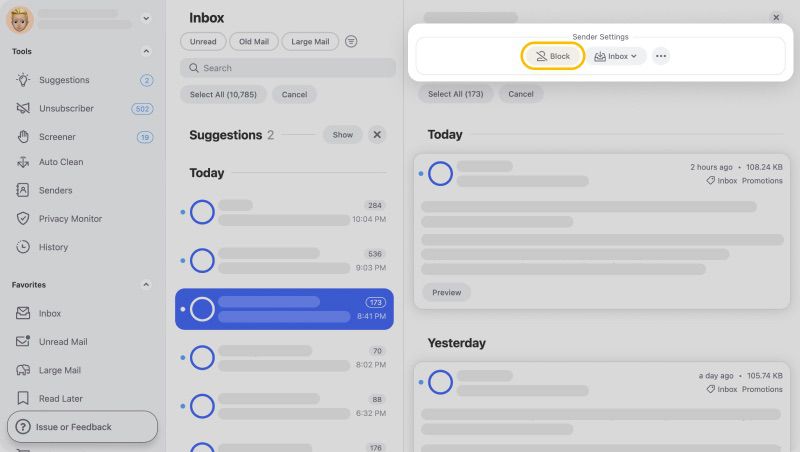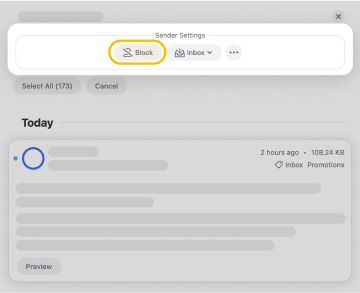 Move Zillow emails to a dedicated "Read Later" folder
Clean Email's Read Later feature allows you to move selected messages to a dedicated Read Later folder if you want to check them all whenever you want. This way, you never really lose a message but you also don't have unwanted messages cluttering your inbox.
Launch the app and sign in with your mail account.
Select the necessary message.
Choose the Read Later option (on the sender row). Messages will be automatically moved into their own folder.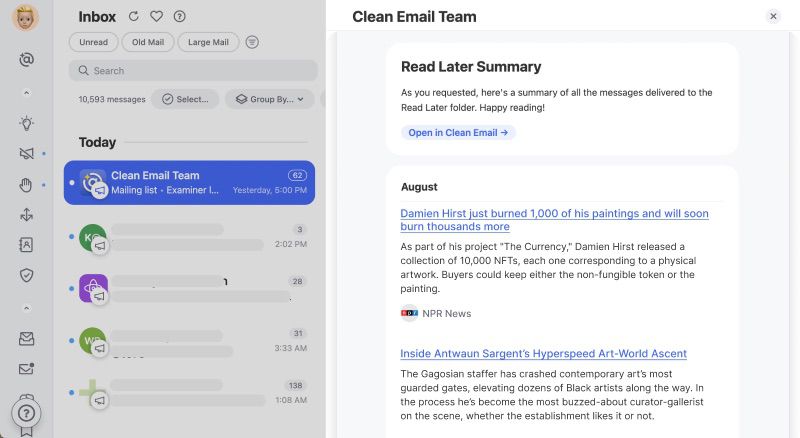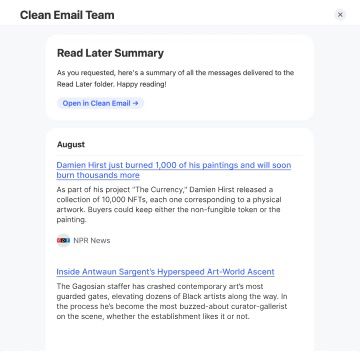 Set an automatic rule to filter emails from Zillow
Clean Email has an Auto Clean feature that allows users to filter incoming messages matching a rules set. For example, if you don't want to delete Zillow notifications, you can set a rule to make them unread, archive, or move to a specific folder.
Wondering how to unsubscribe from Best Buy emails, stop Indeed messages, or turn off YouTube email notifications? Our blog will help you learn how to stop unwanted newsletters from cluttering your inbox.